User-generated content, also known as UGC, is a marketing tactic that digital marketers use to create impactful engagement across social media.
But that's not the only advantage of using UGC.
Incorporating UGC in your SEO marketing strategy enhances not only brand credibility but also your visibility across SERPs.
Today, SEO goes beyond a simple Google search, giving importance to relevant content, brand authenticity, and public recognition.
For this reason, it's essential to come up with new topics, ideas, and angles to boost your search engine ranking.
UGC is one way of doing just that.
Still unclear about UGC? Don't worry; we've got you covered.
In this article, you'll understand the importance of UGC in SEO content and how it makes a difference in SERP.
Additionally, you'll learn how to implement UGC in your SEO content strategy with some expert tips.
What Is User-Generated Content at Its Core?
Over 50% of millennials make decisions about buying a product when it comes from a valid, authentic source.
For instance, when consumers read positive reviews about a product, they are more likely to buy it because it's a personal recommendation.
This is UGC or consumer-generated content.
It stimulates an actionable response from the target audience, helping businesses acquire more customers. According to digital marketer Neil Patel, 37 percent of consumers base their purchases on what previous customers say on social networks.
And UGC provides organic proof of a product or service.
Unlike traditional advertising, UGC is thought-provoking and influential. It is consumed in the form of blog posts, infographics, social media reels, YouTube videos, testimonials, product reviews, podcasts, tweets, and live streams.
Where Does UGC Come From?
Customers: Have you ever watched videos on TikTok or commented on an Instagram post? This is the social space where customers are most likely to leave behind a review. A customer is the ideal cohort you'll rely on for UGC. You can ask for one, or a customer can organically decide to share content about a brand.
Brand advocates: The most dedicated customers become brand advocates, typically a group that's most loyal to your business. This audience segment can generate specific UGC content for a brand and is ripe enough to reach out to. Brand advocates can ensure content consistency, helping you increase your followers.
Employees: This form of content focuses on brand storytelling. The content brings value to a product or service. For instance, employees sharing images of their company experience or videos of a team-building activity. Such behind-the-scenes content helps establish brand identity, showcasing authenticity to your niche audience.
UGC creators: UGC creators generate sponsored content to showcase a specific product or business. Such content appears authentic but isn't traditionally organic, as the content creators are paid by brands to publish the content.
Why User-Generated Content Is Essential for SEO
We know that Google algorithms are constantly evolving. In fact, Google states that to improve SEO performance, your website content must:
Provide helpful information to the users
Bring more value than your competitors
Ensure credibility from authentic users
Follow SEO guidelines without any fluff
And most importantly, the content you create must be engaging, interactive, and entertaining.
User-generated content checks off everything mentioned above. In other words, you need UGC to boost organic growth across SERPs.
Here's why it's so important for your SEO content strategy.
Provides Fresh and Relevant Content for Search Engines
With the advent of ChatGPT and other AI-enabled writing software, it's easy to whip out content and copy-paste it on your website — except it lacks originality.
Although AI-enabled tools are handy additions, they're just not authentic enough to challenge Google's evolving algorithms. But consistently generating new and relevant content for your brand isn't easy, not even for a bot.
UGC becomes crucial as it gives you a fresh perspective on subject matters, opinions, and consumer pain points. Excellent for getting new ideas, you can come up with unique content topics that address actual concerns.
By producing fresh and relevant content, SEO strategists can engage more users and attract search bots, amplifying visibility and conversion.
Harness Newer, More Relevant Keywords
Long-tail keywords help improve upon a user's search intent. They are different from generic search terms, mostly phrases that users type in the search bar when unsure about what they're looking for or are not fully aware of the keyword.
UGC is brimming with long-tail keywords. For example, users sharing content in the form of Amazon reviews about a product. These posts contain long-tail keywords in their most natural form, and the competition for these terms is low. This is an excellent way to outwit your competition on SERPs.
As a result, it becomes easier for brands to rank for targeted terms, giving new angles in every research.
Check this image below:

The product in the above review is a cleaning sponge, an essential household item. If you look closely, you'll see it contains many long-tail keywords. For instance, "removing algae stains from plastic."
Now imagine using this term in the form of a relevant article.
UGC (in this case, a product review) not only helps identify questions but also long-tail keywords that are highly relevant. You can build your content strategy, time and again, around newer, fresher keywords.
This sustains your authenticity as a content marketer, helping you attract more traffic and boosting SERP results.
Ensures Authenticity Via Social Media Reach
To improve your SEO performance, you need content that's deemed authentic by search engines. In fact, Google only features content at the top if it's coming from an authentic source and connected to an authoritative website.
But UGC helps build social proof for a brand. User-generated content humanizes a brand across social media platforms like Instagram, Twitter, YouTube, and LinkedIn.
When using UGC for SEO, you can embed it on your website in the form of testimonials, reviews, images, or link to your social feeds. For instance, posting a blog that contains positive content about your brand.
This social feed is the perfect example of how you can integrate UGC into your website to improve search engine performance.
As the content is authentic and trustworthy, it will immediately get picked up, evaluated, and reflected on the SERP, increasing organic traffic and building a positive image.
3 Tips and Examples to Boost SEO With UGC
There are many reasons why you should implement UGC to strengthen SEO strategies, but the bigger question is – how?
Here are some of my go-to tips to elevate your SEO strategy.
Feature Users or Clients in Your Content
Brands are constantly looking for ways to engage with their reviewers.
Whether sending an in-depth questionnaire to past customers or marketing a rewards program on Instagram, such practice is necessary. UGC also allows you to increase your social media reach, generate more traffic, and improve ROI.
Let's take an example from the tech industry.
Databox regularly sends emails to its users to get the best feedback about its products or marketing best practices. Such emails generally contain a list of questions, and the end goal is engagement.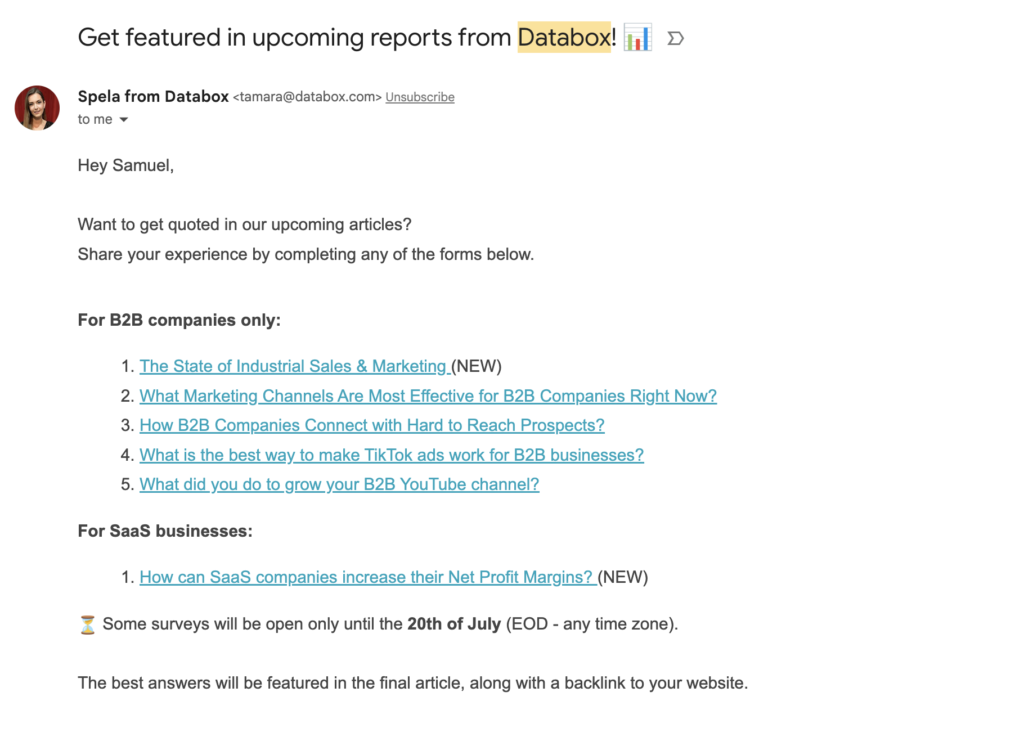 This community-building approach allows users to share their insights and get featured in a Databox blog post.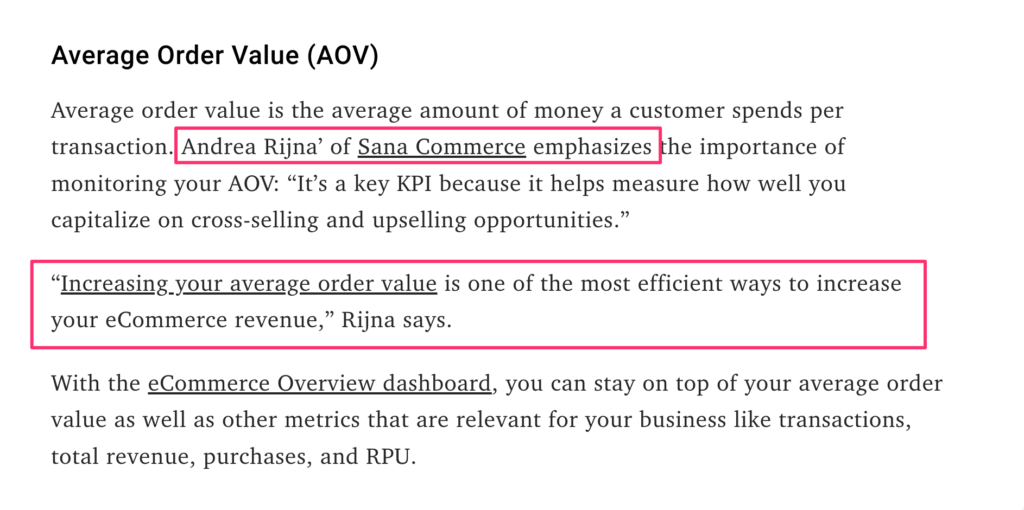 Databox is part of the SaaS industry, but all businesses should encourage their customers to participate in a survey, share their opinions, and get featured in an article. This is an excellent way to leverage UGC in your SEO content.
Leverage Audience Comments on Social Media Platforms
My favorite UGC technique is leveraging comments from social media platforms, especially high-traffic spaces like LinkedIn or Twitter. It's essential to read comments as these provide fresh ideas to generate more content.
Here's what you need to do:
Publish a question on LinkedIn and ask users for feedback
Analyze this feedback for keywords, topic ideas, and more
Include the feedback in your blog post
Publish the blog/user guide on a LinkedIn post
Mention and tag the people from the feedback
You can see below how I've applied this strategy for the website of thruuu.
I started by asking experts about what they include in an SEO content brief. To get the attention of relevant experts and influencers in my niche, I made sure to tag them.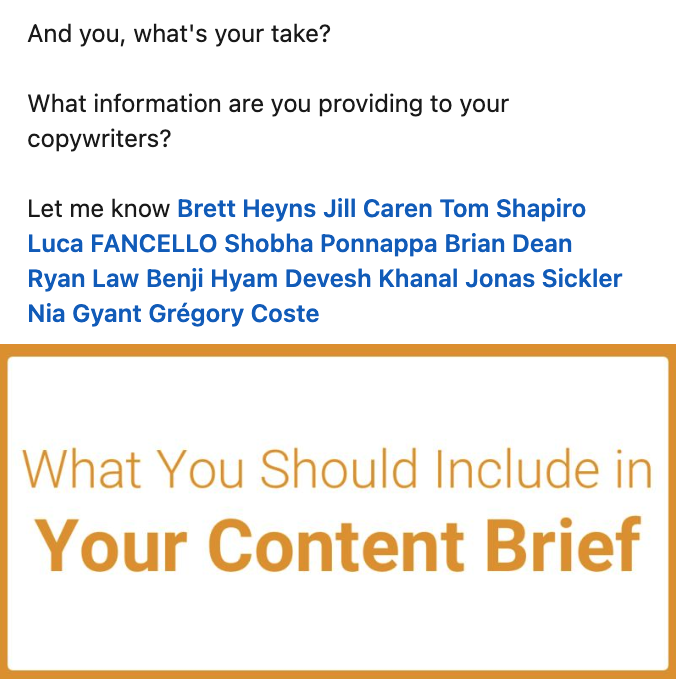 With the insights gathered from the experts, I created an article specifically about content briefs. I included valuable tips in this article and even screenshots of their comments.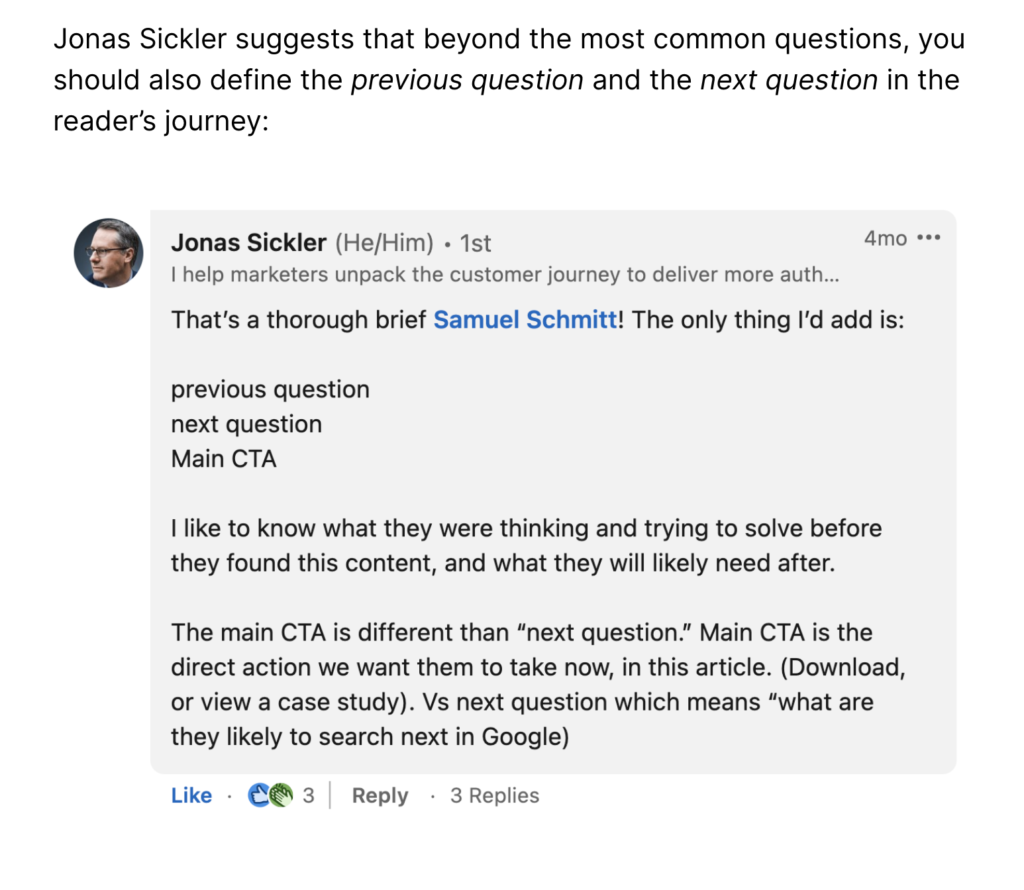 Once the article was ready, I took the next step and promoted it on LinkedIn.
To give credit to those who contributed, I mentioned and tagged them in my posts. This not only increases the exposure of the article but also enhances the chances of it being seen and shared by more people.
There's no need to worry if you don't have a large social media following. You can still use a similar approach by curating comments left by others on social media posts.
Analyze Questions Left on Blog Post Comments
Why do people leave questions in blog post comments? The reason is often the absence of essential information.
By extracting these questions from blog posts, you can create articles that answer these "unanswered" topics, thereby increasing your chances of ranking on Google's first page.
This method helps generate authentic, more relevant content for your website, based on user intent.
To help you in researching and finding questions left on blog posts, thruuu is the website scraper tool to gain more insights into SERP results.
Here's a step-by-step guide on extracting questions from blog posts:
Identify the keyword you want to target
Open thruuu and enter the keyword
Analyze the first 100 search results.
Check the questions report to find relevant questions from blog post comments.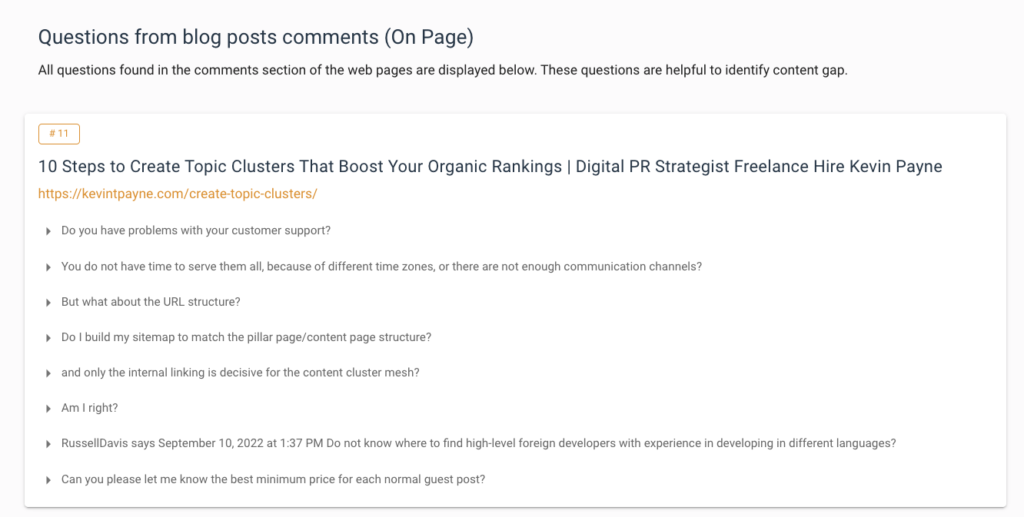 Once you've collected these questions, create an article that answers each one.
You can also use the questions as subheadings (H2) to improve your on-page structure and increase your visibility in Google searches.
For a practical example, you can refer to this article. I followed this exact same technique.
Note: Learn more about the FAQ Blog Post strategy and boost your SEO.
In Conclusion
SEO combined with UGC makes for an effective and powerful tool. From soliciting keyword-related discussions to rewarding users for providing UGC, you can improve your search engine ranking by ten-folds. 
Better SEO. Faster.
thruuu deciphers the Google algorithm for you and helps you build powerful content briefs in mere minutes.