Do you want to create content briefs faster?
With the thruuu Content Brief generator, you will save a lot of time in research and compile data from the SERP in a user-friendly interface.
You will be able to create awesome content briefs for your writing team.
Each brief will contain the most important information, including the article outline, target word count, keywords to use, questions to answer, and an overview of your competitors.
Ready to speed up your SEO workflow?
Let's get started.
Overview of the main features of the content brief builder
Curious about what the content brief builder provides?
Here are the main features:
Create a content brief starting from a SERP Analysis
Analyze any Google SERP
User-friendly interface provides pre-filled information to accelerate your content creation process
Create a content outline by analyzing the heading structure of your competitors
Automatically generate titles, description and content outline with the support of ChatGTP
10+ different elements to include in your brief
Define your own brief layout based on templates
Include boilerplate text
Export content brief to Microsoft Doc
Share a public link with your team of writers
Content brief creation workflow in a nutshell
The workflow is straightforward and in less than 10 minutes you will compile an SEO optimized brief.
Here the steps to create a content brief:
Define your target keyword and audience
Do a SERP analysis and review the information and pre-filled data to understand the search intent and competitors content structure
Add additional information to the pre-filled elements
Build your content outline by looking at your competitors structure
Share the brief with your team of writers
Watch this video or continue reading the tutorial for detailed explanations.
Create your first brief
To get started, you will need a thruuu account.
You can create an account for free here. Once your account is set up, you can start creating 2 briefs with the 10 free credits.
If you want to create more, affordable subscription or pay-as-you-go plans are available.
With thruuu, the creation of a brief will cost less than 1$.
Now, login to the app and start creating a brief by visiting this page.
Pick a topic and select your audience
Now that you are starting the brief creation process, the very first thing to do is to define your audience.
Enter the main topic (a.k.a your target keyword) for your brief.

Then define where your audience is coming from and how they will search.
This information will tell thruuu what Google SERP to analyze and link to your brief.


Finally, define the number of SERP results thruuu needs to scrape.
The recommendation will be to stick to 10 – 30 pages. This will provide enough data for you to create a well crafted content brief.
But of course, you can go up to 100 which will give you more insight from the bottom of the SERP. In some cases this can be helpful to uncover new ideas to make your content stronger.
If you have already created a brief template, you could also select the template of your choice.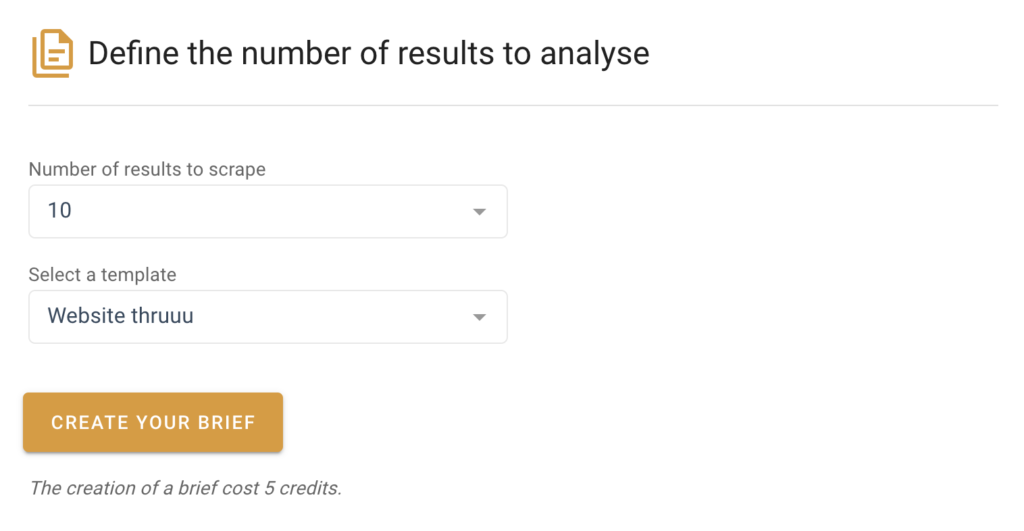 Hit "Create your brief", and let the magic happen.
Once the process is complete you will be redirected to a new page that offers pre-filled information for your brief with data that is coming from the SERP analysis tool.
As you will see, you can change the status of your brief to Draft, In Progress or Done. This helps you organize your workflow.
A series of actions are also available such as save or share, but this is for later in the process.
Be aware that the brief is automatically saved every minute to avoid losing your work.
What could be interesting is to open the detailed serp analysis with the "SERP Analysis" button and view the live SERPs.
Provide top information to your writer
Based on the template you picked, you will find different elements on your brief with pre-filled information.
These brief elements could be:
Writer directive
SERP insights
Competitor analysis
Top titles and H1
Article summary
Content outline
Most frequent questions
Top topics
And more
Your work consists of going through and providing clear information to your writer for each element.
You will notice that some elements are coming with pre-filled data to accelerate your workflow.
For instance, the article summary elements define the slug based on your target keywords and suggest a number of words based on the SERP analysis.
Remember, these are recommendations based on the SERP results, but feel free to change this information if you would like.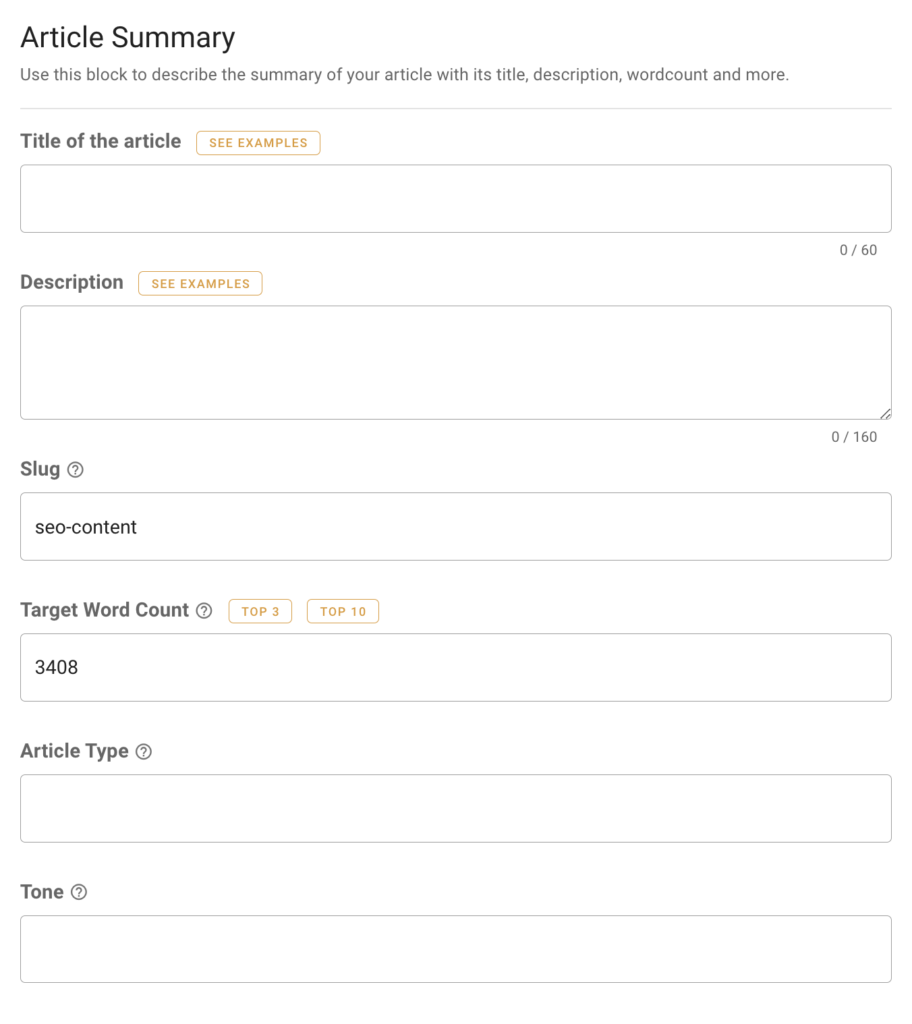 Assemble the perfect content outline
The central element of your content brief is the content outline.
Let's focus on this element to show you how to best handle it.
By default, the outline element suggests heading structure based on the SERP analysis and the most frequent headings used by the articles ranking in the top 10.
Don't like it? You can delete it or adapt it.
Keep in mind that this structure is a helper to facilitate your work. You do not have to use it as it is and can modify it to make it your own.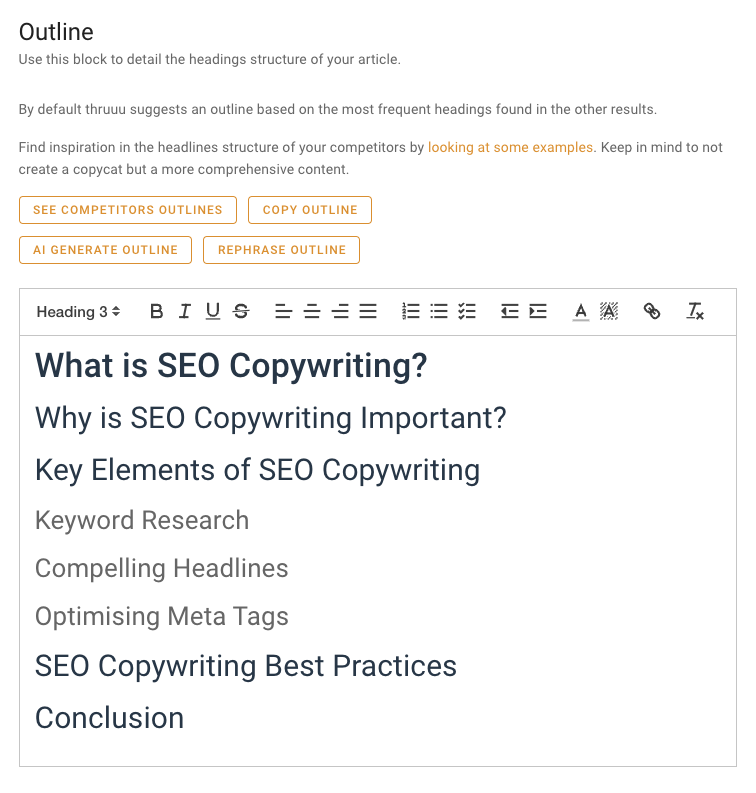 What you should do next is to click on SEE COMPETITORS OUTLINES.
This will then open a new view.
On the left you will see a rich text editor with your outline structure and on the right a bird eyes view of your competitors outlines.
Navigate the outlines of your competitors and click on one to add it to your outline. This will help you figure out the best structure for your own copy.

You can see several additional options at the top to let you display:
Competitors Outline: The outline structure of the page ranking on the SERP
H1: To display only the H1
Most Frequent Headings: The most frequent H2 grouped by similarities
Most Frequent Questions: The most frequent questions found in headings group by similarities.
Keep in mind that the brief editor is a rich text editor. So, as with any text editor you can change the heading level, add paragraphs, links, change the color, etc.
Feel free to do what you want and make the perfect brief for your writer.
Leverage ChatGPT to generate and rephrase your content outline
You will notice two buttons labeled AI GENERATE OUTLINE and REPHRASE OUTLINE.
AI GENERATE OUTLINE: Lets you create a structure for your article generated by ChatGPT
REPHRASE OUTLINE: Lets you rewrite the outline while keeping the same exact structure.
Let's focus on the content outline generation.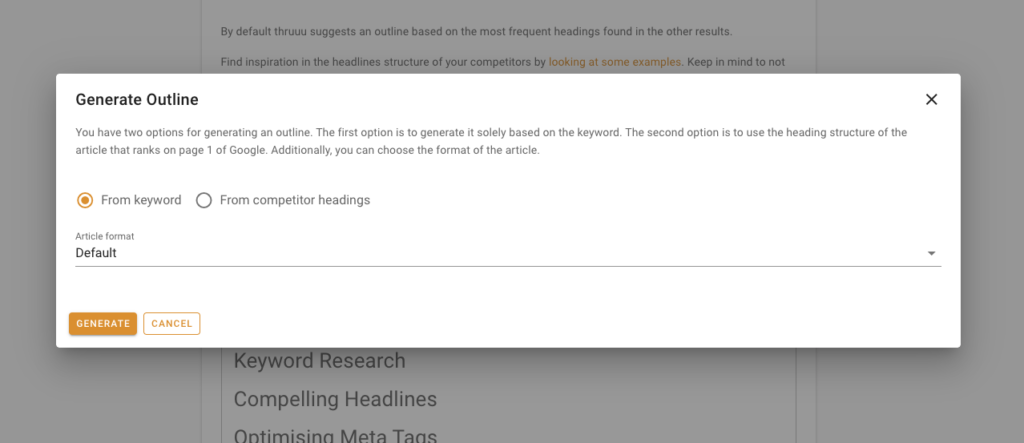 The AI Outline Generator offers two options:
The first option is to generate an outline solely based on the keyword.
The second option is using the heading structure of the articles ranking on page 1 of Google to generate the outline.
Basically, the second option has more information and context about the SERP while generating an outline. You can try both approaches and see which one works best for your content.
Also, you will notice that you can define the article format. This will force the AI to generate the outline following some guidelines.
The available blog post templates are:
Listicle
Tips
How-to
Case Study
Ultimate Guide
Product Review
Product Alternative
Comparison Guide
Below, you can see a list of tips automatically generated.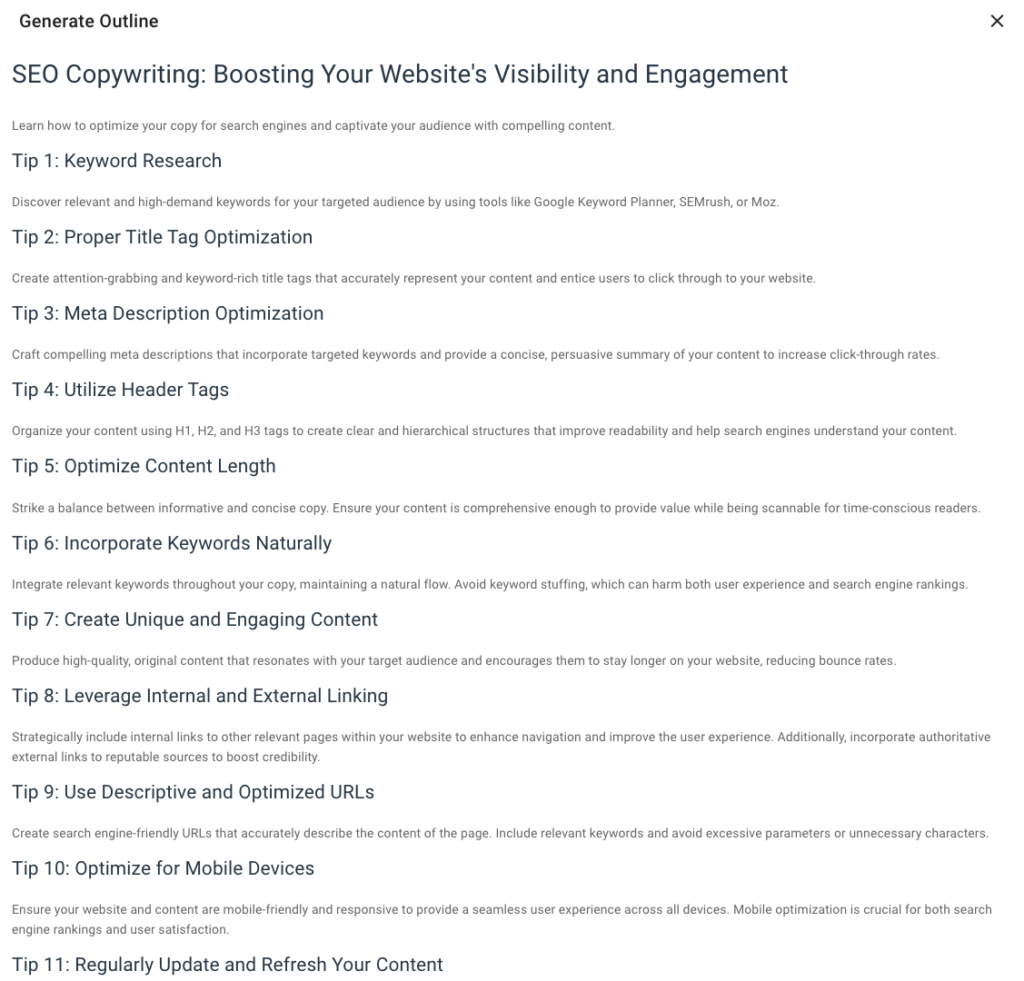 NOTE: Native integration of ChatGPT is only available to Pro and Agency plans. Other plans can install the ChatGPT Chrome extension to enable similar features.
Create SEO titles, descriptions and analyze the search intent supported by an AI assistant
More AI support is available within the brief. You will notice that some brief elements include a button AI SUGGESTION.
The actions available are:
Creating SEO title automatically.
Creating SEO description automatically
Analysing the search intent and customer journey.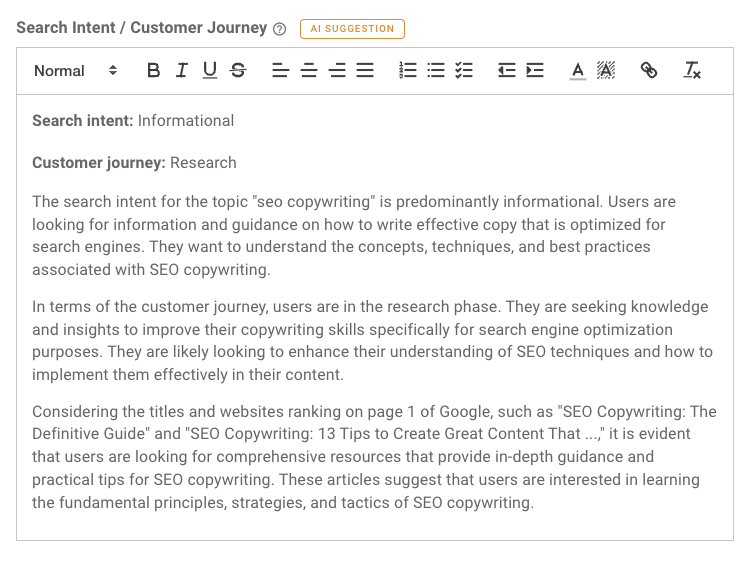 Share the brief
Finally once your brief is done, you can share it with your writing team.
There are two ways of sharing a content brief.
Click the "Export as a doc" and you can download a doc file with your brief information. Feel free to adapt the doc and send it to your writer.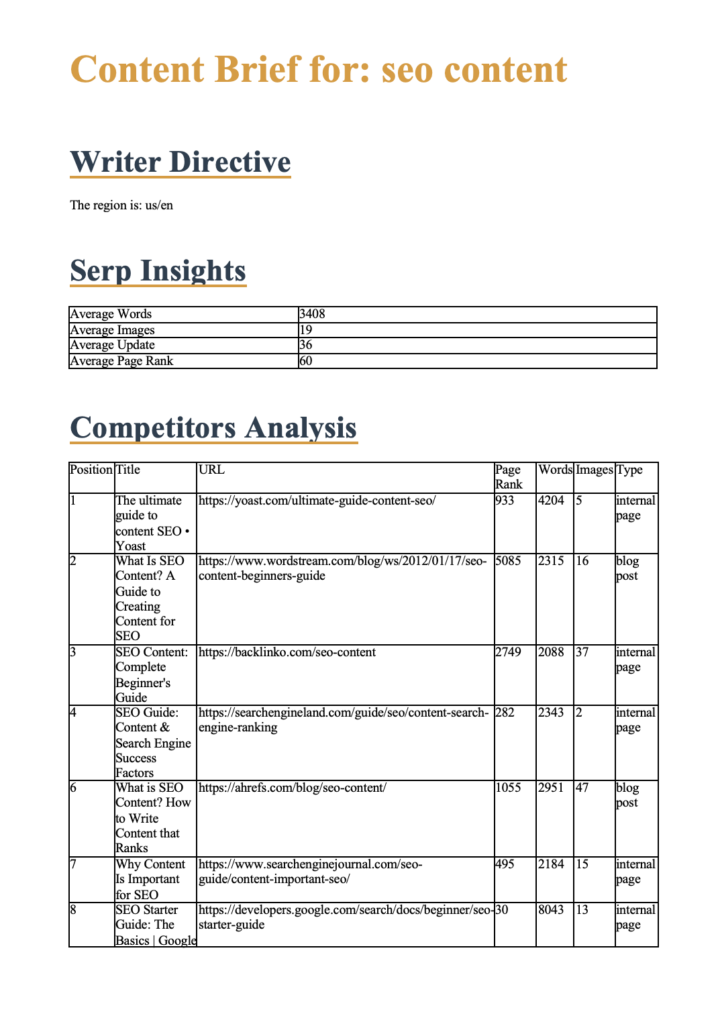 Another option is to hit the "SHARE" button and thruuu will create a public link you can share with your writer.
You can see that the brief is beautifully organized and a table of contents is provided to allow users to easily jump to each section. From this view, your writer can also download a doc version of the brief.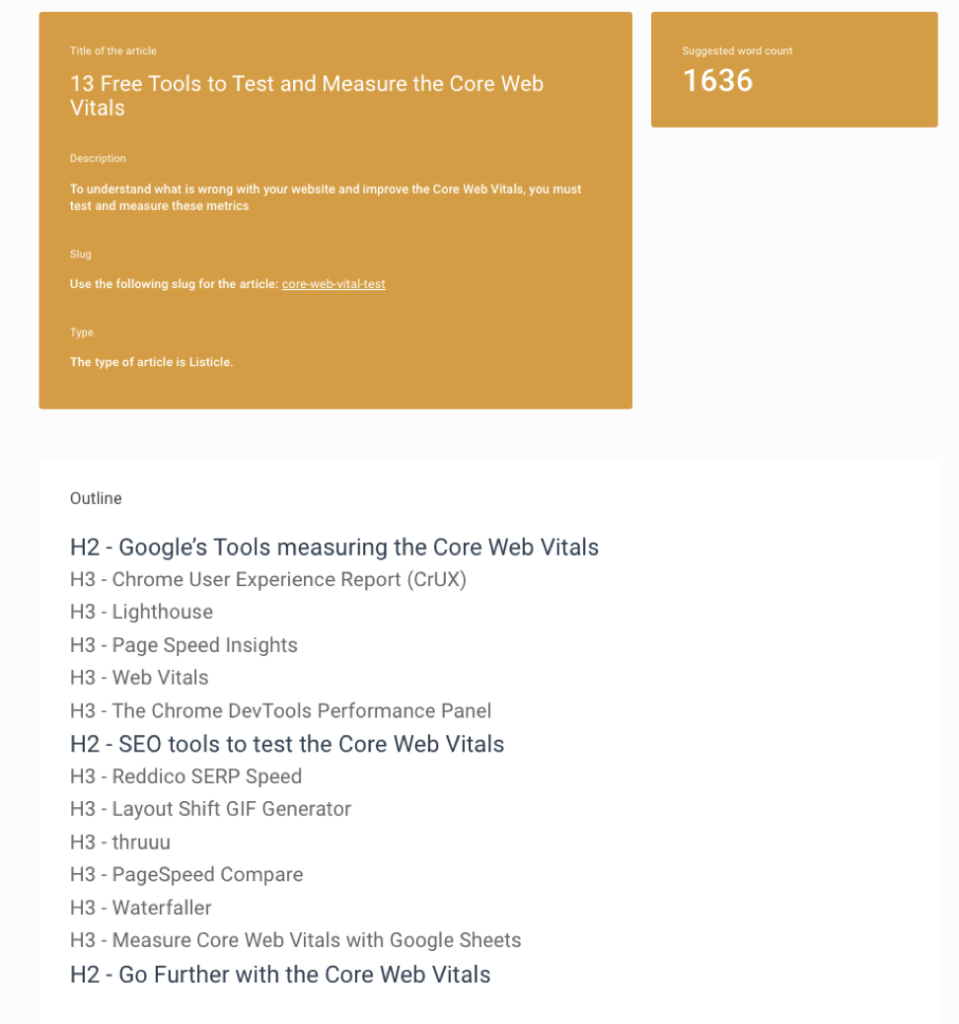 Browse or search your content briefs
Finally, all your briefs are available via this page.
You can browse or search for them.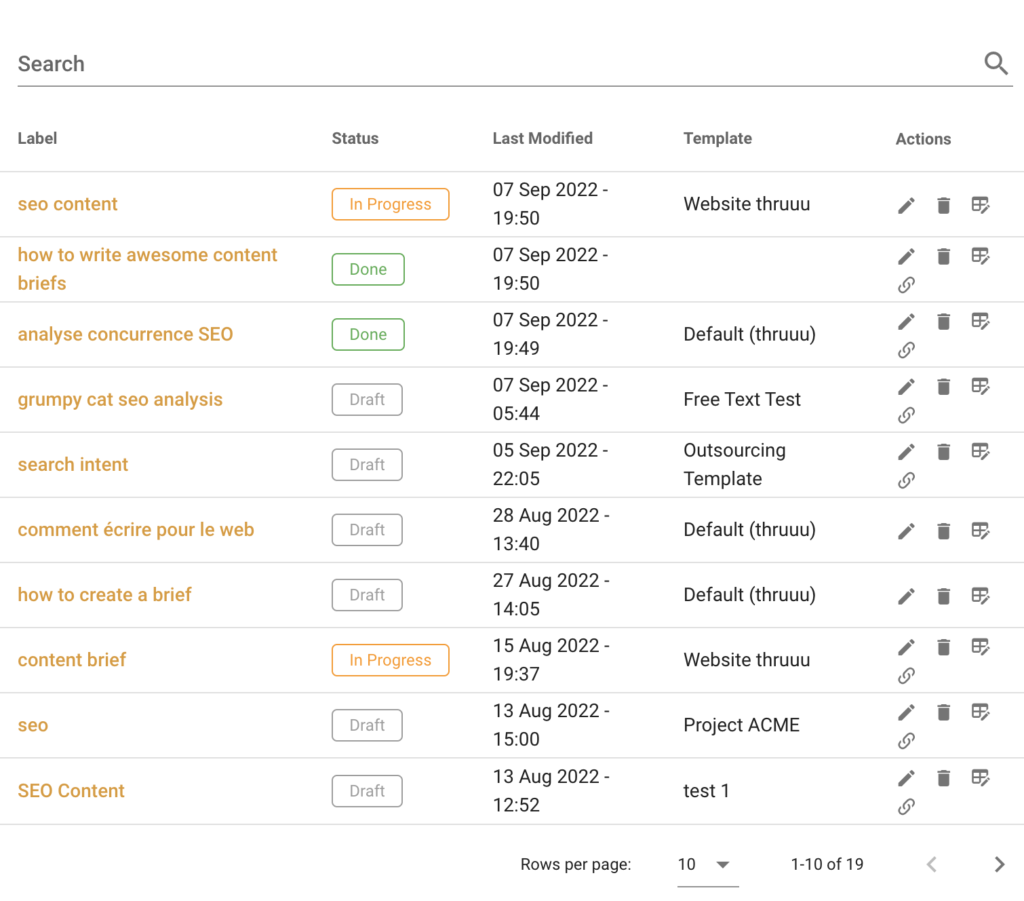 Get started with thruuu and create awesome content briefs
With thruuu, you will save a lot of time analyzing the SERP and get better SEO results by crafting the perfect content.
Don't miss this opportunity.