Would you like to create the perfect content brief?
A content brief that suits the needs of you and your team?
A content brief that contains the information needed to create the best copy to outrank the competition?
With thruuu, you can.
You now have the flexibility to create your own content brief templates and select the specific elements your content brief needs.
With thruuu's new content brief template builder, you can create an endless number of custom options for structuring your briefs for various projects and clients.
Then, with one click you can easily reuse that template and make simple edits for a new content brief.
Let's see what it includes and how it works so you can get started!
What is the content brief template builder?
The content brief template builder is a feature that goes hand in hand with thruuu's content brief generator.
While the content brief builder allows you to create an in-depth content brief, the template brief builder will allow you to create reusable templates.
This means you can click a button and apply a template to any content brief and have several elements auto filled and ready to go for your writer.
Using brief templates allows you to create various content layouts for your briefs to meet the unique needs for different projects or clients.
The creation of a template is easy and intuitive.
How to create your first brief template
To get started, you will need a thruuu account, you can get started here for free.
Once you are logged in to the app go to this page to get started on your first brief template.
Once you click the create a new template button, you are ready to build your new brief template, so let's get started!
Adding elements
The first step is to add some elements to your brief template by clicking on one of the icons from the menu.
Below is an example of the icons you can choose from.
Hover over any icon to see what the element is. You can learn more about each of these elements in the next section.

While there are no limits to the number of elements you can use, some elements can only be added once to a brief template. If the icon turns gray, then you know you cannot add any more of that element.
There is also a delete button on each element you add to your brief if you need to remove any element.
The drag and drop system makes it easy for you to move elements around and put them in an order that makes sense for your needs.
Using the collapse view button will close all element boxes and make it easier for you to manage the drag and drop feature.
Using boilerplate text
This is what makes the brief template really amazing!

Certain elements such as the writer directive, or free text elements lets you include boilerplate text.
Boilerplate text is default text that will be displayed each time you create a new content brief based on a template.
In the writer directive example below, I indicate in the general note section the name of the website the content is for and a link to a few articles on the site.
This can help the writer better understand the tone and voice and allow them to review some content to help them create a better content draft.
I also defined a default audience, region and provided information about the search intent of the article to be written.
Every time I create a new content brief based on this template, the information below will be automatically filled in.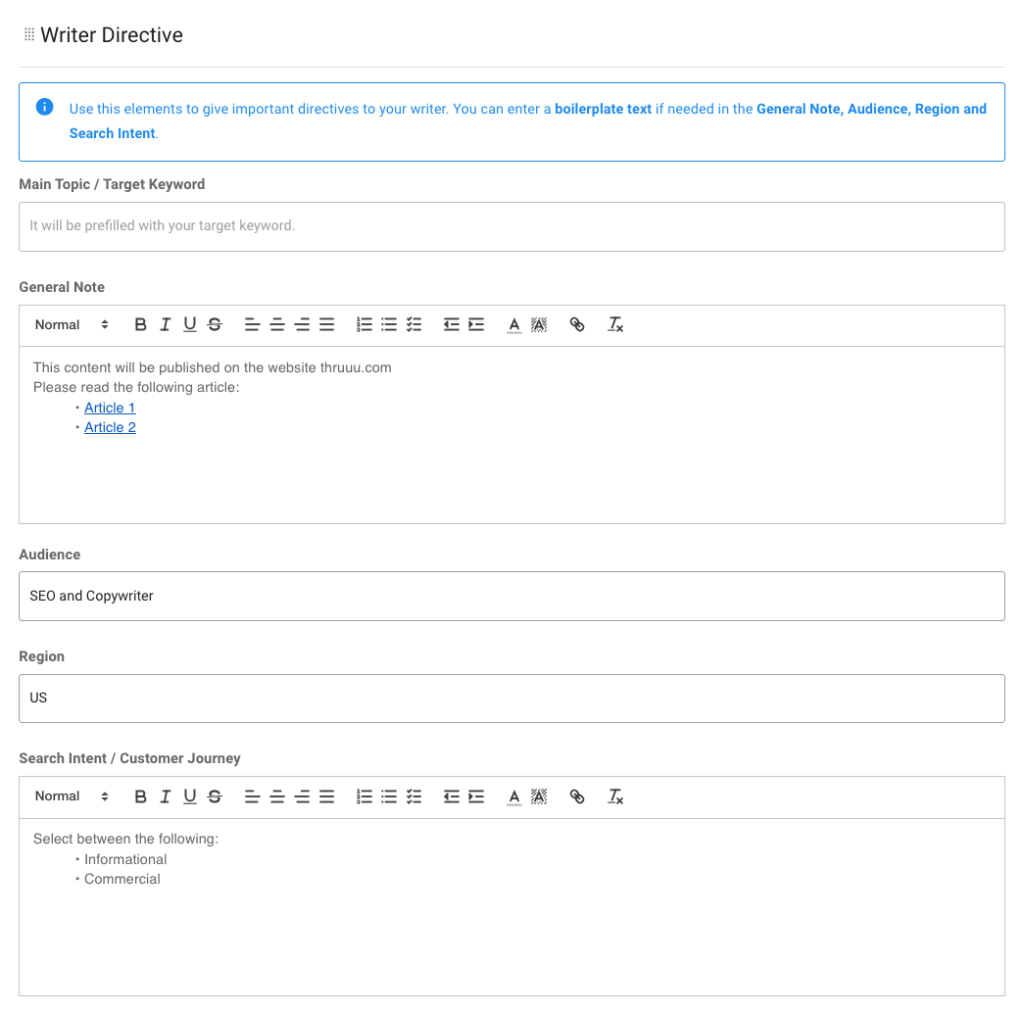 Including free text
The free text element is the most simple element and the most versatile.
You can include as many free text elements as you like in your brief and add boilerplate text.
For example, if I wanted a specific project to include a list of terms related to cat words in every post, I can add the following free text element example.
Every time I reuse this template, the writer will know to include these words in the article.
This element can be used in so many creative ways!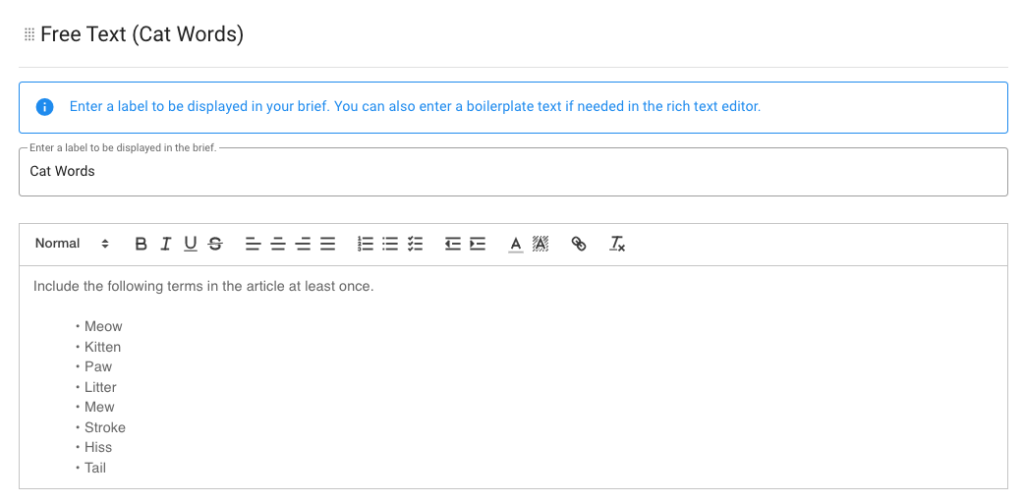 Saving your brief template
When your template is completed you can click save. Then you will be able to give it a name that can make it easy to find and reuse when needed.

Brief template elements
Below you will find information about each of the elements available to create your own content brief template.
Writer Directive
Every template should start with this element. It offers several fields so you can provide writers specific information about the content piece to be written.
This is where you can inform the writer of the target keyword or topic, advise them on the audience they are writing for, as well as provide insight into the customer journey or search intent.
There is also a general note field to share additional information that may be useful to a writer.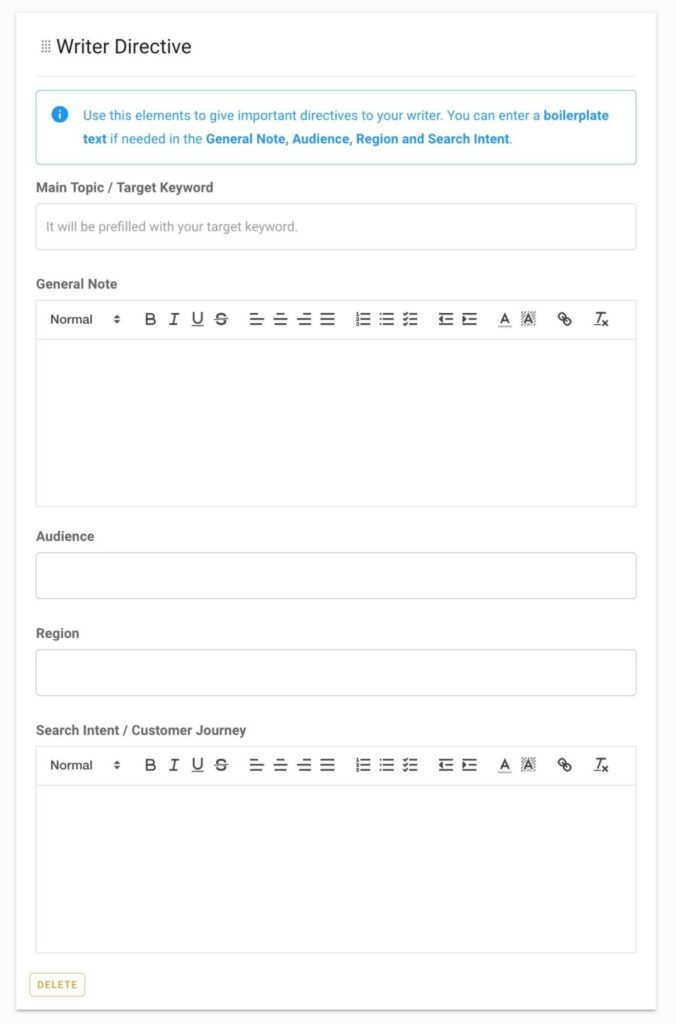 SERP Insights
The SERP Insights element provides important metrics about the search engine results for a specific keyword.
The writer can easily see the types of SERP results that exist, average word count and images used on top ranking pages, find page strength metrics, and even see when the top pages were last updated.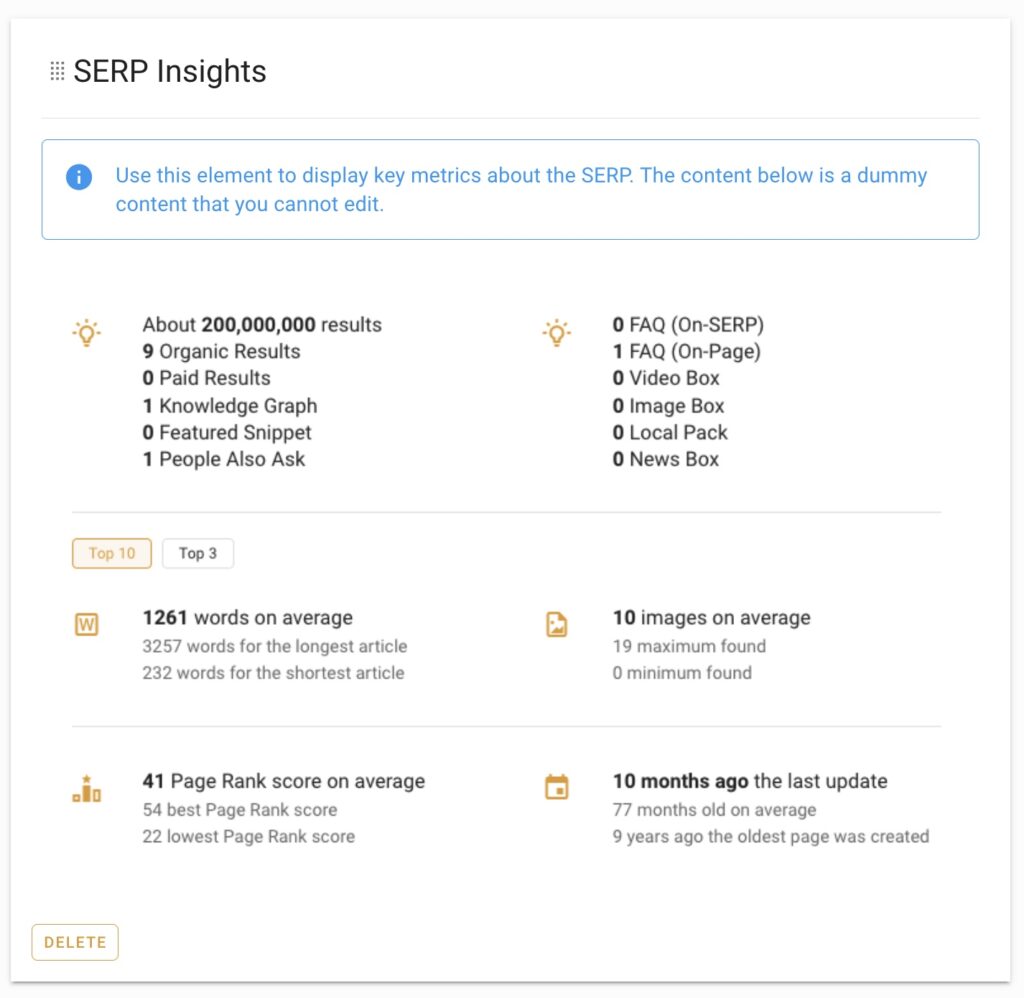 Competitors Analysis
Provides the writer a birds-eye view of the top ranking pages for the specific keyword they are writing about.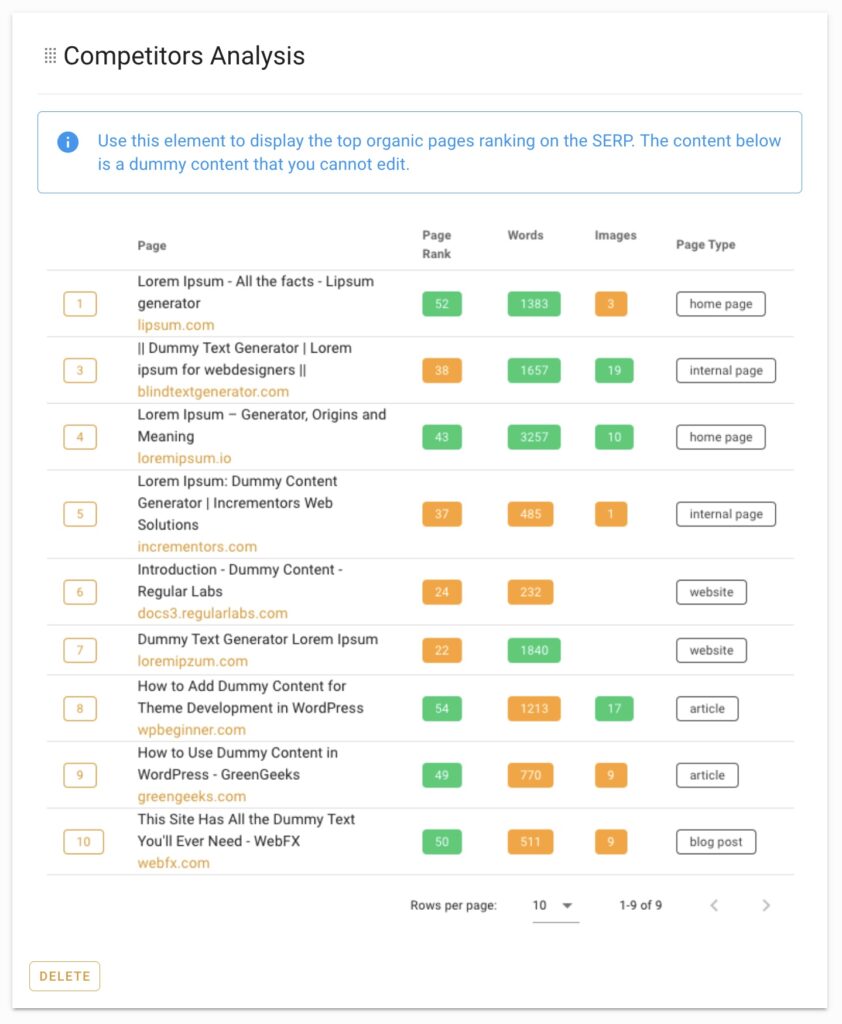 Top Titles and H1
Give your writer an at-a-glance view of the titles and H1 of the top ranking pages.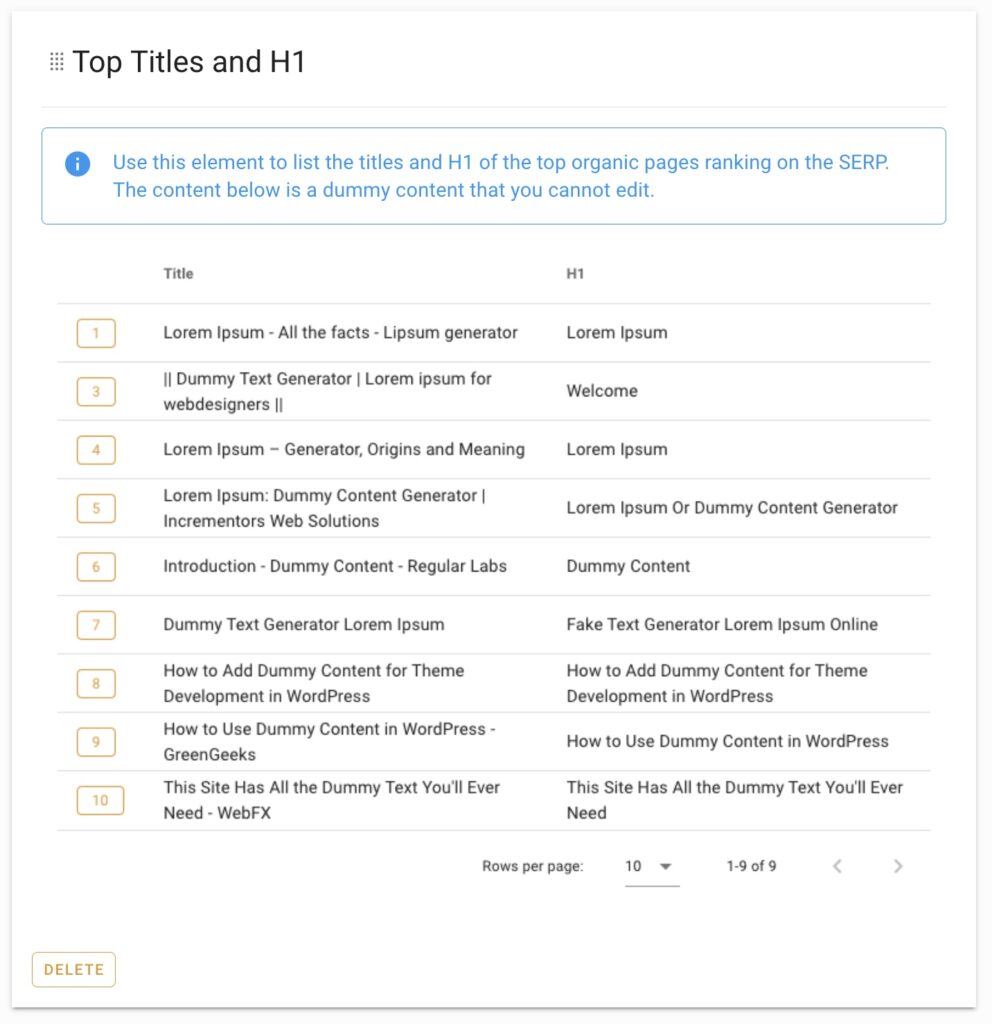 Article Summary
The article summary is one of the most important elements and should be included in every template.
This element provides a writer an overview of the topic, tone, slug, and required word count.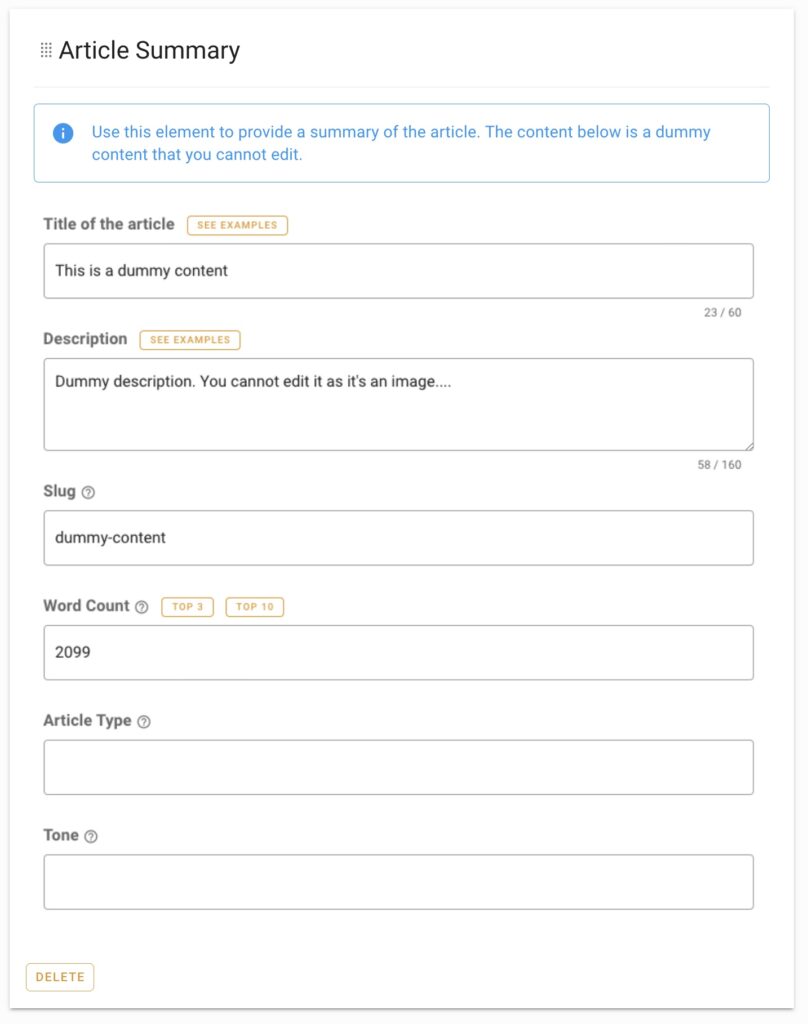 Content Outline
Assist your writer by providing them a content outline based on what the top ranking pages are doing.
Cited Sources
This element will list the top 5 cited sources that the top ranking pages are using in their content.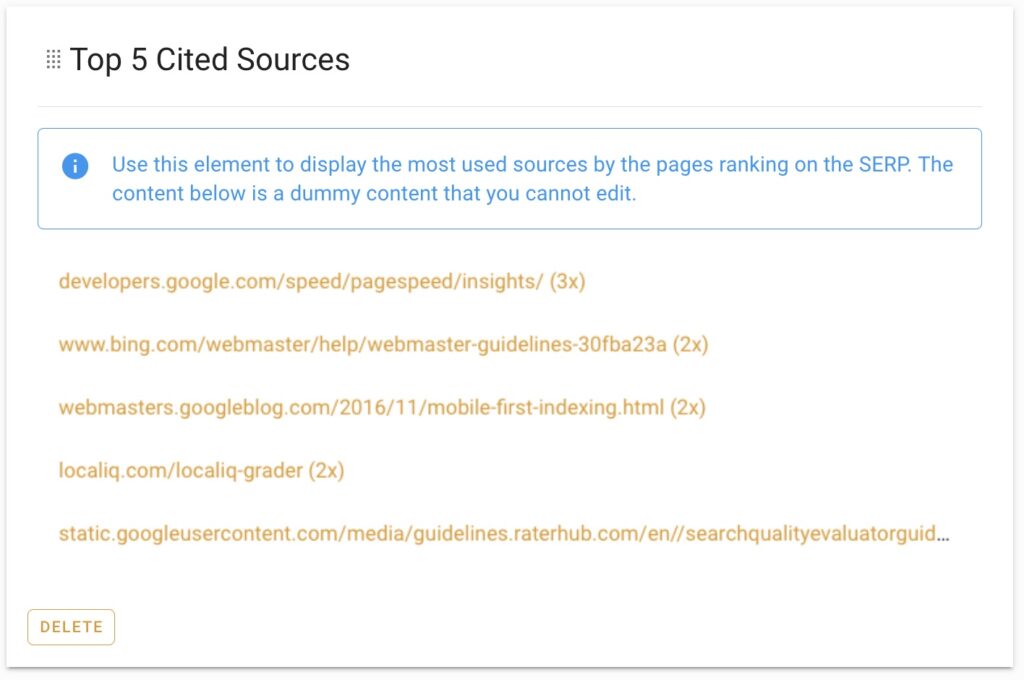 Food For Thought
An inspirational resource that by default will show writers the 3 top ranking pages and a few suggested resources they can read to learn more about the topic.
You can customize this section to remove or add additional content.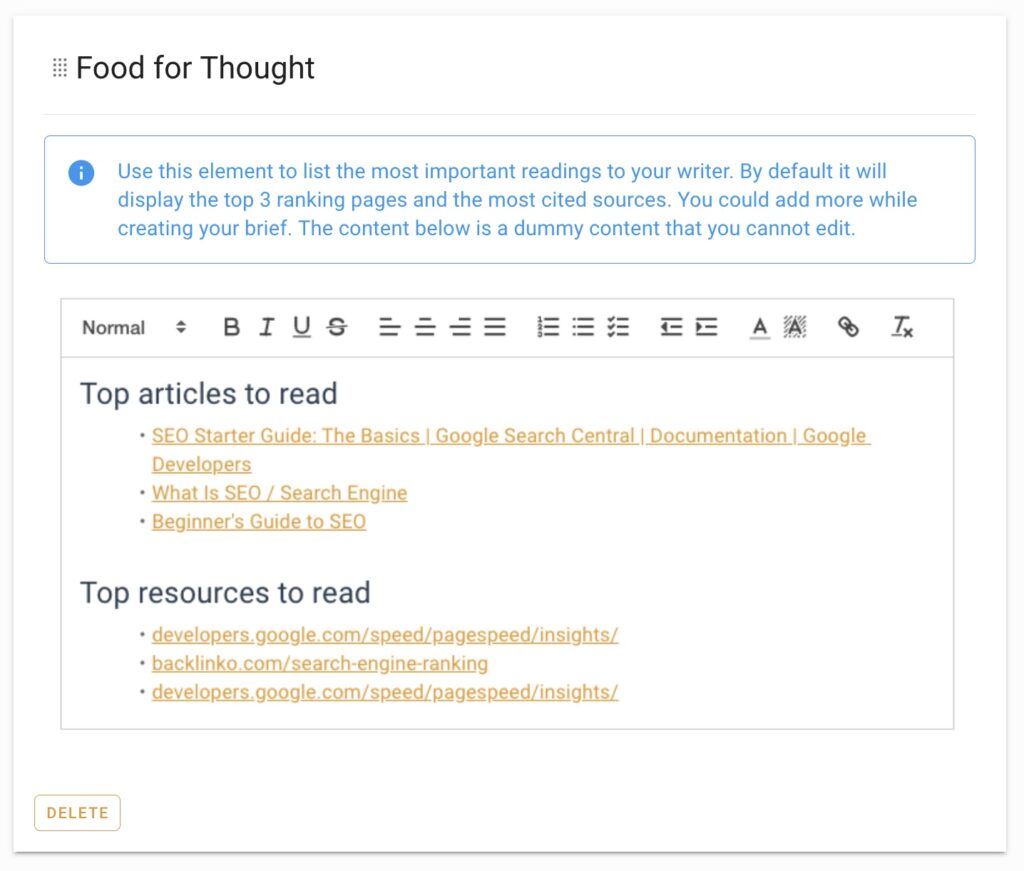 Links
Provide a list of all the external and internal links you would like included in your content.
Not only can you enter a link, but you can specify the exact anchor text as well.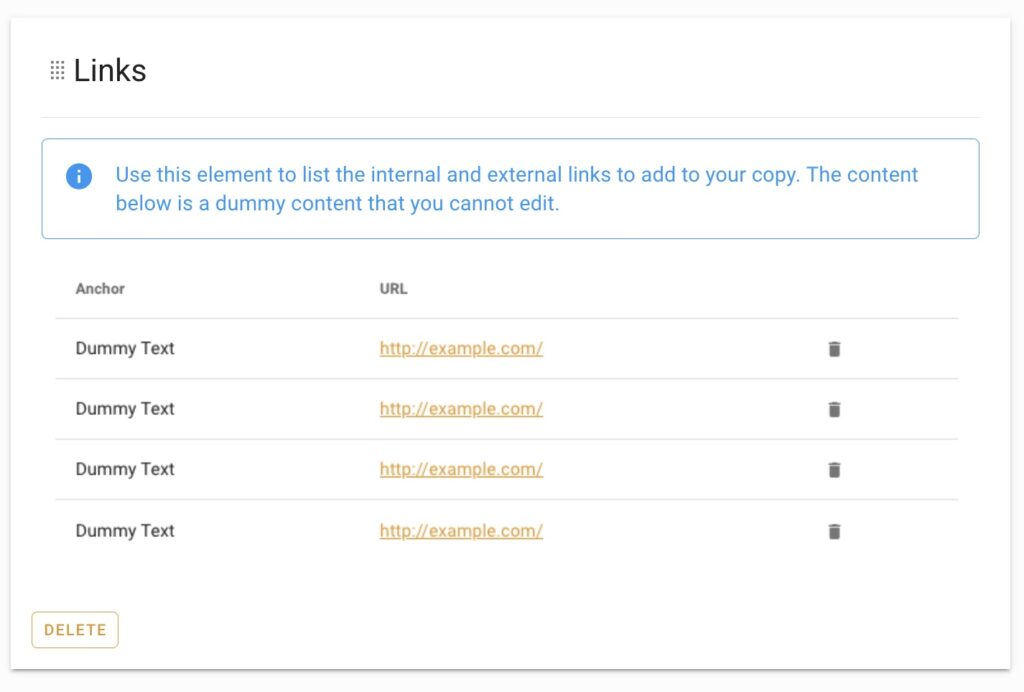 Competitors Outlines
Choose the specific competitors you want to inspire your writer with.
They can then review these articles to get a better understanding of what content expectations are.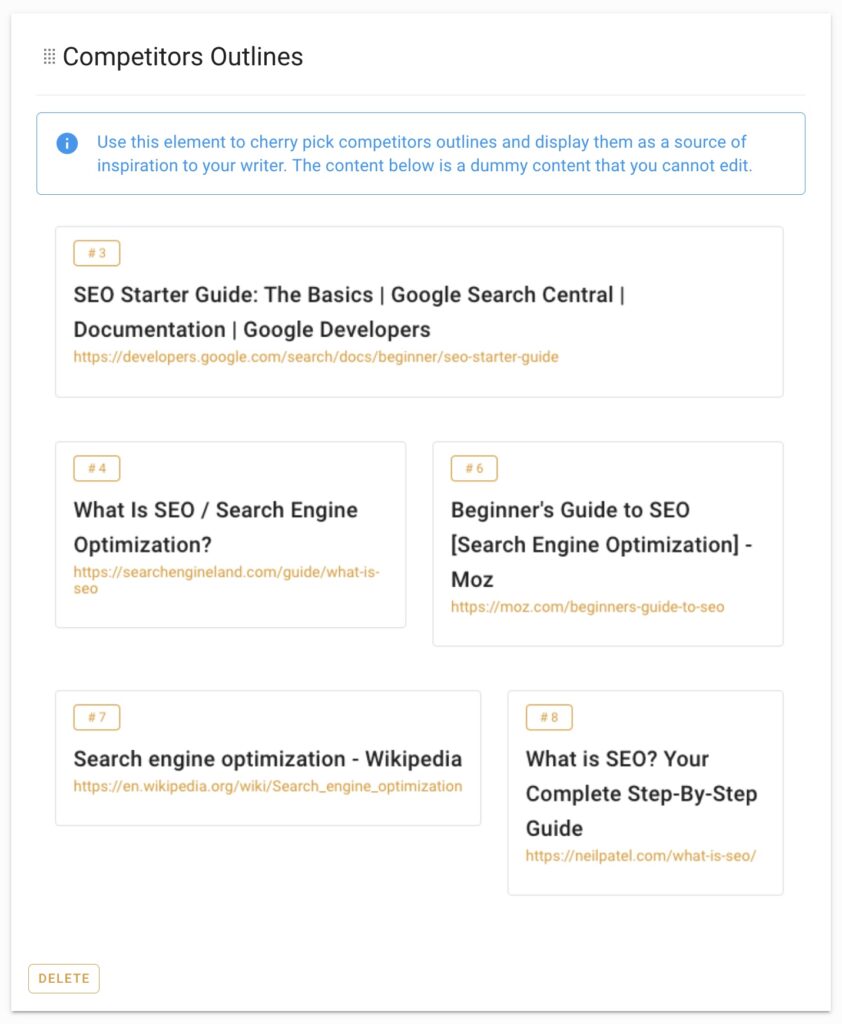 Frequent Questions
Provide your writers a list of the most frequently asked questions about the main keyword that come from People Also Asked or competitor headlines.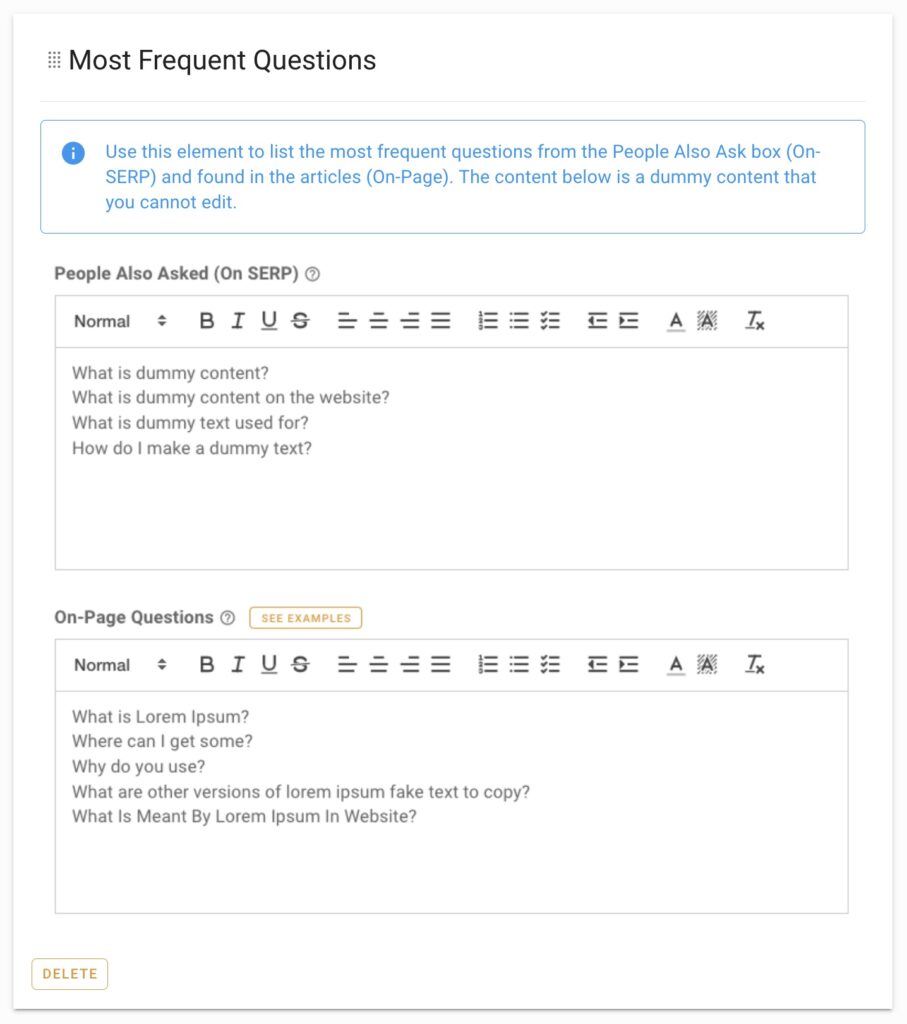 Top Topics
Additional topically relevant keywords that should be added to the content brief.
These are keywords that the top ranking pages are using so it is highly recommended to use them.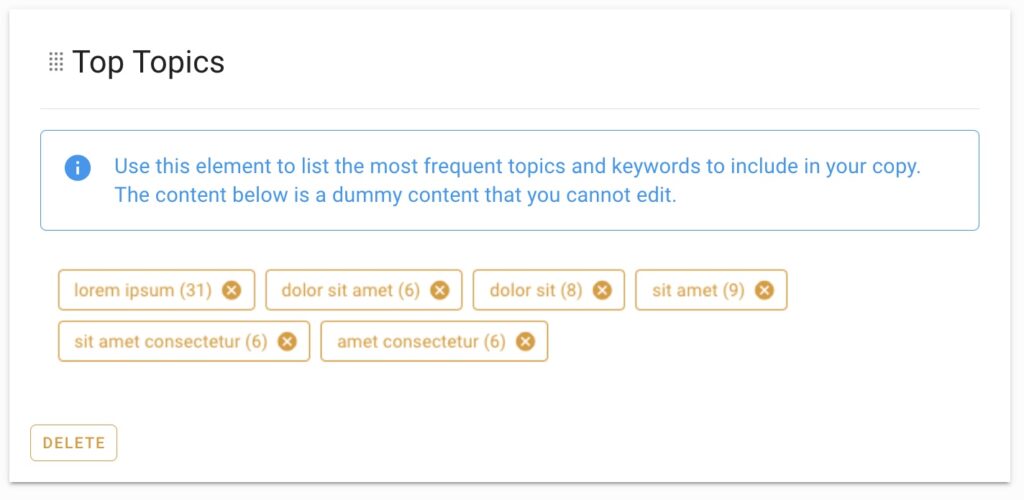 Related Search
This element provides related search terms from Google that can be added to the content if it makes sense.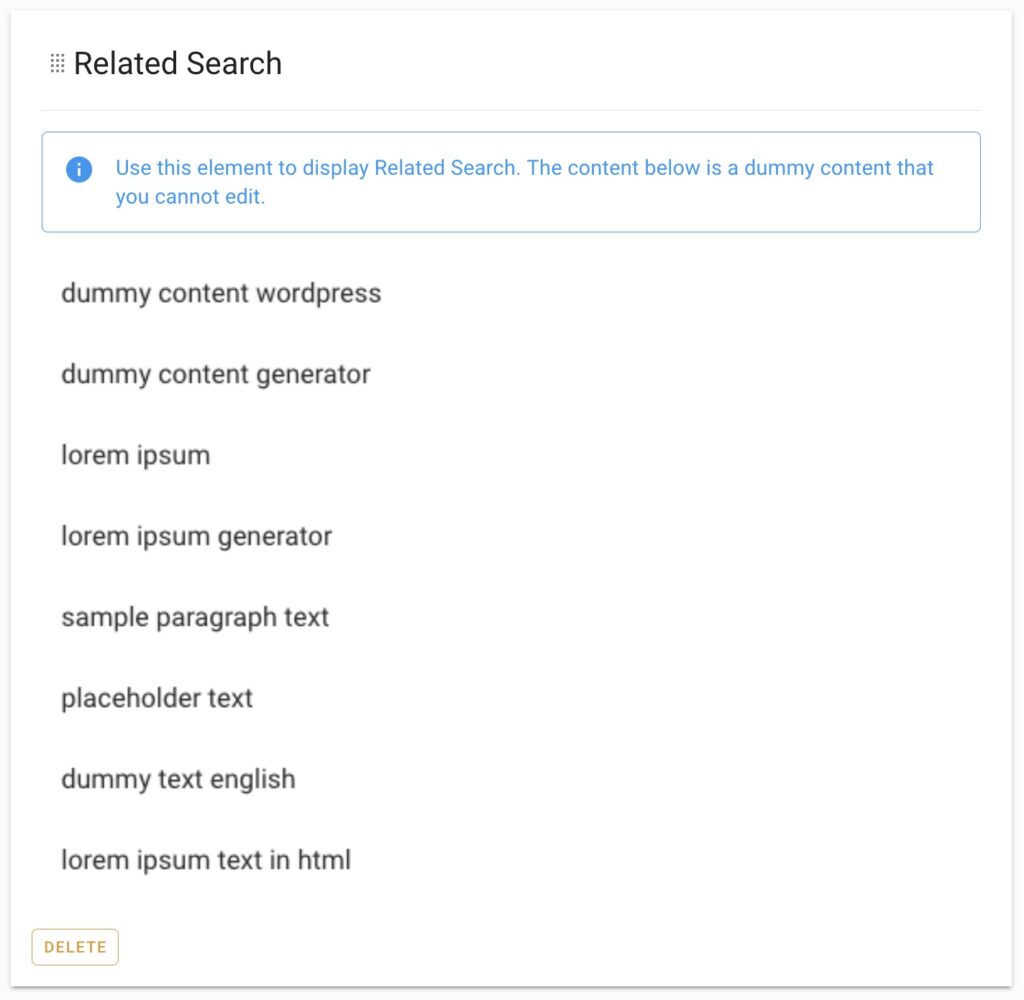 Free Text
A blank element to add any additional information you feel would be helpful for the writer.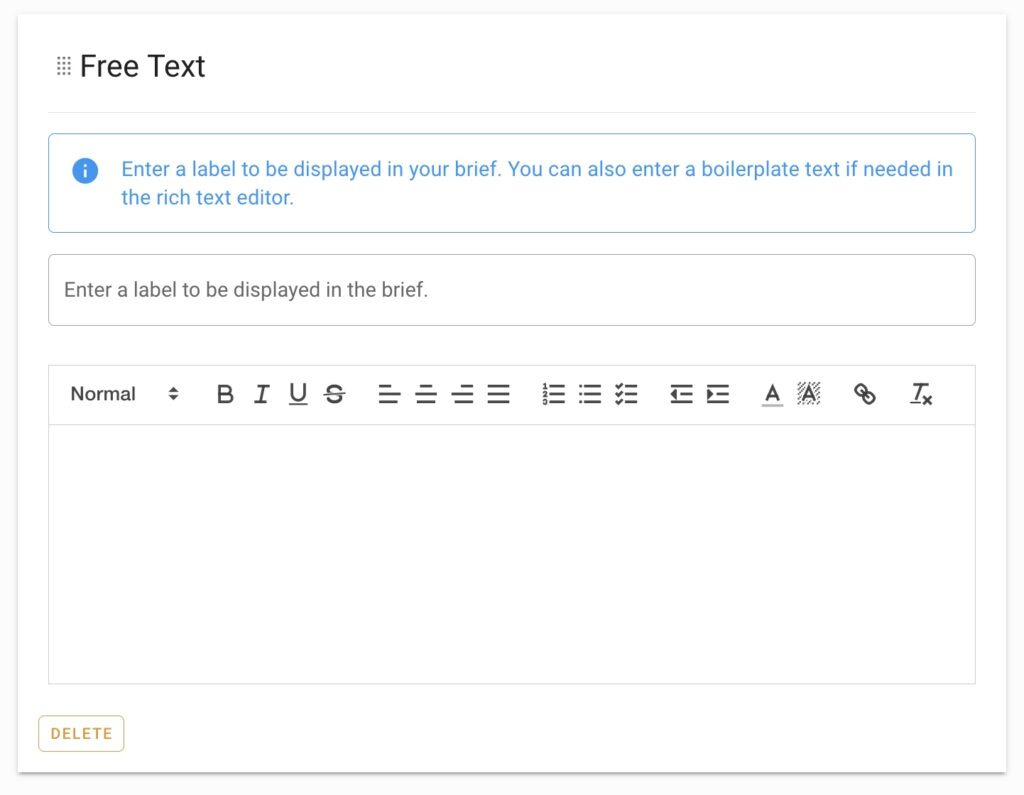 Managing brief templates
You can find all of your brief templates on this page.
On this page you can perform several actions including:
Editing a template
Deleting a template
Duplicating a template
Setting template as default
Once you set a template as the default, it will be the one used each time you create a new content brief.

Creating content briefs from a template
Before moving on, be sure you understand how to create content brief with thruuu.
Once you are on the page to create a new brief, at the bottom you will have the option to select a template from a dropdown.
Pick the template you want to use for your new brief.
Then your content brief will be created and will follow the structure defined by the template you created.

f you pick the wrong template or want to change it later, you can go to the all content briefs listing to change it.
Click on the icon shown below and pick a different template.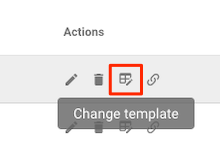 Brief template examples
Below are a few examples of the many ways you can create templates for your projects.
The simple template
This template is the most simple you can provide a writer. It provides only the basics of an outline with no extra elements.
This example includes use of the following elements:
Article summary
Content outline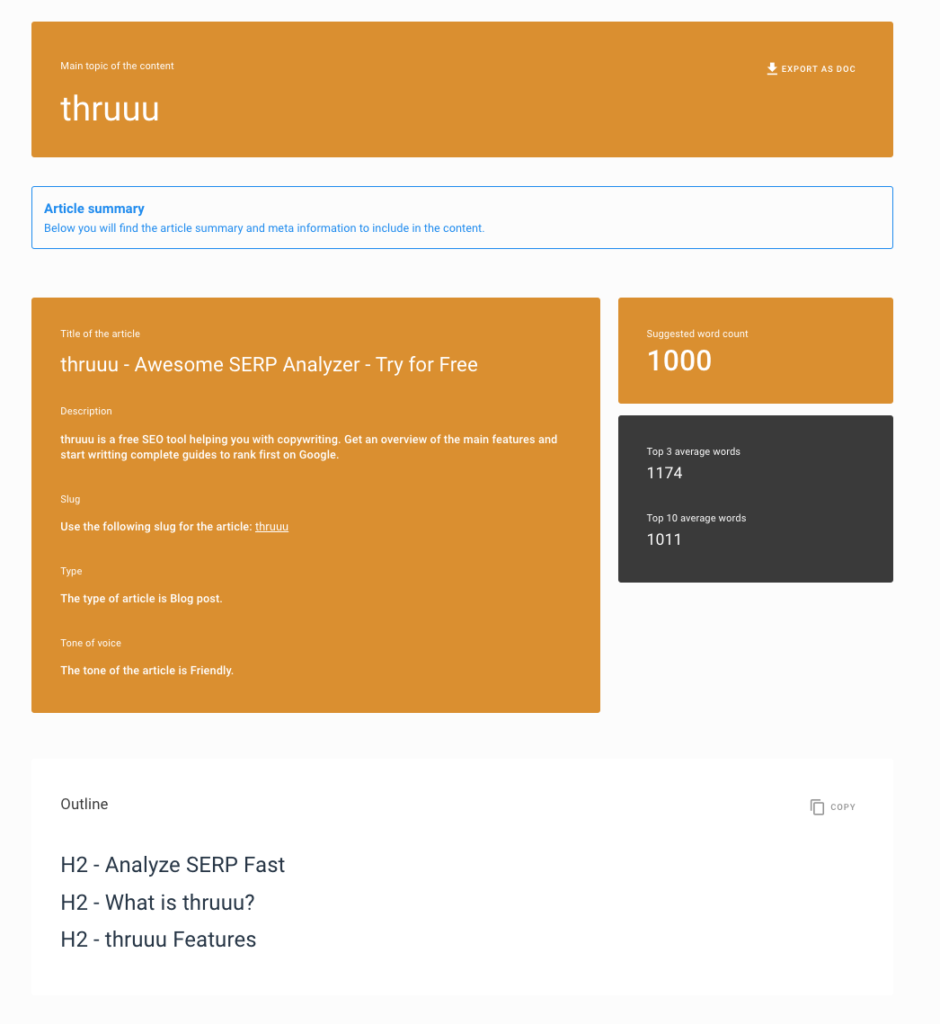 The advanced template
Creating an advanced template allows you to really place focus on what matters to win in the search results. Offering your writers a brief filled with elements to help them understand the topic clearly can create a much stronger piece of content.
This example includes use of the following elements:
Writer directive
Article summary
Content outline
Top topics
Most frequent questions
Food for thought
External links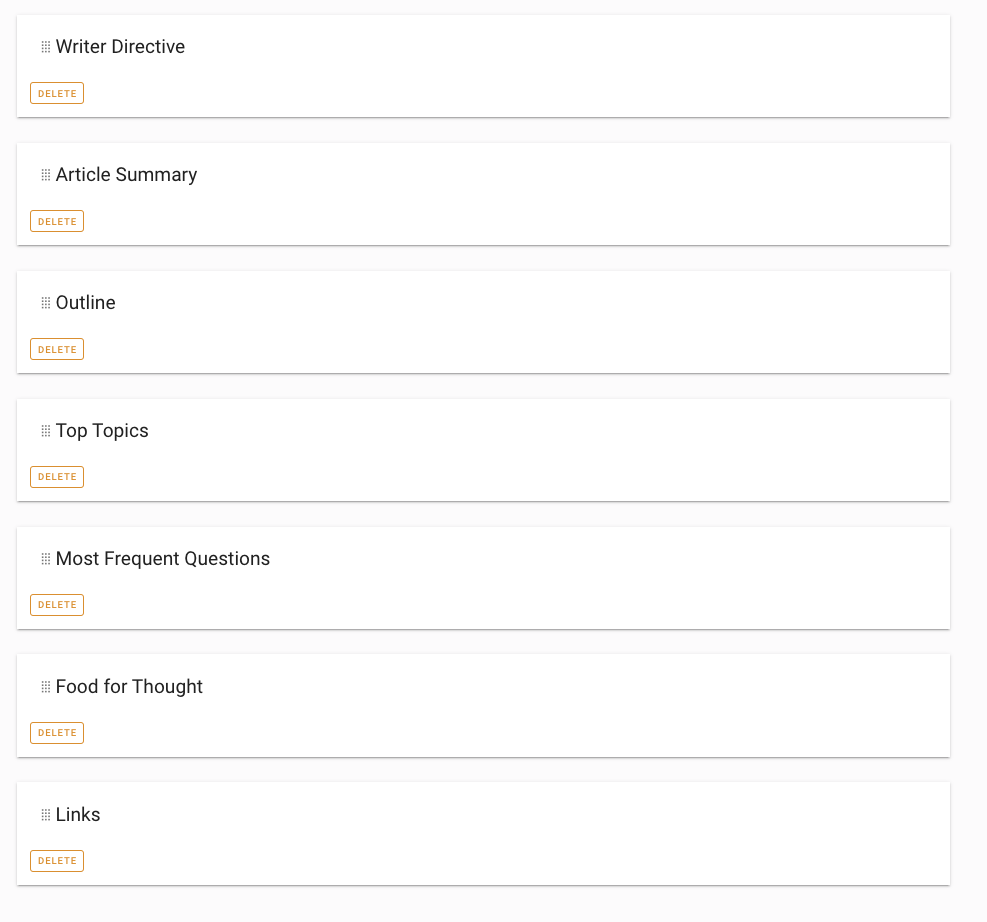 Competitor's analysis template
Does your client want to see a SERP report? It is easy to do with a template created that only focuses on competitor analysis.
This example includes use of the following elements:
SERP Insights
Competitors analysis
Top Titles and H1
Competitors outlines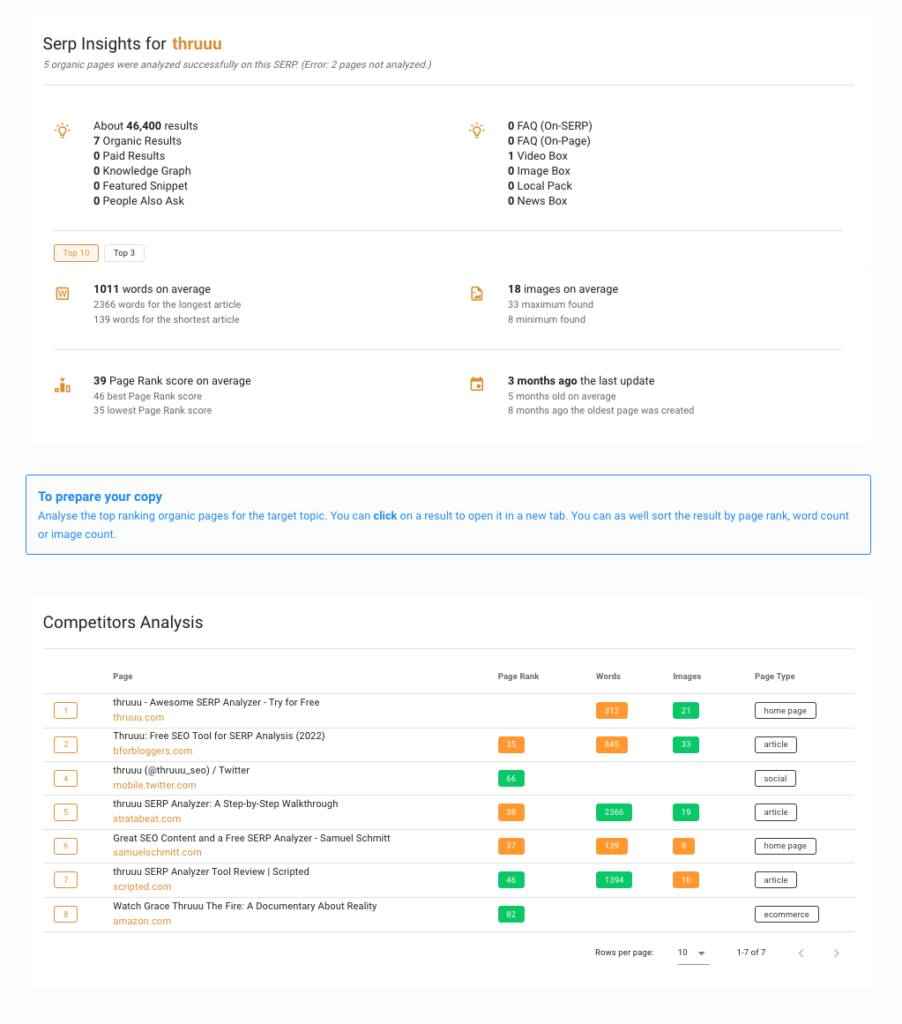 Get started with thruuu and create awesome content briefs
With thruuu, you will save a lot of time analyzing the SERP and get better SEO results by crafting the perfect content.
Don't miss this opportunity.