Editorial guidelines are essential for brands that are interested in content creation.
Your foremost goal would be to establish trust with your audience by publishing content.
But if your content is perceived to be low quality by your audience, they will transfer that same perception of your content's quality to your product or service.
Editorial guidelines are one of the most crucial parts of your overall marketing strategy as they help you consistently create content that attracts your target audience.
In this article, we'll be exploring how to discover the standards your brand needs to make sure that your target audience perceives your content to be valuable, and your brand worth trusting.
What are Editorial Guidelines?
Editorial guidelines are a set of rules that dictate the style, structure, and strategy of your organization's brand so that your content creators can accurately capture your brand voice in each content they write.
Creating editorial guidelines is important if you want to consistently produce content that your target audience loves.
Guidelines will also help you cut down editing time and lead to higher-quality content.
If you're reading this blog, you probably know that everything you need to generate leads, a positive reputation, and a growing readership starts with your blog.
Why are Editorial Guidelines Important?
Editorial guidelines are very important because they help content creators and writers make clear, effective, and accurate content. They are also important for the following reasons:
They Help You Identify Your Buyer Persona: This allows you to tailor your content to your target audience – what you want them to read, and see where they're going to find your products and services online.
Establishing Consistency and Brand Voice: Creating editorial guidelines makes sure that your content communicates a single brand voice and identity consistently.

Ensuring Quality and Accuracy: When your content creators understand the style and brand voice of your company, it's easier for them to make high-quality content.
Once your editorial guidelines accomplish these goals, you will start to see the benefits such as higher SEO ranking, increase in brand awareness, brand engagement, lead generation, and sales.
How to Create Editorial Guidelines
When your company consistently puts out great content with a strong message, your audience will notice.
This will improve your SEO ranking and bring more people to your website. To create these guidelines, keep these factors in mind:
1. Know and Understand Your Audience
The first step in creating your editorial guideline is to understand your target audience; know what they like and know their pain points, as this will influence how you create your content, the topic you choose, and even the tone you use.
Ask yourself the following questions:
Who is your target audience?
What values do they look for? What ones can you provide them?
How do they prefer to communicate, and interact?
What are their pain points?
What solutions do you have for their pain points?
How can they benefit from your solutions?
How can you tie all this into a persona?
Once you've figured out the answers to the above questions, all you have to do is keep your ideal persona in mind when you create content.
If your persona is a very busy person, then short, bite-size content is the best type of content for them.
If your persona is a thorough and detail-oriented person, then they will prefer to see more comprehensive content.
2. Define Your Content Goals and Objectives
Now that you know your audience and the tone that works best, the next step is to figure out what topics will interest your readers the most.
What do they enjoy reading about, and how can your blog help them improve their professional lives? Your content goal could be:
Raise awareness about an issue
Build a community
Collect email subscribers
Build trust with your audience
Or any other goal
Having a clear goal and including it as part of your guidelines will help your writers stay focused.
3. Select the Appropriate Tone and Style
If you don't want to risk bypassing your target audience, it's important you get the voice and tone of your brand right.
For example, if your company has a brand identity that is hip, cool, and uses wit to appeal to Gen Z, then your content should not come across as cold and corporate.
Likewise, if your target audience is CEOs, your brand voice should be less "fun" and more professional.
Your editorial should also include a style guide, which will inform your writers on things like what spelling variations are appropriate.
To be more specific, your style guide should cover the following:
Grammar
If you want writers to use the Oxford comma and active voice, be clear about it in your style guide. You can also mention your preferred terms for words like website or website, eBook, or e-book in this section.
Spelling
Remember, the most frequent spelling differences occur between American English and British English. Please clarify in your editorial which style you prefer.
Visuals and links
If you don't like your writers to include any stock images or screenshots in your context, make it clear so that your writers don't do the opposite.
You can also shed some light on the links. You can add how frequently you like to include links to other websites or pages in your articles and when they're most appropriate.
You can also include how to properly cite these sources and any website you want your writers to avoid linking resources out to. In this case, your competitors.
4. Define the Content Formats and Structure
Content formats are the different styles you can share things online, like blogs, videos, or podcasts.
Picking the right one for your audience and goals really matters. It can make your content much more effective.
To pick the right content format, again you need to know your target audience and you need to have a goal for your content as different content formats have different weaknesses and strengths when it comes to effectively delivering your message, engaging your audience, and driving your desired actions
Another important thing to include in your editorial guideline is content structure. This refers to how your piece of content looks.
A well-organized and well-structured piece of content will attract readers, keep their attention, and eventually achieve your desired action.
Here are a few tips to help you create the perfect content structure for your goals:
Use Headings and Subheadings
Use Bullet Points and Lists
Use images and Graphics
You can further explain how many images to use, and where they should be placed. You can also include where the images should be gotten from for each piece.
5. Find Meaningful Content Examples to Share
Offer your writers useful reference materials they can use while creating content.
If you share links to examples you liked and explain why, it will greatly assist your writers.
You can also point out bad examples, explaining what went wrong, so your writers know what to avoid.
You can start by checking out big companies like the ones on the Fortune 500 list.
Think about the popular brands you use every day and see how they talk about their products.
Also, take a look at your competitors who are doing really well. See how they advertise their products online and on social media. Figure out what they do differently or better than you.
By doing this research and looking online, you can find good examples to create your own editorial guidelines.
6. Communicate the Guidelines With Your Writers
Make sure everyone in your writing team knows and follows the guidelines.
Clear communication helps writers create content that sounds the same, is good quality, and fits the rules.
To effectively communicate the guidelines with your writing team:
Hold a meeting
Organize a team meeting or training session to introduce the editorial guidelines.
Discuss key points, answer questions, and provide examples to illustrate what is expected of them.
Provide a handout
Create a clear, concise handout that outlines the editorial guidelines.
Include examples and specific do's and don'ts for writers to refer back to whenever they're working on a piece.
Visual Aids
Use visuals like infographics or charts to illustrate important points.
Visual aids can simplify complex information and make it easier for your writers to understand and remember.
Regular Updates
If there are updates or changes to the editorial guidelines, make sure that your team is informed promptly.
Hold briefings or send out email updates to keep everyone in the loop.
Encourage Questions
Create an open environment where your writers feel comfortable asking questions or seeking clarification about certain areas in the editorial guidelines.

Provide Feedback
Regularly review the content written by your team. Give constructive feedback, pointing out examples of adherence to guidelines and areas where improvement is needed.
Training sessions
Consider organizing training sessions a few times a year, especially for new team members. These sessions can provide in-depth insights into the guidelines and allow for interactive discussions.
Editorial Guideline is not a Content Brief
An editorial guideline and a content brief serve different purposes in the content creation process.
Below are some main differences between an editorial guideline and a content brief.
Editorial Guideline
An editorial guideline is a comprehensive document that outlines the overall style, tone, voice, and standards for all content produced by a specific brand or organization.
It provides the rules for maintaining consistency across all content types, such as blogs, articles, social media posts, and marketing materials.
Editorial guidelines are usually broader and focus on the long-term brand identity and messaging.
Content Brief
A content brief is a specific document prepared for individual content pieces, such as articles, blog posts, or marketing campaigns.
It provides detailed information about a particular content assignment, including the topic, target audience, key messages, keywords, specific requirements, and any other relevant details.
Content briefs are more specific and focus on the particular goals and expectations of a single piece of content.
Example of Editorial Guidelines
Here's an example of thruuu's editorial guidelines for the blog section of the website.
These are the common rules shared with writers working on blog posts. It helps us stay consistent across all the blog entries.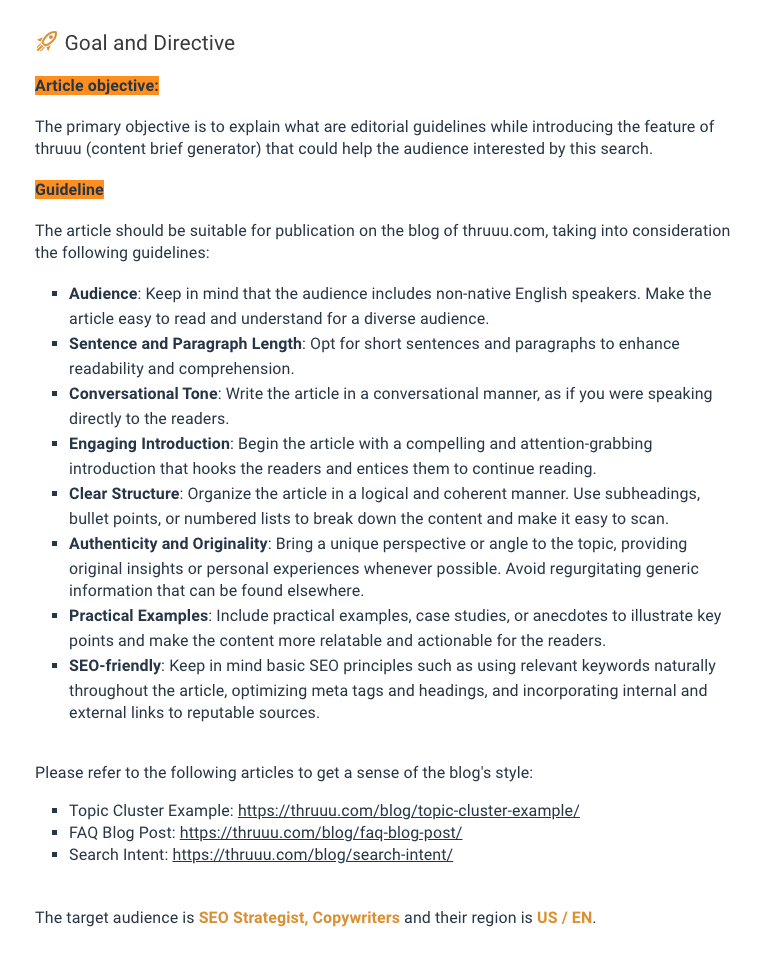 As we explained previously, an editorial guideline helps in maintaining consistency across all content types and is different than a content brief.
In our content briefs, we highlight the editorial guideline at the beginning and add specific goals for the article, like:
The objective of the content: It could be to educate our audience or highlight a specific feature of our SaaS
The word count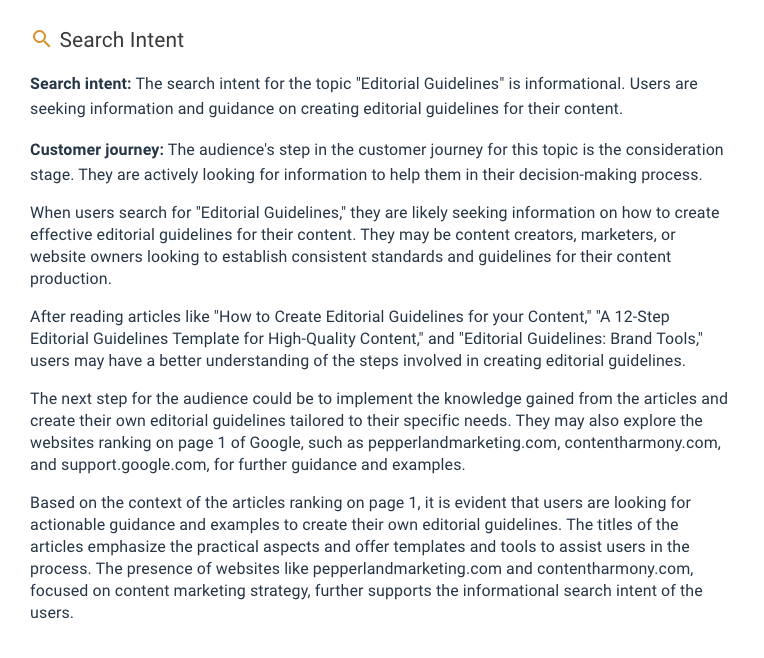 Also, in the content brief, we include more sections for the particular blog post such as:
Meta title and description
Content outline
Competitor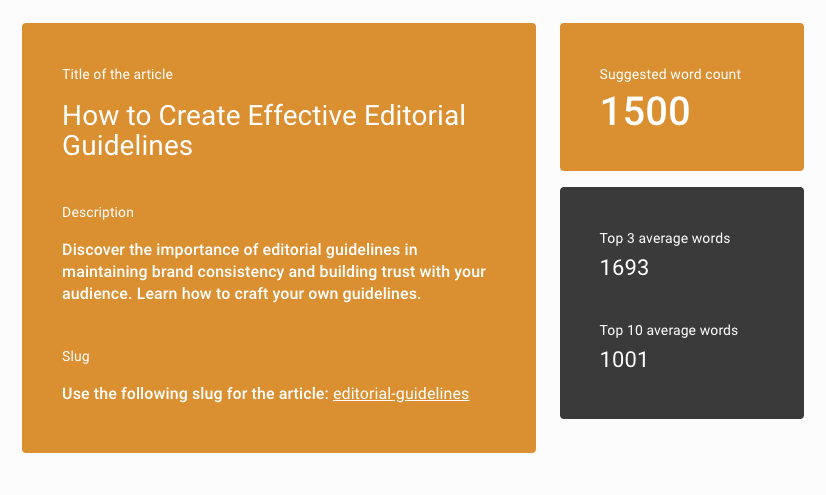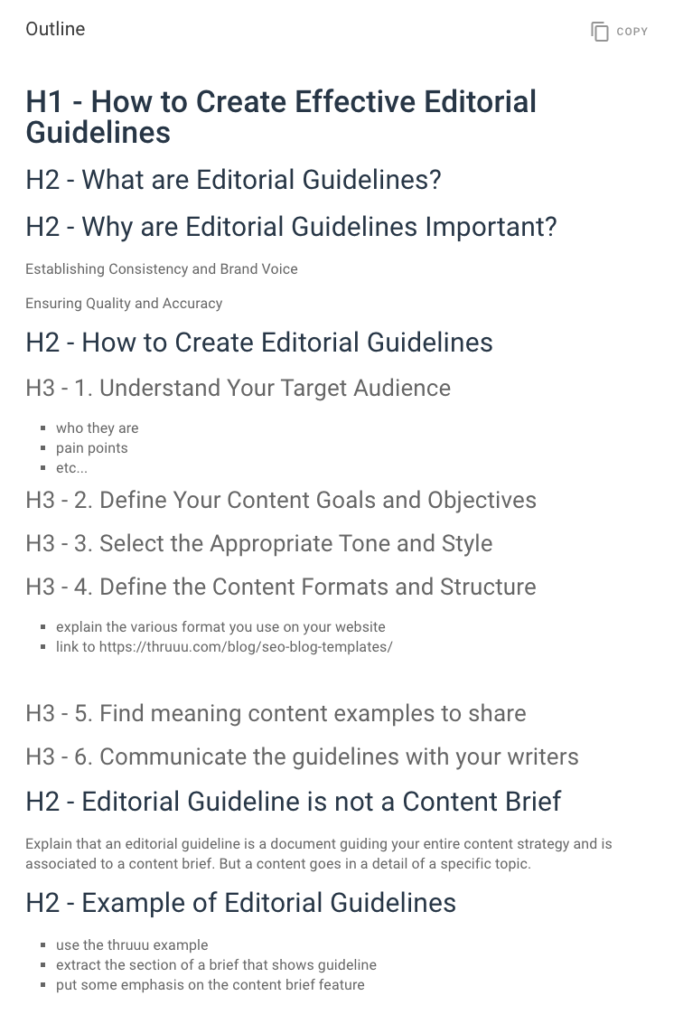 You can learn more about creating a content brief with thruuu.
Conclusion
Using the tips above as a framework, you can create editorial guidelines to produce content for your target audience that resonates with them.
You don't need a 15-page editorial guideline to get started.
We have given you the basics and they're good enough to get you started on your blog.
They will help your writers to deliver standard content and as your brand evolves, you can add new editorial requirements.
Empower Your Content Team
Our end-to-end content optimization solution empowers your team to crack the Google algorithm, craft exceptional content, and achieve remarkable organic search results.