When users do a search on Google it is no longer just a list of blue links in the organic results like in the past. The search engine result pages (SERPs) are now filled with a variety of formats which are called SERP features.
SERP features deliver more in-depth search results that can better satisfy a user's search query.
As an example, do a search for "Grumpy Cat" (RIP Grumpy Cat).
You might be overwhelmed with the different types of results that appear. You will find images, about, videos, and other results. Each of these is delivering query specific content in different ways.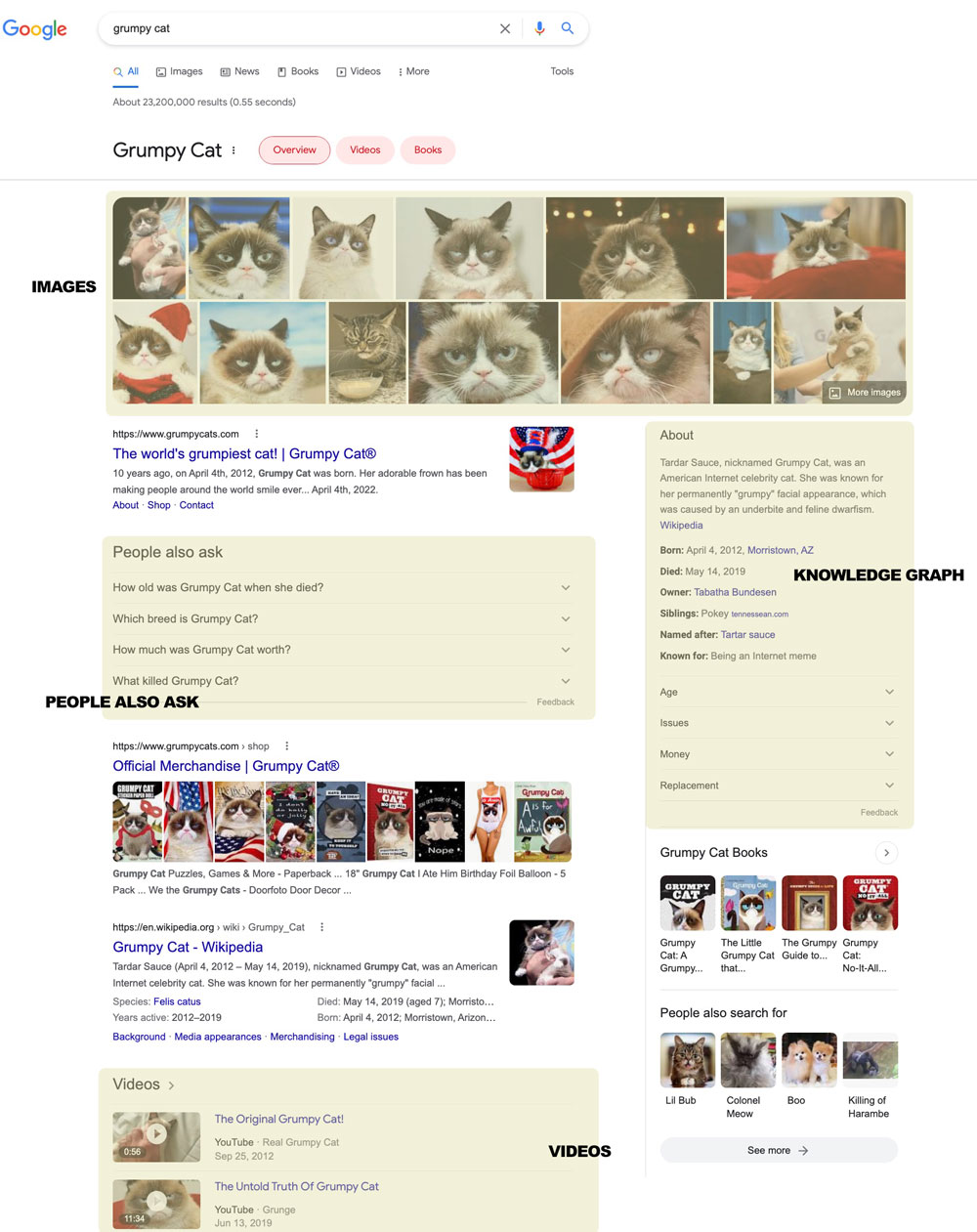 All of the results highlighted above are SERP features that you can optimize your content for. This example only shows a few of the many opportunities to gain more organic visibility.
Being familiar with all of the available SERP options is a great way to set your website apart, even in the most competitive search results. It can also help you a create a content outline for your writers to ensure you add the elements that can grab the available SERP features for your keyword.
In-depth keyword research and SERP analysis can help you better understand how to optimize your content to get to the first page.
Most Common Types of SERP Features
SERP features are any results on Google's search engine results page (SERP) that are not the traditional blue links.
These SERP features can appear in either organic results or paid results like Google Ads or product listing ads.
Some may be more relevant than others for your brand, so be sure you understand which ones offer the most ranking opportunities for you.
For example, if you are a food blogger you will of course need to understand the recipe rich snippet. But a well-known brand may be more interested in trying to obtain a knowledge graph.
You may also want to try to rank for multiple SERP positions. The more you can apply to your website – the more visibility you can gain.
Featured Snippets or Answer Box
Featured snippets (sometimes called an answer box) are most often seen below the search box. Pages that rank in the top 5 organic positions for a search query are the most eligible to land a featured snippet.
In a featured snippet, Google will showcase a portion of the text from a website that provides a direct answer to the question a searcher has asked.
It will also include a link to the domain that the information is pulling from to allow the reader to further engage with the article.
Featured snippets have been shown to get as much as 35% of the clicks in a search result. This is why website owner's try hard to get them.

They will provide a higher level of visibility for your brand and bring more traffic to your website.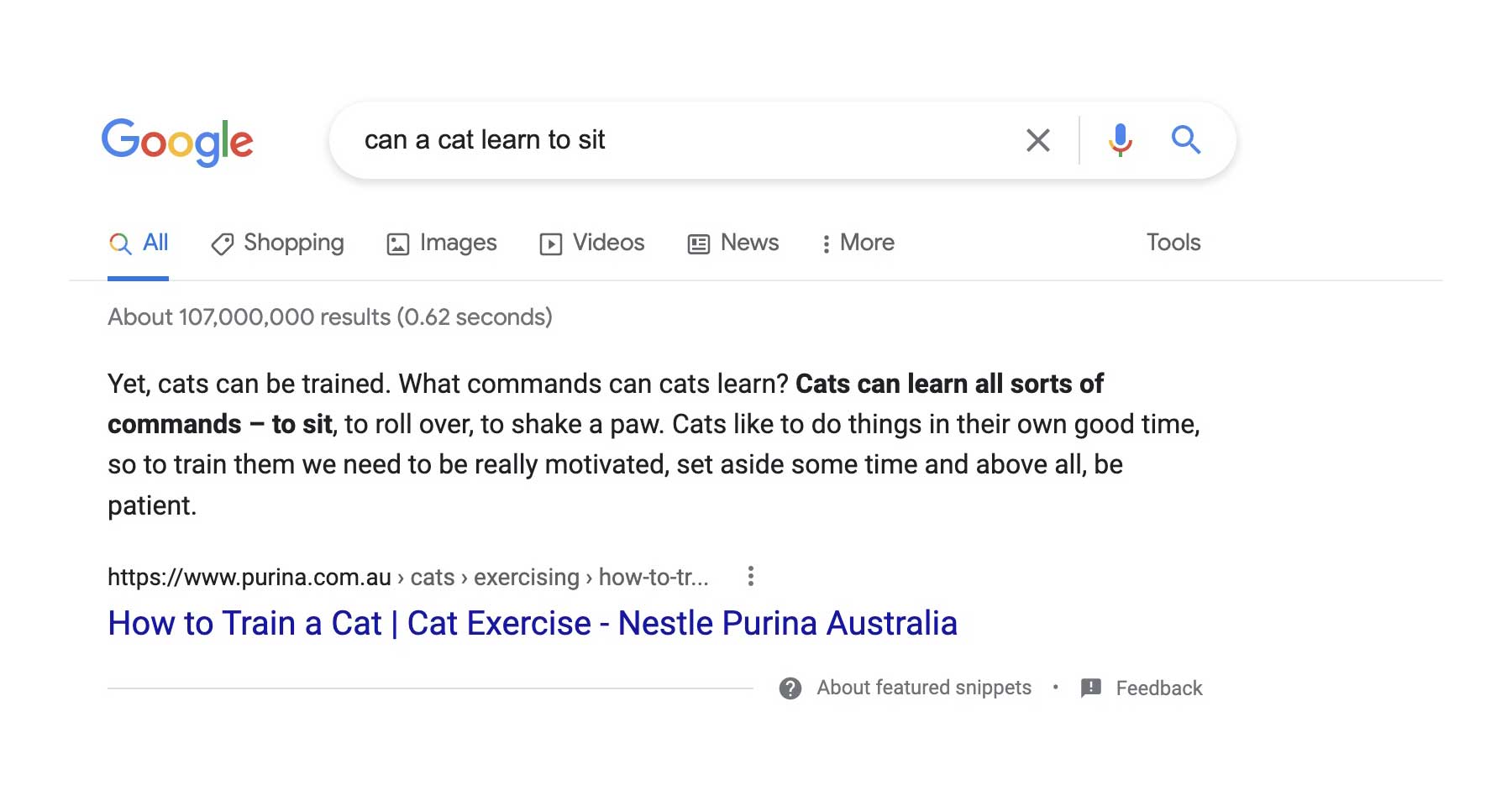 Featured snippets can also be shown as lists, calculations, and other types of informational queries.
In some cases an image will also be included as shown in the example below. The image might be pulled from the same article, or it may be pulled from an entirely different website.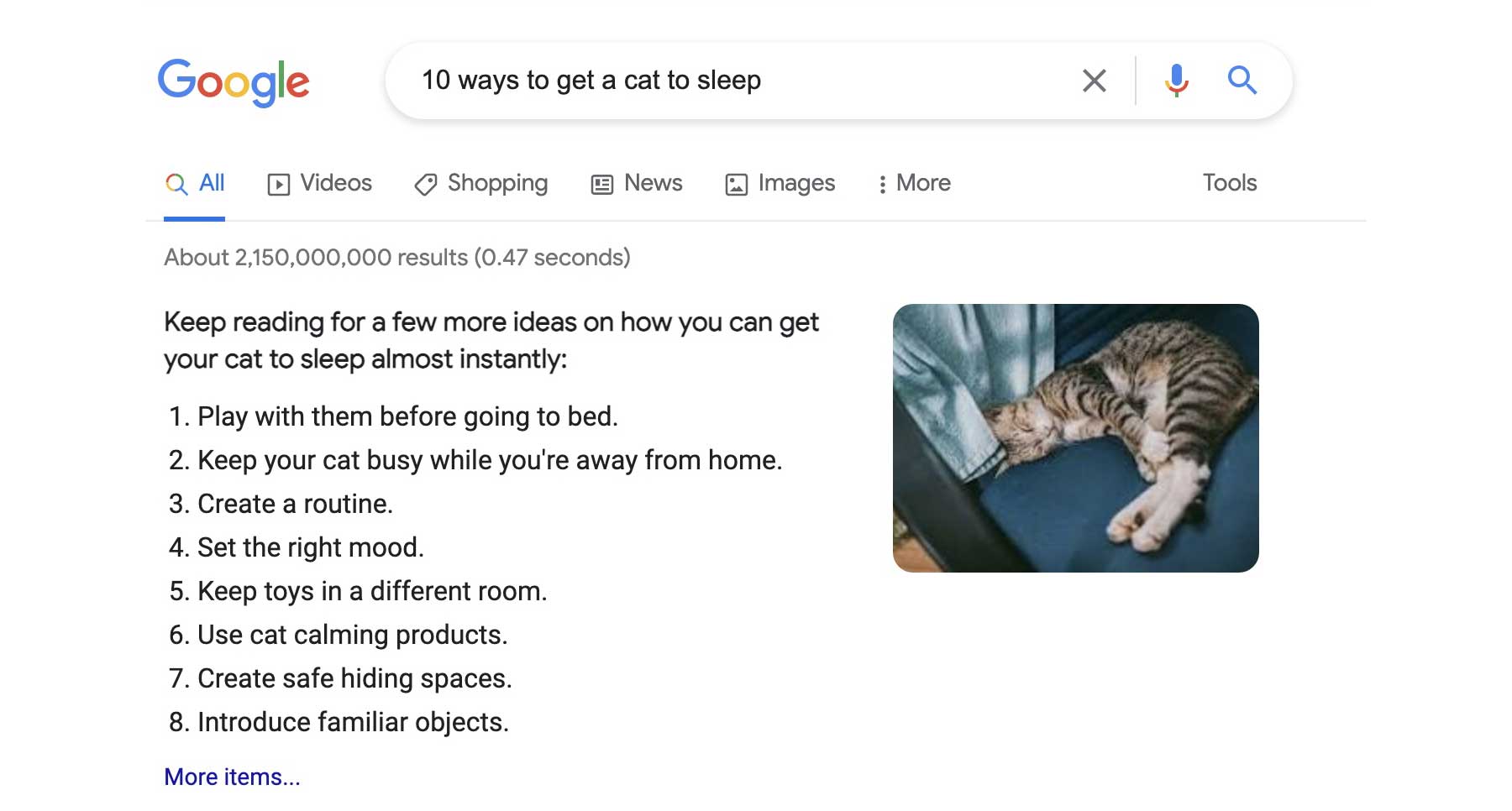 Another bonus of features snippets is that they are often used for voice search results on Alexa or Google devices. It is estimated that over 40% of the results read back to searchers on voice devices come from featured snippets.
To improve your chances of getting a featured snippet you should have a question with a clear, concise, and short answer in your content
Rich Snippets
Rich snippet results show more than just a URL, title, and description.
These listings stand out in the Google search results with features like star ratings, breadcrumbs, recipes, and more.
Rich snippets can often bring more clicks since they stand out in a crowded SERP result.
Types of rich snippets include:
Reviews
Recipes
Events
Music
Product markup
Movies
The example image below shows a review rich snippet at the top and recipe rich snippets below it. Both offer additional content and visual elements that can attract more eyes on your listing, and more clicks.
Optimizing your website to take advantage of rich snippets requires the addition of structured data markup in your web pages.
Reviews can find their way into many different SERPs, so spending time on getting great reviews is critical to your business. You might find them under Local Pack Results, Shopping Results, and in most Featured Snippets reviewing products.
Rich snippets are often shown to have higher CTRs than other SERP listing types.
In WordPress there are several plugins available. You can also use the structured data markup helper from Google to create the HTML code you need.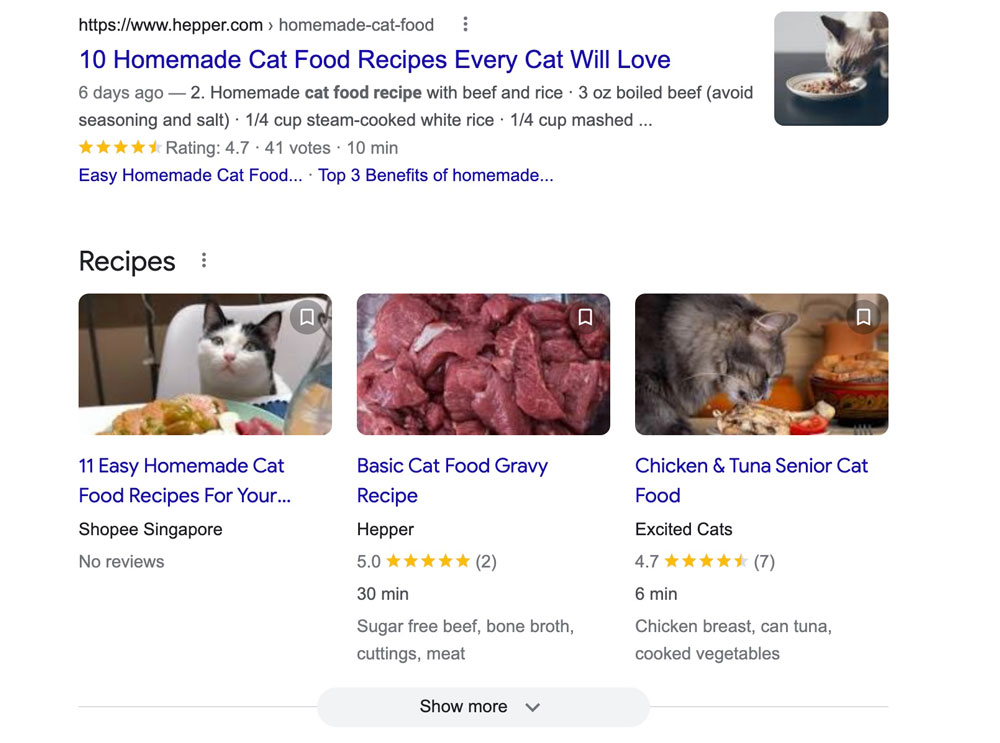 Knowledge Panel
A knowledge panel (or knowledge graph) is any automatically generated information Google provides users without having to click through to another page.
It is most commonly seen when searching for a person or company.
It will appear in the right sidebar on desktop and at the top of the results on mobile devices.
For example, if you type in "what is a cat?" you might see the result below with a knowledge graph about cats. This data is retrieved from various authority sources, but Wikipedia is the most common.
There is no specific way to ensure you get a knowledge panel. Because they are pulled from authoritative sources and not from websites, the ability to rank for them is not easy.
Image Packs
Image packs will be shown when a specific search is done that Google thinks will be best served by images. Using well named images and descriptive alt text can help improve your chances of showing in the image pack.
For example if I search for "cats drinking wine", the first thing I see is a grid of images.
Google is correctly assuming I want to see pictures of cats drinking wine by the intent of the keyword.
When an image is clicked, a user will be taken to the Google Images results where more related images will be seen.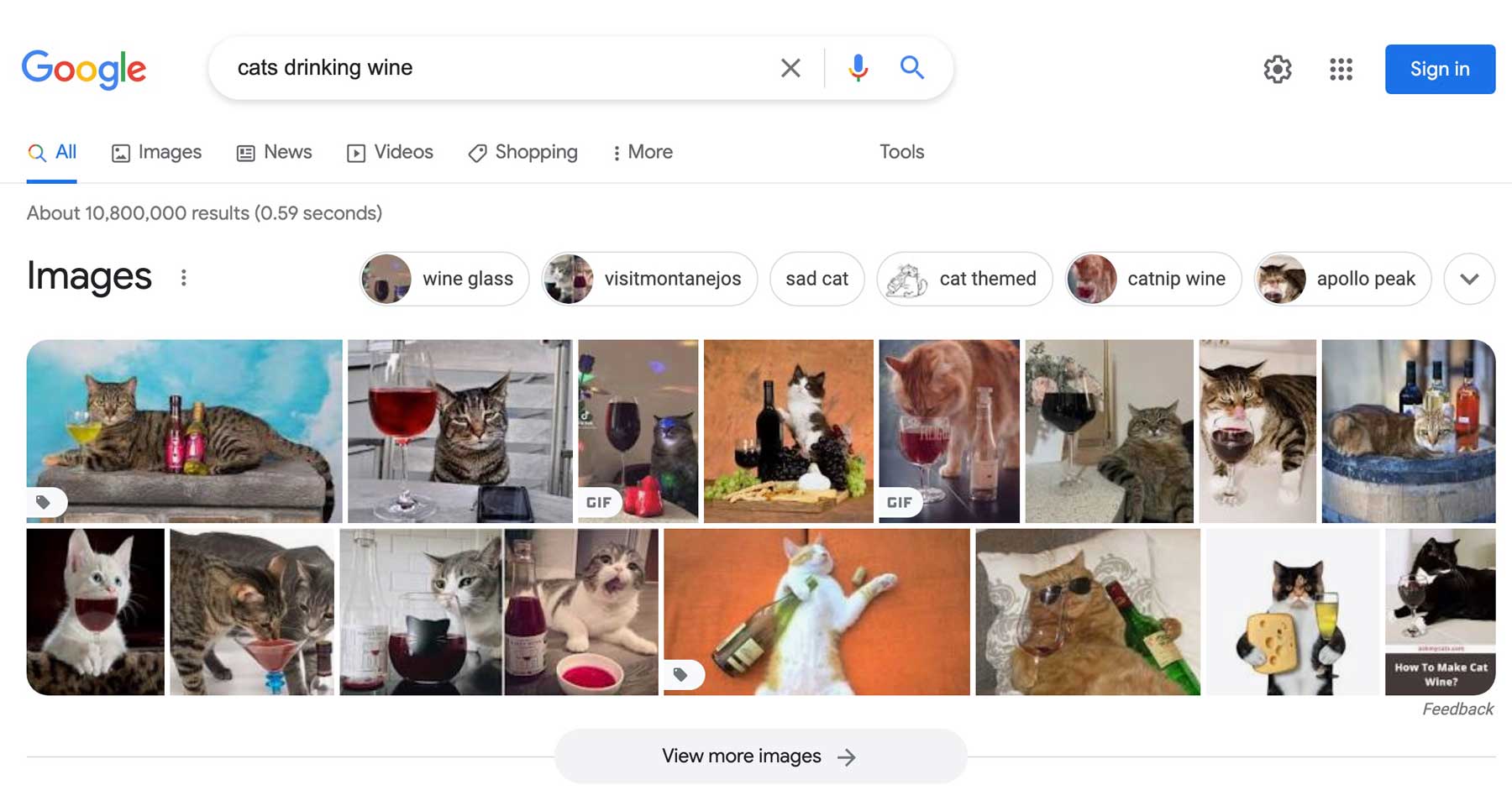 People Also Ask (PAA)
People Also Ask (PAA) shows in the SERPs as additional drop-down toggles of related questions a user may have about the topic they searched. Each toggle can be clicked to show more information, and every time a toggle is clicked, more toggles appear.

These are often used by SEO professionals to find inspiration for additional content to add to a page. This can help ensure they are answering all the questions a user might have about a topic.
It can also help with ideas for new content.
There is no "official" way to gain these positions, and not every query will have them.
The best way to increase your chances of gaining People Also Ask positions is to review the pages that have them. Then, make on-page improvements to your own content to improve the chances of being the answer Google chooses.
Since most PAA boxes are using terms like "who", "what", "where", "when", and "how" as a few examples, it makes sense to create content around these terms.
While it has not been validated that the FAQ schema has any affect on PAA results, there are many who believe it may increase the chances.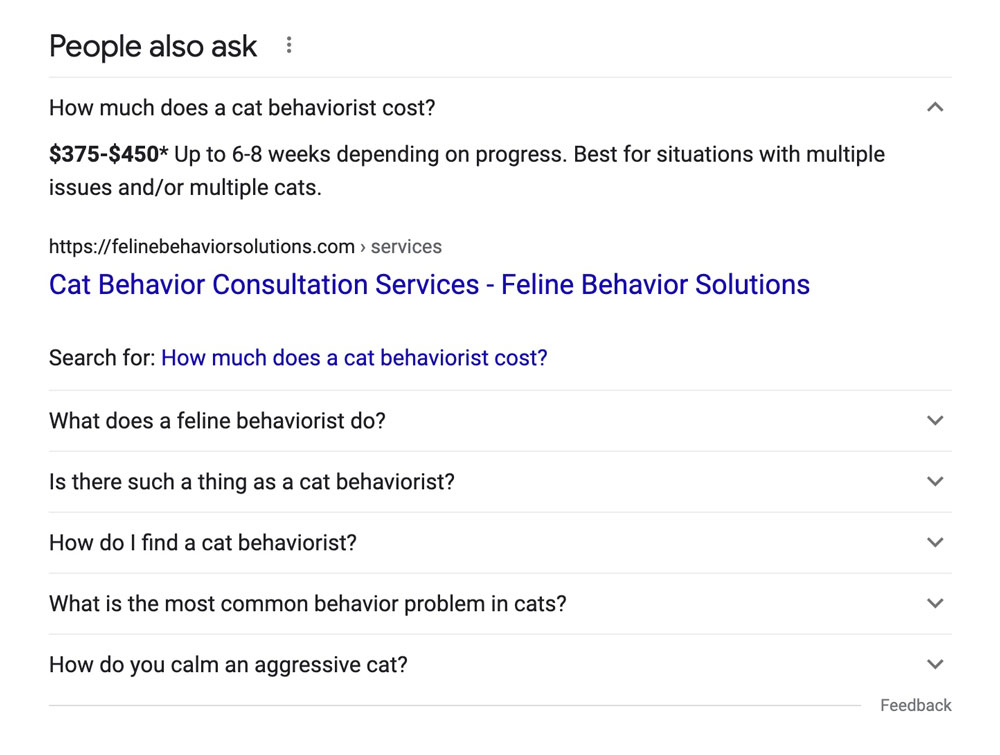 Frequently Asked Question (FAQ)
Frequently asked question (FAQ) rich results are a list of questions and answers that a website has on its pages.
These questions and answers are usually coded with FAQ rich result schema which helps Google better understand the content.
Once the schema is added to a page, Google may decide to use that content to show relevant questions a user may have below your organic search result.
This can help you grab more real estate on the search results page than the competition!
You can have several questions and answers on a page to try and capture more space in the SERPs, but make sure each one has the proper markup.
Related Searches
When you scroll to the bottom of the SERPs you will see a "related searches" section for just about every query.
This section offers a user additional queries that may be helpful to them based on the initial keyword they searched for.

This is another great way to find additional content ideas or questions to answer in your content.
These positions cannot be optimized for. Google decides what should be in these locations based on the relation between the queries.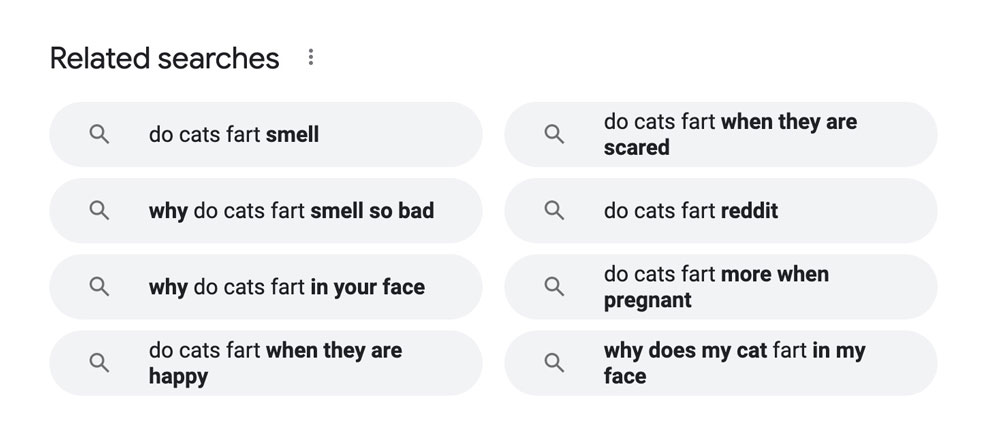 Shopping Results
For buyer intent keywords, Google will deliver shopping results that will allow users to shop faster. There are options for free and paid opportunities and ranking in these results will require good Schema markup and a product feed that is uploaded to your Google Merchant Center account.
Results can contain some or all of the following:
Your product photo
Your product title
The price
The stores where you can find the product online
Average reviews
And other miscellaneous sub-categories, like type or color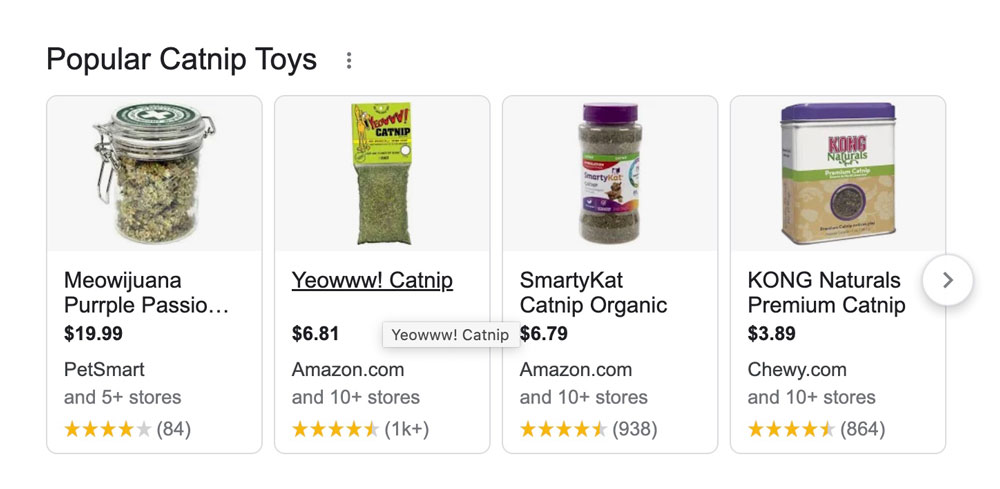 Local Pack
Google's local pack (or Google maps) is the first feature result for any searches with local intent. (Think "near me" keywords.)
Usually, local pack results only display three or four local businesses.
This means the competition is very tough for those top spots. But the work is worth it. Even if you land the third spot, you'll see significant interest in your business from local search results.
Local listings can display some or all of the following:
Physical address
Phone number
Website link
COVID restrictions, like curbside pickup or delivery
Directions if applicable
Information about whether it's open, or when they'll be open next
Review ratings
Google uses a different algorithm than what is used for the organic listings. You will need to do things a little differently to rank in the local map versus organic.
Local SEO starts with creating and optimizing a Google My Business (GMB) page. These pages are very important to be able to rank in the local pack.
But, what matters more than anything else when ranking on Google's local pack is the one metric you can't change.
Location. Specifically, the user's proximity to you.
Even if you have the best content and reviews, if the user is too far from you, you won't rank.
Video
Video results will typically include a thumbnail of the online video, video title, owner, duration, and date of creation. It may be a singular video result, video carousels, or a group as shown below.
Videos are most often pulled in from YouTube, Vimeo, or Facebook. This is why it is important to upload your videos to them.
In order to upload content on that platform, it is important to create an eye-catching thumbnail and edit the video properly using a video editing tool.
It is also recommended to create a brand account and not use your personal name.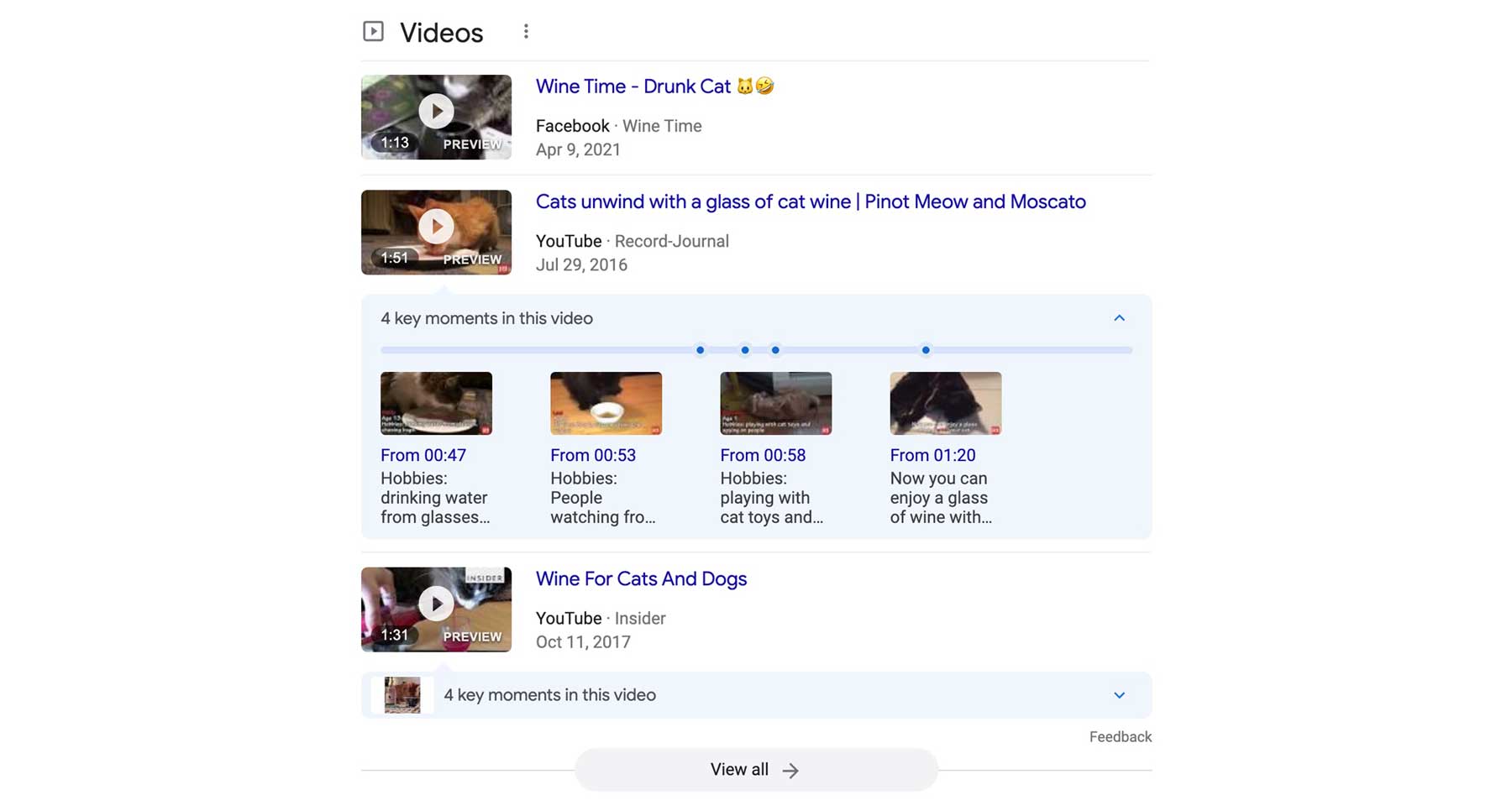 Podcasts
As new ways to absorb content are created, Google will do their best to include them in the SERPs. With podcasts more popular than ever, it makes sense that these would now be present in the SERPs.

Optimizing your channel and publishing a transcript will improve your chances of being listed.

Тwitter
Google will index tweets from Twitter and show them in the search results if it fits a query. Brands or well-known people most commonly have Twitter results.
To better your chances of getting your tweets in the SERPs, optimize your Twitter profile and be sure to be active.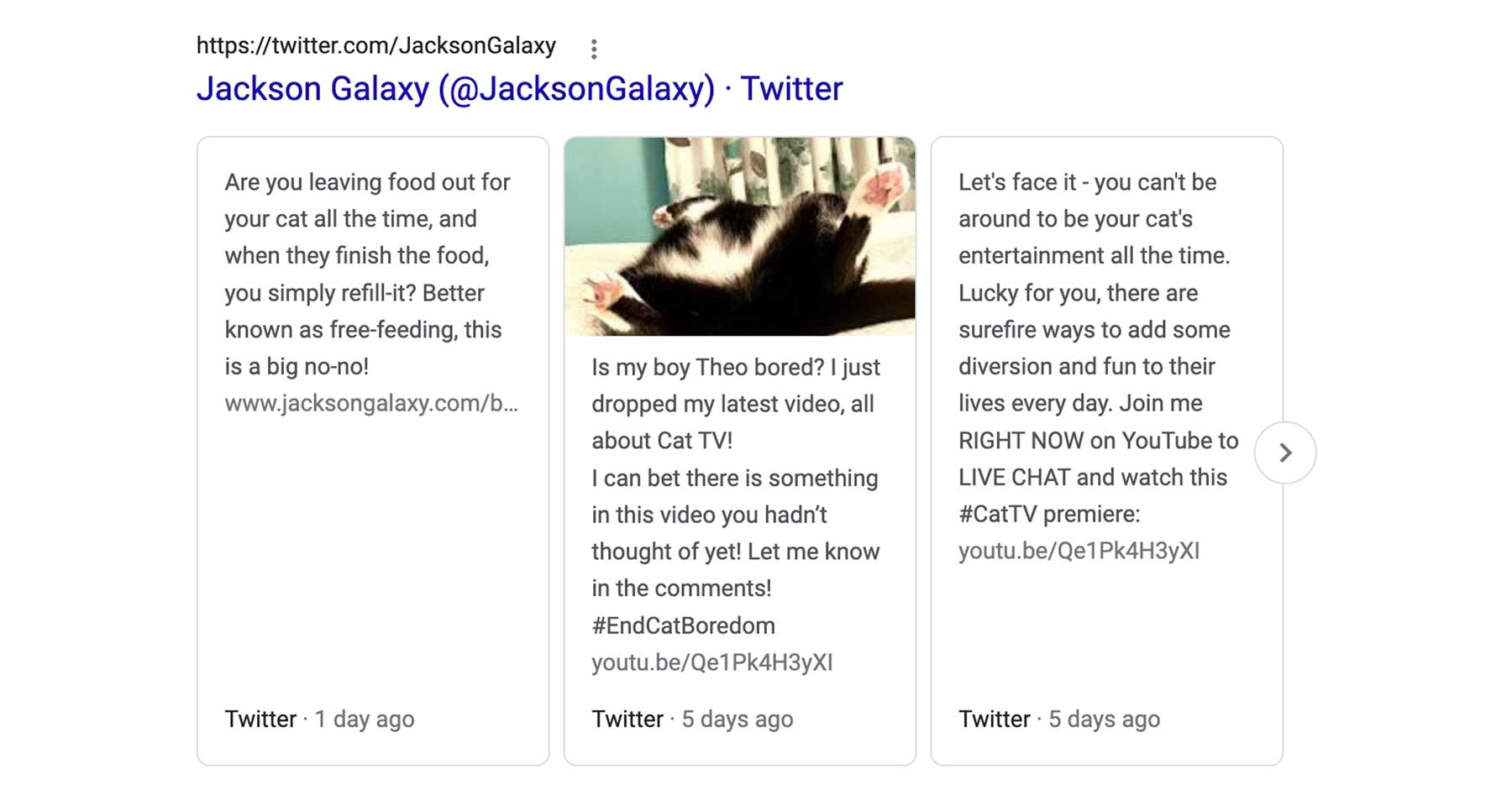 Top Stories
When there is trending news happening around a term, Google will display a top results section at the top of the SERPs.
Google news approved websites are displayed in top stories.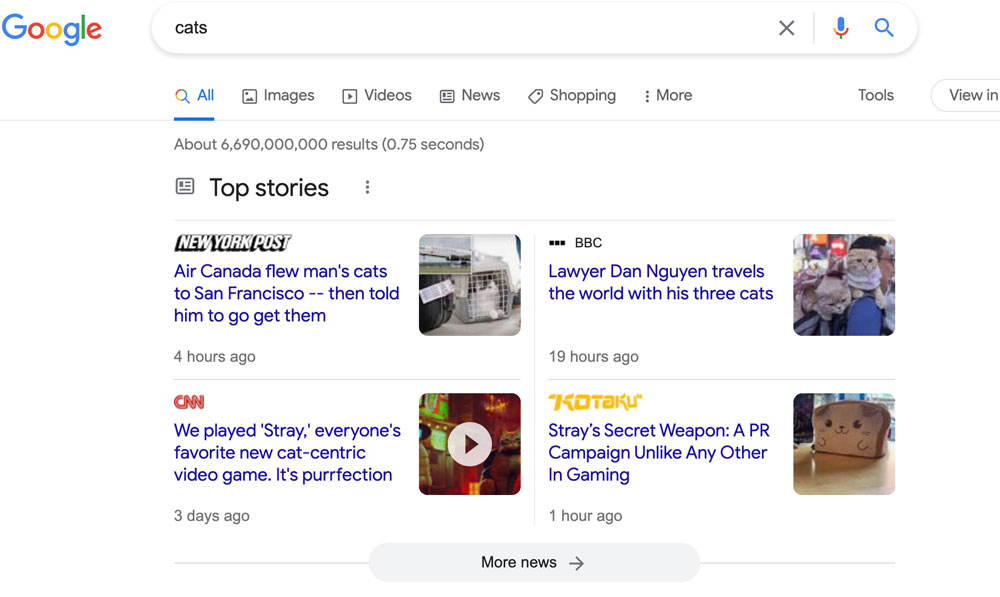 Sitelinks
Sitelinks are additional links that sit below a traditional organic link and lead to deeper pages within a website.
In the SERPS sitelinks will typically appear for brand searches. While there is no way you can optimize for them, a good site structure will increase your sitelink chances.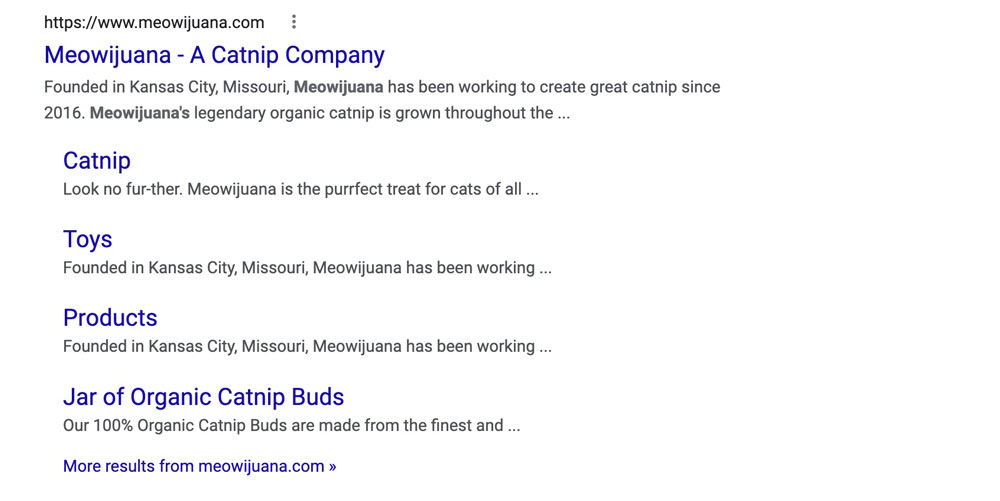 How to win SERP Features on Google
The graphic below summarizes how to increase your chance to win SERP Features on Google SERP.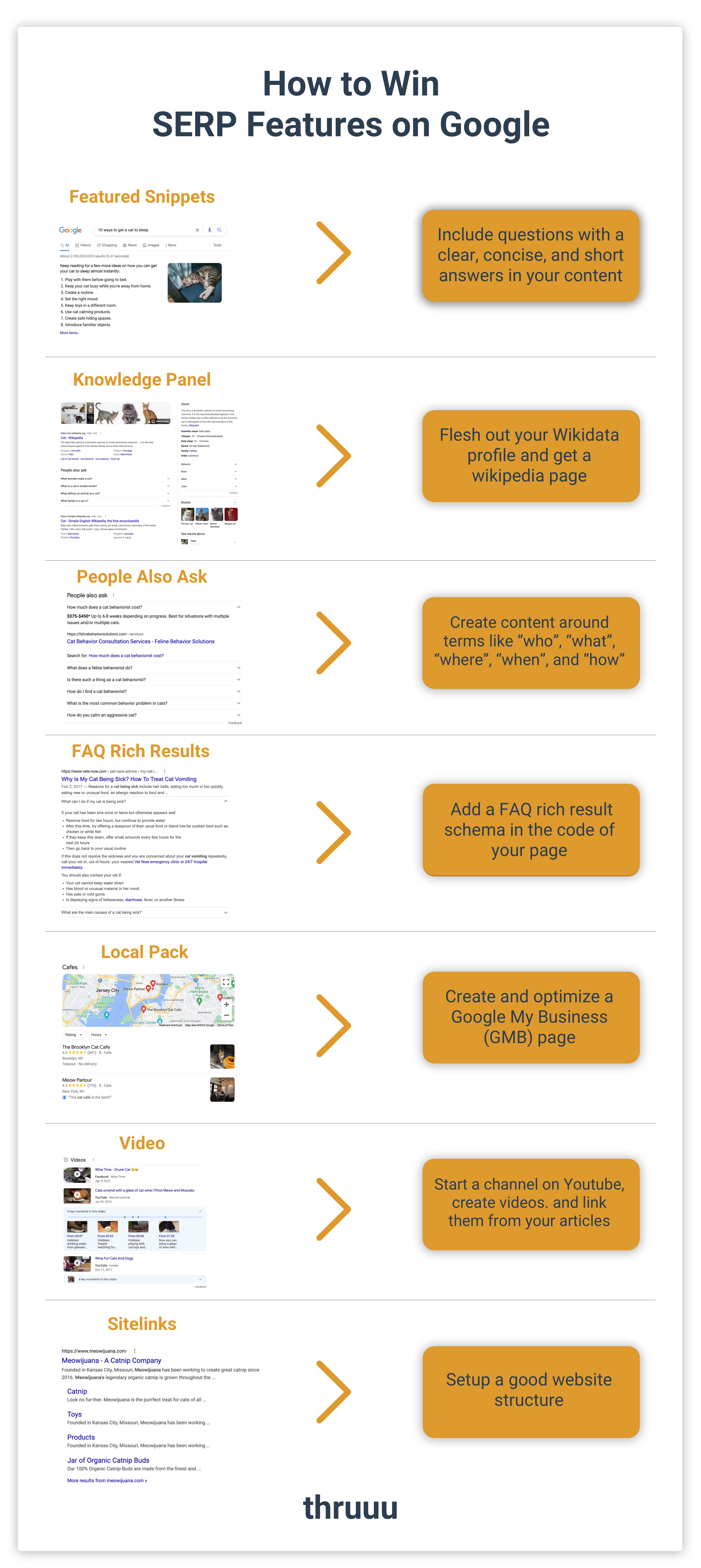 How to tell if your site has SERP features?
Doing a search in incognito mode for your key term will let you see if you have landed any of these terms.
There are also ranking tools that can help you get the information in bulk and track your progress as well. The bonus to using a tool is that many can also help you understand if your competitors are landing any of these positions.