Looking for ways to churn out a ton of top-quality content without delay?
With a pre-made content brief template, you can achieve this — it helps save both time and effort.
A fully integrated content brief template will give your writers all the information they need to kick-start research and writing.
A solid content brief template covers essential parameters, like the word count, internal and external linking, and tone, specific to a target audience.
We'll be discussing these in detail below. Then, all you have to do is download the brief template, give it your own spin, and you're good to go.
Keep reading to understand what makes the perfect content brief for a blog post, or you can use our FREE, SEO-friendly template to make a quick head start.
What Is a Content Brief Template for a Blog Post?
A proper content brief template defines what a particular blog post should look, sound, and read like to a user.
It's concise, structured, and intent-based.
In short, it lays out the foundation for a writer on how to approach the topic, where to start their research, and most importantly, what is the purpose of creating a blog post.
A content brief typically includes the content goal, topic description, word count, essential headings, primary and secondary keywords, sources to cite, and other instructions.
Using a content brief is essential when you are working with a team of writers.
This collaboration is productive and successful when you give clarity to the writer, mostly with respect to your business needs.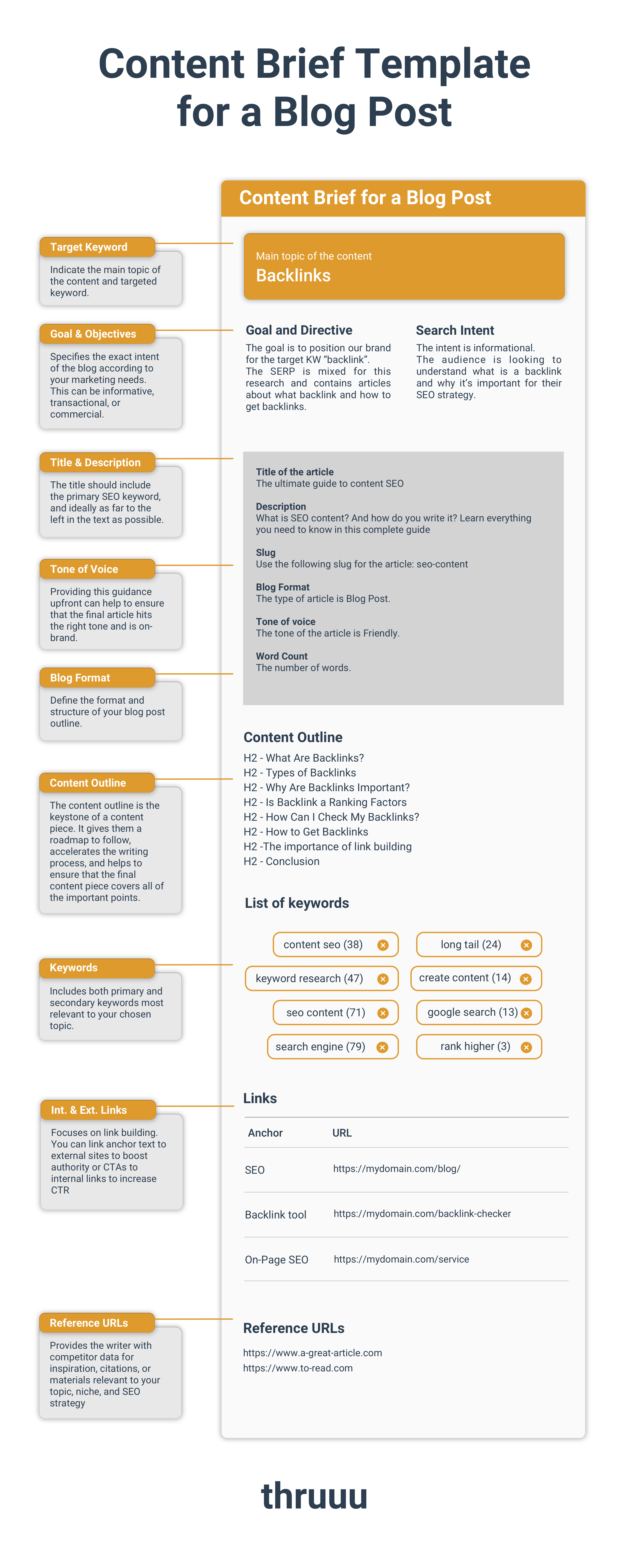 How Does a Content Brief Template Impact Blog Writing?
One of the best SEO practices for producing authority blogs is to give your writer the following:
An SEO-friendly content brief that includes details specific to your target audience
Writing guidelines, including the formatting style and citation rules
Reference links or examples from competitor websites and blogs
Here's why you should use a pre-made content brief template for a blog post.
Save time and effort
A content brief template provides clear guidance on a blog topic.
It ensures that everyone on the team is on the same page, working towards the same goal.
By directing writers and editors on what needs to be covered, you make the blog writing process easier and more productive.
Such a strategy ensures content creators don't waste time on unnecessary research. Clarifying the content structure through a brief also minimizes the possibility of rewrites and revisions.
The goal of a content brief template is to get immediate approval upfront from all stakeholders involved.
With a smoother blog writing process, there is less confusion across the different stages of content production.
Create high-quality content faster
To produce top-notch content faster, you first need a content marketing strategy with well-defined goals.
But how can you communicate this to your team?
A content brief template is the short version of a documented strategy.
It supports your content marketing efforts by guiding writers and editors on what needs to be covered. This includes highlighting the target keywords and type of content to generate.
With a blog brief template, you can create relevant content that covers all necessary points under different sub-headings.
As a result, content brief templates help create quality blogs that resonate with your target audience.
Streamline the content creation process
A blog brief template is an organizational tool for your content team.
Condensing key information into a content brief helps streamline the blog writing process by keeping your content team on track and in alignment with your goals.
So, regardless of who joins or leaves, the content brief template is unchanged and remains the best reference throughout the blog writing process.
Another major benefit of using content brief templates for blogs is that it promotes consistency in blog writing. With clear directions upfront, deliverables are on time, making your content creation process efficient.
Improve SEO results
To strengthen content marketing efforts, the best content brief templates for blogs are SEO-focused.
The end result is a well-balanced blog, incorporating target keywords and providing relevant information to the user.
A content brief template for a blog identifies top-performing keywords, sourced and analyzed from SERPs.
Additionally, a content brief highlights relevant questions or queries from a target audience.
As a result, it brings structure to your writing with the right sub-headings that align with search intent.
In terms of SEO, content briefs increase the crawling capabilities of search bots, helping you rank higher for relevant keywords.
Ensure brand voice and consistency
The biggest challenge for content marketers and writing teams is the lack of consistency and cohesiveness in a blog.
A content brief template for a blog becomes a single source reference for all your writing projects.
It follows the same formatting style and tone with respect to the brand or business. As a result, it promotes stronger organic results by delivering a cohesive image easily recognized by readers.
Additionally, a content brief template ensures consistency in brand voice and a better browsing experience for site visitors.
In fact, delivering a better user experience improves the ranking of pages across SERP results.
What to Include in a Content Brief for a Blog Post?
Let's go through the key elements critical to a content brief for a blog.
Due Date
Defines the exact timeline of when you expect the content to be delivered. This parameter is essential for tracking publication dates.
Target audience
Focuses on target readers or intended audience for the blog. It may include a buyer persona (if you're marketing a product or service).
Goal/Objective/Intent
Specifies the exact intent of the blog according to your marketing needs. This can be informative, transactional, or commercial.
Blog format
Define the format and structure of your blog post outline. It could be a listicle, a how-to guide, or a case study. Find out more about the various formats and blog post templates.
Tone
Communicates how your blog content should sound to the target audience. This means your blog can be formal/authoritative or funny and witty.
Word count
Defines the blog length appropriate for a given keyword and topic. The word count is based on the topic you're writing about.
Keywords
Includes both primary and secondary keywords most relevant to your chosen topic. This information is critical to your SEO marketing strategy.
Content outline
Lists headings and subheadings to cover during research and can include questions you want to address in the post.
Content title
States a title for a blog post that is easy to comprehend. The title should be clear, concise, and SEO-focused.
Meta description
Features a brief description of a blog post visible on SERPs. It should include a primary keyword and be not more than 160 characters.
URL slug
Refers to the end part of a URL after the (/). It helps identify a specific blog post, so it should be unique and search-engine friendly.
Internal and external links
Focuses on link building. You can link anchor text to external sites to boost authority or CTAs to internal links to increase CTR
Reference URLs
Provides the writer with competitor data for inspiration, citations, or materials relevant to your topic, niche, and SEO strategy
Download the Content Brief Template for a Blog Post
Besides forming the foundation for a blog writing project, a content brief answers questions the internal or external content team may have.
You can use many tools to create an effective content brief template for a blog post.
Google Docs Version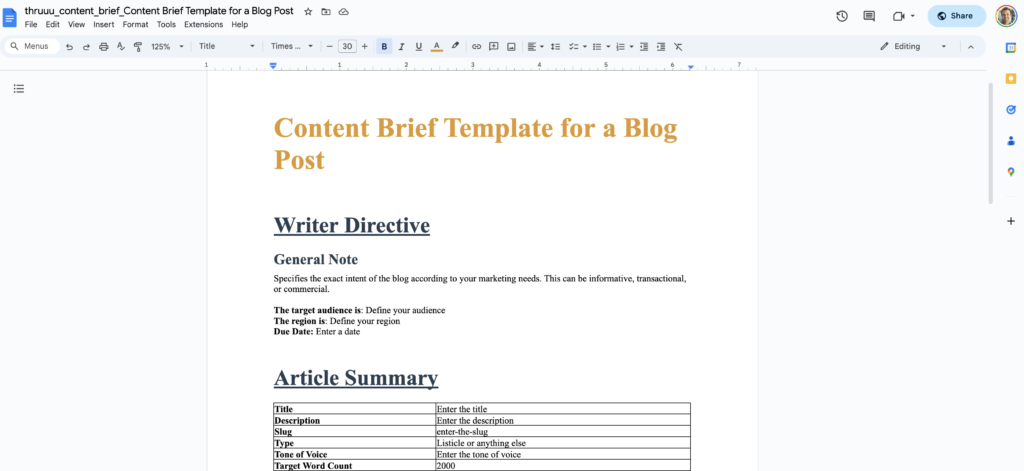 Google Docs is one of the best writing tools for content teams to become agile in the current marketing landscape.
It provides collaborative tools for creating a well-formulated brief, especially when you're writing blog posts for multiple industries.
Download the Google Doc Version of the Content Brief Templates for Blog Post
MS Word .DOCX Version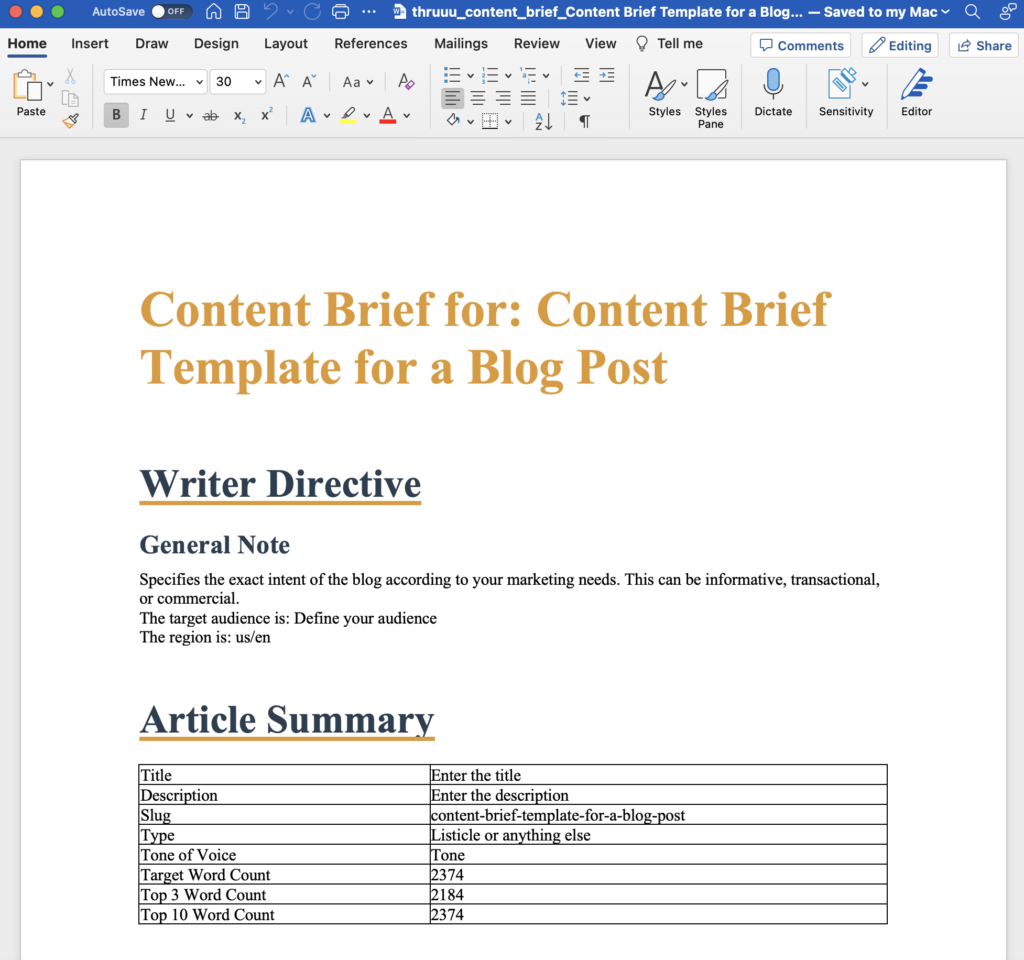 MS Word .docx is another free writing tool that allows content marketers to outline, edit, and format necessary sections of a blog. You can fill it up with information that steers writers and editors in the right direction based on your content requirements.
Download the MS Word .Docx Version of the Content Brief Templates for Blog Post
Speed Up Content Brief Creation for a Blog Post With thruuu
With the thruuu content brief generator, you can outline a month's worth of ideas within minutes, making it crucial to your ranking on SERPs.
The tool specifies and defines every section you can add to a content brief, and it's SEO-friendly.
This means the content brief generator already keeps in mind SEO-specific parameters so you can create a fully-optimized blog.
If you're looking for a tool that generates results quickly, use thruuu to create a content brief template for a blog post.
Here's why.
Helps writers address pain points in their blog posts
To nail content execution each and every time you deliver a blog, you must research the latest trends.
To achieve this, the thruuu content brief generator helps writers gather different topic ideas that focus on users' search intent.
The tool also gives you insights into customer pain points by analyzing SERPs.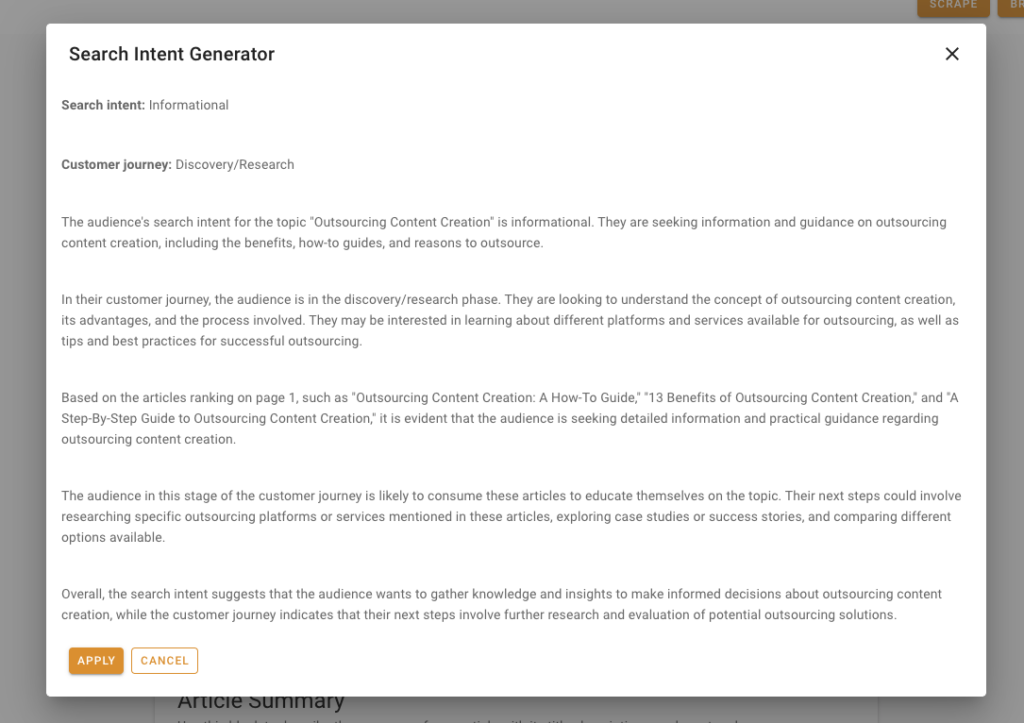 User-friendly view filled with the most important keywords
To identify the best-performing search terms, you need keyword data that's easy to research, analyze, and extract.
The thruuu content brief generator features a user-friendly dashboard listing the most frequent terms used by your competitors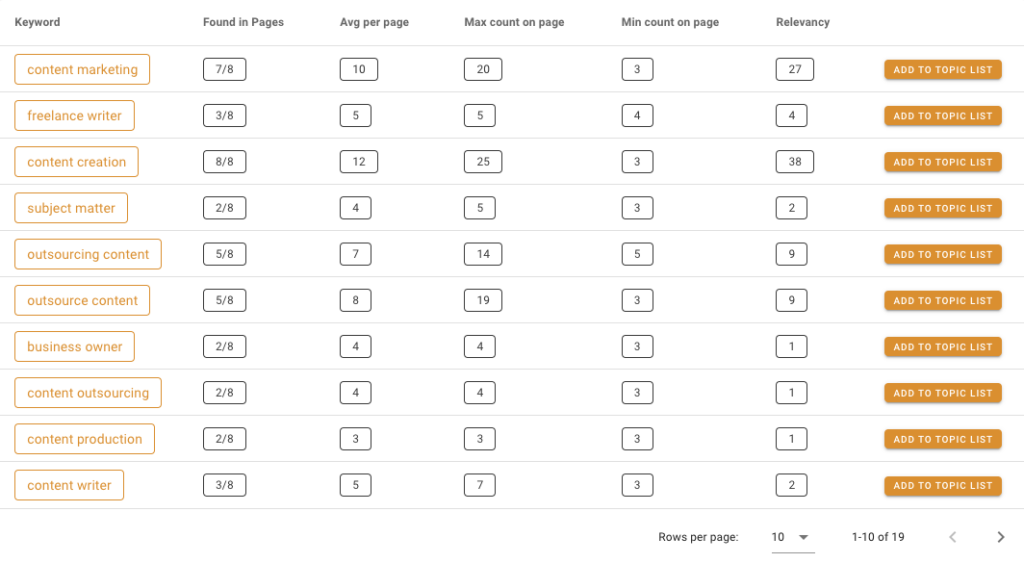 Competitor analysis from SERP results
Content marketers struggle to gain traction on their blogs when the information is no longer significant.
For this reason, it's important to analyze your competitors across SERPs.
You can review their content strategy, page rank, word count, outline structure and much more with thruuu to create a stand-out blog post.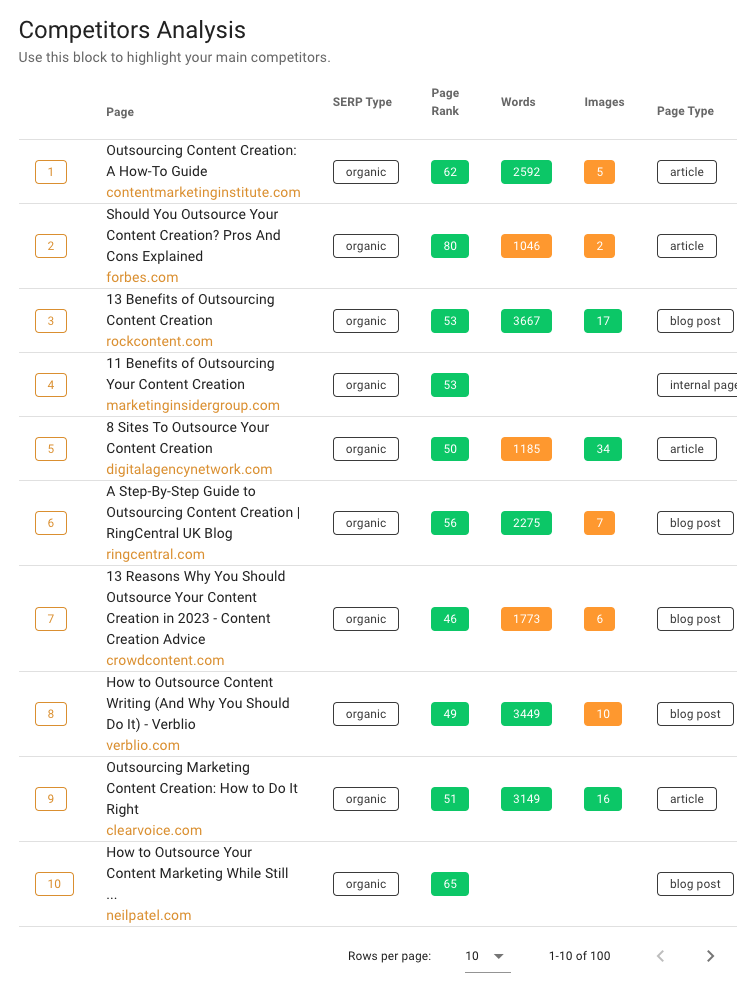 Automated titles, headlines, and outlines
The best way to increase content scalability is by using an automated tool like the thruuu content brief generator.
It allows you to accommodate the latest trends by helping you brainstorm content ideas and churn out briefs quickly.
This is an efficient tool for generating unique and relevant blog outlines automatically.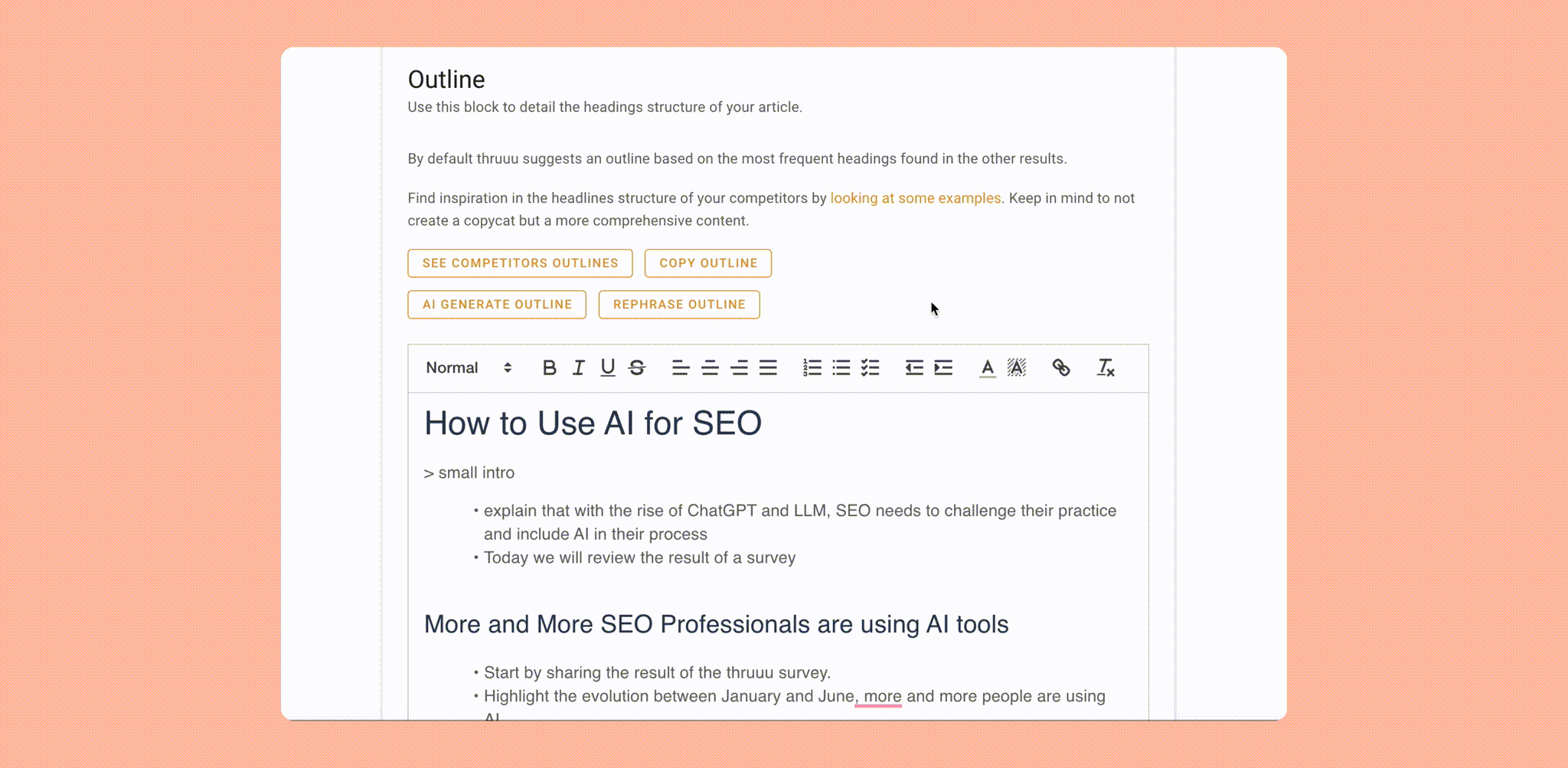 Easy sharing options for writers and collaborators
With the thruuu content brief generator, you can create different outlines for blogs based on your industry focus.
It also speeds up the content creation process as it tailors results specific to your target audience.
Once you've created the blog brief, you can share it with other writers and collaborators on your content team.
The public version also includes an export button that converts the content brief template into MS Word docx.
Open the thruuu Content Brief of the Content Brief Templates for Blog post.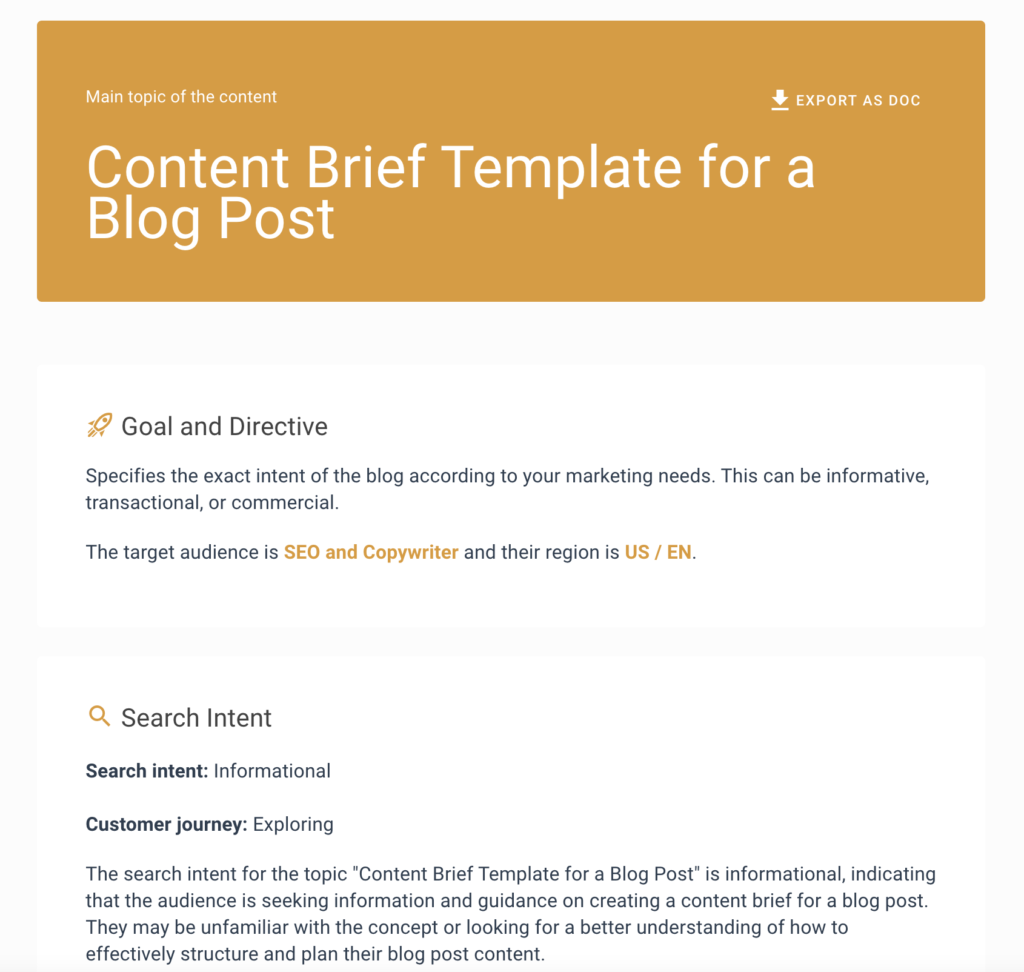 Get started with thruuu Content Brief Generator
With the thruuu Content Brief Generator, reduce your research time by 90% and compile data from the SERP in a user-friendly interface.
Browse Our Library of Content Brief Templates
Content brief templates give you all the information you need to dive into research. We recommend using these templates when you're:
Creating a standardized content type like best apps pieces
Collaborating with inexperienced marketers and writers
Working with a writing partner or content marketing agency
Besides a blog, there are different kinds of content brief templates you can use. Check out our library of content brief templates below.
This Content Brief Template is ideal for B2B SaaS seeking to enhance website traffic with their blog post content.
This Content Brief Template is ideal for agencies or in-house content teams that require collaboration with external writers and freelancers.