Why do B2B content marketers search for blog templates? It points them in the right direction—within the SaaS industry, it only validates technical expertise.
A content brief template lays the foundation for a B2B SaaS blog. Whether it's an eBook, a whitepaper, or just a blog post, this editorial document ensures consistency.
Regardless of how many writers you collaborate with, a ready-made content brief template ensures you kick-start research in the most productive way.
From understanding the importance of buyer persona to curating catchy headlines, a content brief template will keep your writers on the right track.
In this guide, you'll learn why a content brief template is essential for creating an effective B2B SaaS blog.
Additionally, we'll share tips about what you can include in your content brief to set your technical content writers up for success.
You can also download our FREE content brief template for B2B SaaS blog.
What Is a Content Brief Template for B2B SaaS Blog?
A content brief template for a B2B SaaS blog is just what the name suggests: it's a detailed document that highlights key elements about the niche to meet business's goals.
From generating leads to increasing conversion rates, such content briefs are useful for in-house writing teams and outsourced professionals.
It provides precise information to writers without wasting time on communication.
While most blog templates follow the same pattern, there are some exceptions when you're writing for the B2B SaaS industry.
For instance, creating blogs based on the stage of the marketing funnel or customizing the content for a targeted customer profile.
Here's an example of how a simple content brief template should look like for a B2B SaaS blog post.

What are the Benefits of a Content Brief Template for B2B SaaS Blog?
Blog templates for B2B SaaS boast multiple benefits for technical content writers besides streamlining their workflow. It improves the content creation process in various ways, such as:
Easing Collaboration with Writers
Most in-house content teams create impactful blogs and comprehensive guides with the use of a template.
With such a handy document, you don't need to waste any time communicating your business needs to a writer.
Promoting Content Quality
A content brief template specifies a blog's purpose. For instance, writing SaaS blogs to create brand awareness or incite conversion.
This practice ensures your content team can focus on quality writing and reduce editing time.
Accelerating Marketing Efforts
B2B SaaS companies also integrate content brief templates to align their writers with campaign goals.
That way, you can ensure brand voice consistency when you're working with a freelance agent or a content writing agency.
Educating Writers on Product/Service
Another benefit of using a content brief template is that it gives newly hired writers information about your industry and the product.
It speeds up the learning process by simplifying competitor analysis and research.
Clarifying Buyer Personas
A content brief template creates a roadmap for SaaS writers to understand their target audience better.
This helps them save on time they'd otherwise spend on analyzing customer profiles, their buying behaviors, demography, and more.
Introducing Writers to SMEs
The best content brief templates for SaaS blogs include suggestions and insights from subject matter experts.
This practice makes it easier for writers to distill high-level expertise in their content as they use these insights during foundational research.
What to Include in a Content Brief for B2B SaaS Blog
If your content team needs to cook some quality content for clients in the B2B SaaS space, all you need is a well-defined content brief template.
Described below are key elements you need to include in a SaaS blog template.
Content Goal or Objective
This specifies the intent of the blog post and helps writers understand what stage the product is at in a marketing funnel.
For instance, crafting an educational SaaS blog or a how-to guide to enhance brand and product awareness.
Company Description
This specifies the B2B company's brand history and vision, including the unique selling points of a SaaS product.
This helps writers understand who they're creating the content for, giving them a peek at what a company does and sells.
Buyer Personas
Every SaaS company will cater to a specific target audience. By defining buyer personas, you help writers understand different customer profiles for a product.
For instance, a SaaS product that's ideal for SEO marketers or a tool meant for content managers.
Customer Pain Points
This specifies the problem a writer needs to address in the blog post. This problem-solving approach boosts conversion.
It streamlines the research process by helping writers target information that's critical to a user's search intent.
USPs or Product Features
When following a product-led approach, writers must already know what the USPs are so that they create content that's different from your competitors.
This indicates the benefits and features of the SaaS product that need to be highlighted in the blog content.
Primary Competitors
This specifies a list of SaaS articles that are competing for the same keyword on the Google search engine.
It allows writers to assess the brands ranking highest on SERPs.
This improves the research process, helping writers craft unique, fresh, and high-quality content.
Search Intent Analysis
By defining the search intent, you help writers align their content according to a user's search. Look at these two examples below:
Version 1: Why Is Content Optimization Important?
Version 2: How-to Guide on Content Optimization
While Version 1 focuses on the importance of content optimization, Version 2 is a complete guide on the process. Both blogs have a specific and defined search intent.
Stage of Buying Journey
Highlighting the stage of the buying journey (TOFU/MOFU/BOFU) is important because it helps writers understand the target audience and content goals better.
You give valuable insights to writers to shape the content appropriately.
Brand Voice or Tonality
This defines a standard tone and style used for communication with your target audience, including choice of words.
You can include content materials like marketing collaterals, press releases, and more to educate writers.
Total Word Count
This indicates the total length of the blog post, and it varies based on the topic and type of content you're covering.
It helps writers estimate the amount of time it would take to craft an ideal B2B SaaS blog.
Link Building Requirements
This features necessary internal links to different landing pages, product pages, case studies, and external links to authority websites.
This SEO tactic helps writers create quality content with appropriate anchor terms.
CTA or Call to Action
This explains how a writer can prompt the reader or the audience to take some action after reading the blog post.
Headline
This is a hook that entices readers to learn more about your product. It basically indicates what the topic of discussion is in the blog.
It refers to the title of the SaaS blog and, therefore, should be clear, concise, and to the point.
SEO Keywords and Questions
This section includes both primary and secondary search terms pertaining to a topic.
It can also feature keywords in the form of questions the audience might ask.
It narrows down the research process for writers, helping them address customer queries in the blog.
Meta Description
This is the snippet of a search result that describes the context of the blog post.
Though it has no impact on ranking, a good meta description can increase your blog's click-through rate and should contain action phrases like, 'Read our guide" or "Get our free template."
URL/Slug
The URL of the blog post should include the primary keyword.
You can include the targeted search terms in the slug to assist writers with search engine optimization.
Type of Blog Content
This clarifies the type of content expected from a writer based on intent, e.g., a listicle or how-to guide.
Feel free to explore our blog post template guide.
Blog Outline
This sections the blog into different parts, including essential subheadings a writer is meant to cover in the content.
Insights from SMEs
From understanding technical jargon to familiarizing with the industry, any insights from subject matter experts are aimed toward creating authority content.
This step is crucial as it gives writers additional knowledge about the SaaS product.
Deadline and Extra Notes
This is the final date of submission for the blog once editing, proofreading, and optimization are over.
Download the Best Content Brief Templates for B2B SaaS Blog
Below, you can find different content brief templates for B2B SaaS blog in your favorite format.
Google Docs Version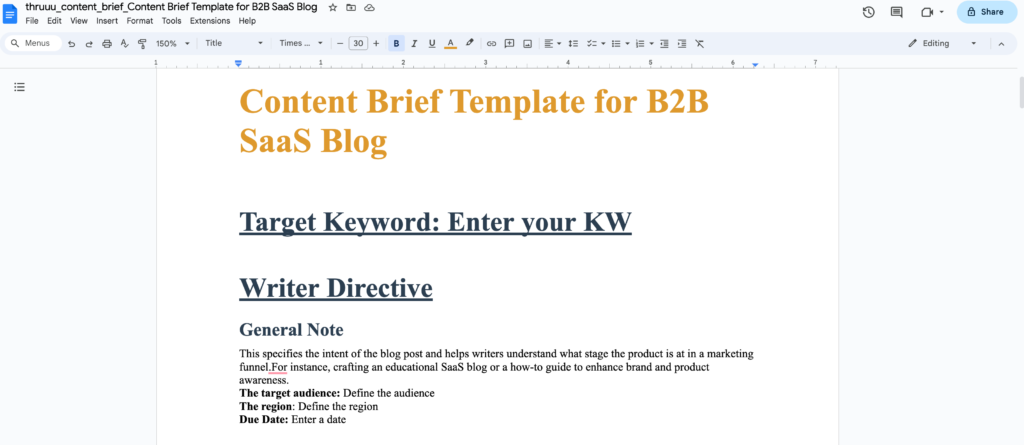 Google Docs provides many collaborative tools for creating a well-formulated brief, especially when you're writing a SaaS blog post.
It helps content teams work in sync by offering sharing options and a comment section that accelerates the editing process.
Download the Google Doc Version of the Content Brief Templates for B2B SaaS Blog.
MS Word .DOCX Version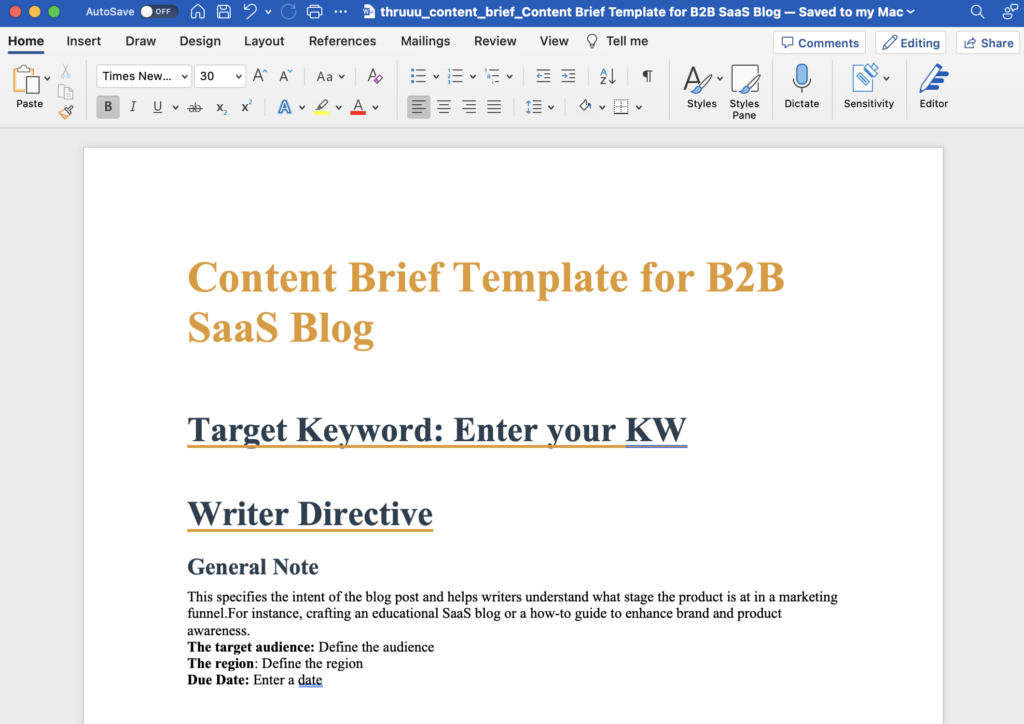 MS Word .docx is another free writing tool that helps outline, edit, and format important sections of a blog to improve formatting.
One of the best features is the offline editing mode, wherein you can make changes to a document without being connected to the internet.
Download the MS Word .DOCX Version of the Content Brief Templates for B2B SaaS Blog.
Speed Up the Creation of a Content Brief Template for B2B SaaS Blog with thruuu
Generating traffic and leads in the SaaS world isn't easy — most writers lack subject matter experience.
With a pre-made blog template, your content team can kick-start blog writing without a glitch.
Using thruuu content brief generator, you can explore new topics to create original and fresh content.
Not only will this help you rank on Google SERPs, but it will also help address customer pain points in your content.
Looking for a tool that speeds up content production? Use thruuu to create a content brief template for a B2B SaaS blog post.
Here's why:
Address Pain Points
thruuu content brief generator helps writers come up with unique ideas whilst keeping the user's search intent in mind.
The tool is an awesome SERP scraper and analyzes SERPs and competitors so that you can get insights into customer pain points.
As a result, it helps writers deliver content based on the latest SaaS trends and what the target audience is talking about.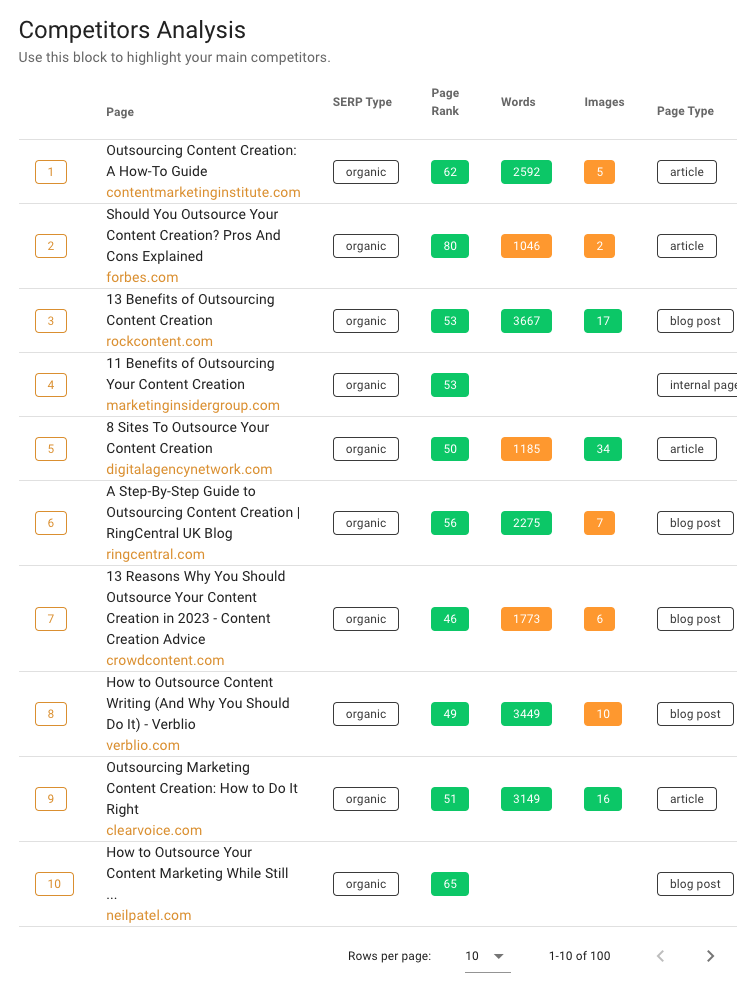 User-friendly Platform
If you're looking for a seamless customer experience, our content brief generator is easy to navigate.
It helps identify best-performing keywords, extract new SaaS topics from SERPs, and is already integrated with the SERP Analysis tool.
As a result, it gives additional insights to writers about a target keyword and related SERP.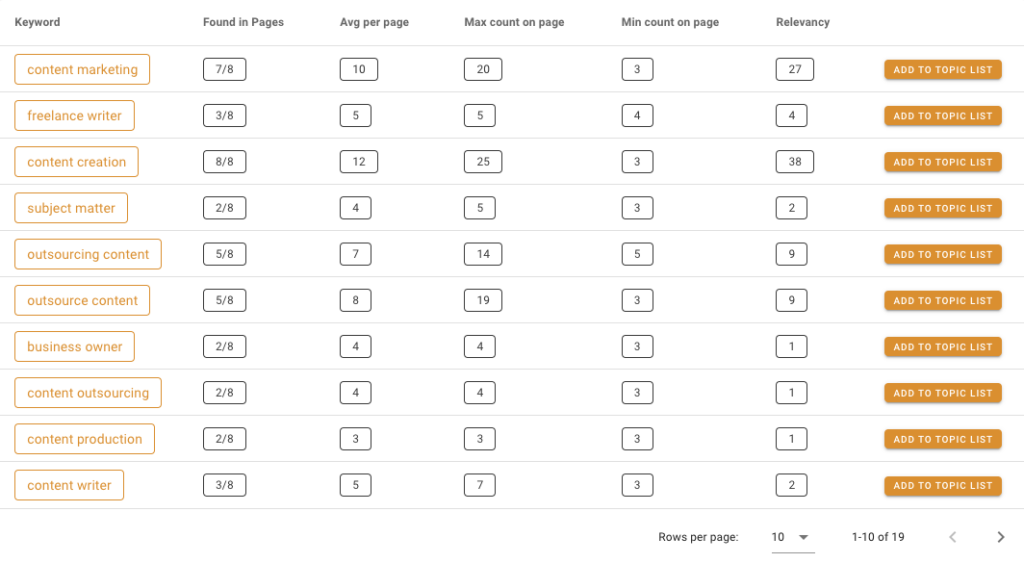 Automate Headlines
An automated tool like thruuu content brief generator helps you draft documents in the quickest way possible.
It offers real-time data from Google SERPs so that writers can outline the content structure automatically.
As a result, you can save time choosing the best format for your B2B blog, like a how-to guide, resource, listicle, and more.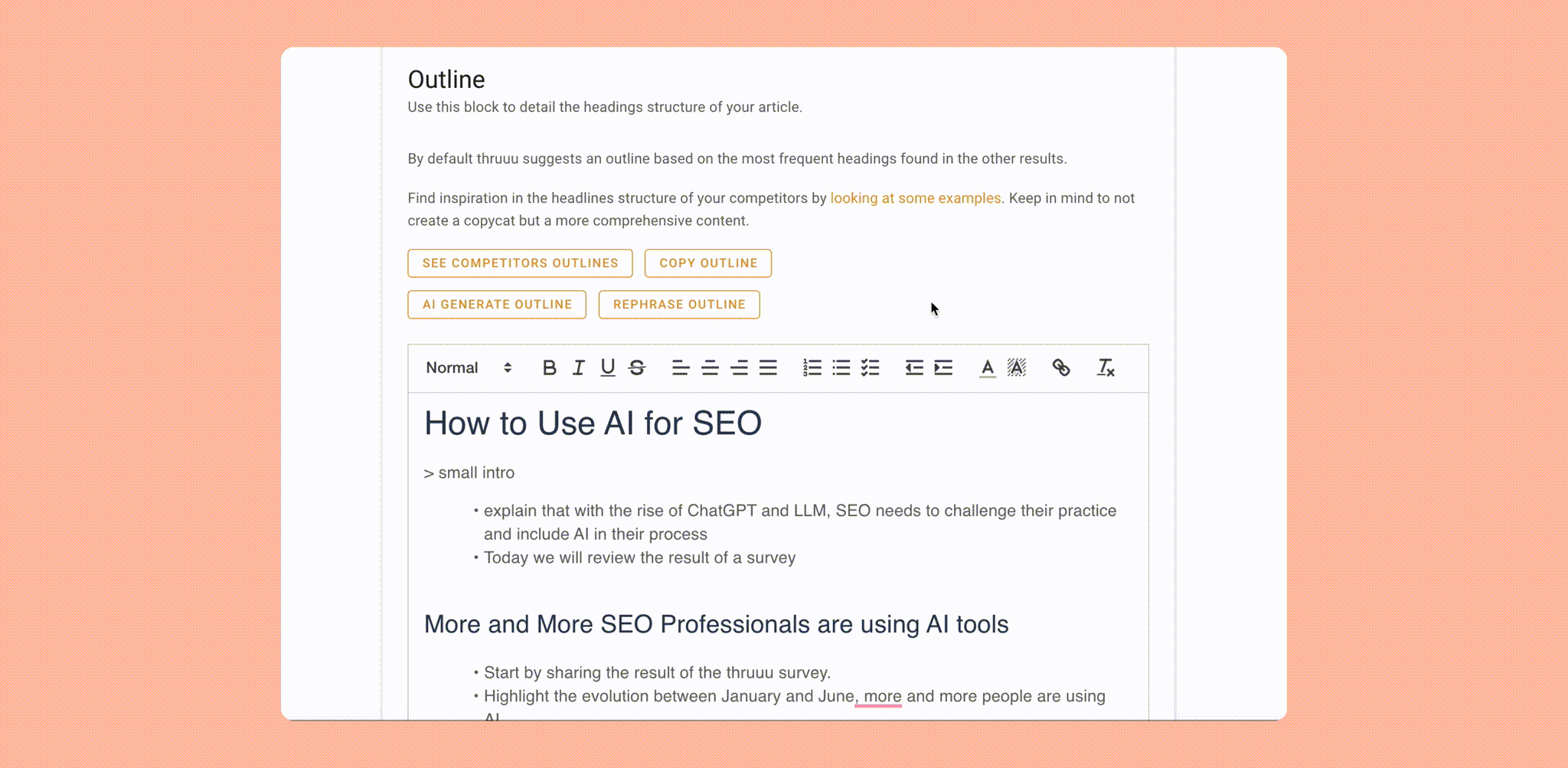 Ease Collaboration
With thruuu content brief generator, you can share the SaaS blog content brief with any member of your content team.
Whether you're working with a freelancing agent or a marketing company, our tool streamlines content sharing.
The public version also includes an export button that converts the SaaS content brief template into MS Word docx.
Open the thruuu Content Brief of the Content Brief Templates for B2B SaaS Blog.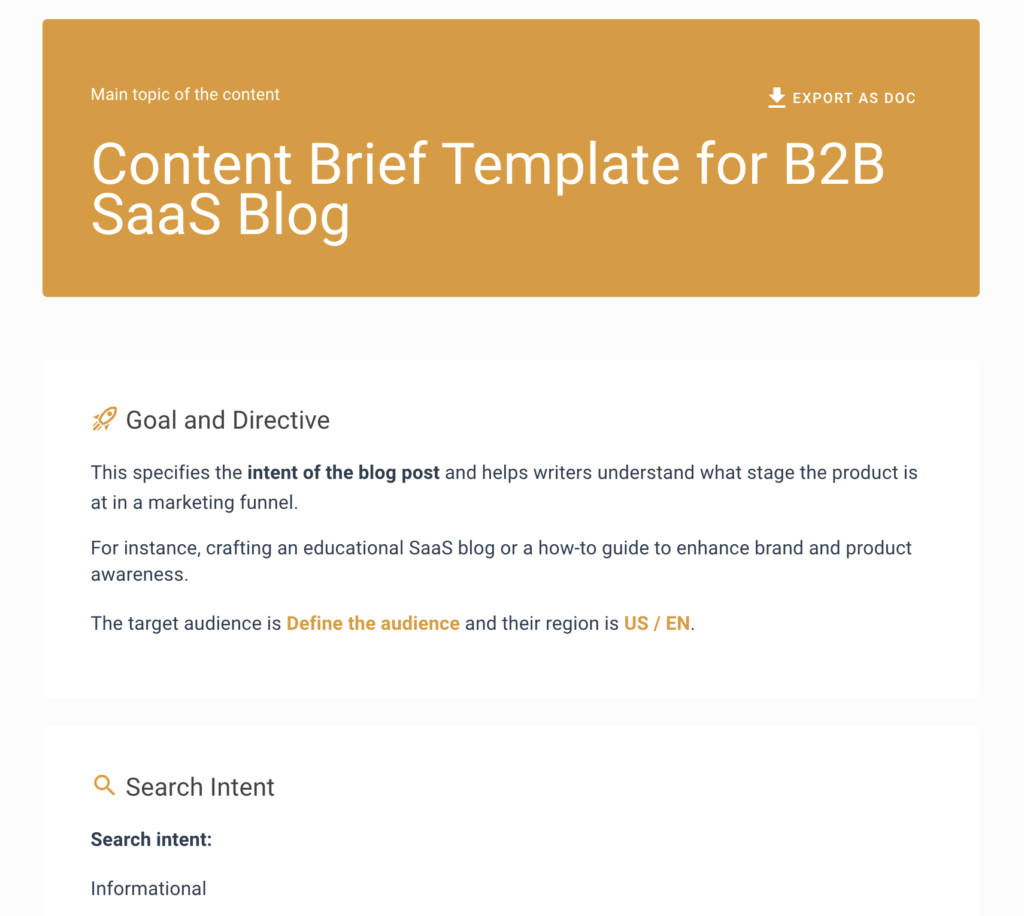 Get started with thruuu Content Brief Generator
With the thruuu Content Brief Generator, reduce your research time by 90% and compile data from the SERP in a user-friendly interface.
Browse Our Library of Content Brief Templates
Besides a B2B SaaS blog template, there are many other types of content brief templates you can explore below.
Check out our library of content brief templates below.
This Content Brief Template is ideal for agencies or in-house content teams that require collaboration with external writers and freelancers.
This Content Brief Template is perfect for website owners who are looking for an SEO content brief for their blog posts.