To rank higher on search results, it's essential to link both your SEO and content strategy in a way that aligns with the needs of your core audience.
But it's not easy to stay on track with Google's ever-changing algorithms.
While it's easy to analyze a bunch of keywords, the hardest part is writing content that actually addresses the user's search intent.
For this reason, SEO & SEM marketers leverage specific SEO tools to fast-forward research, writing, and optimization.
In this article, you'll learn more about the top free content writing tools for SEO. We will also discuss the impact of SEO writing tools across the different stages of content creation and optimization.
Time to outrank your competitors.
What Is SEO Content Writing?
SEO writing is the process of creating and publishing content while keeping in mind a user's search intent. And it takes a lot of effort to curate top-notch content that focuses on the user's needs versus generating fluff.
If your page content is useful, Google will most likely rank it for that particular keyword. For instance, say a consumer wants to buy a shower head, but the search is specific to the size of the bathroom.
Basing an article on the keyword "buy a shower head" will only sound commercial with little to no relevance. Now an article based on the keyword, "what size of shower head is best for small bathrooms," has clear informative intent.
The end goal of SEO writing is to rank on the first page of Google's search results. The search engine only picks up what it determines is relevant to a user's search query.
What Is a Content Writing Tool? Do You Need One?
Brands, writers, and marketers focus on creating relevant content that not only engages the target audience but also provides information that's worthy of a share.
And how can you achieve this?
Enter content marketing, a strategic approach that focuses on creating and distributing valuable content that attracts, retains, and assists your core audience. The ultimate goal of content marketing is to help your prospect or customer solve a problem.
A survey conducted by Demand Metric specifies that 91% of B2B marketers and 86% of B2C marketers prioritize content marketing Another research states that B2B marketers use, on average, 12 to 13 content marketing tactics to up their game.
One such tactic is making use of SEO content writing tools.
A content writing tool helps you furnish text within a proper framework. In simple terms, it helps generate authoritative content that drives value to your consumer audience.
The best content writing tools help maintain the right balance between creativity and SEO requirements. And there are different kinds of SEO writing tools for improving content quality and readability.
The most accessible SEO content writing tools can automate primary tasks for digital marketers at different stages of the content creation process, such as:
Keyword Research: Monetize keywords by analyzing a variety of search terms and understanding their usability on competitive sites. This process also includes grouping keywords together, creating topic clusters, and more.
Content Writing: Develop long and short-form content for a website and marketing platforms depending on your content strategy. This stage of content creation also includes editing, proofreading, and formatting.
Content Optimization: Tweak meta-tags and URLs so the content becomes accessible to a larger and more focused target audience. At this stage, you sprinkle keywords in a content piece to improve its readability.
How to Choose the Best SEO Content Writing Tool?
Enterprises use SEO content writing tools to cut down research, writing, and optimizing time, helping them save time and money.
Here are a few steps to consider before picking an SEO writing tool:
Figure out the budget for the project.
Identify the stage of content creation.
Understand your technical limitations.
Compile a list of competitors for analysis.
Pick an all-in-one tool for SEO content.
Some of the best writing tools for SEO help you organize your content pipeline effectively. In fact, most apps not only save you time and energy but also improve reader engagement across different pages of a website.
To assist you further in your quest for knowledge, here's a list of the top 10 free content writing tools for SEO.
Best Free SEO Content Writing Tools
Google Search Console
Does Google have a free SEO tool? – Yes, it does.
Google Search Console is Google's own free tool that helps webmasters improve their rankings across SERPs. The console includes features that help measure page performance, load times, and other parameters that impact SEO.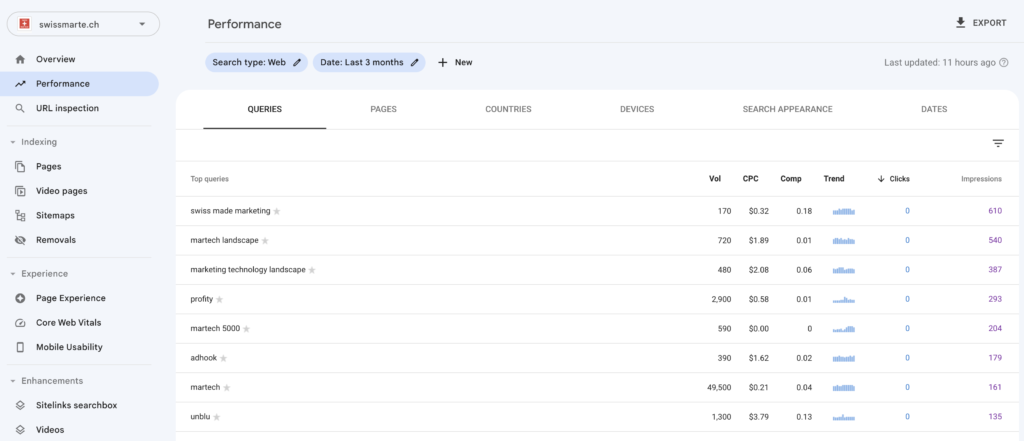 You can also keep track of your website's position on SERPs by checking which pages rank for specific keywords. Additionally, the console allows SEO marketers to track the number of clicks and impressions made on specific pages.
Google Search Console is a critical tool for SEO professionals as it provides valuable insights into page performance, helping you determine which content requires optimization and the type of keywords you can target in your SEO strategy.
Answer the Public
Answer the Public is a free tool that helps SEO professionals understand the search intent of a specific target audience. All you have to do is type in a keyword, and you'll receive an extensive list of questions based on what people are enquiring online.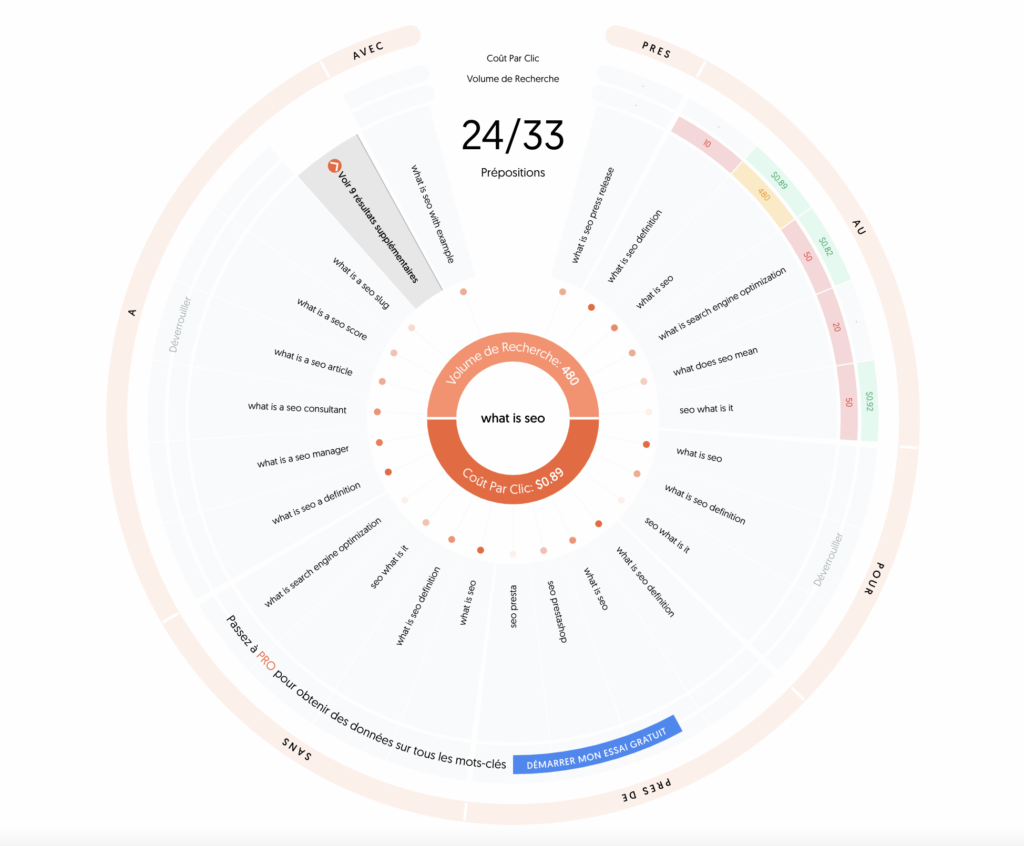 The tool relates the queries with Featured Snippets, one of the most important Google SERP Features.
Featured Snippets are part of Google's algorithm that highlight common questions related to a target keyword, connecting users to web pages that answer the question explicitly.
With this free SEO tool, you can target content that addresses queries or brainstorm topic ideas based on what users are talking about. The tool basically helps you get your content featured on Google Featured Snippets to increase search engine ranking.
Thruuu Free Keyword Frequency Checker
Here's another free tool that'll push your keyword research process to a whole new level, especially if you're looking for diverse content marketing tactics.
Thruuu Keyword Frequency Checker utilizes NLP to extract the most frequent keywords from any URL (say a competitor URL) so you can identify keyword density or frequency.
As a result, this keyword density checker tool allows you to analyze competitive feeds and understand their content better.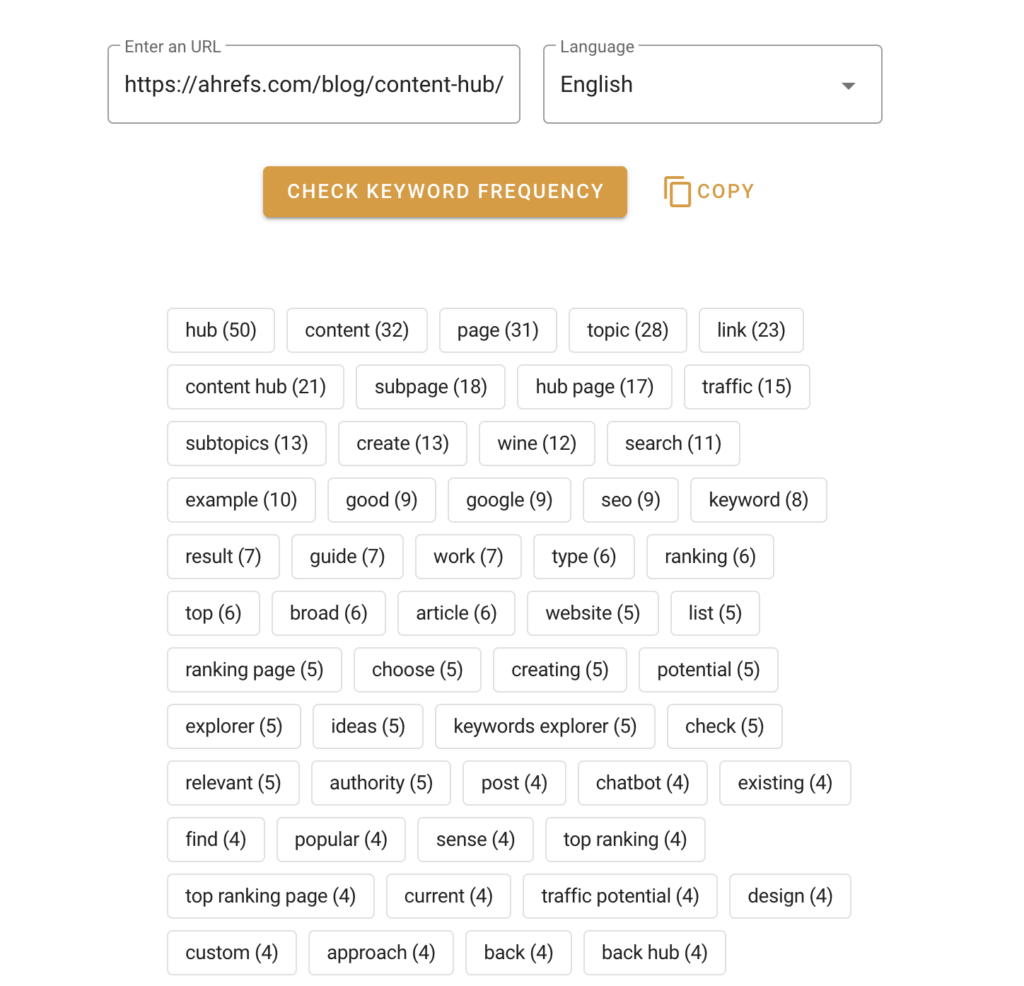 All you need to do is enter the desired URL, and the tool will instantly scan the content of the page, giving you a detailed report of the top keywords listed on the site. It assists with competitive analysis, serving up keywords that help drive more traffic to your site.
Additionally, you can get instant access to Google SERPs by integrating your CMS into the tool's SERP API. This connectivity speeds up basic content writing processes like creating an outline or brief, helping you optimize your SEO strategy effectively.
ChatGPT
Ever since the release of ChatGPT, there's been an uproar in the content marketing community, especially since it's powered by AI.
Imagine having your content written from scratch with minimum effort.
ChatGPT is your very own SEO writing assistant. But even content marketers must understand how to use this tool to their benefit! Currently, you can access the free version from OpenAI's website.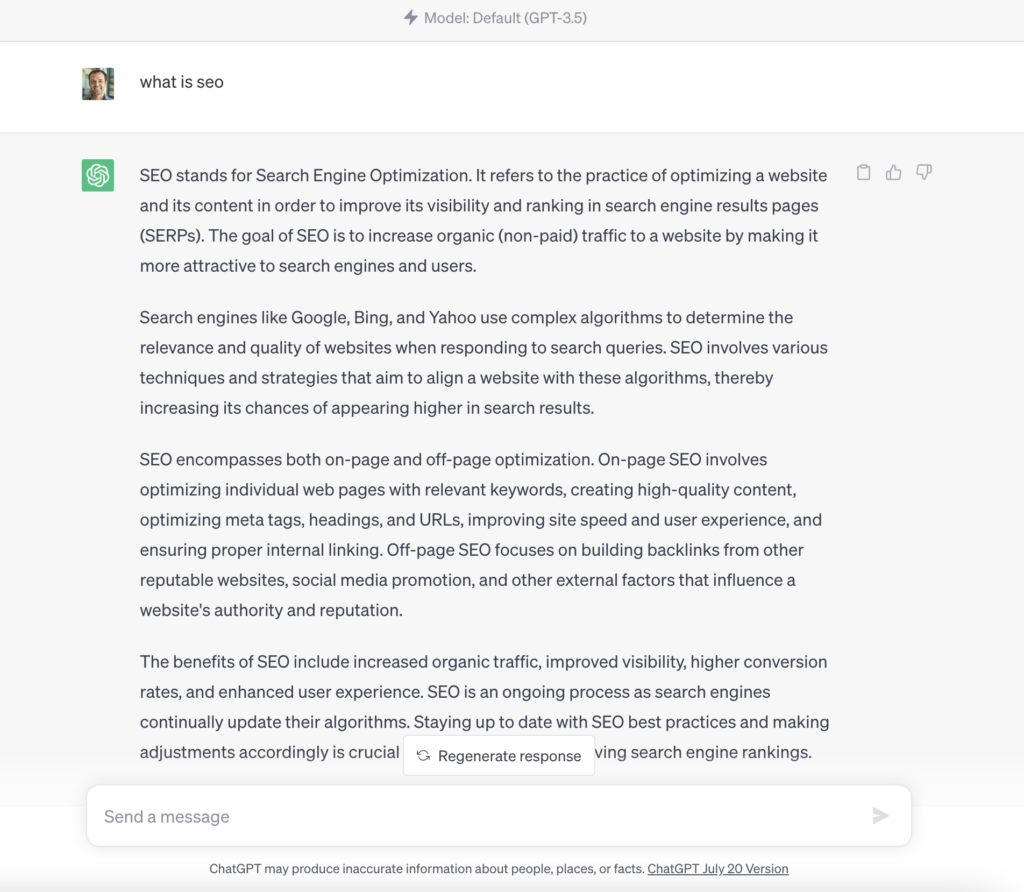 The AI tool features a chat box where you can ask questions and receive answers from a bot, though it almost feels like you're speaking to a human. It can also solve coding problems, articulate essays, and more.
Thruuu Website Text Extractor
What's the best way to stay ahead of your competition? – Learn their modes and methods.
And there's no better writing tool than Thruuu Website Text Extractor that gives you the body content of any URL, making it the perfect instrument for competitor analysis. You can combine this tool with Thruuu's Keyword Frequency Checker for a detailed report.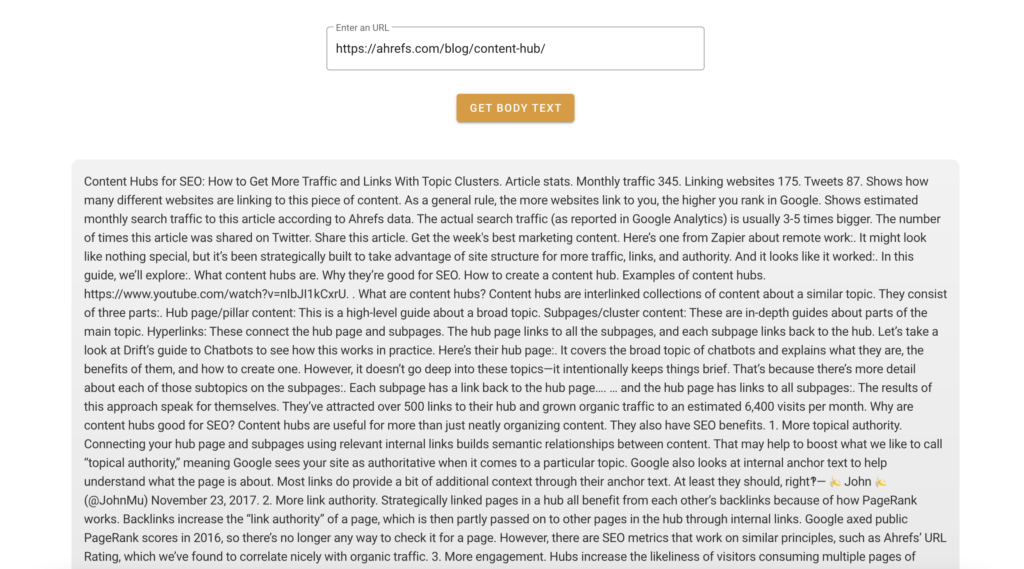 This free SEO marketing tool boosts content research, allowing you to extract information (like topics and word count) from high-ranking competitor pages. You can also use it together with ChatGPT to deep dive your research and text analysis.
Google Docs
When the time comes to generate content, you need a tool that not only boosts formatting but also assists with editing and proofreading. Google Docs is one such content writing tool that helps you create online documents in real time.
This free tool is accessible to any account holder, making content writing and editing easier with other users. The tool allows you to share, add comments and suggestions, and other action items like using @-mentions to promote seamless collaborations.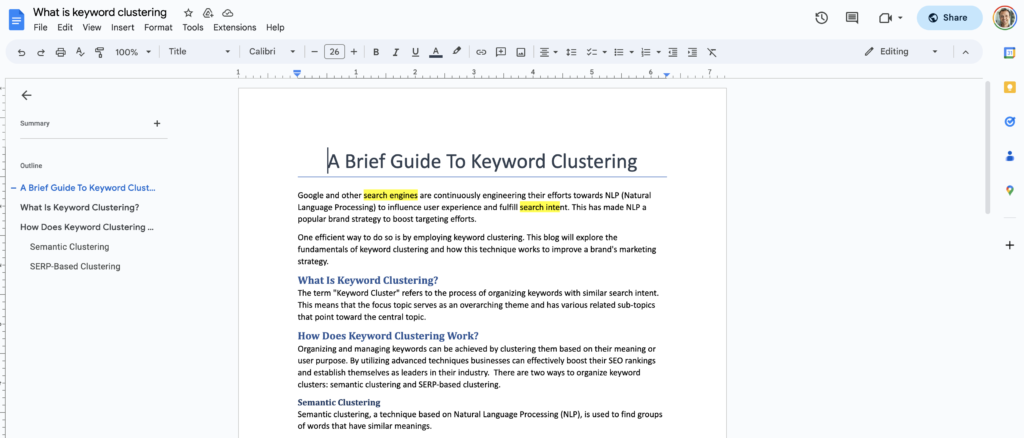 Additionally, it features assistive tools that help you write faster with fewer grammatical mistakes so you can focus on content quality. With quick document translation, voice typing, and grammar suggestions, you can create content that's clear and concise.
Grammarly
Grammarly has been around for years, and it's one of the top tools for writing quality content that's grammatically correct. Excellent for content writers, editors, and publishers around the world, the tool helps improve writing and editing skills.
Furthermore, the text suggestions in Grammarly's free version help transform content into a well-concise copy by replacing words, changing sentence structure, and more. But the free model has a few limitations, unlike other content editing tools.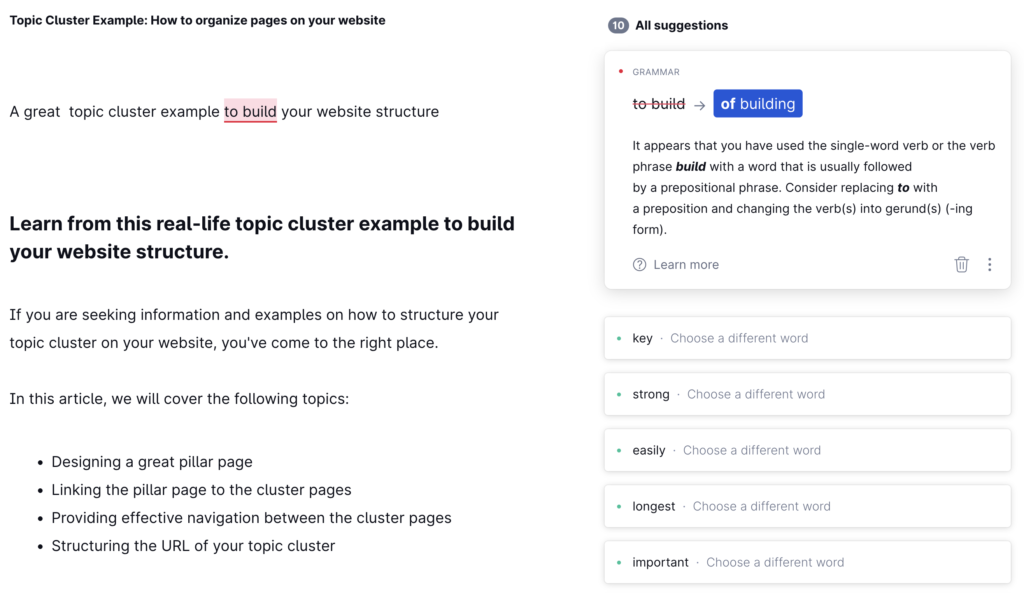 The free tool equips writers and editors with the means to identify and fix misspelled words, including punctuation mistakes. In short, the free version offers a more accurate analysis of your content compared to a basic grammar checking tool.
Hemingway Editor
The main purpose of the Hemingway app (the free version) is proofreading. This tool is one of the best SEO content writing tools as it prioritizes content style. The tool features two user-friendly modes: write and edit.
Most content marketers and writers use the Hemingway Editor because it's affordable. After pasting your content on the app, it instantly highlights the text in color. It also replaces complex words with simpler alternatives.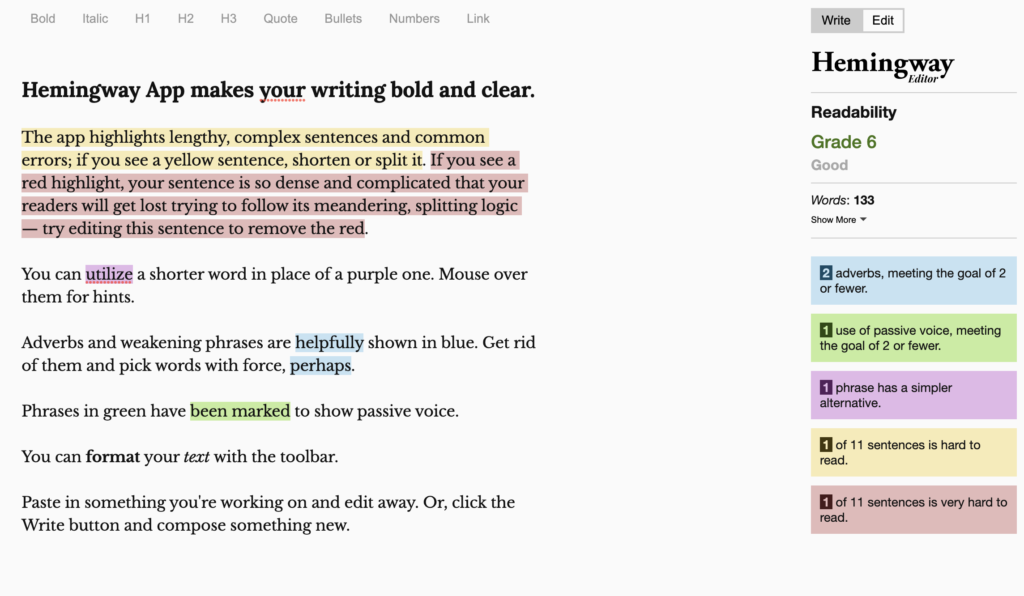 It makes editing and proofreading 10 times easier! This robust content editing tool is a great way to improve your writing style. For instance, if you're used to writing in a passive voice, this tool ensures you're mindful of it.
AI Content Detector
In today's AI-driven world, you need to be careful with content creation.
Search engine algorithms are designed to pick up content that's relevant, authentic, and resourceful. But anything that's been served by a bot is likely to get rejected, affecting your SEO results in a negative way.
So, if you're working with a team of writers or outsourcing your content, it's always good to check if the content is written by a human or a bot.
AI Content Detector does just that!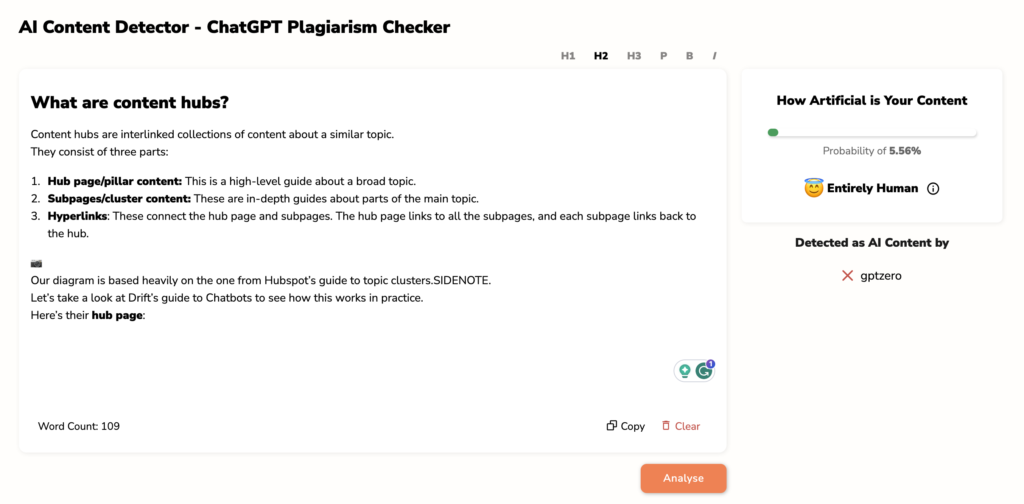 This tool is a free, easy-to-use resource that checks for content quality by identifying AI-powered content or any written text created by AI-based software. This includes AI-text generators like ChatGPT, GPT 3, and GPT 4.
After analyzing the content, the AI Content Detector delivers an estimated percentage score that tells how much of the text is AI-written. Additionally, the free tool can count words and detect plagiarism in the text.
You only have to copy and paste your content into the text box, and the tool will take care of the rest, helping you identify any article that contains AI-generated text. You can use it to check a single sentence or an entire article.
Thruuu Web Page Comparison Tool
The final step to content creation (right before you hit the publish button) is optimization. And while there are many tools you can experiment with, not everything's cheap!
But with the Thruuu Web Page Comparison Tool, you can continue to optimize your content even after it's live. Featuring an exceptional user interface, the tool allows you to compare your web page articles with a competitive site.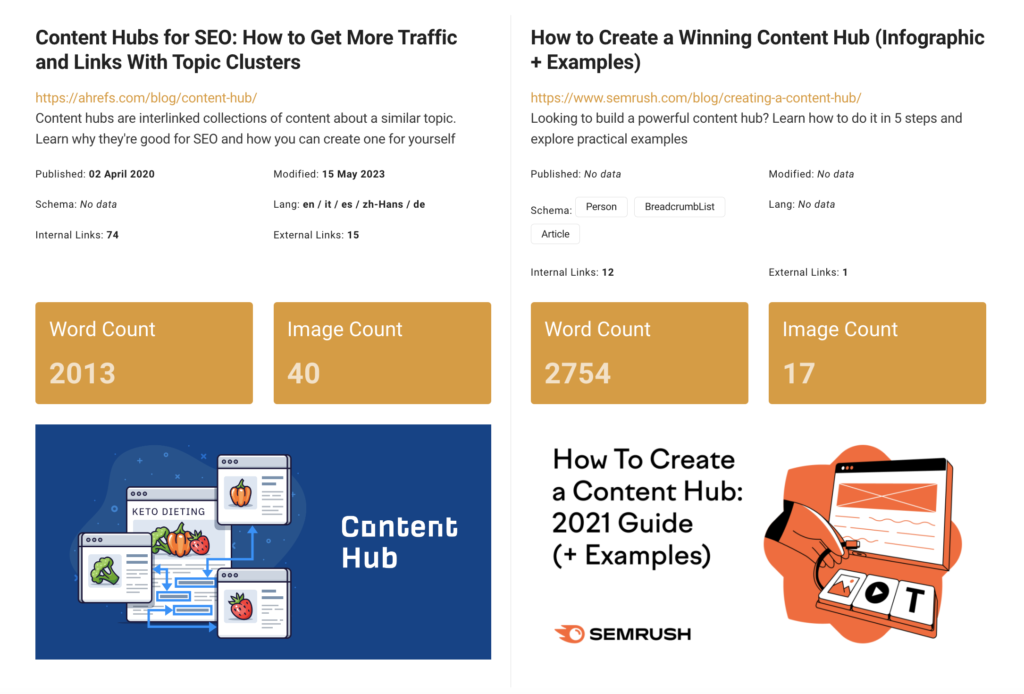 Once you've compiled a list of competitors ranking for a target keyword, you can use the tool to analyze their content against yours. The free tool picks up every aspect of your page content – from meta tags to the number of words used.
As a result, it's perfect to check what is missing from your content.
Moreover, by upgrading to the paid version of thruuu, you can effortlessly analyze Google SERPs and create content outlines and briefs in an instant with just a single click.
It also amplifies your SEO strategy by grouping keywords and creating topic clusters.
It's a one-stop solution for all your SEO needs!
Better SEO. Faster.
thruuu deciphers the Google algorithm for you and helps you build powerful content briefs in mere minutes.