The cornerstone of any content cluster strategy is a pillar page.
It represents the most important themes and subject matters to users. Additionally, a pillar page is the landing destination for your knowledge base or content hub.
Pillar pages help build content authority and relevance for search engines, especially when they're part of a topic cluster content strategy.
Besides providing a comprehensive overview of a broad topic, these pages also help with link building.
To learn more, here's an essential guide that covers everything about creating and optimizing a pillar page for your business or brand.
What Is a Pillar Page?
A pillar page is a highly defined, long-form content piece that provides a broad outline of a primary topic.
Similar to a table of contents, a pillar page links out to articles that provide supporting knowledge on specific subtopics.
A pillar page acts as the central hub of a topic cluster, with each cluster page acting as an individual chapter around a broad topic.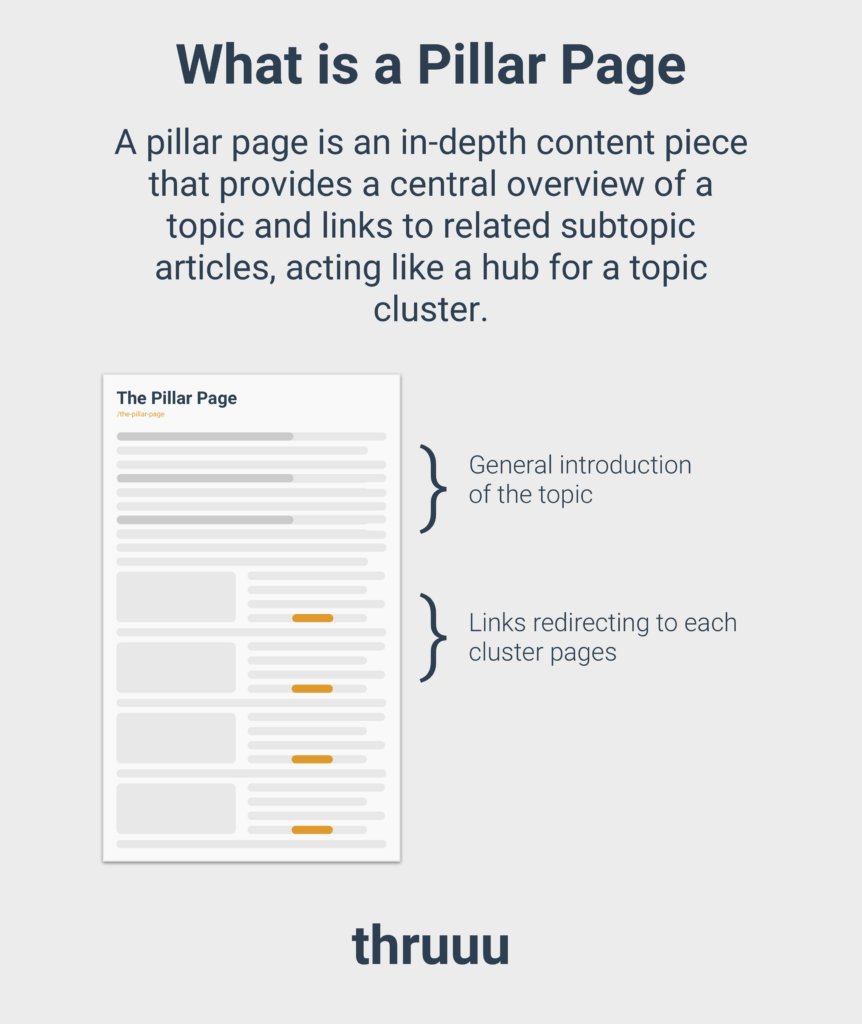 How to Use Pillar Pages with Topic Clusters?
A topic cluster is a group of individual content pieces that revolve around a central theme on a website.
So, the centerpiece of a topic cluster is the pillar page, which covers the main topic of discussion in-depth.
Since internal linking is a key SEO practice, this is where link building becomes crucial. As a rule, you must link the pillar page to each cluster page and link each cluster page back to the pillar page.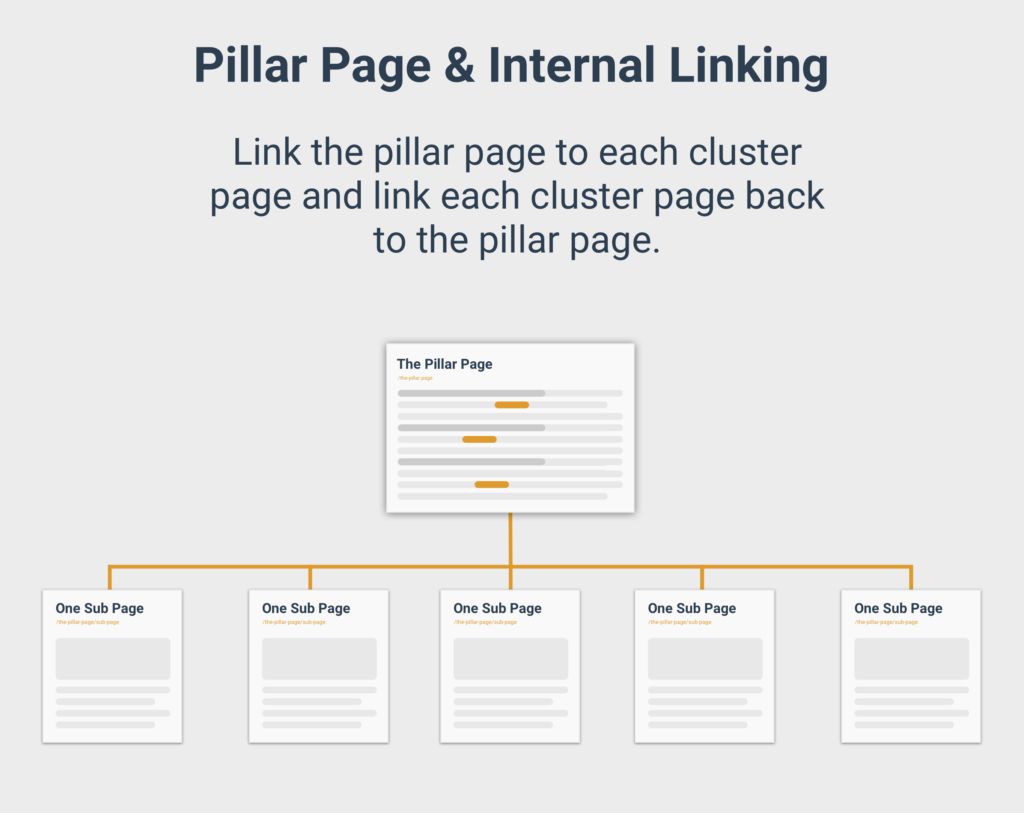 What Is the Difference Between Pillar Pages and Cluster Pages?
A content pillar page is primarily a webpage that's central to a subject matter and stays at the top of the topic cluster content.
Cluster pages are a collection of individual articles developing a specific sub-topic in detail.
You can also call a pillar page an umbrella of topics in which the pillar page content links to various cluster pages and vice versa.
As a result, the content experience is interconnected, delivering value to a reader across SERPs.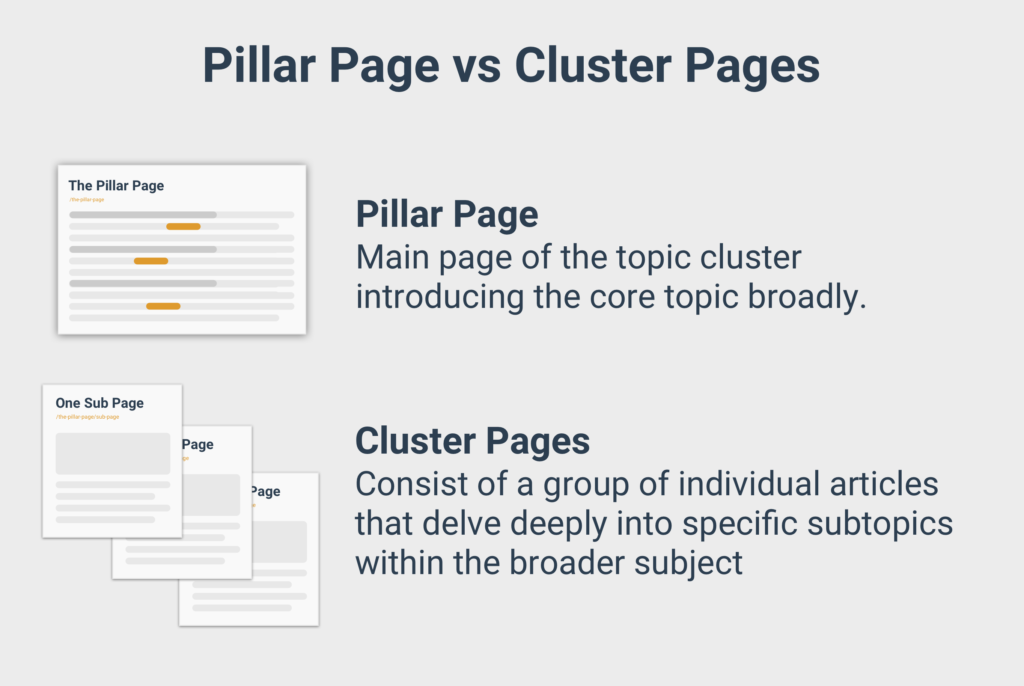 Is Pillar Page a Landing Page?
No, a pillar page is different from a landing page in terms of its purpose and utility.
A landing page is geared toward conversion, featuring advanced UI/UX since it's meant to inspire users to take some action. A landing page is usually used to highlight services or product features.
On the other hand, a pillar page helps build authority over a subject matter by providing relevant information.
Landing pages are generally short copies with lower word counts, whilst a pillar page is text-heavy with a higher word count.
Even the structure of a pillar page differs from that of a landing page. While the former features metadata and various subheadings (H1, H2, H3, and more), the latter has one or two brief sections with a CTA at the end, though some landing pages may be longer.
A pillar page is only information-heavy, so it sits at the top of the content marketing funnel, where its main purpose is to generate brand awareness.
A landing page can be created to collect leads or make conversions in a buyer's journey.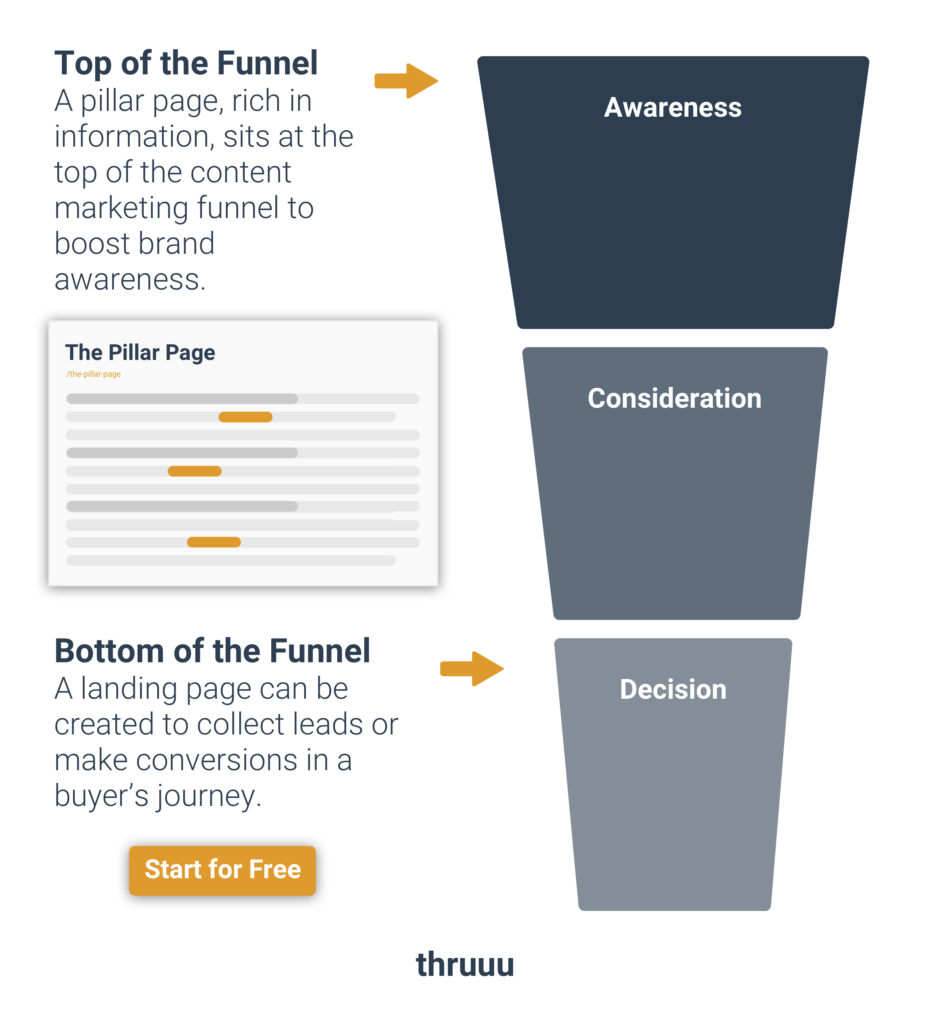 Why Should You Use Pillar Pages?
Strengthening topical authority
Pillar pages are the best way to reinforce topical authority over any subject matter.
A well-executed pillar page showcases to an audience and search engines that you have professional expertise in a specific area.
For instance, using blog posts to cover a wide range of subtopics and linking to these articles in the pillar page content.
Improving content experience
Pillar pages offer readers plenty of relevant information at a single point.
As a result, it helps users dive deeper into a topic and learn more by linking to supporting content.
With internal linking, you improve the reader's experience by helping them navigate across a series of topic clusters, all of which are related resources.
Enhancing site architecture
To enhance site architecture, it's essential to perform content mapping.
For one, you can repurpose older blogs by linking to a pillar page.
You can also eliminate broken URLs as part of this tactic to ensure even traffic distribution.
As a result, search engines produce tailored results based on a user's search intent.
Boosting search engine ranking
Pillar pages give users singular access to several content pieces.
It branches out into topic cluster pages by providing in-depth knowledge and addressing several queries about the main theme.
As a result, search engines find it easy to understand and crawl such organized content, improving the ranking of each page.
How to Create a Pillar Page?
You must identify a core topic, perform keyword research, and assign one keyword cluster to each cluster page before generating a pillar page.
💡Pro Tip: We recommend creating cluster pages first and then finishing with the pillar page.
It's easier to interlink different cluster pages associated with subtopics in the pillar page content. To learn more about creating a topic cluster, you can read our blog.
Once you're done with cluster pages, you can prepare a pillar page.
1- Selecting the right topic
Think about the subject you want to rank for, and not just the keywords, before settling on a topic for your pillar page.
Generally, content marketers pick a broad topic, brainstorm content ideas, and source keywords related to that topic.
It should relate to your industry as you want to build authority content through your pillar page.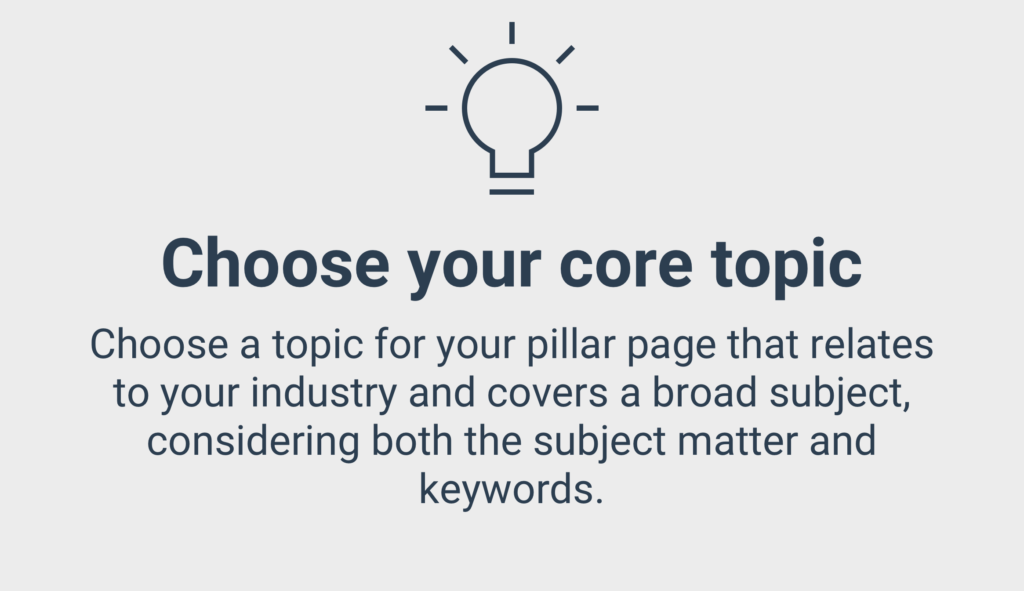 2- Organizing your topic clusters
The best way to optimize topic cluster pages is by finding the right set of keywords.
Once keyword research is complete, you can trim down the list by leveraging keyword clustering.
This process will create a set of keyword clusters.
🚀 Pro Tip: Use a keyword clustering tool to speed up this process.
Next, pick your favorite keyword clusters and related a topic to create an article. You can also pick out a keyword cluster for your pillar page that best represents the main topic.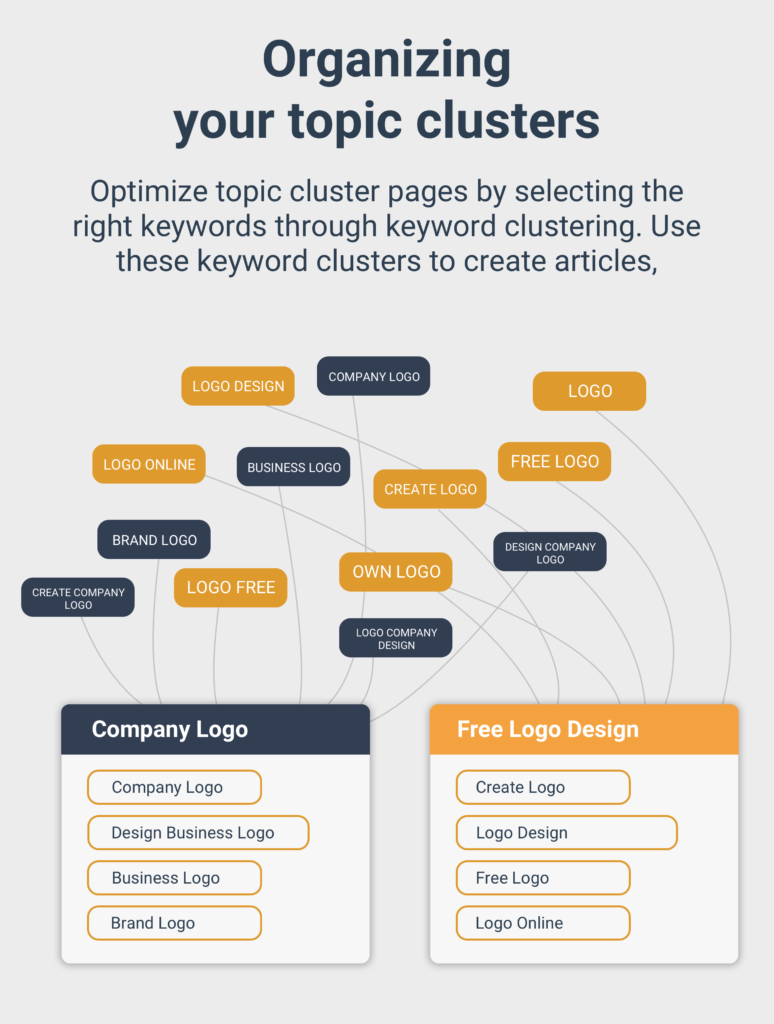 3 – Crafting cluster page content
Once you've organized topic clusters, the next step is to create an SEO-friendly content brief for each cluster page.
Choose a primary keyword from the cluster and add secondary keywords to your brief. Also, analyze the SERP and your competitors to understand the search intent and craft the best heading structure.
Once your brief is ready, it's time to create the article.
To maintain content quality and ensure consistency, you can interlink cluster pages across various sections of the content.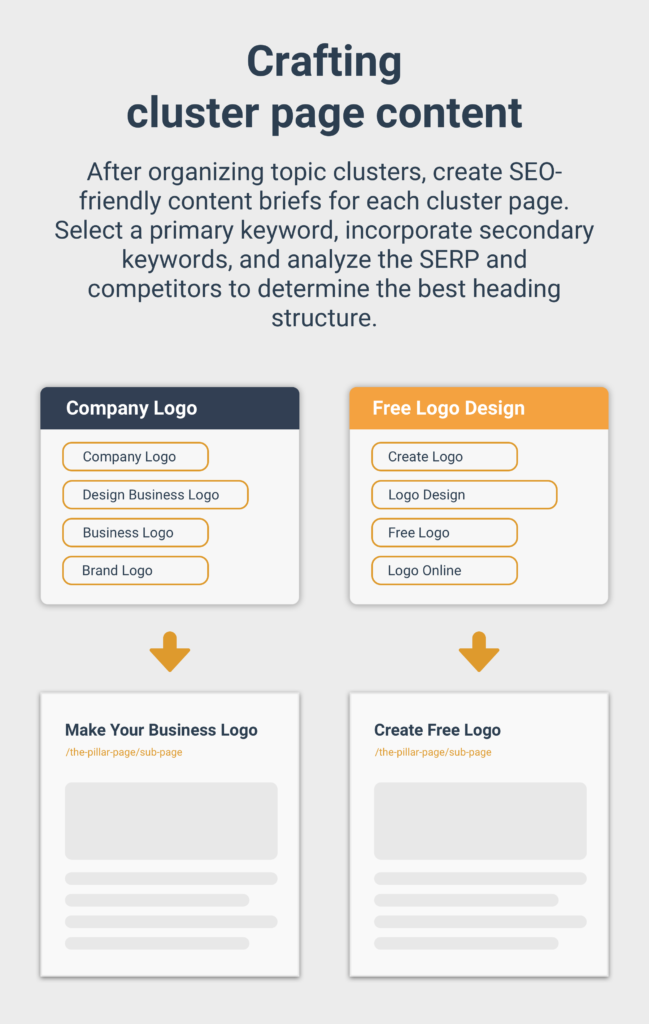 4 – Creating your main pillar page
Once you're done drafting and publishing cluster pages, you can outline the content for your pillar page.
Be clear and concise in your tonality, and ensure content formatting is thorough so it's easy to read and understand.
To enhance visibility across SERPs, add keyword-rich text and link to cluster pages internally.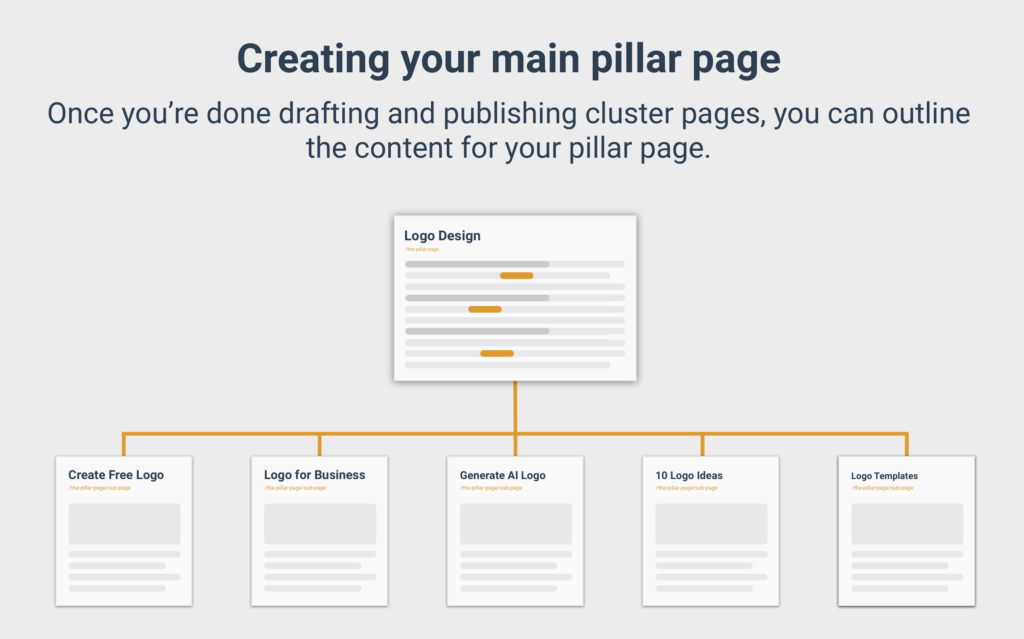 If you want to learn more, check out this case study where I explain how I created a topic cluster to increase my website traffic
Deep Dive into Topic Cluster Content Strategy
In our complete guide, we will explain essential concepts such as keyword clustering and the key concept of a pillar page and content cluster.
How Do You Structure a Pillar Page? (With Examples)
When you design the outline of a pillar page, you can always create a content brief, as it helps condense your thoughts in place.
Our suggestion is to begin by discussing the main topic and addressing any questions in the introduction.
You can also lay out subheadings to further demonstrate your expertise. By adding internal links to each cluster page within those subtopics, you can provide better context to readers.
There are different ways to design a pillar page, and each type has a specific anatomy.
The Ultimate Guide Pillar Page
Also known as the 10x content pillar page, an ultimate guide is a content piece that covers everything about a topic from head to toe.
This pillar page has a conversational tone that allows readers to engage better with the content.
Such a comprehensive pillar page consists of three main parts:
Basic information and questions about the topic.
A list of featured cluster pages with anchor links.
A FAQs
Do you want an example of such a pillar page?
We have detailed a great topic cluster example, and here you can find some parts of its pillar page following the ultimate guide template.
The introduction starts by answering the main question about the topic.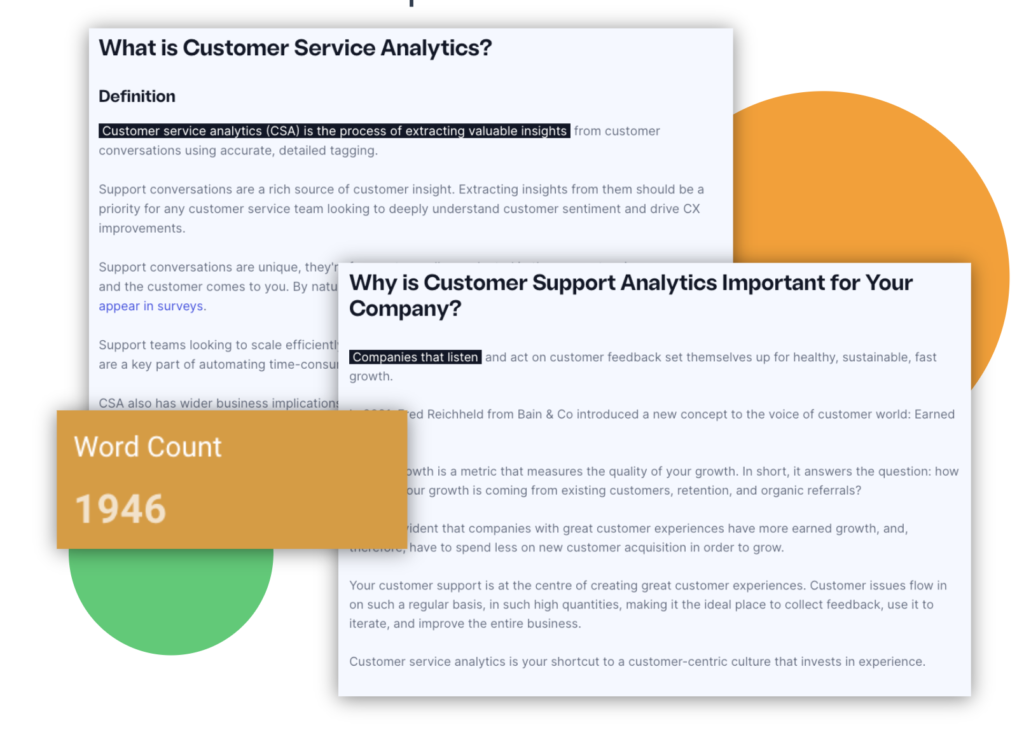 Then, the pillar page redirects to the cluster pages with exact match anchors.

Finally, the pillar page ends with an FAQ section.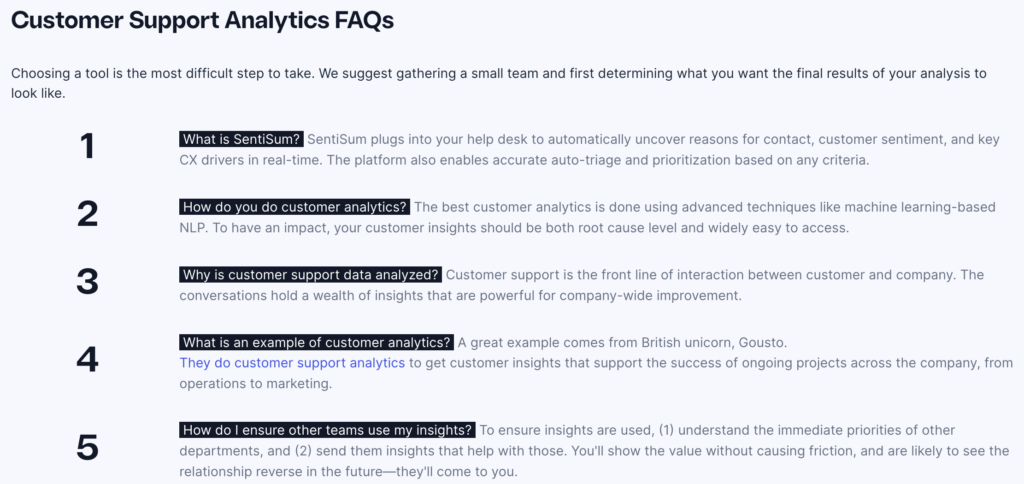 The on-page data gathered using the thruuu SERP analysis tool shows that the structure is effectively structured using H2 headings.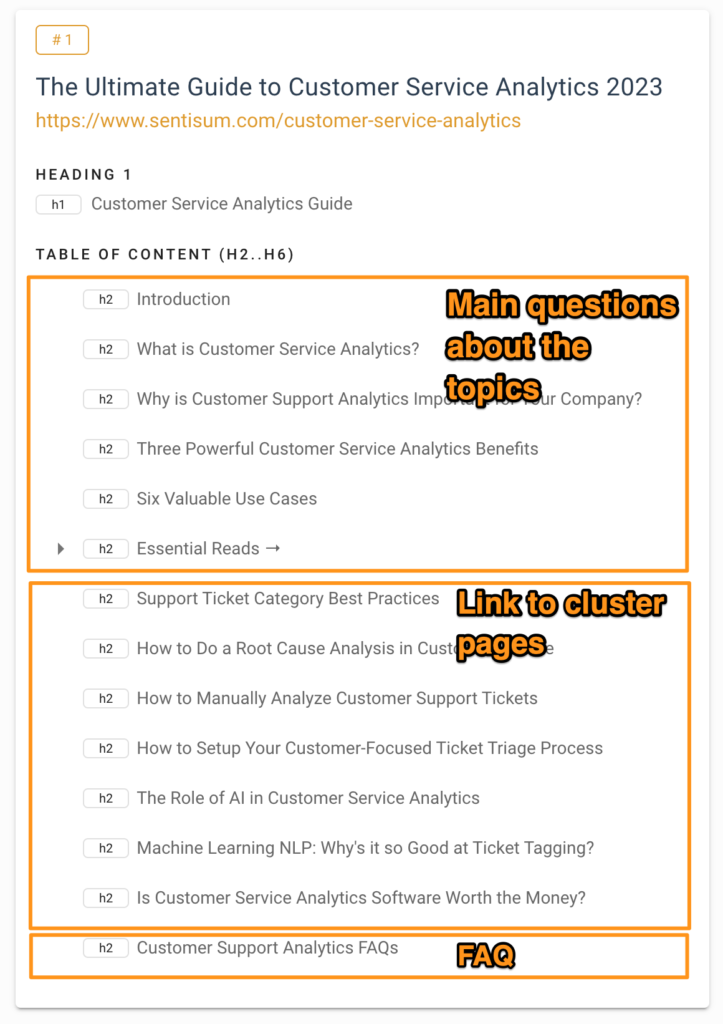 The Resource Center Pillar Page
A resource center pillar page focuses more on a list of links. It redirects users to every cluster page visible on the screen.
It offers a listicle view of cluster pages, with a concise summary that reads into various subtopics within the content.
Here's a good example of a resource center pillar page type found on the website backlinko.
Each resource section links to sub pages.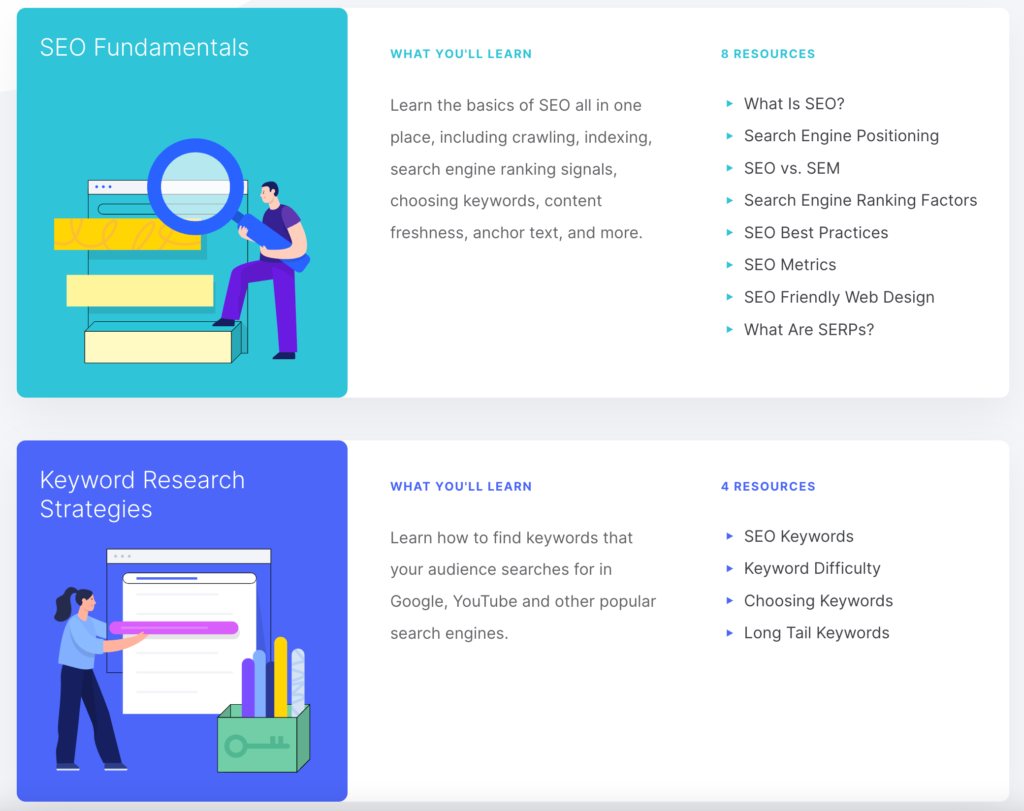 The FAQ Pillar Page
The FAQ pillar page has a simple structure that only features questions and answers.
It has a formal tone that's crisp, concise, and well-framed. It starts with a basic introduction to the main theme, followed by a series of questions and and answers.
Each section links to a dedicated article that provides in-depth information on the topic.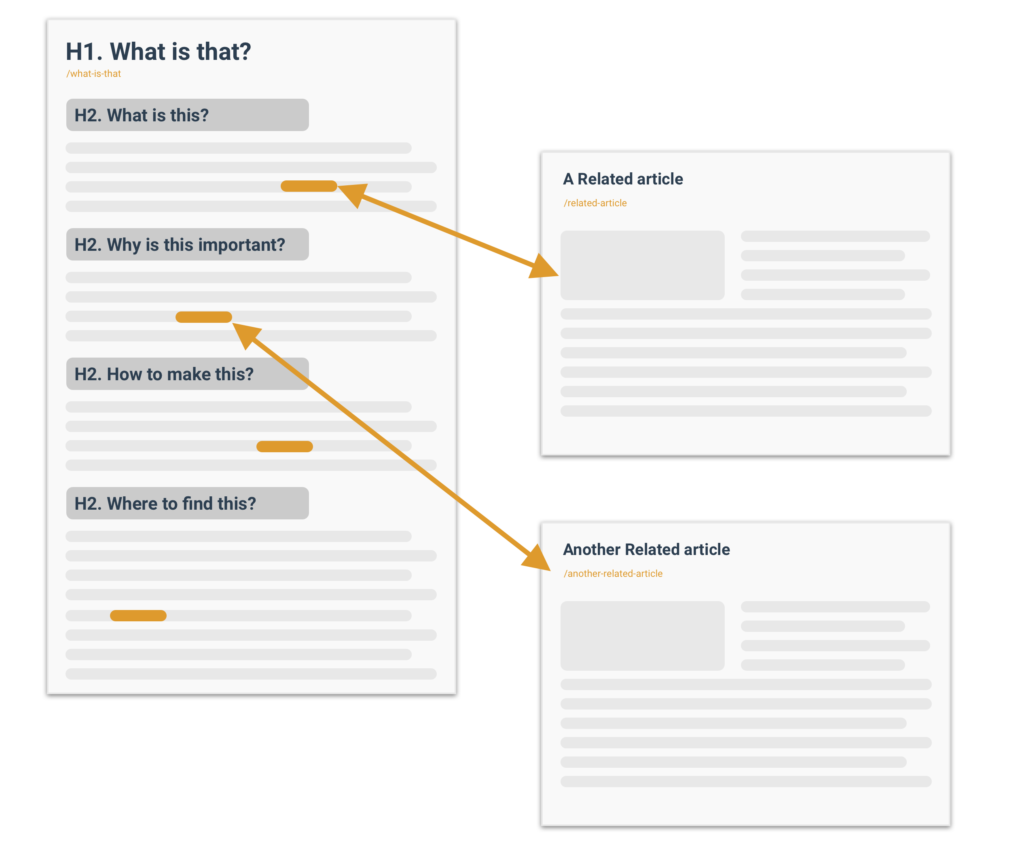 Here's a FAQ pillar page example found on the website one-inside.com.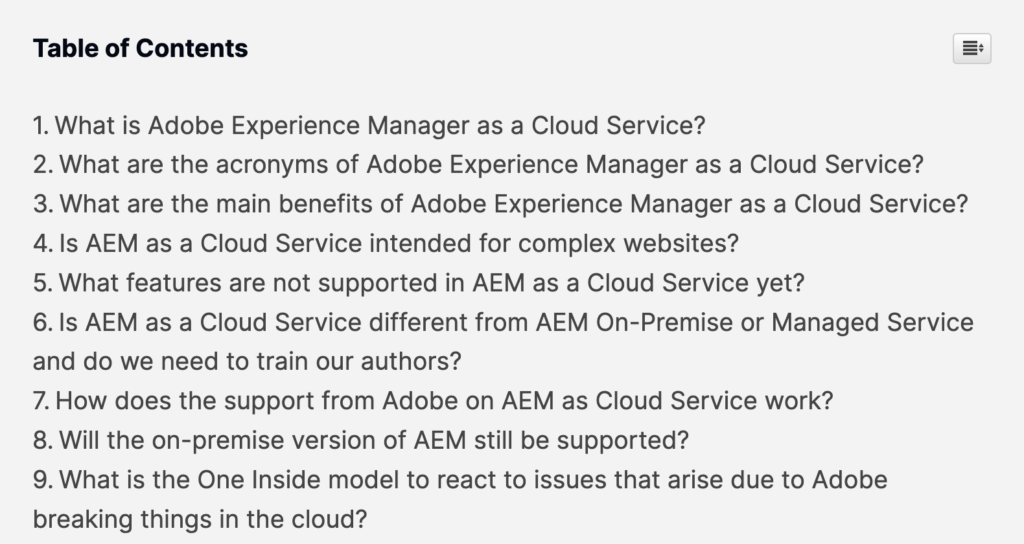 How Long Are Pillar Pages?
Pillar pages typically have a word count between 2000 to 10,000 words.
They are long-form content pieces that cover a broad range of subtopics, include many internal links, and allow readers to digest information within 10 to 15 minutes.
The recommended word count for a pillar page is 2000+ words.
Note that word count is not a ranking factor. The length depends on the topic and the kind of structure your pillar page has.
To make an informed decision, you can use thruuu to analyze the word count for the body of any pillar page on SERPs.
How to Structure the URL of a Pillar Page?
The URL of a pillar page must include the target keyword. We recommend using a hierarchical URL structure: domain.com/pillar keyword/topic cluster.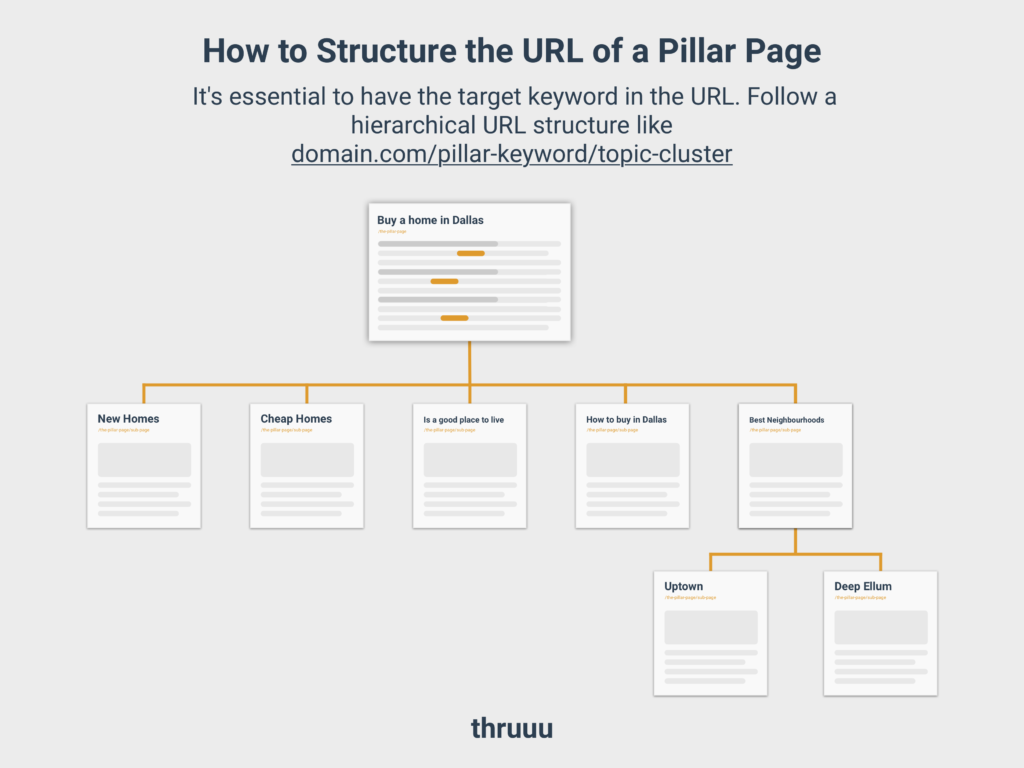 How to Promote Your Pillar Page?
It's essential to promote your pillar page as it helps improve the visibility of an entire cluster of topics.
By sharing your pillar page across various social media platforms, you increase traffic and page visits, especially when people view your cluster pages.
A great way to promote your pillar page is by creating a blog post or by sharing the page via a newsletter or as part of your email marketing campaign.
Here is a great example of promoting your pillar page and the content found on backlinko.com.
They have created a dedicated blog post to introduce their content hub. This blog post has also been shared on social media and through their newsletter.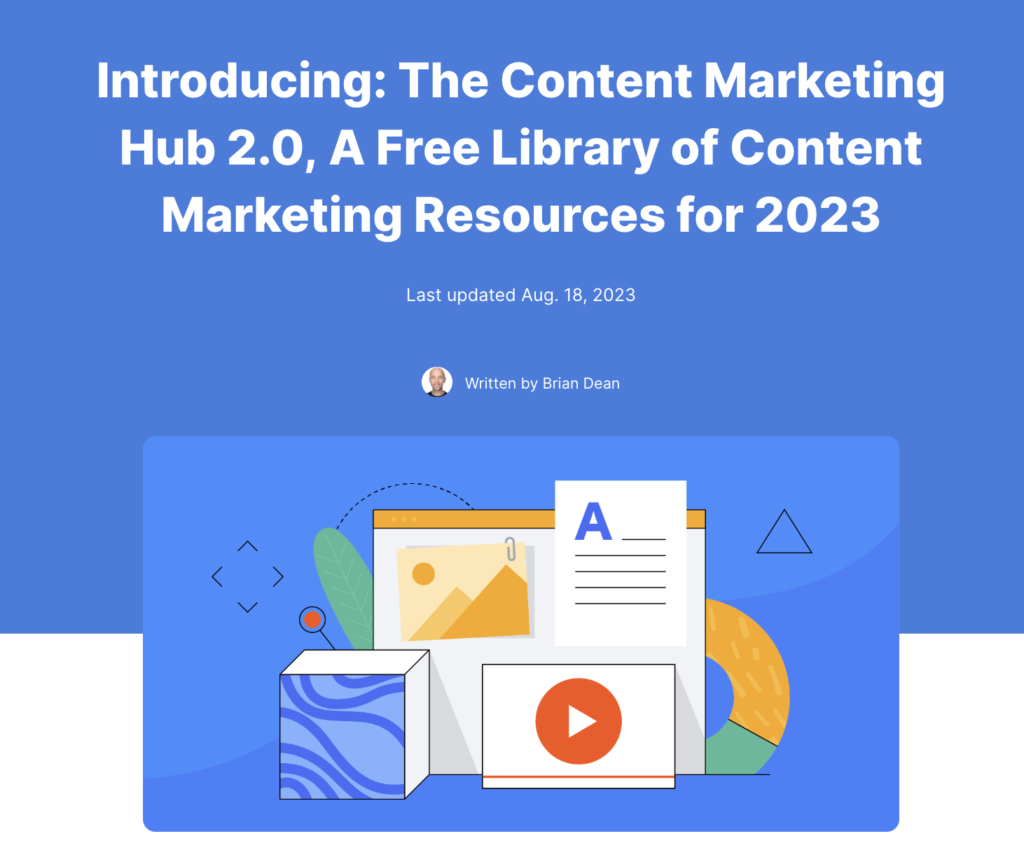 How to Measure the Success of Your Pillar Page?
To measure the success rate of a pillar page, you can use Google Search Console to analyze parameters like clicks, impressions, and page visits.
You can also use Google Analytics to monitor other metrics like the click-through rate.
How to Maintain and Update Your Pillar Page?
To ensure that your pillar page remains relevant, you can update it with new content.
Research new keyword ideas and topics to draft unique content. You can also rework subheadings with high-ranking keywords or optimize the pillar page by adding new information.
Some content marketers may also add more topic cluster pages with fresh content to update a pillar page.
What Tools Can Help You to Create Pillar Pages?
There are various tools that help you create quality content that's relevant, keyword-rich, and SERP-driven.
thruuu offers an all-in-one SEO solution:
Empower Your Content Team
Our end-to-end content optimization solution empowers your team to crack the Google algorithm, craft exceptional content, and achieve remarkable organic search results.