Want to try a new way of structuring site content while getting on Google's good side? Try the topic cluster content strategy.
Topic clusters are essentially grouped pages featuring a core subject or main theme and its corresponding sub-topics.
This strategy makes search engines recognize your brand as an authoritative resource.
SEO experts also use topic clusters to organize site content.
It's important to integrate topic clusters in your SEO strategy uniquely and effectively.
Let's start with the basics.
What is a Topic Cluster?
A topic cluster is a group of related content pages on a website that are organized around a specific topic or theme.
A topic cluster typically includes a central "pillar" page that links to several supporting "cluster" pages featuring detailed content.
By linking different cluster pages, you provide your audience with expert, detailed data about an overarching theme and its corresponding sub-topics.
Topic clusters can have different names, such as SEO Topic Cluster, Content Hub, or Content Cluster.
A topic cluster aims to establish a website as a comprehensive resource on a particular subject. As a result, topic cluster pages rank well in search engines for related queries.
Additionally, you can integrate this model into your site architecture to get a clear page hierarchy.
Link building between the pillar and cluster pages using a range of keywords demonstrates your authority on a subject. It validates the information on the topic, making you a trusted source for search engines and potential users.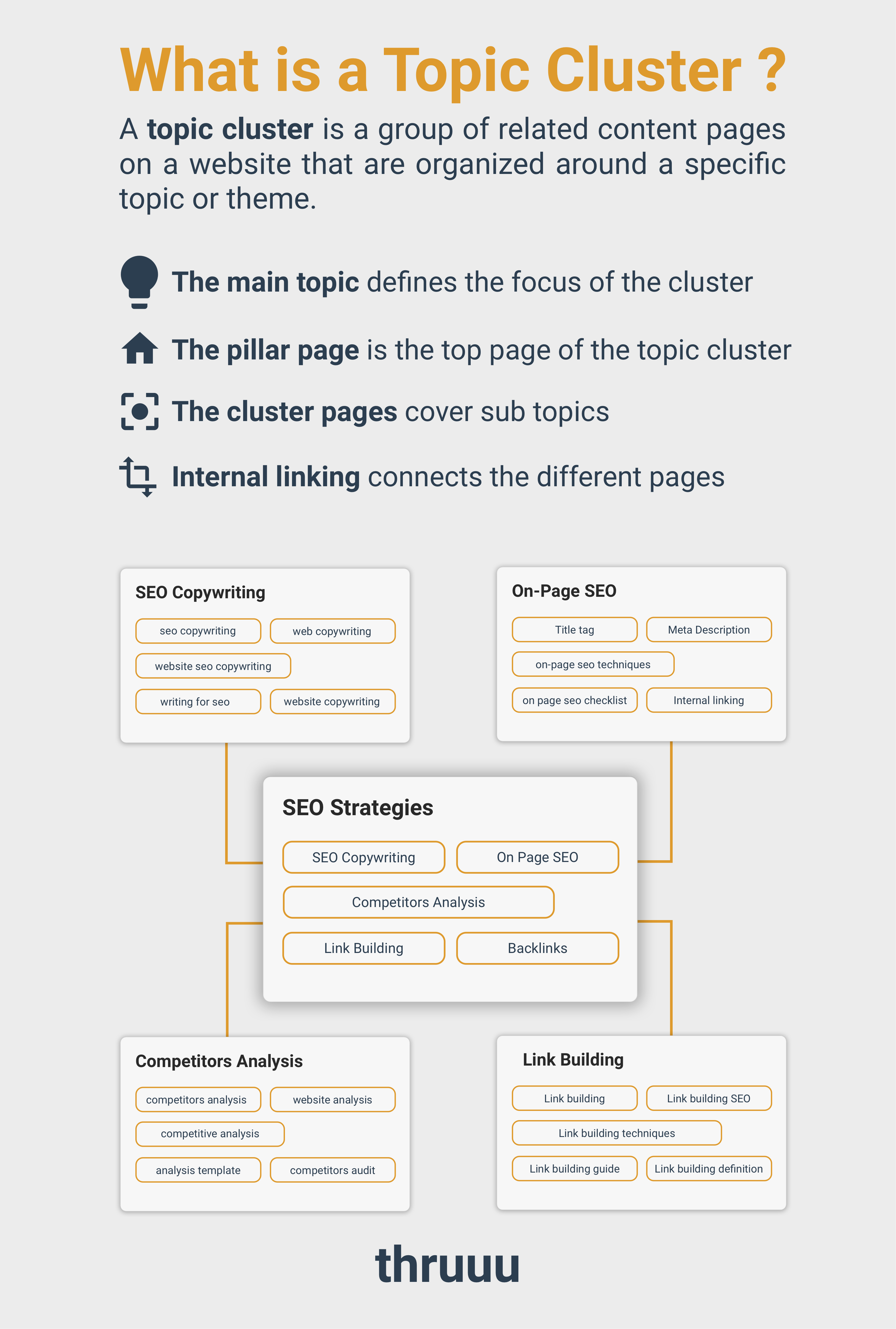 To summarize, a topic cluster consists of several key elements:
The main topic: This defines the focus of the cluster and provides a broad overview of the subject in discussion.
The pillar page: This page illustrates the hub-and-spoke model of the topic cluster with a broad overview of the topic.
The cluster pages: Each cluster page covers a specific sub topic, which details specific aspects of the main topic in depth.
Internal links: These links build content authority by structuring the cluster pages and linking to different pages.
Benefits of Implementing Topic Clusters
There are several benefits to using a topic cluster model for your website:
Increase SERP visibility: A well-organized topic cluster allows you to cover essential information in detail. As a result, it helps your website rank better for any search query based on the user intent.
Improve site architecture: Many topic cluster pages help structure content to make site navigation easy. Covering content on different cluster pages makes the content easier to understand.
Build content authority: A topic cluster model helps create a comprehensive resource around a main topic to enhance subject matter expertise. By interlinking cluster pages, you become an authoritative information source.
Organize content planning: A topic cluster strategy helps explore a plethora of sub topics. It is easier to plan and assign content creation to the right writer when you have a finalized list of topics.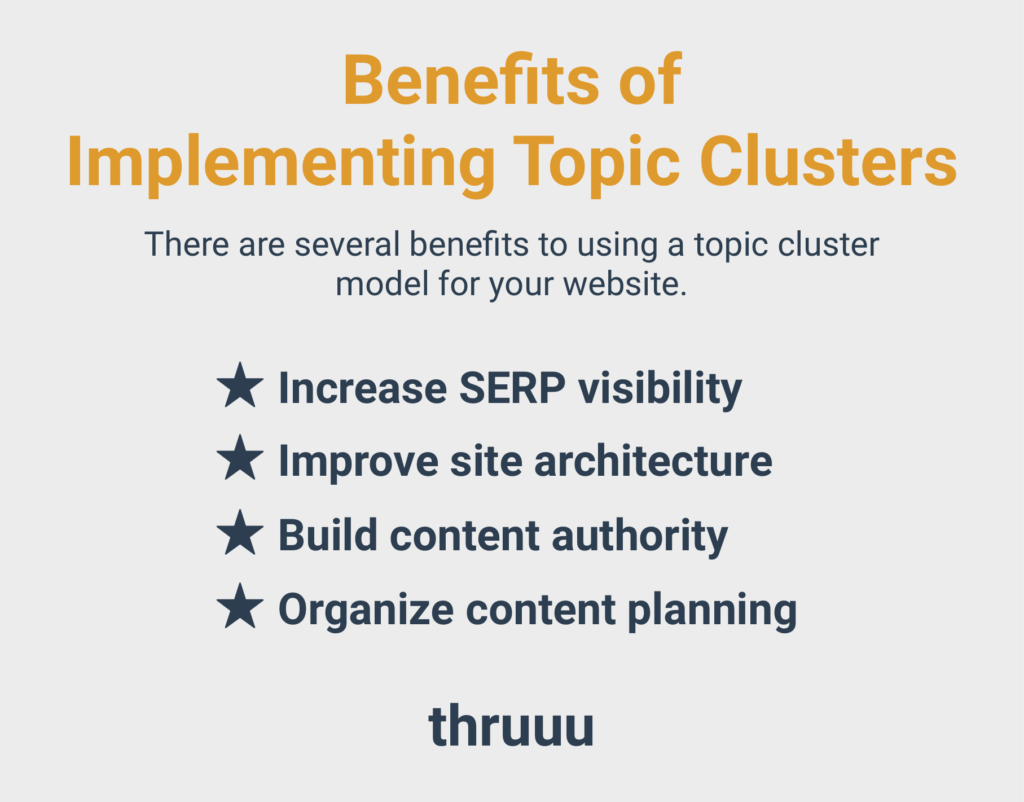 How to Create a Topic Cluster
If you spend a lot of time on research and writing, you should integrate topic clusters into your content strategy.
The model demonstrates subject matter expertise across cluster pages and helps address customer needs throughout the buyer's journey.
A topic cluster also ensures you don't leave any gaps in your content production. Once you've broken down a huge subject into specific subtopics, you can make sure you've covered all the bases.
Once you've established authority, search engines will pick up your website for valuable and comprehensive information.
Here's how to start creating your own topic cluster model based on your business requirements.
Step 1: Selecting a Core Topic
There are several ways to select the main theme of your topic cluster.
Create a list of services or product features based on your industry.
Identify the needs of your customers by adding search queries to this list.
You can also prioritize key subjects around your brand and target audience.
Make a final list of topical themes that relate most to a user's search intent and buyer's journey.
💡Pro Tip: if you have a SaaS product, the core topic of your topic cluster could be related to one of your key features. For example, for a CRM tool, we could create a topic cluster about Sales Pipeline Management.
In the case of an agency, the core topic could be related to one of the main services provided. If you are a marketing agency, you could create a topic cluster about the design and creation of a website.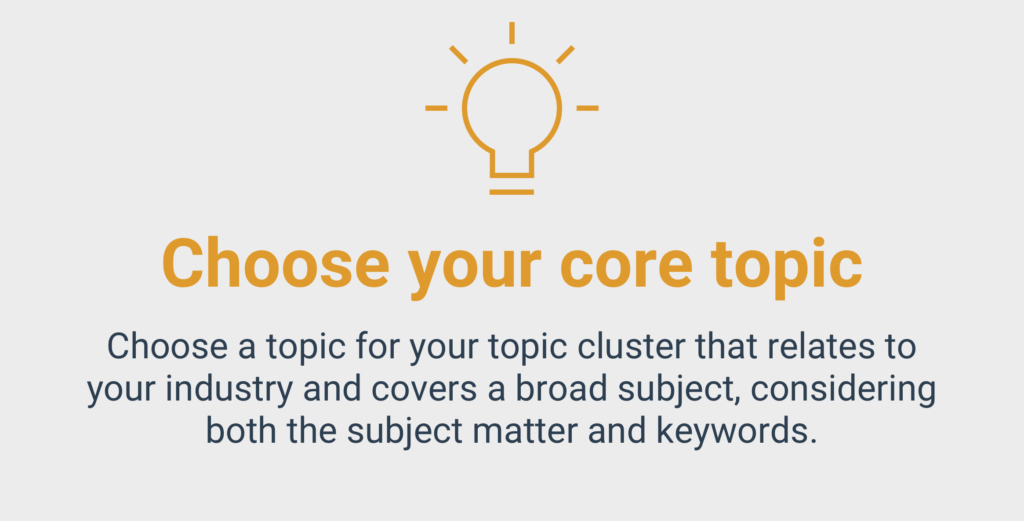 Step 2: Conducting Keyword Research
Once you've picked a main theme to cover, your next step is keyword research.
Source long-tail keywords and search terms most relevant to the topic under discussion. Use a keyword research tool to speed up the research process and leverage a range of filters for effective data collection.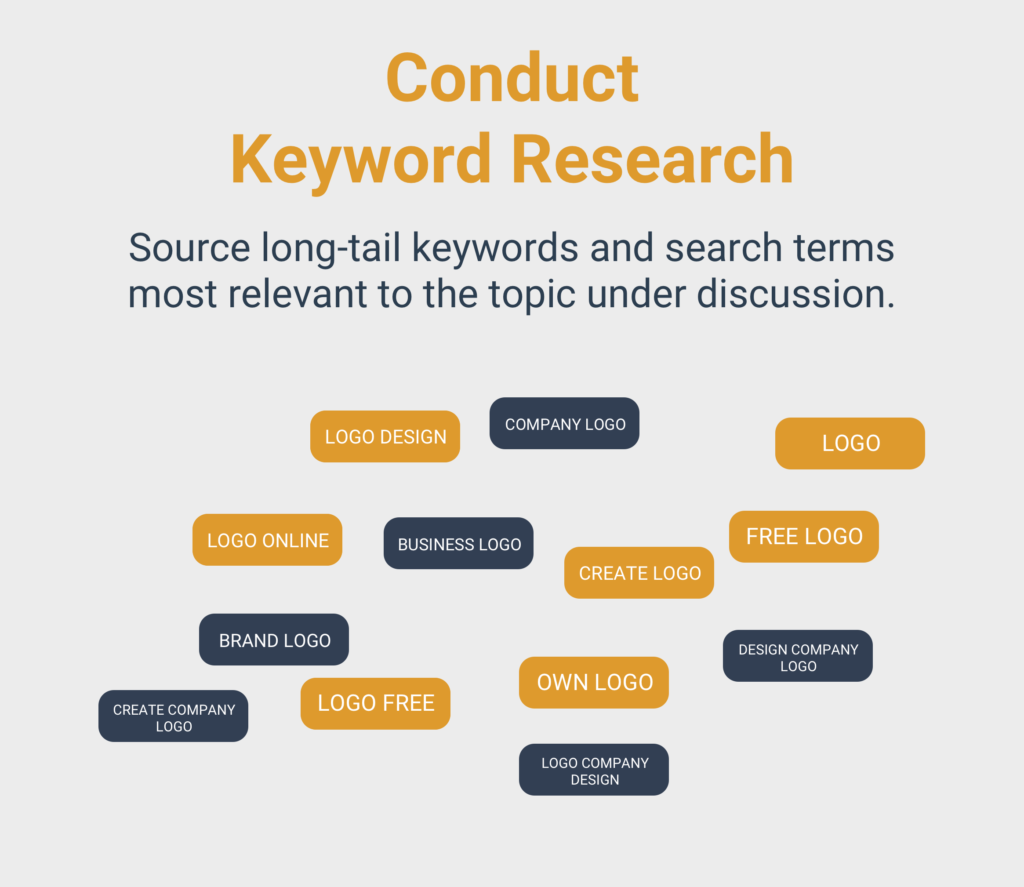 Step 3: Creating Content Clusters
What should you do after keyword research? Create content clusters.
This step is crucial and will help you in grouping similar keywords with the same intent together.
The process of grouping keywords together is called keyword clustering.
There are different ways to do this, but our recommendation is to use a keyword clustering tool.
A keyword clustering tool offers a convenient way to group keywords based on their SERP similarity. It is the most common approach followed by SEO experts.
At this stage, your content plan should look more organized. Once you have keyword clusters, you can define the sub-topics for each cluster page.
Next, you can create a content brief for the assigned topics. It's best to create the content for different topic cluster pages before designing the pillar page. This helps you identify knowledge gaps and prevent duplicate content.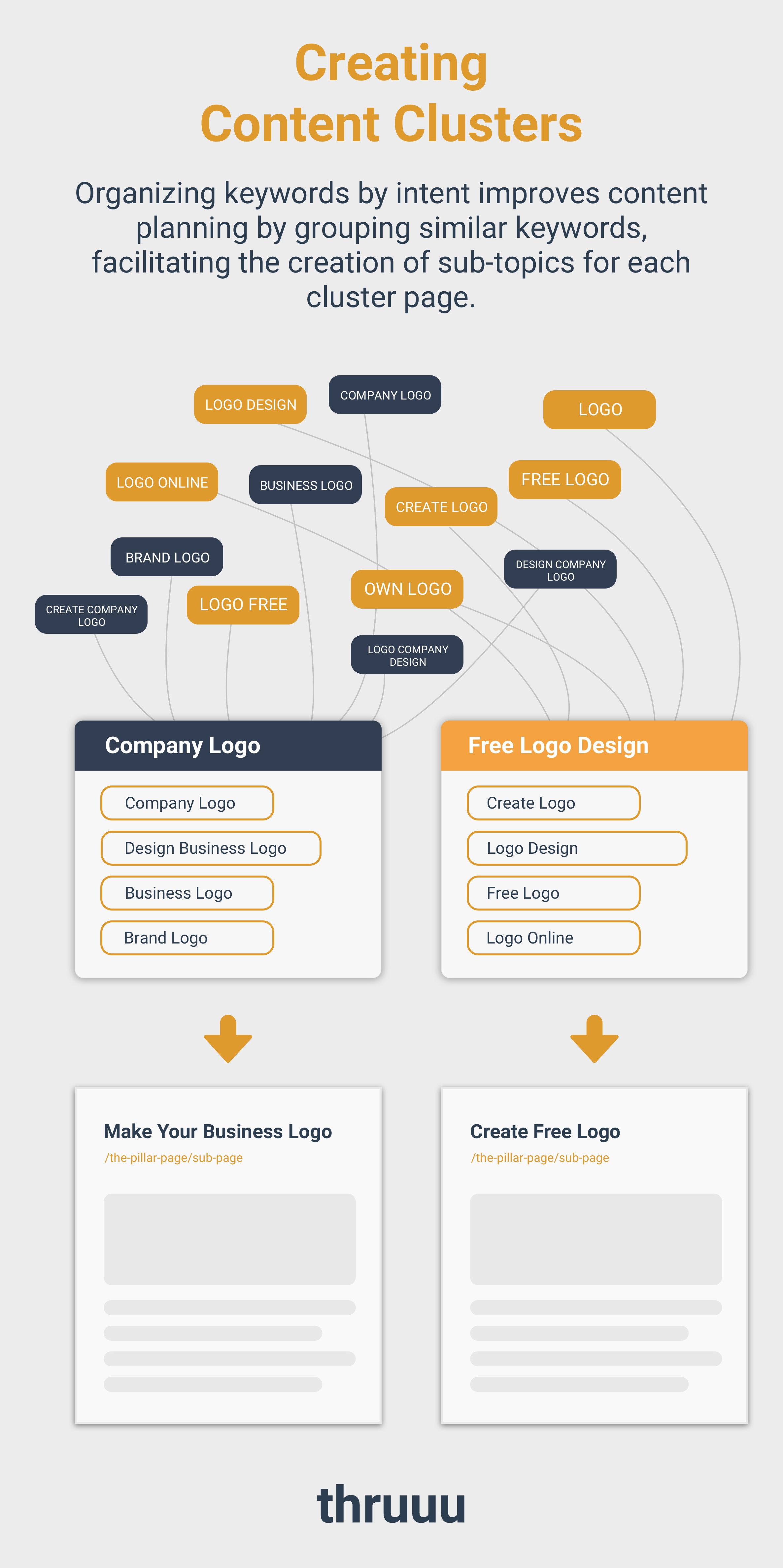 Step 4: Developing a Pillar Page
A pillar page becomes the landing destination for a user when they're navigating your website for more information.
It allows you to talk about several topics in detail, though this depends on your site architecture.
Typically, a pillar page starts with a short introduction and a comprehensive list of sections discussing sub-topics of the main theme. These sections are typically linked to their own cluster pages.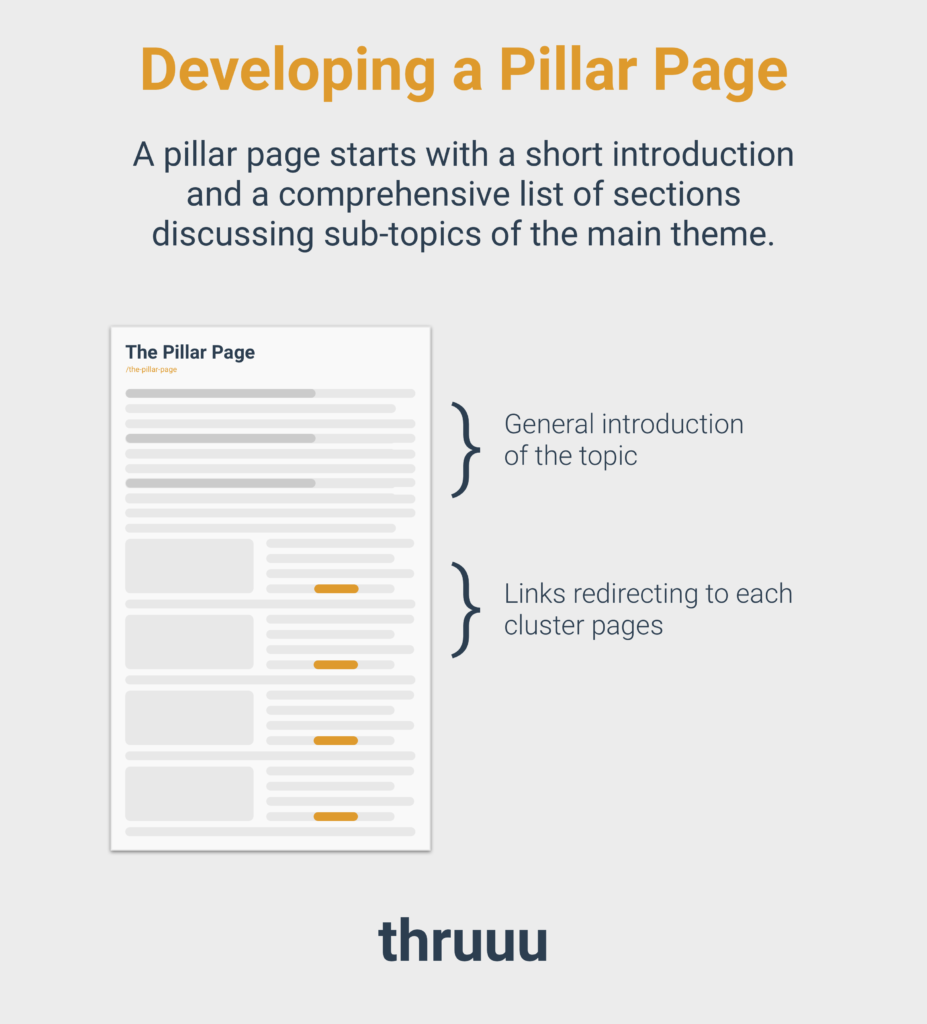 Step 5: Implementing Internal Linking
How can you connect a pillar page to many cluster pages?
The depth of pillar pages varies, as does their design. Regardless, any SEO expert will tell you that it's essential to link cluster pages to the pillar page and add cluster page links on the pillar page.
Adding internal links is a great way to improve keyword ranking across SERPs, improve website structure, and prevent keyword cannibalization.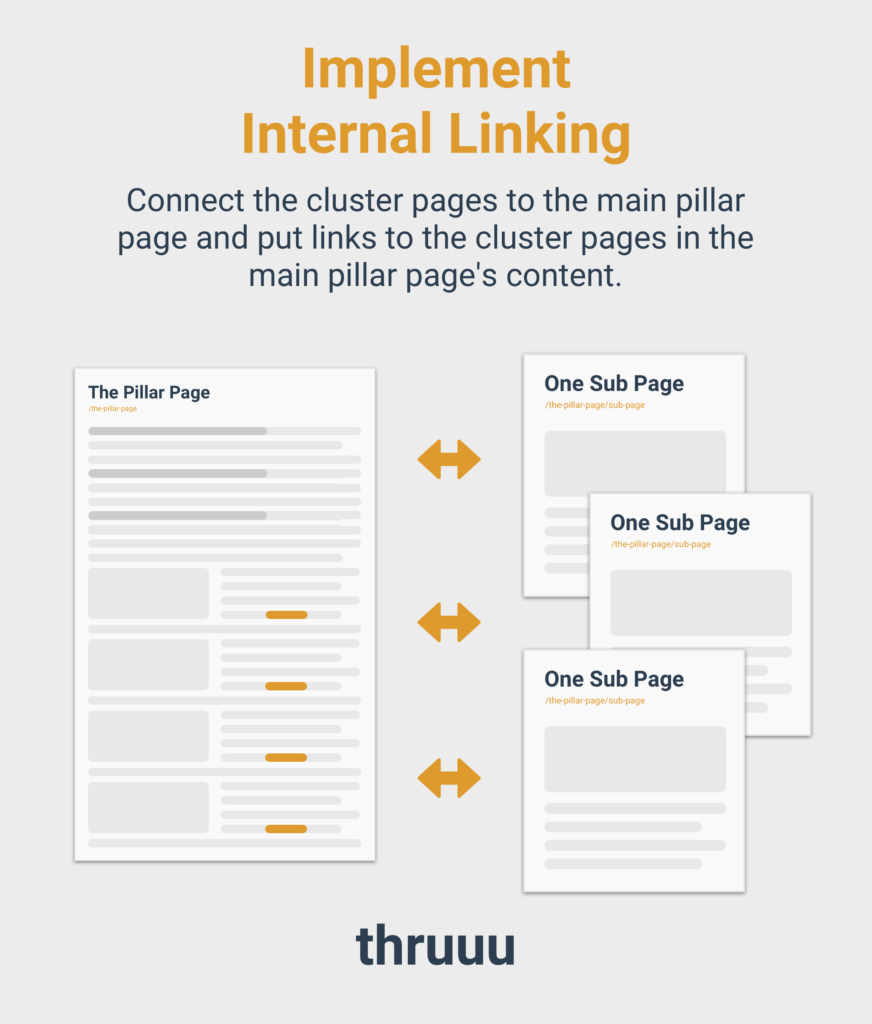 If you want to learn more, check out this case study where I explain how I created a topic cluster to increase my website traffic.
Deep Dive into Topic Cluster Content Strategy
In our complete guide, we will explain essential concepts such as keyword clustering and the key concept of a pillar page and content cluster.
Example of Topic Clusters
At thruuu, we are big fans of Brian Dean, and he mastered the concept of Topic Clusters.
If you visit his website backlinko and in particular this page, you will land on the SEO Marketing Hub.
This hub covers almost all aspects of SEO. There are resources for beginners and also advanced strategies.
The UX and UI of the pillar page are neat and sections are visually well-organized.
The topic cluster is long and includes more than 60 cluster pages.
Notice that each page topic is distinct and doesn't overlap with another topic. The hub organically covers various search queries a marketer can have in their quest for knowledge and learning.
Thanks to this strategy, Brian Dean was able to compete with the largest marketing brands on the SERPs such as HubSpot, SEMRush, and so on. It resulted in millions of monthly views and in January 2022, the website was acquired by SEMRush.
You can also create a smaller topic cluster that still performs well.
One Inside is an IT service provider with expertise in the implementation of Adobe's enterprise solutions. The company is an expert in AEM, the content management system of Adobe.
They have created a topic cluster around the main questions enterprises (their target audience) could ask about the product AEM.
The topic cluster is less than 5 pages and the page structure follows the client's buying journey:
What is AEM?
How to implement AEM?
How to operate an AEM website?
The pillar page is made of questions and answers about AEM Cloud, and some sections link to a dedicated cluster page.
Thanks to this strategy, they get great SERP visibility for searches related to the Adobe product.
If you want to get more inspiration, please check this topic cluster example. We have detailed the strategy of Sentisum, a SaaS company specializing in automating tagging and sentiment analysis of customer conversations.
They have created an excellent guide on "Customer Service Analytics" that adheres to the topic cluster model.
Advanced Techniques for Optimizing Topic Clusters
Most webmasters run a tight ship to maintain operational performance. In a fast-paced environment where algorithms change constantly, it's important to stay focused and competitive in your industry.
So, even if you're familiar with topic clusters, you can speed up research and content creation by using specific SEO tools.
Use a Keyword Clustering Tool
With a keyword grouping tool, you can create keyword clusters to simplify your research process.
Keyword Clustering tool helps create a structured content plan that addresses the needs of the audience across every stage of a buyer's journey.
A keyword clustering tool like thruuu can help you save time and effort as it puts together relevant terms. You can sketch out authoritative topics from your keyword data that are unique to a user's search intent.
Below, you can see the result of the clustering process. We uploaded a huge list related to CRM and thruuu is highlighting topics to focus on.
Each topic will become a cluster page of our topic cluster.
Consider the Buyer's Journey
It's a good idea to consider the customer or search journey when creating a topic cluster.
A topic cluster is only effective when you're a subject matter expert, from the top of the funnel to the bottom. For this reason, its content must cover all stages of the buyer's journey.
Each cluster page should cover a specific aspect of the main topic in detail and provide a natural progression to the next step in the journey.
This can guide visitors through the content and keep them engaged with the website.
By mapping the customer or search journey and organizing the content accordingly, you can create a more seamless and enjoyable experience for your visitors.
🚀 Pro Tip: Define a first set of content spanning across your customer journey. For instance, you could create a series of articles about the "what and how" for the first stages, followed by a listing of tools, advanced guides to very narrow topics.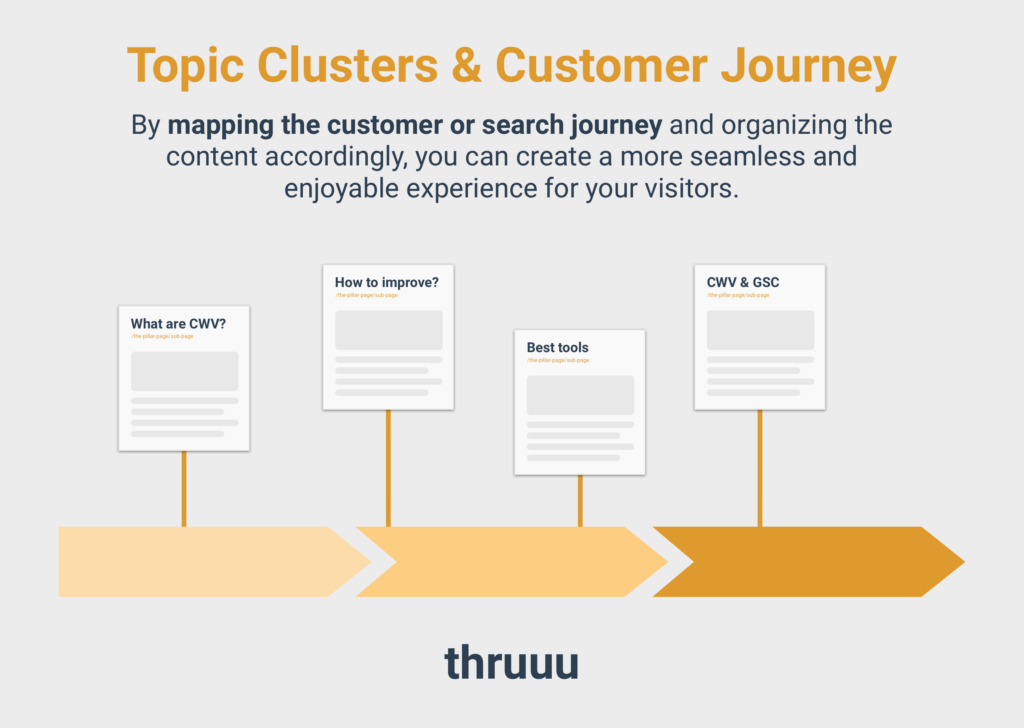 Be Unique in Your Research and Writing
There are many brands competing to rank in the top SERPs, so it's essential to build content authority in your subject matter.
With data evolving in the digital environment, you have to maintain and update your content hub constantly.
Using thruuu's SERP Analyzer and Page Audit features, you can filter, review, and analyze information based on current industry trends and update the content on your cluster pages accordingly.
Common Challenges and Pitfalls in Topic Cluster Implementation
Creating content silos
Some SEO experts believe that it's better to create content silos.
With a content silo, content is classified into distinct categories (silos). While pages within a silo can be interlinked, no linking is done between each silo.
Let's say you have two content silos, "SEO Basics" and "Content Marketing Basics," each with its own pages. Along comes a site visitor who needs help with content creation and keyword research, and he happens to land on your "content creation" page in the Content Marketing Basics silo.
Since the content creation page doesn't link to the keyword research page (because it's under the SEO Basics silo), the site visitor doesn't know you can help him with both processes. So, he ends up abandoning your site for a competitor.
This means a missed opportunity for you.
This scenario is unlikely to happen with a topic cluster model. In a topic cluster model, cluster pages can be linked even if they belong to different topic clusters.
This more extensive internal linking helps site visitors discover more content related to their queries.
It's always more useful to create internal links among topic clusters. Internal linking is a key SEO practice, and links must be placed naturally and where they make the most sense.
This way, they can guide the reader to other topics.
With clusters, you also cover tangential topics that help Google form the connection between different cluster pages.
Since search engines prefer comprehensive sources, your web pages will receive more traffic and attention. Additionally, you can link to blog articles and become a credible source of information.
Content Flooding and Keyword Cannibalization
Another mistake you must avoid is content flooding.
Most SEO marketers publish too many blogs around the same stretch of keywords. It's easy to get lost in a sea of topics while targeting a few keywords.
If your content doesn't target all stages of a buyer's journey, it'll have little effect.
Another problem with content flooding is keyword cannibalization. This is a risk when dealing with large topic clusters.
When you write too much content over the same set of keywords, with the same intent, you end up creating duplicate content that overshadows your subject matter expertise and SEO efforts.
To prevent this, you can organize content production with keyword clusters.
Use thruuu's SERP similarity tool to compare your keyword data with top SERPs.
The tool also filters search terms based on different intent types so you can build unique cluster pages. It gives insights into new topics and trending queries.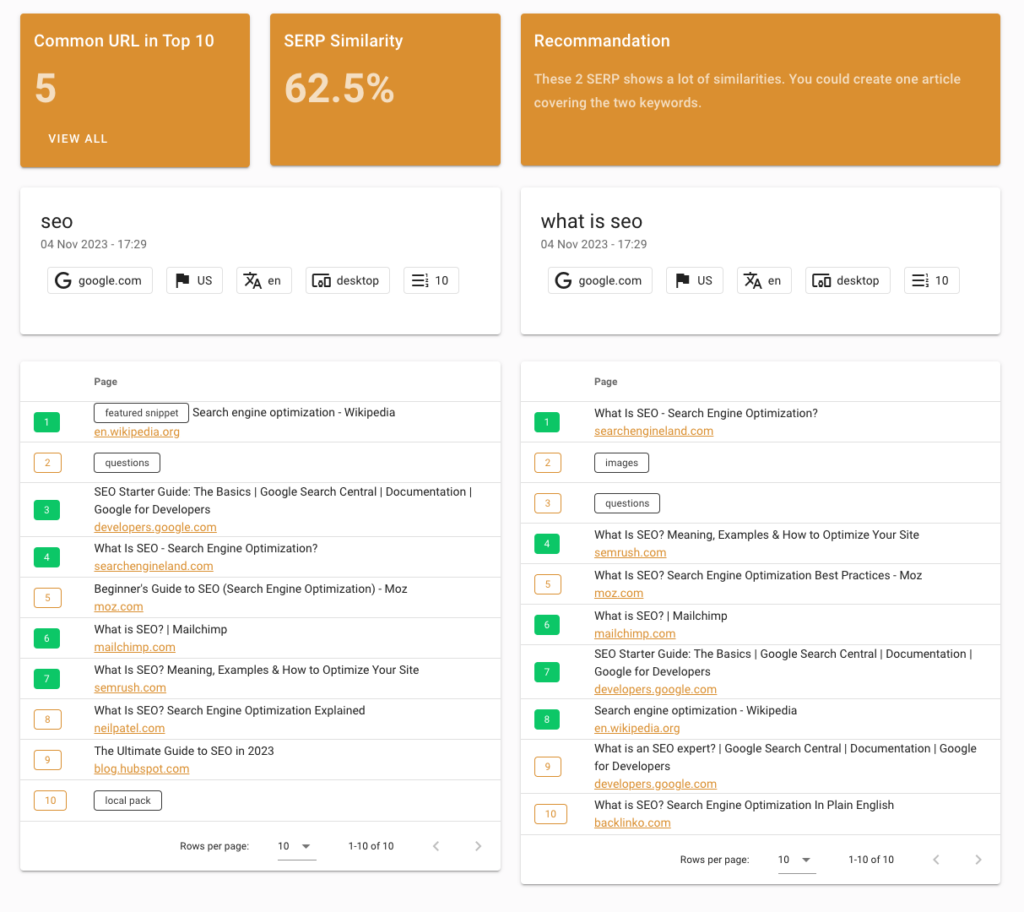 Managing content updates
Managing a large topic cluster isn't easy. It's hard to keep track of the content pieces and update them on time.
Reviewing the content at timely intervals is a great way to enhance content planning.
We recommend this practice every 3 to 6 months: extract all keywords related to your topic cluster from the search console.
You can then use a keyword grouping tool to highlight new content or topic ideas you want to explore.
You can choose to update a topic cluster with a new page or create seasonal marketing material linked to a pillar.
The Future of Topic Clusters in SEO
Though keywords have ruled the game for a while now, Google has switched its focus to topic-related queries based on a user's search intent.
As a result, topic cluster models help monetize site architecture with cluster content.
Top results on Google SERPs provide high-quality content by topic experts based on a user's search intent.
More often, the query is a phrase. Since web crawlers recognize topic clusters, they can make sense of your website and pick up your content.
Topic clusters are also crucial to SEO now more than ever as AI-enabled tools have entered the digital marketing playground. Several kinds of AI-based software exist today that can be used to enhance content development efforts.
For instance, Google SGE helps you learn as you search, like displaying answers to user queries. You can optimize your content strategy with new topic ideas by automating the analytical and research process.
So, if you invest in a topic cluster model using the right set of AI-enabled tools, your search engine optimization efforts will see an immediate result.
Conclusion
Topic clusters help search engine crawlers comprehend information around a main theme in a one-stop source that defines sub-topics in-depth.
When part of a content marketing strategy, it allows brands to cater to readers from all stages of the marketing funnel.
Cluster content pages also target related keywords across the middle and bottom half of the funnel. With proper keyword optimization and interlinking, you help search engines better understand the relationship between long-form pillar content and cluster pages.
Not only do topic clusters help you rank better for related search queries, but they also encourage readers to explore more content on your website. This is a great way to build an authoritative presence and improve content visibility.
Empower Your Content Team
Our end-to-end content optimization solution empowers your team to crack the Google algorithm, craft exceptional content, and achieve remarkable organic search results.