The search engine algorithm is engineered to pick up authoritative, relevant, and quality results for users looking for answers.
For this reason, it's important to organize your content as it helps define the structure of a website and everything you're offering.
With a content hub, you can achieve just that.
Content hubs logically present the information on your website around a main topic. This allows search engines and users to engage and connect with the content better.
A content hub is a centralized online page that features curated content.
An SEO content hub is an excellent way to increase content authority.
There are different kinds of content hubs based on your marketing requirements, industry, and subject matter expertise.
The primary SEO benefit of implementing a content hub is that it allows website owners to improve search traffic and increase lead conversion.
In this guide, you'll learn how to build an effective content hub. You can also explore some examples and try a different approach.
What Is a Content Hub?
Content hubs are collections of content pages around the same subject. Such pages are interlinked to ensure better site structure that, in turn, enhances traffic.
A content hub strategically helps brands improve their search engine visibility and establish authority over their subject matter through smart link building.
Content hubs have three sections:
A primary hub page that talks about a broad topic in detail
Subpages providing in-depth info about the main topic or theme
Internal Linking connects the main hub to subpages and vice versa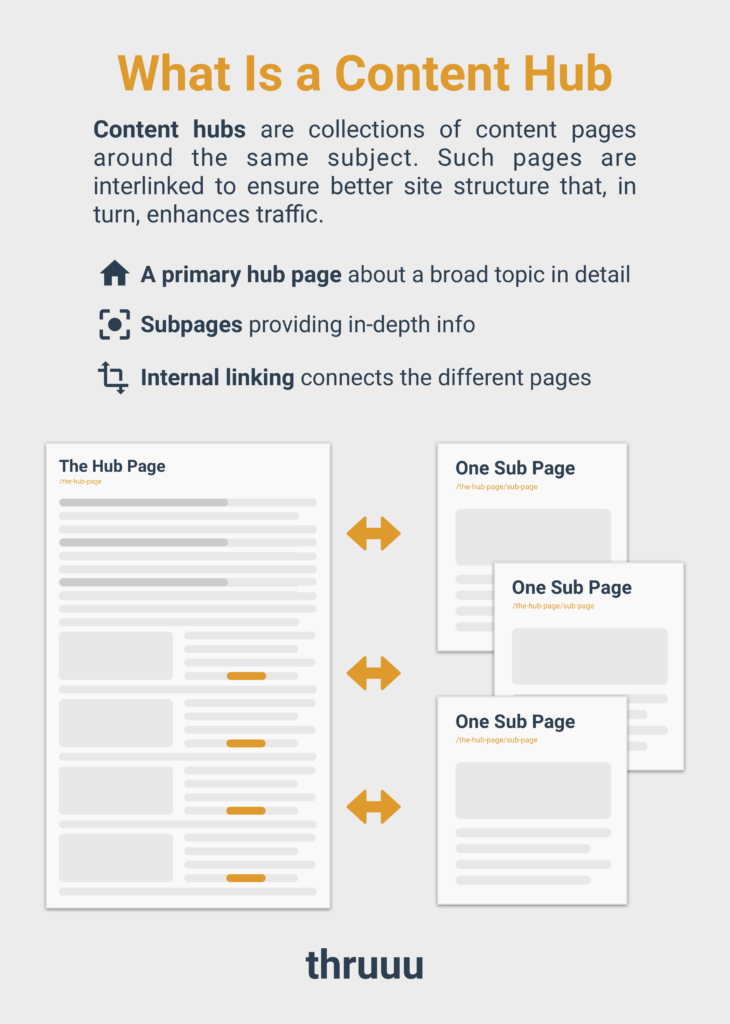 Content hubs allow users to navigate deeper into their brands, helping them solve problems or make better decisions.
A content hub can contain information in various formats, like articles, multimedia, images, videos, or tools.
💡For instance: if you run a rental service similar to Airbnb, you could have a content hub with content pages related to the following:
Types of rental hosts
Rental tips and tricks
House rental designs
Landlord insurance
Best vacation rentals
Why Content Hubs Are Essential for SEO
Most brands prefer addressing a customer's viewpoint through their content.
You can integrate a content hub that focuses on topic coverage versus length.
A content hub is a great way to show search engines that you have subject matter expertise.
This is more significant for search engines as it impacts page ranking. Here's how:
Increases Organic Website Traffic
Hubs increase the chances of readers coming across your content and consuming the information on those pages.
To entice more readers, your content hub should have quality information on various topics related to your industry for a better user experience.
From an SEO perspective, the more search engines index your multiple pages of content, the more visibility your website will gain in the long run.
Increases Visibility in Every Step of the Buying Journey
The topics you cover in a content hub span throughout a buyer's journey, from the top to the bottom of the funnel.
This means your content has a higher chance of being seen. A content hub gives users more information to digest.
Organizing info about trending topics on a centralized platform increases its value for readers seeking answers.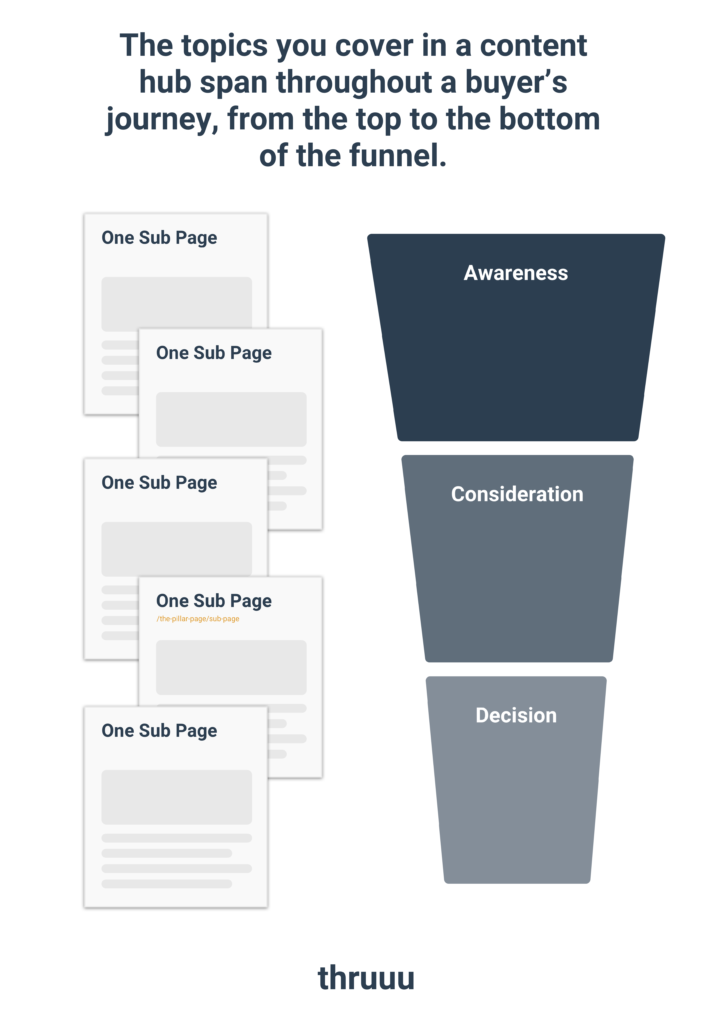 Improves User Experience
Content hubs make site architecture easy to navigate for users.
They help marketers create a knowledge base that moves from the top to the bottom funnel.
When you define the layout and structure in a content hub, you improve user experience.
Additionally, it fosters user engagement in the form of reading, sharing, and signing up.
Increases Link Authority
Link authority is an SEO indicator that defines the ranking power of a primary link.
You can establish link authority by linking hub pages to relevant information internally.
But this is where the location of the link impacts your authority rate.
Search engines attribute contextual links more as they provide more information about a particular subject.
Enhances Topical Authority
Link building also increases topical authority over a subject.
With a content hub, you can provide more information by building semantic relationships between pieces of content.
You can link the main hub with the subpages and vice versa.
This gives search engines crawling your hub pages more access to valuable resources around a topic.
Refurbishes Older Content
When you're trying to reframe the content structure of any brand or business, you're always looking to recycle.
With a content hub, you can dig up older content and add them to a content hub as it helps build a resourceful knowledge base.
With a quick analysis, you can remove duplicate text and refurbish old blogs and articles in your hub.
10 Steps to Creating a Successful Content Hub
There are ways to create and format a content hub for maximum visibility and engagement.
Here's how you can start:
1 – Research Your Target Audience
Before integrating a content hub, research your target audience so you can better understand and address their needs.
Learning more about a user's buying behavior also helps you identify their current issues, and you can create fresh, original content based on their queries.
For instance, you can gather more insights by analyzing the content published by competitor sites in the top SERPs.
Find out what topics they cover and what their customers are saying.
This will help you address any gaps in your content workflow.
2 – Identify Your Core Topic
When creating a content hub, it's essential to pick a theme that relates most to your brand so you can cover many subtopics under the same subject.
When picking a topic, make sure it has plenty of consumer interest and data so you can write a lot of content about it.
The central topic should be relevant to your target audience and have plenty of search volume to make an impact.
🚀 Pro Tips: How you can get topic ideas
Speak to your sales team and compile a list of questions and pain points often expressed by customers.
Read the customer feedback forms and analyze your social mentions to identify content gaps in your strategy.
Conduct a competitor analysis to understand what type of content resonates the most with your target audience.
3 – Identify Your Subtopics
Subtopics are related to the main theme but have a narrower scope.
When you're listing subtopics, a good practice is to acknowledge customer queries online, from conversations on forums to product reviews.
When choosing subtopics, ensure they are relevant to your main topic, have good search volume, and are sections you can add naturally to a content piece.
Use a tool to analyze content from top SERPs. For instance, thruuu helps you build a list of topics by extracting queries and keywords.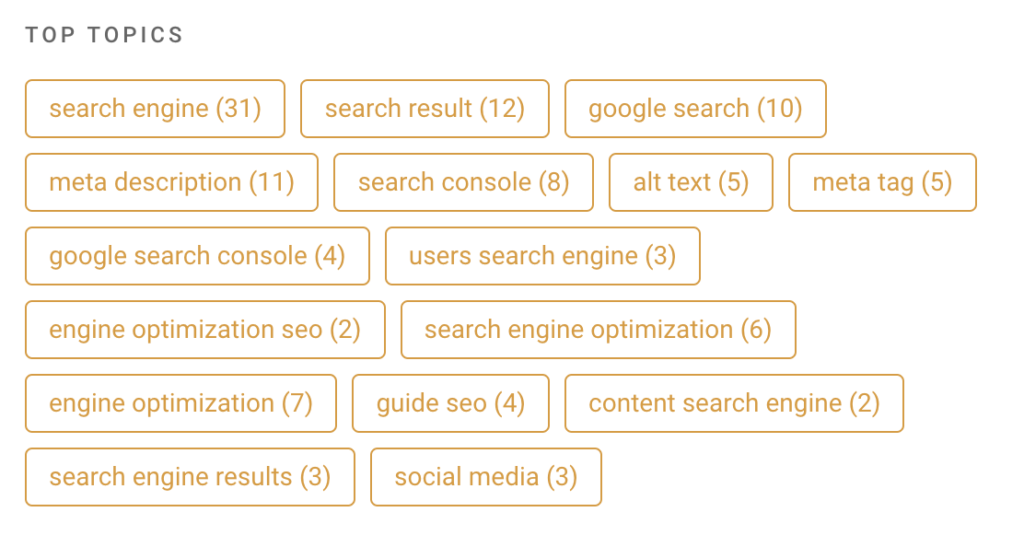 You can also use a tool like answerthepublic.com to collect the most frequent questions from your audience.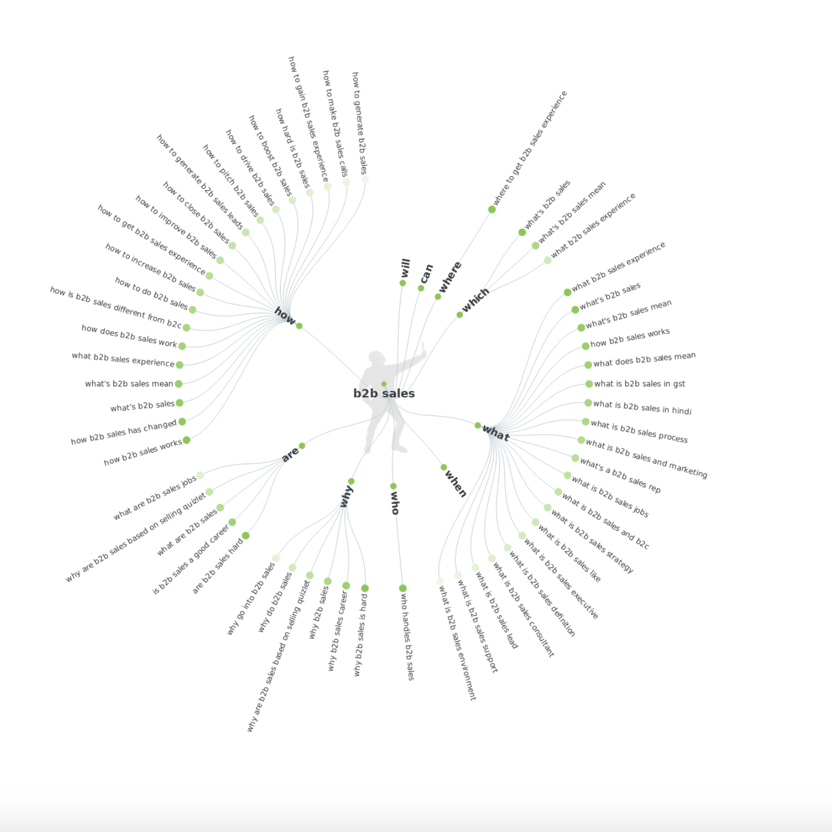 You can write in-depth blogs and articles around these queries so you can generate original, fresh, and unique content that is trending and interesting to your target audience.
4 – Organize the Hub Structure
To organize the hub structure, a good practice is keyword clustering.
Such a technique allows you to group together key terms that cover the same intent.
So once you have a long list of topics or keywords, use a keywords clustering tool to do the grouping automatically for you.
thruuu keyword clustering tool can help you achieve this with a user-friendly interface to help you sort out the topics to focus on.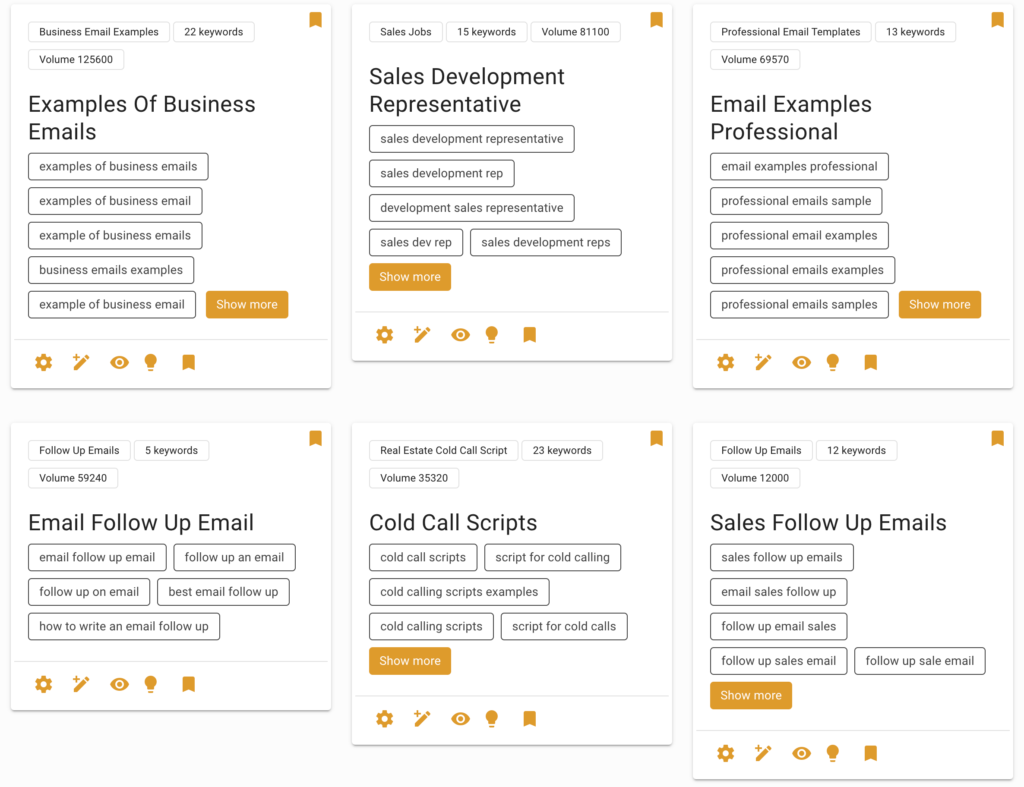 When setting the structure for a content hub, think about your goals and the quantity of content you want to create.
You'll also want to demonstrate your subject matter expertise in a variety of content formats (video, text, and more).
You can include a few assets in a content hub or an entire collection of articles and blogs.
5 – Plan Your Content Calendar
A content hub makes content management more efficient, as it helps streamline content production.
Additionally, it helps prioritize topics that need your attention and define a list of articles for an entire quarter.
You can also use Trello or other content management tools to accelerate content production.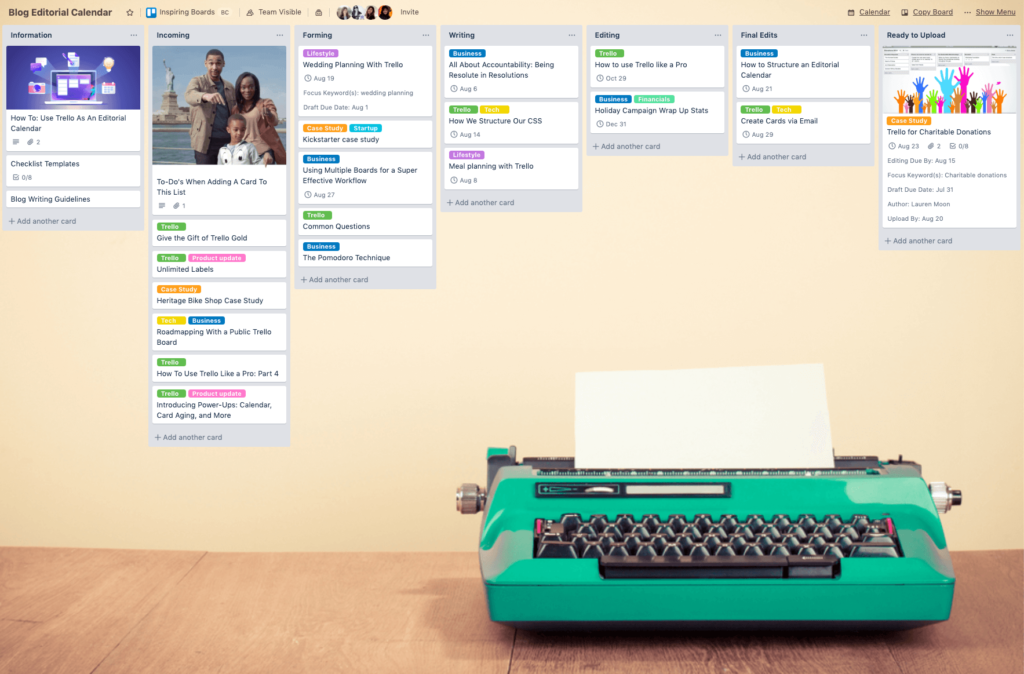 6 – Determine the Best Content Types
Content marketers classify content in a marketing funnel based on the buyer's journey.
A detailed content marketing funnel allows you to visualize your consumer's needs based on their search intent and buying behavior.
There are three primary stages in the buying journey as people navigate your site:
Information: This is top-of-the-funnel content that sparks the interest of a potential buyer in a brand, product, or service. This type of content helps a brand educate the audience with valuable and insightful data.
Engagement: This is the middle-of-the-funnel content that increases brand awareness and reachability. At this stage, you're helping the buyer navigate toward a solution by giving them access to a content library.
Conversion: This is the bottom-of-the-funnel content that pushes for conversion. This type of content positions you as an authoritative source. The content should answer immediate needs and result in a conversion.
A best practice is to have a variety of content types in your content hub that encompass the whole customer journey.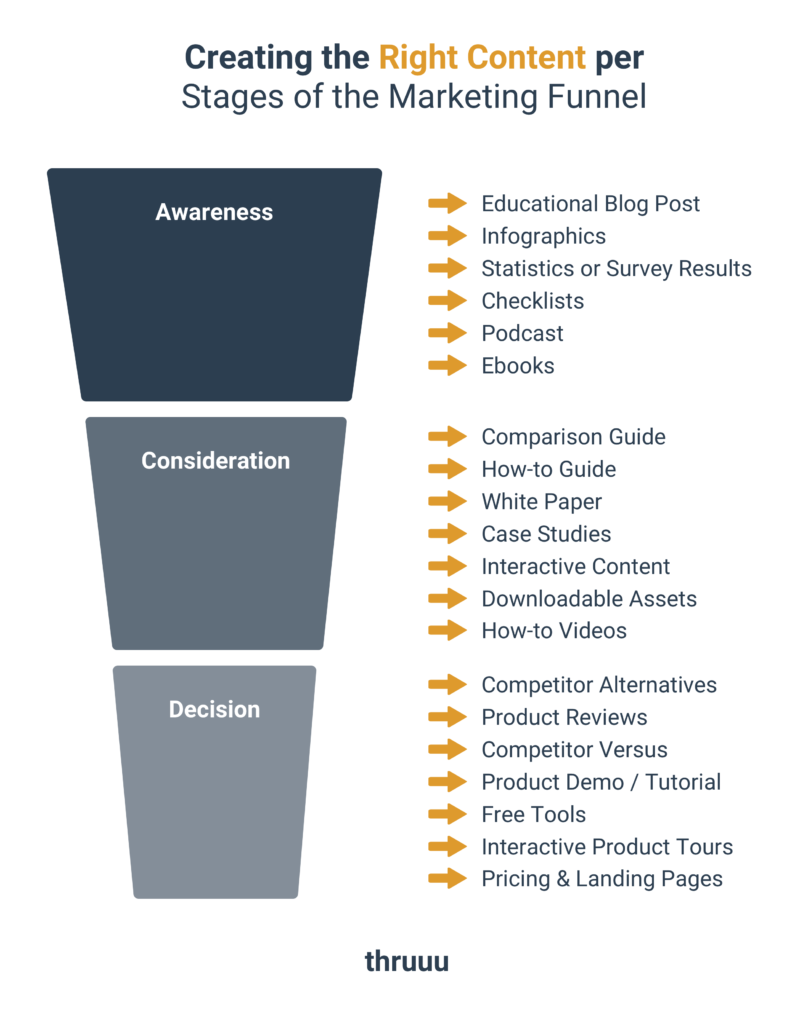 7 – Create Effective Content Briefs
Once you've finalized your topic and subtopics, you can create a content brief for your team to accelerate content production.
Most marketers rely on content brief generators to save time and resources. Ready-made templates also accelerate content production.
With thruuu content brief generator, you can create different types of templates for your content team within seconds.
The tool will extract key information from your competitors and also leverage AI to let you create the perfect content brief.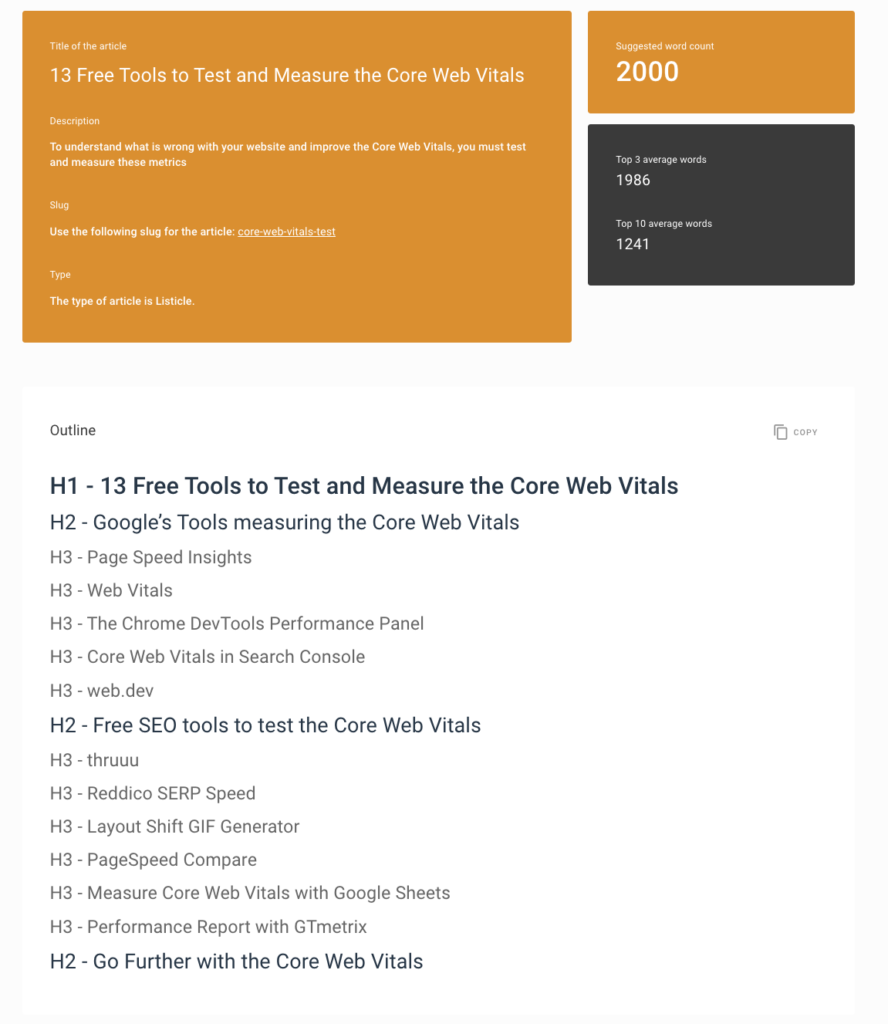 8 – Create and Optimize Your Content
Your next step is creating quality content and optimizing it for the search engines.
Most companies outsource content creation to a digital agency.
Another reason why ready-made content brief templates are so useful is that they can be shared with freelance writers, independent contractors, and content teams.
When optimizing the content hub, ensure you add links to both internal and external sources to improve visibility.
9 – Implement Effective Internal Linking
Internal links help Google find your brand website and its content.
When used strategically, they can direct users to a lot of relevant information.
Using keyword-rich anchor text is also a brilliant strategy when you're link-building. It helps your brand gain authority over a subject by drawing users' attention to more information.
10 – Manage the Hub Pages With the Right CMS (WordPress)
As per reports, WordPress is considered the most popular CMS that empowers 65% of websites. So, it is likely that you are using the same for your website.
Our recommended approach to managing and publishing content hub pages within WordPress is to use the Pages (and not Posts).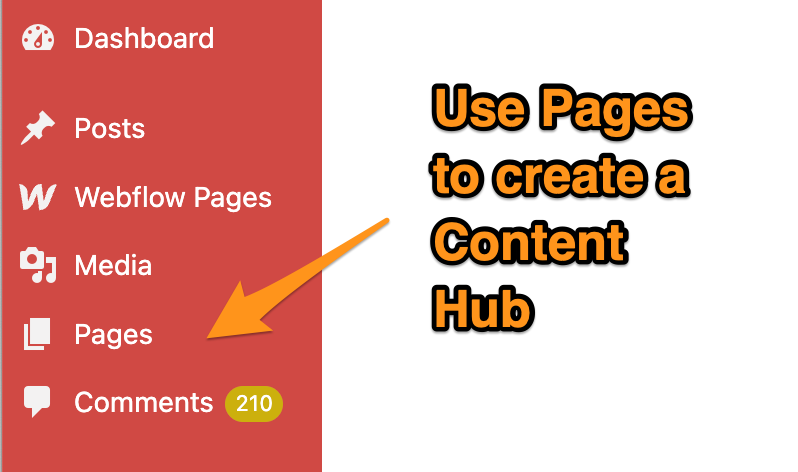 If you use Posts, the content will be displayed under the blog section of your site. We suggest to place your content hub else where in your site navigation.
To create the content hub with WordPress here the simple steps:
Create a page for the parent page of your content hub
Each time you create a sub page, set the parent page as parent
By following this, you will create a nice hierarchical URL structure.
Then, add an entry to the parent page from your top menu or footer.
As you can see in the example below, our content brief template library is located from the footer of our site.

Deep Dive into Topic Cluster Content Strategy
In our complete guide, we will explain essential concepts such as keyword clustering and the key concept of a pillar page and content cluster.
Types of Content Hubs
All types of content hubs make site navigation easier.
With a content hub, you can make content that's more user-friendly. Most of the time, the type of content you deliver defines the structure and format of your hub.
These types of content hubs are best for content marketers.
Hub and Spoke Model
This type of content hub features a single hub page, also known as a pillar page, that links to other subpages.
These subpages provide comprehensive insights into various subtopics, often delving deeper into the pillar topic.
This is an efficient way to organize topics in a content hub. This content structure is excellent for evergreen topics containing top-of-the-funnel keywords and long-tail keywords. You can answer FAQs to explore a topic more.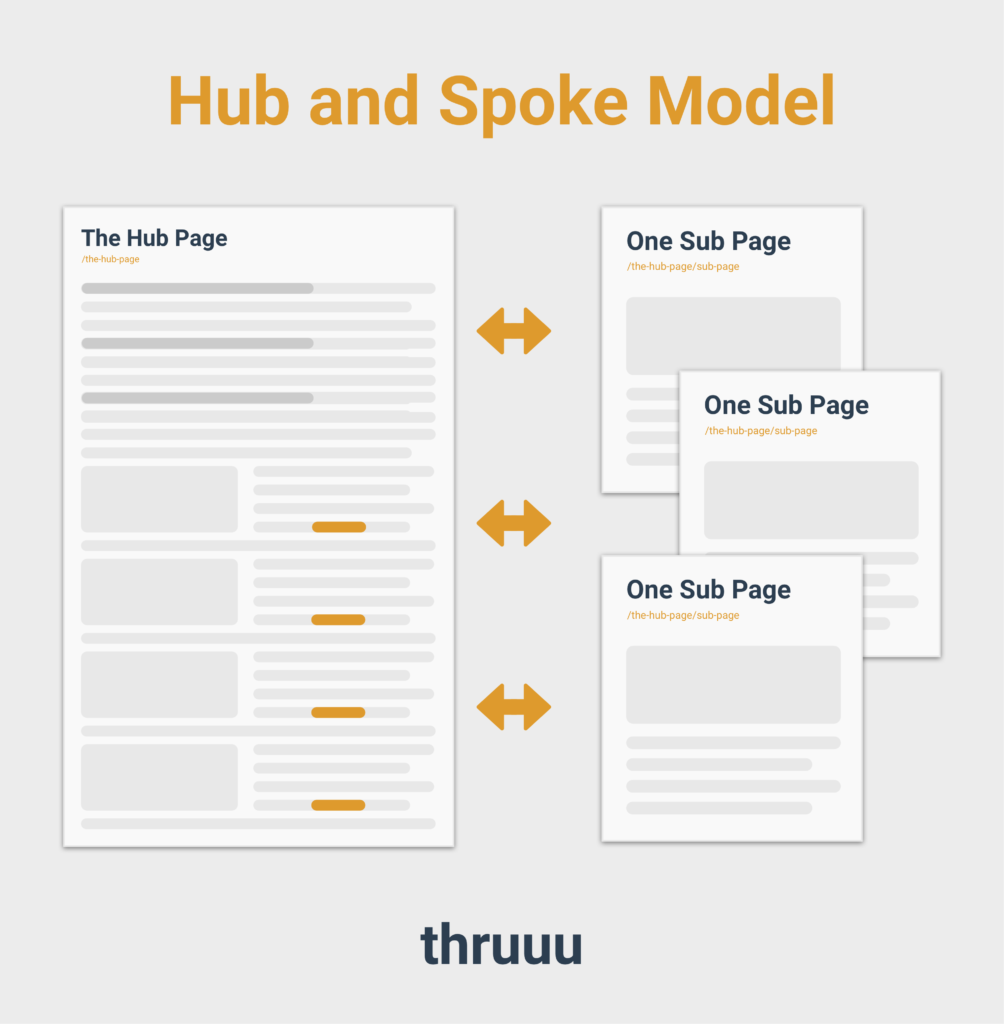 Content Library
A content library has a main index page interlinked to a large volume of topics.
Each topic is an index page on its own that links to individual articles. This structure allows users to explore a topic through different hub pages.
Excellent for building a blog library, a content library contains tons of individual articles presented as sub-topic pages or categories.
These hub pages further delve into the related theme linking to shorter articles on individual pages.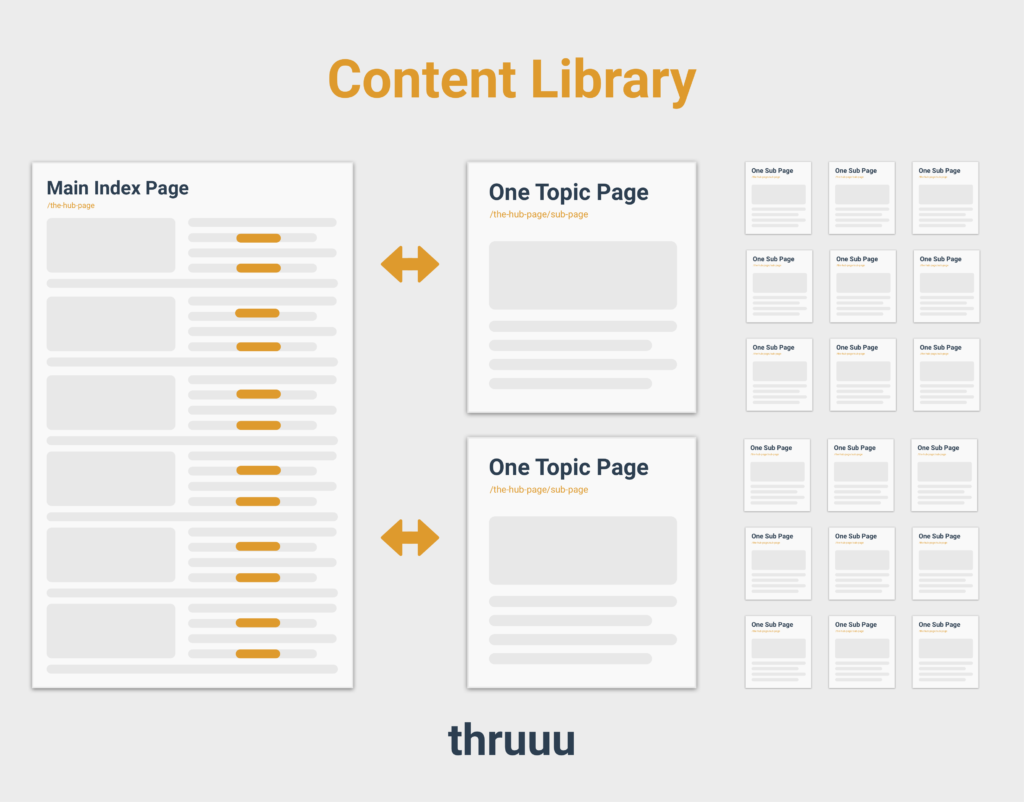 Topic Gateway
Topic gateways are an advanced form of content hubs. This model features a pillar page that gives an overview of the main topic.
The page is designed around several elements:
Paragraphs containing more or less long text introducing the topics and subtopics.
Features the latest and trendiest content
Links to in-depth information, often located around subtopics. You'll also come across in-text links whilst researching a topic.
As you can see this model is similar to the Hub and Spoke model but the main difference is in the design and user experience of its pillar page that offer richer content.
Good examples are WikiHow and Wikipedia. Both use topic gateways, as these hubs contain links to related pages that provide detailed information about a primary theme.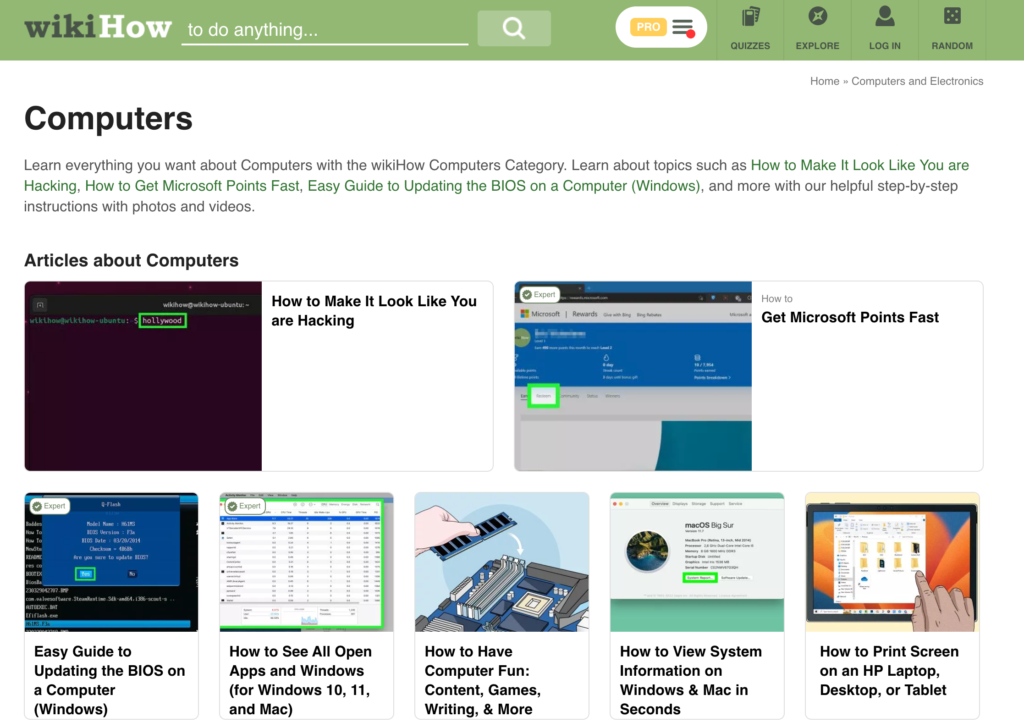 Content Database
Content database models contain a large volume of content, including infographics, directories or glossaries, videos, articles, and images.
Whilst organizing content, the content hub takes a taxonomical approach and offers filters to let you navigate the hub.
This model is often used when you have tons of content and hundreds of articles.
Topic Matrix
Topic matrix hub features a primary hub page dedicated to an evergreen topic.
The topic is broken down into various subtopics. The subpages featuring information about the subtopics maintain the same URL structure as the hub page.
This content hub structure is particularly useful for ecommerce businesses as you can give in-depth info about products, features, and benefits for a target audience.
Best Practices for a Content Hub Strategy
Consistently Update and Maintain Your Hub
The best way to maintain a unique content hub strategy is by constantly updating the information you publish based on market trends.
Content hubs can build a brand's topical authority and also bring it down.
So, it's important to revamp the structure of your content once in a while to eliminate broken links and remove duplicate content.
You could add seasonal content or make changes to stats; as long as it remains relevant to a user's search intent, the content will have value.
Improve the User Experience With Each Update
Optimizing your hub's homepage is necessary.
You want users to land on this page and discover relevant answers to their queries.
With a content hub, you can identify any gaps in your workflow.
Start by reviewing old content and putting together articles that revolve around a similar theme.
You can either add or subtract hub pages based on your current findings.
A content hub strategy can stay dynamic as you continue to optimize it based on web metrics like page visits, keyword ranking, and more.
Make Long-Form Content More User-Friendly
Most businesses gun for mobile-friendly content as a large percentage of the target audience operates on the web.
You can also make long-form content accessible by adding rich media, a table of contents, and plenty of examples.
A content hub makes long-form content easy to read by segregating relevant topics into individual pages.
Whether it's surfing a website or toggling an app, content hubs improve a user's browsing experience. 
Understand Your Audience and Their Journey
Some of the best content hubs contain articles targeting every stage of the buying journey.
This takes a lot of research and analytical expertise about your industry.
Any content marketer who wants to target a specific type of buyer will have to source new keywords and brainstorm topic ideas based on the buyer's needs at that stage.
When you hit users at every touchpoint, you can improve your conversion rate.
Whether they subscribe to your newsletter or submit a contact form, a content hub gives actionable results.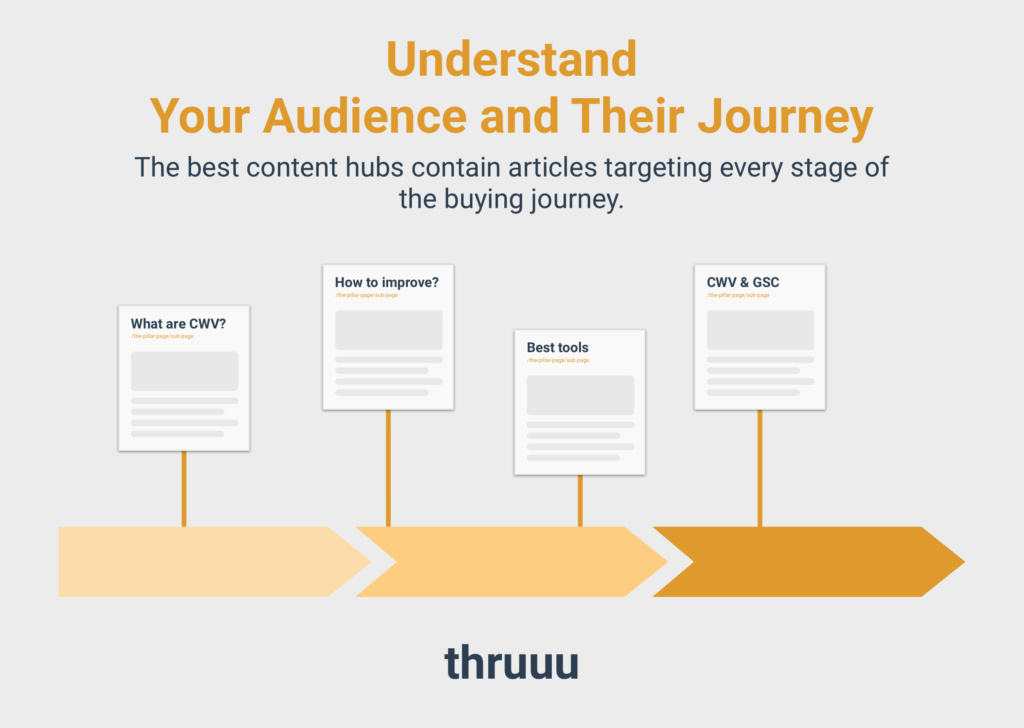 Establish Authority With Expert Content
Most brand marketers deliver their expertise over a range of subtopics via a content hub.
This helps build content authority over a subject. When you publish content backed by valid sources, you demonstrate your credibility in a specific field.
You can also add user-generated content (UGC) in your hub in the form of outbound links.
Outbound linking takes users to external resources, proving your expertise in a subject.
Content Hub vs. Topic Clusters
Content hub and topic cluster are interchangeable terms. 
Similar to the hub and spoke model, the topic cluster strategy also improves site architecture, as it helps organize the content in a centralized location.
With a pillar page, you can showcase your published expertise on a relevant query by linking to cluster pages.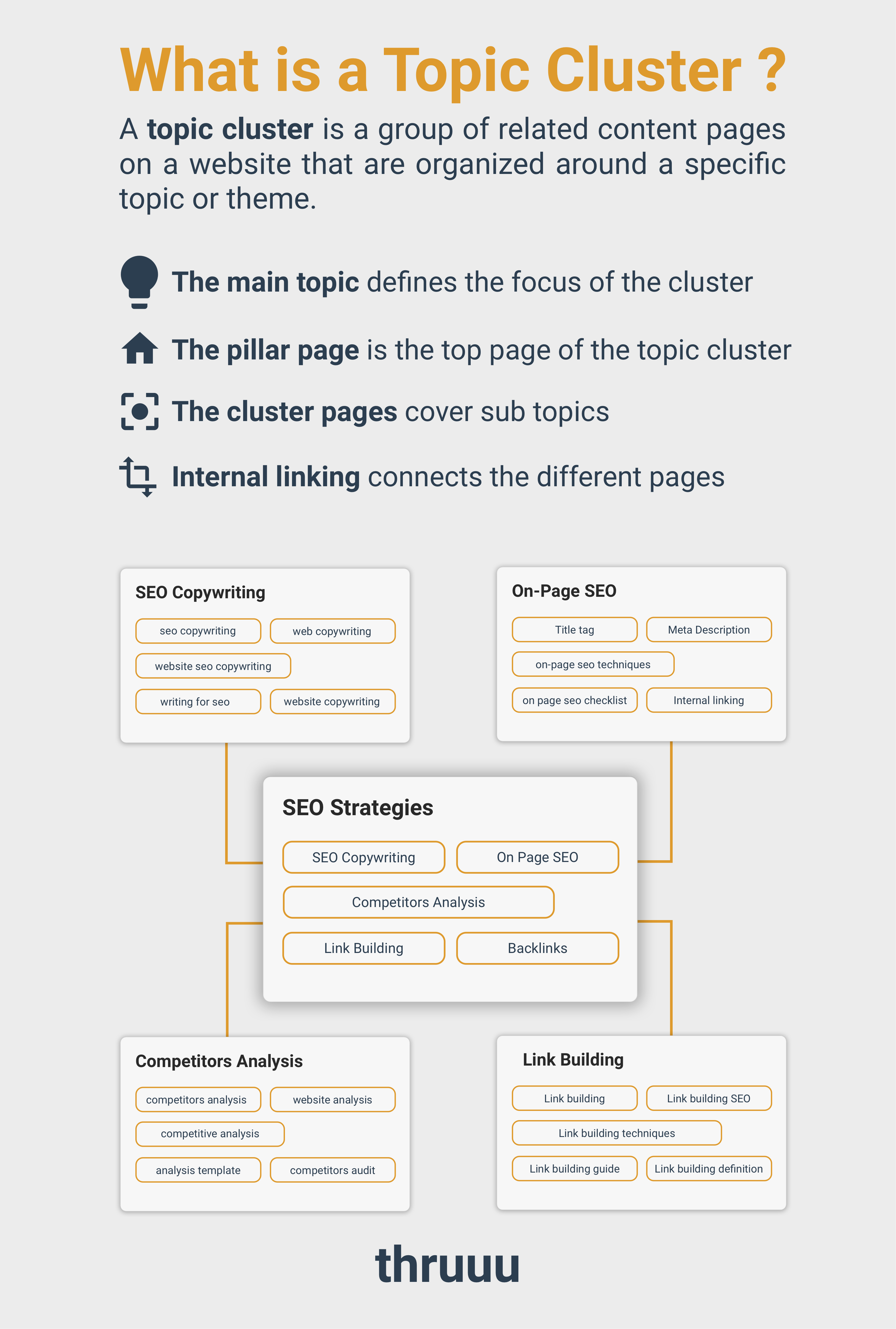 The same exists for the hub and spoke model. This type of content hub model also offers relevant information around a principal topic on the main hub page.
Hubs also increase content visibility on a subject, making it more accessible to search engines. 
But all content hubs are not topic clusters. 
Check the examples below to see what different content hubs look like.
Content Hub Examples
Content Hub Example #1: Customer Service Analytics Guide
In our first example, we showcase a guide about Customer Service Analytics from the SaaS SentiSum.
This type of content hub is similar to the Topic Gateway as the pillar page is long, containing a series of paragraphs introducing each topic and some featured elements redirecting to specific articles.

What is remarkable about this content hub is that the pillar page provides a navigation menu that lets you jump from one topic to another.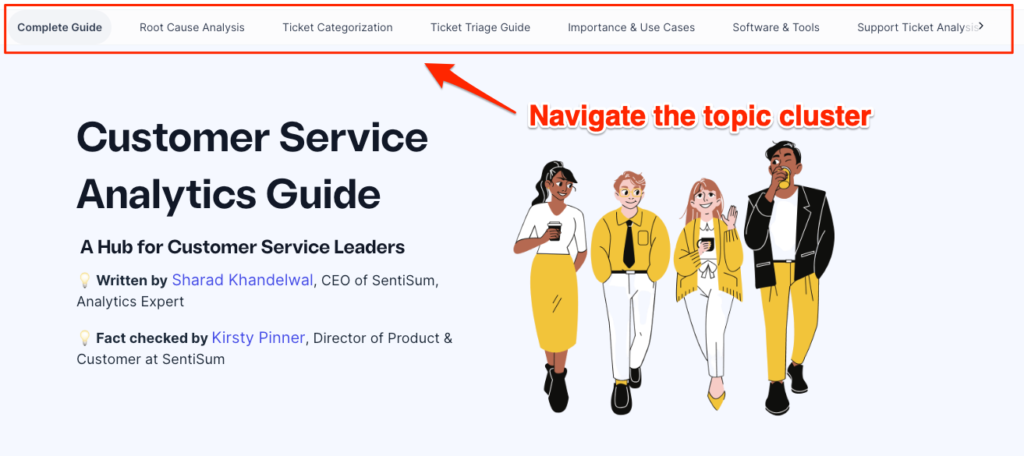 This is really important when you create a content hub as you need to consider the user experience and offer an easy way to access the information.
Here's a complete review of this topic cluster example.
Content Hub Example #2: Beginners Guide to SEO
Our second example is the Beginners Guide to SEO from MOZ.
The pillar page is simple and starts with a paragraph that introduces the concept of SEO and then lists each chapter (subtopic) of the content hub.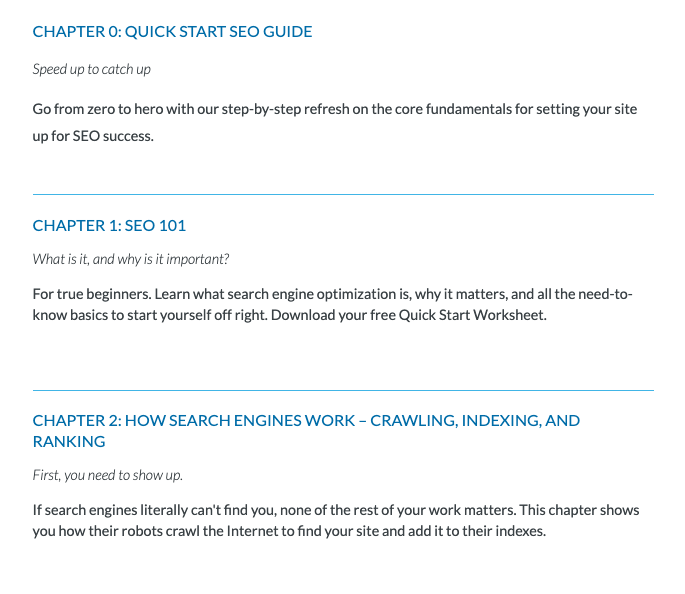 Each individual topic page is long-form content that goes really deep into a particular aspect of the SEO.
As you can see, the thruuu SERP Analyzer highlights the word count of every page.
Many of the pages of this content hub have more than 4,000 words.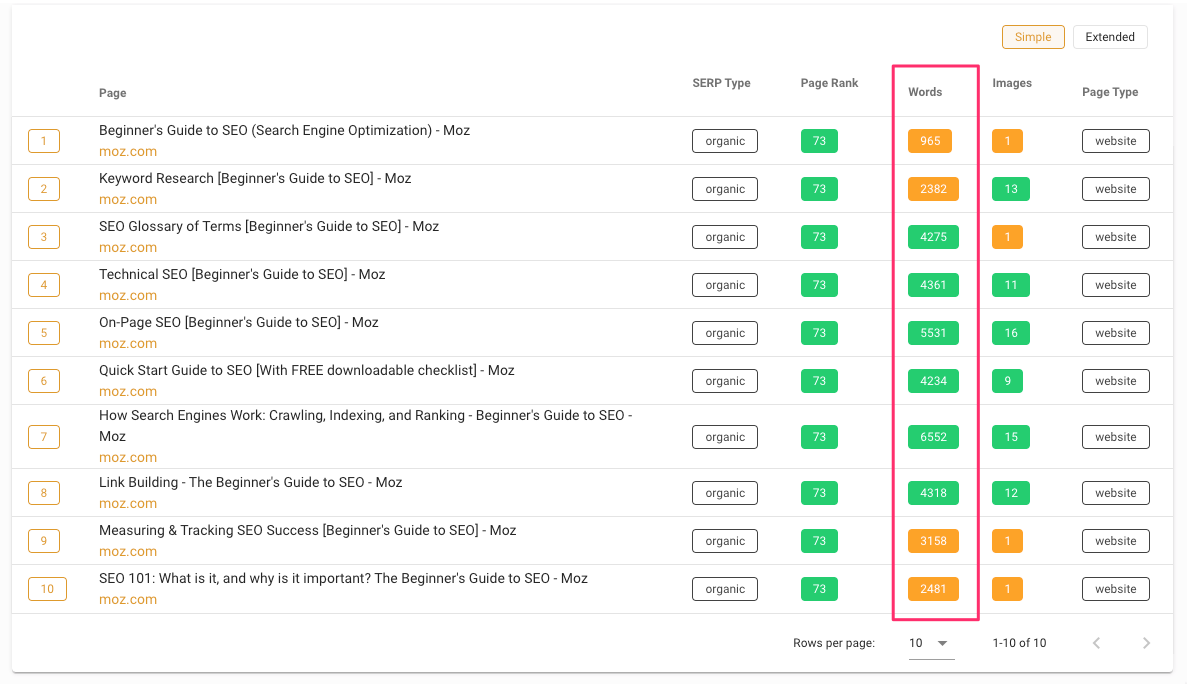 Another point to notice is that the URL structure is hierarchical:
This is a great example of a content hub.
The parent targets the broad term "SEO," and each subpage targets a specific topic, such as Link Building, Technical SEO, and On-Page SEO.
Get Started With Your Content Hub Journey
Take your content hub strategy to the next level with thruuu.
The thruuu content marketing tool will help you understand your target audience better. It is an all-in-one content solution that provides all kinds of information useful to your brand.
If you lack the resources to stay updated with search engine algorithms, this automated tool can help.
From researching content preferences to identifying customer pain points, create a successful content hub strategy for your business with thruuu.
Empower Your Content Team
Our end-to-end content optimization solution empowers your team to crack the Google algorithm, craft exceptional content, and achieve remarkable organic search results.