If you have two keywords and are curious whether they share common URLs on the SERP, comparing them manually can be cumbersome.
With the thruuu SERP Similarity Tool, you can effortlessly compare two SERPs and visually pinpoint shared URLs while gaining access to additional data.
The SERP Similarity tool can be a valuable asset for your SEO content strategy, helping you determine whether to create a single article targeting both keywords or opt for two separate articles.
Overview of the SERP Similarity Tool
The thruuu SERP Similarity tool offers a wide range of valuable features:
Quickly compare two SERPs and identify shared URLs in a user-friendly manner.
Compare any Google Search for any country, language, location, or device.
Obtain a list of common URLs within the top 10 search results.
Receive a SERP Similarity score.
Get recommendations to guide your decision on creating one or two distinct pieces of content.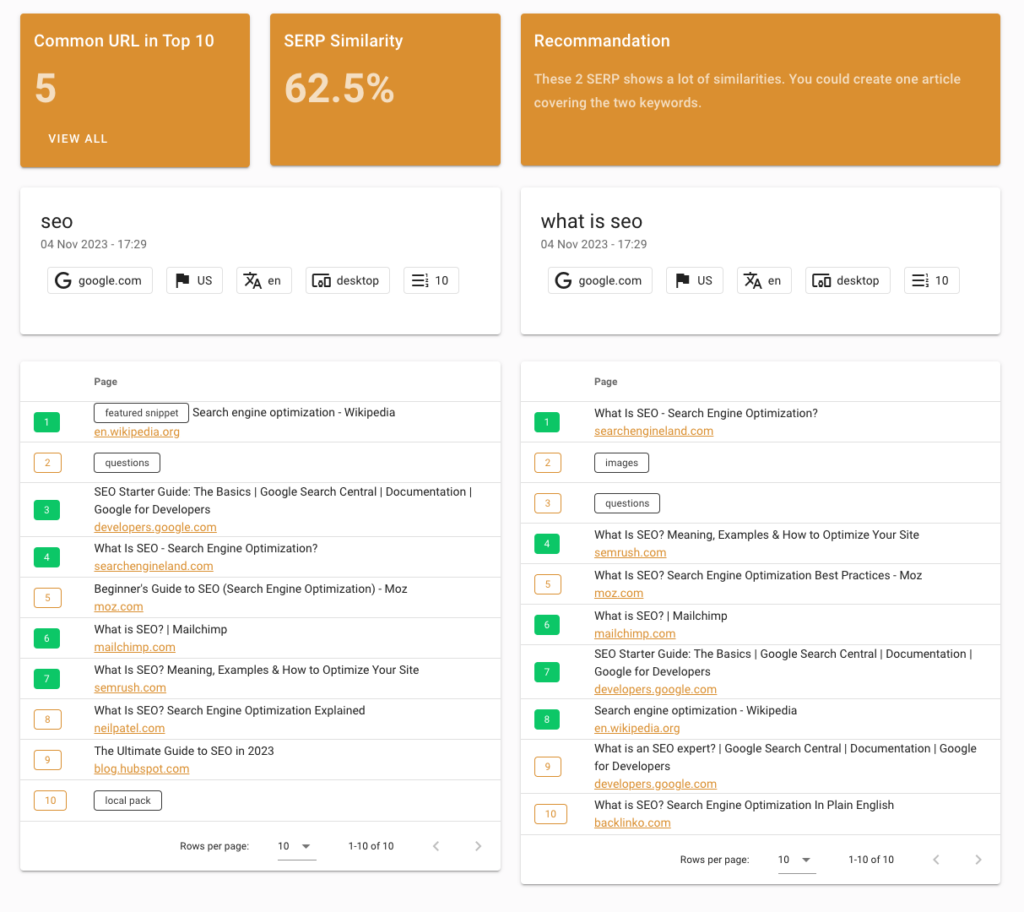 Our SERP Similarity tool is exceptionally advanced, utilizing our awesome SERP analysis solution to extract on-page information and provide you with side-by-side comparisons. It enables you to:
Analyze common headings (H1, H2, H3) between two SERPs.
Understand the common terms and unique terms for each compared SERP.
Compare related searches and People Also Ask (PAA) results across two Google searches.
Start by entering two keywords to compare
Begin by entering two keywords to compare.
You can access the SERP Similarity tool through this link and follow these simple steps:
Select the tool to compare common URLs.
Input your keywords.
Choose the SERP you wish to analyze.
Click on the "Compare" button.
thruuu will then analyze both SERPs and provide several reports to assist you in refining your content strategy.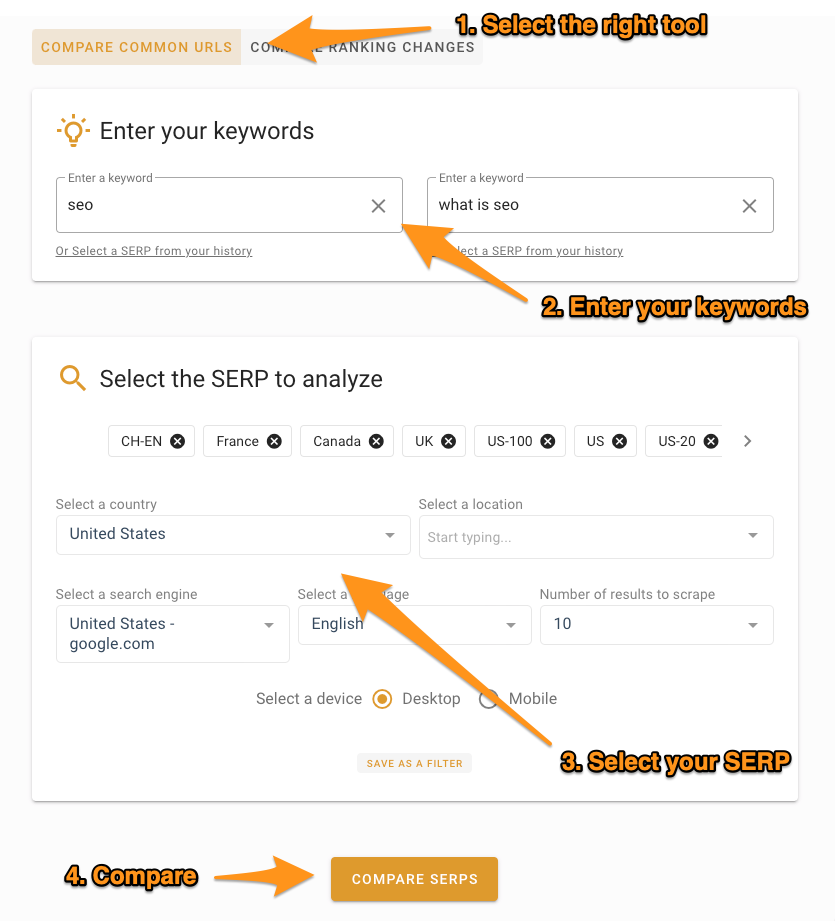 What's even more remarkable is that you can access your SERP Analysis history and compare any SERP.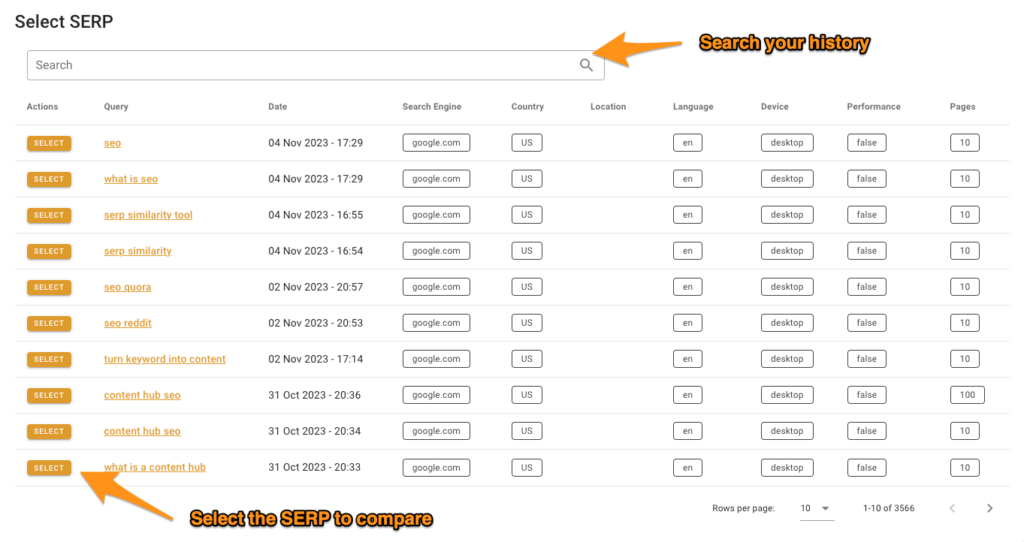 Note: thruuu also offers another tool to compare two SERPs over time and track their changes.
Compare Two SERPs Common URLs
After the SERP comparison process is completed, you'll be directed to the following view.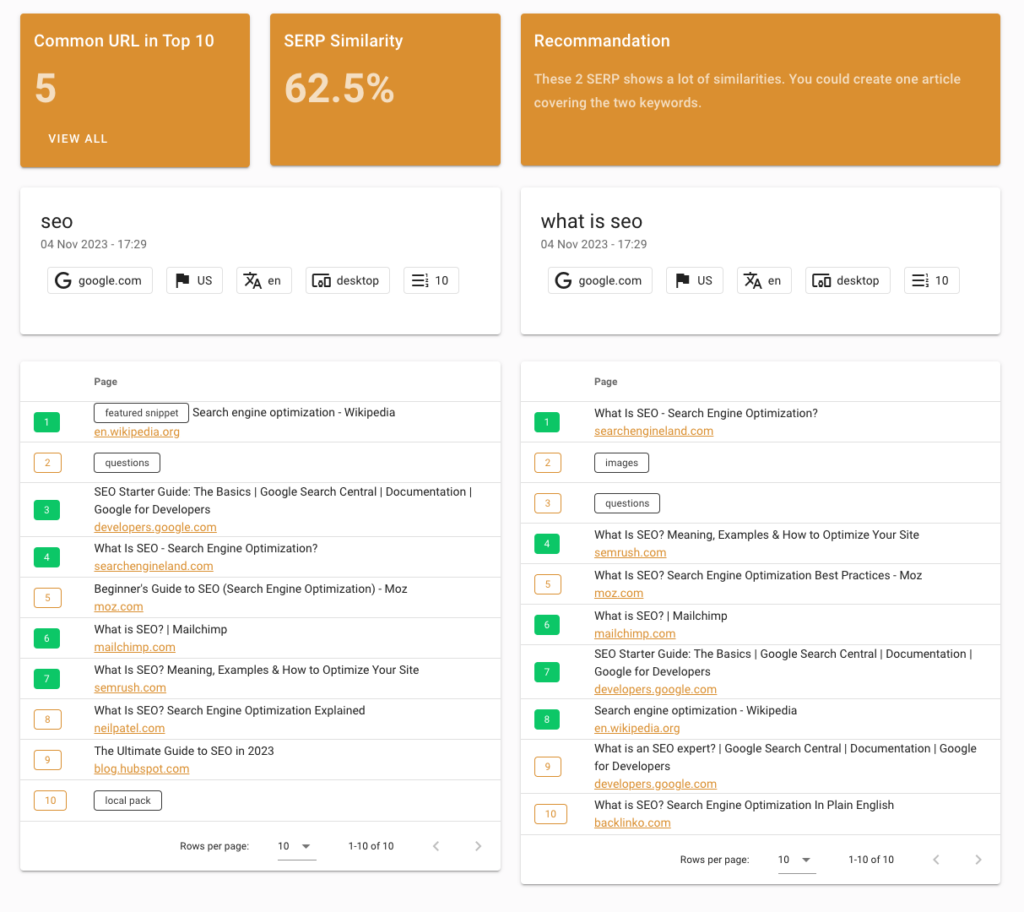 Two result tables will be displayed, showing the top 10 Google search results, with common URLs highlighted in green.
At the top, you'll find three informative cards that provide:
The number and list of common URLs for your chosen keywords.
The SERP Similarity score.
A recommendation indicating whether you should write one article or two.
It's worth noting that the SEO industry standard suggests that when there is more than a 40% similarity between two keywords, it's advisable to create a single article.
For a deeper understanding of what SERP similarity means, we recommend reading our guide to gain further insights and enhance your expertise.
Feel free to continue exploring the tool and scroll down for additional insights.
Identify and Compare Common Headings for Two Keywords
For each keyword and its corresponding SERP, thruuu extracts on-page data, including heading tags. It then groups similar and frequently used headings side by side across the two Google searches.
Common headings that appear in both SERPs are highlighted in green.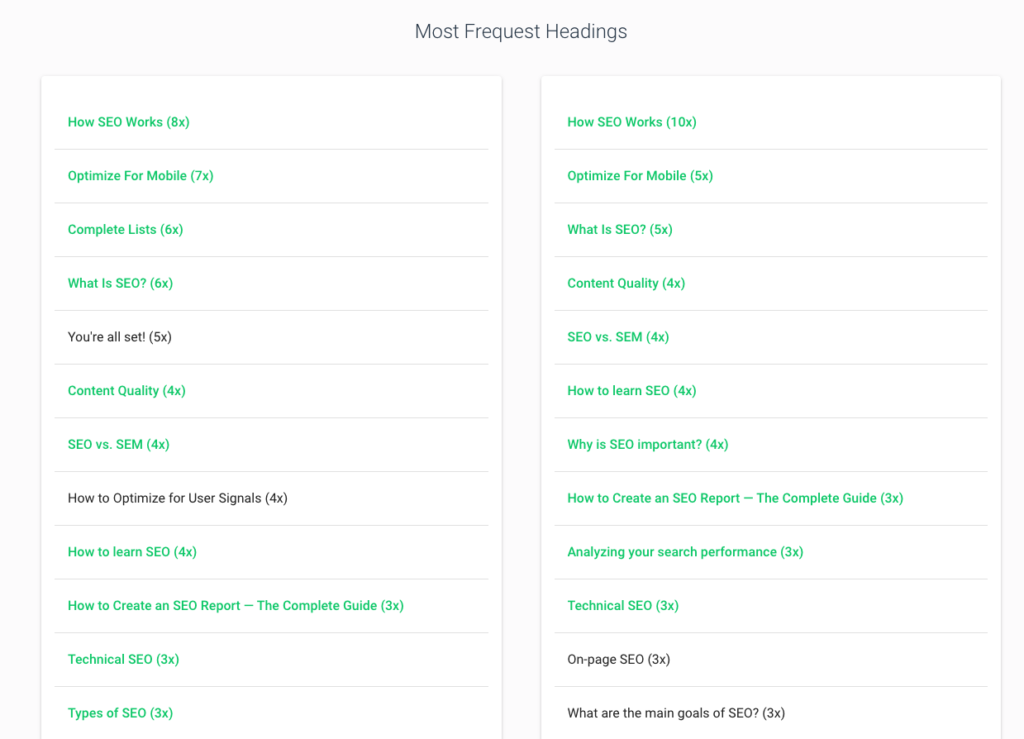 This feature allows you to discern the topics that both SERPs address.
By exploring this information, you can gain insights into topics discussed uniquely by one of these searches and leverage them to enhance your content strategy.
Identify and Compare Frequent Terms for Two Keywords
Another view enables you to compare the frequent words found on the page. thruuu extracts all frequent terms (n-grams) from the pages ranking at the top and groups the most frequently used ones.
This view assists in highlighting terms that are unique to each SERP and suggests topics you could incorporate into your content.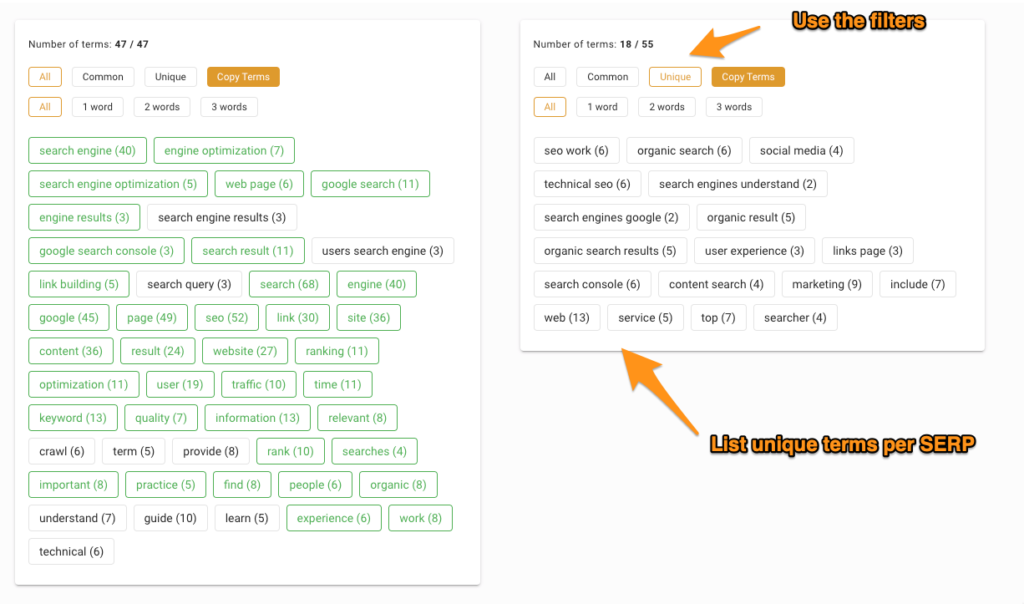 You can utilize filters to
emphasize the unique terms specific to each SERP
and even display single words, two-word phrases, or three-word phrases.
This information can be easily copied and included in your content brief to enhance the depth and relevance of your content.
Compare PAA and Related Searches Between Two SERPs
The SERP Similarity tool also facilitates a comparison of the People Also Asked (PAA) and related searches between two SERPs.
Instances of an exact match between the two searches are highlighted in green.
This feature provides a deeper understanding of what sets a SERP apart and makes it unique.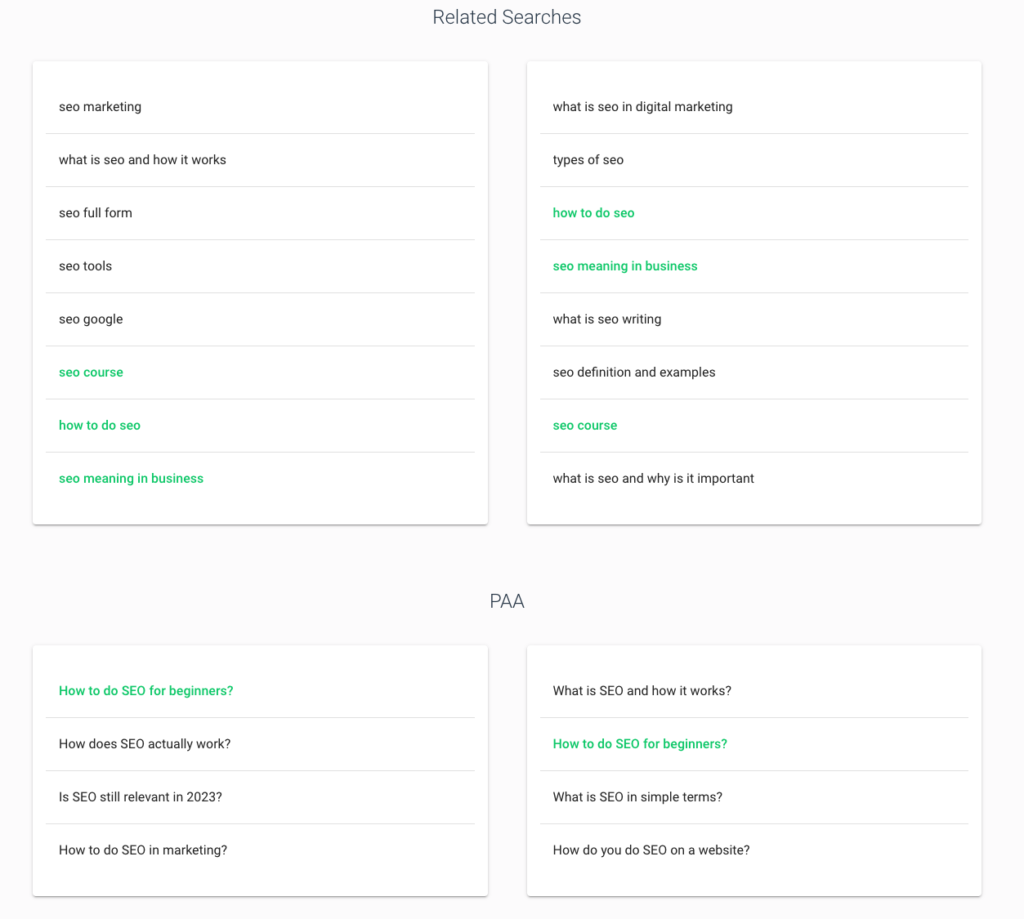 Get Started for Free with the SERP Similarity Tool
The SERP Similarity tool is accessible to all thruuu users.
First, you can create a free account or log in to your existing one.
Upon starting with thruuu, you receive 10 credits to use the tool's features. Each time you analyze a SERP, it will cost 1 credit, and comparing two SERPs will consume 2 credits.
Exploring and comparing SERPs from your history won't incur additional charges, making it a cost-effective way to gain insights and improve your content strategy.
Empower Your Content Team
Our end-to-end content optimization solution empowers your team to crack the Google algorithm, craft exceptional content, and achieve remarkable organic search results.