Do you want to understand the evolution of your target keyword rankings and the difference in SERP content between two time periods?
The thruuu Ranking and Content Change Tool is your go-to solution.
This tool empowers you to conduct a time-based keyword comparison, enabling you to identify shifts within the top 100 results on Google track changes in ranking positions and on-page content.
Moreover, the thruuu Ranking and Content Change Tool not only reveals the ranking position evolution but also sheds light on content updates made on your competitor's pages.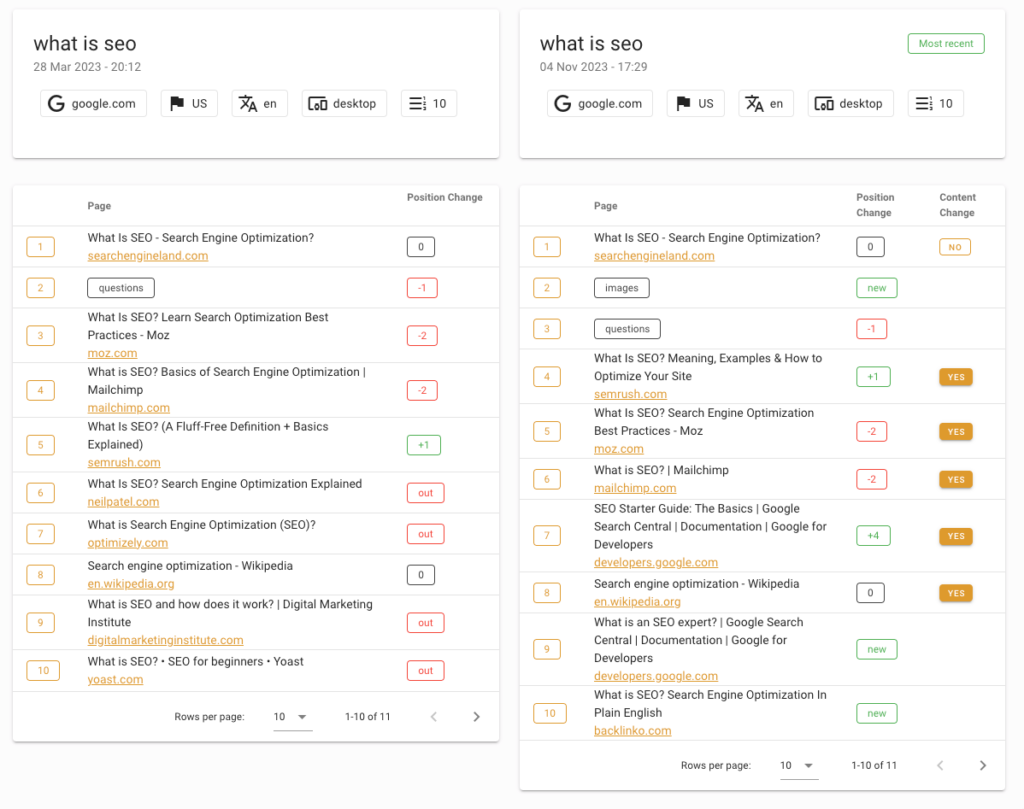 Overview of the Ranking and Content Change Tool
The thruuu Ranking and Content Change Tool offers a wide range of valuable features:
Obtain keyword ranking updates between two distinct dates.
Discern common URLs and new entrants in the top 10 rankings.
Identify on-page changes and content updates over time.
Compare modifications in the most frequently used headings.
Analyze changes in the most common terms.
Evaluate changes in the People Also Asked (PAA) and related search results.
Our Ranking and Content Change tool goes beyond a typical position tracker. It not only tracks variations in ranking positions for your website and competitors but also highlights on-page changes.
This enables you to gain insights into the modifications made by your competitors on their pages and observe their content strategy.
Select the Keywords to Track
To access the Ranking and Content Change tool, you can follow this link and use the following straightforward steps:
Choose the tool to compare ranking changes over time
Select your desired keywords.
Enter a domain you wish to track.
Click on the "Compare" button.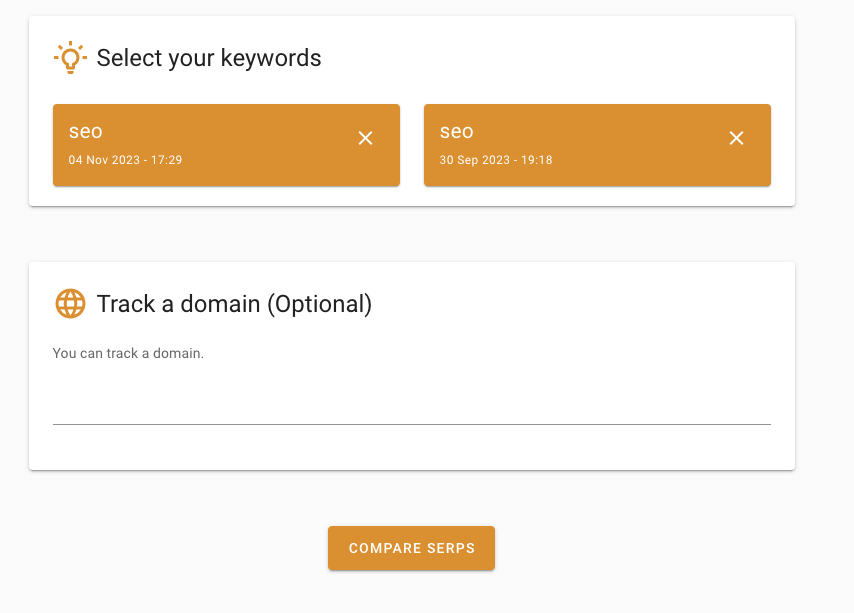 Please note that you can only select keywords already in your SERP Analysis history. It's important to understand that once you've chosen the first keyword, the second one must be the exact same keyword but from a previous date.
Note: thruuu also provides another tool for comparing SERP Similarity.
Observing Ranking and Content Changes Over Time
Upon completing the SERP comparison process, you will be directed to the following view.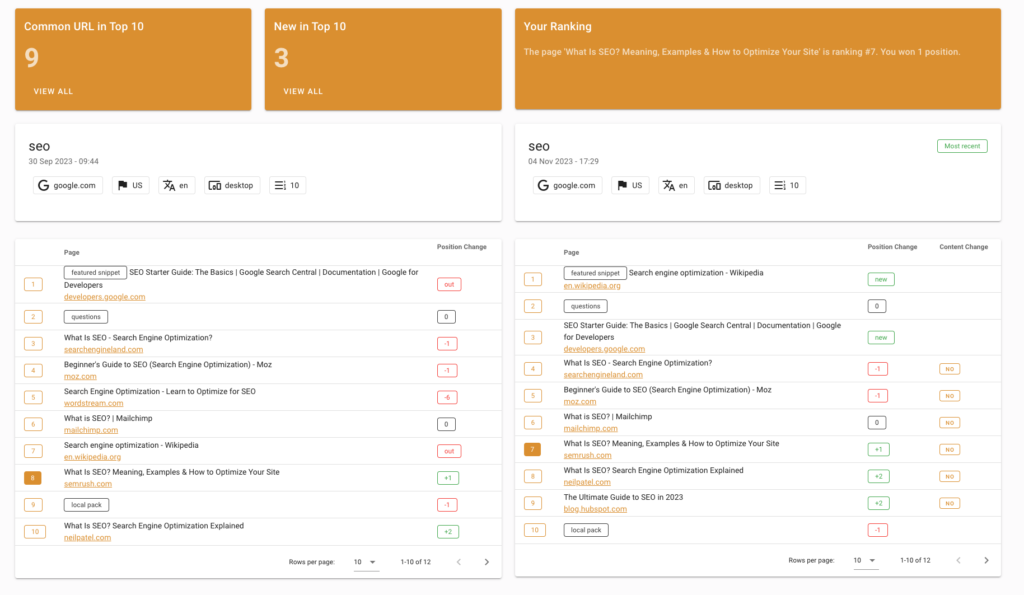 Two result tables will be presented, with the oldest SERP on the left and the most recent on the right.
The "Position Change" column illustrates the ranking evolution of the pages:
A positive number (in green) indicates that a page has gained a position on the SERP.
A negative number (in red) indicates that a page has lost position on the SERP.
A red "out" on the left table indicates that a page no longer ranks.
A green "new" indicates a newcomer on the SERP.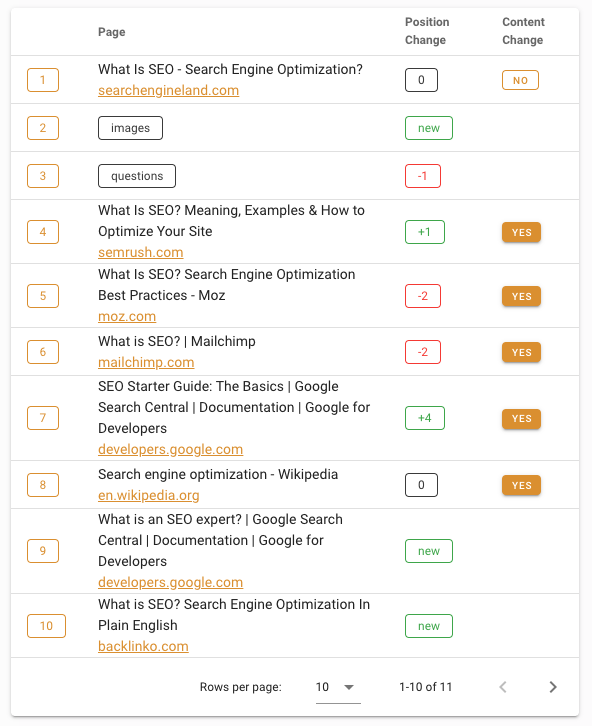 Only in the right table you will find an additional column that displays whether a page has updated its content compared to the previous period.
By clicking on the "YES" or "NO" button, you can access a pop-up that highlights the on-page updates.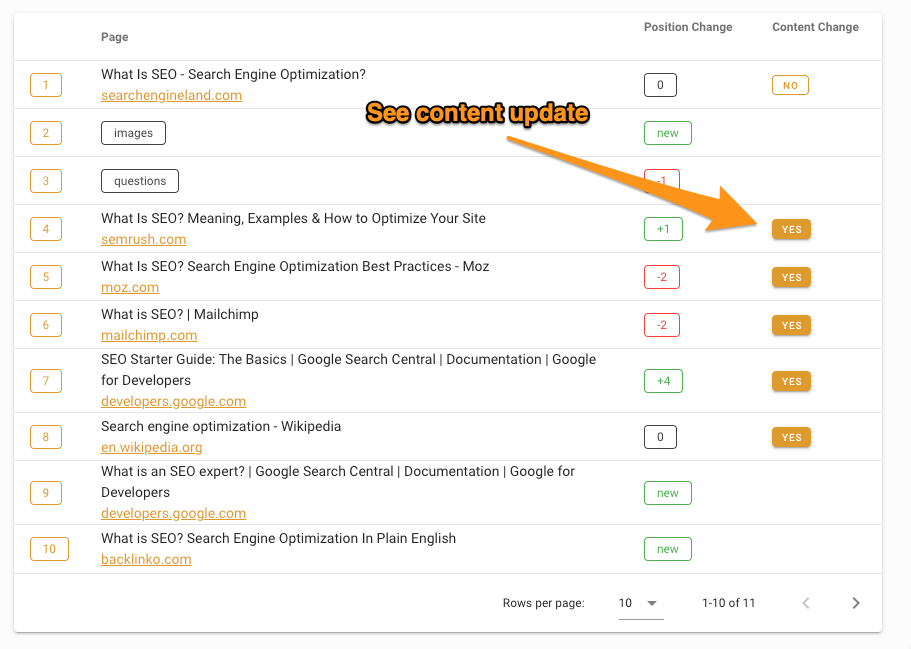 At the top of the screen, you will also find up to three informative cards providing information on:
The number and list of common URLs in the top 10.
New entries in the top 10.
If your website is ranking, you can see its position and the URL it is ranking for.

Analyzing Competitor Content Updates
By selecting the "YES" or "NO" button, you can open a pop-up that highlights on-page updates.
Within this pop-up, you gain access to a focused view that provides essential on-page data from the page.
You can analyze changes in the following categories:
SERP Title: The title displayed on Google's Search Engine Results Page (SERP).
Title tag.
Word Count.
Image Count.
Heading 1.
Heading 2.
Outline.
Most frequent terms.
Schema.
FAQ Schema.
Video.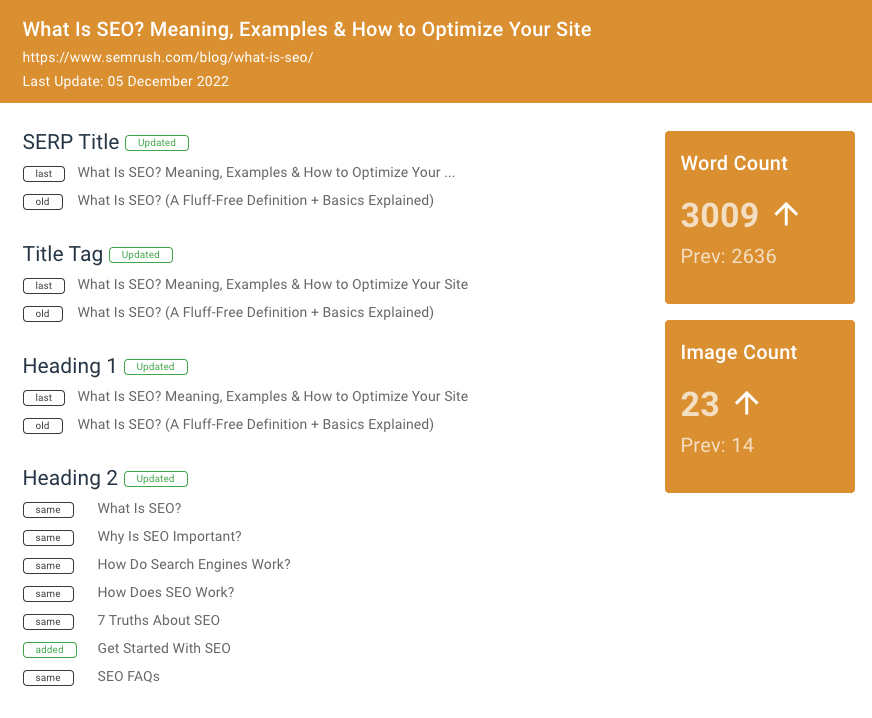 A green "Updated" tag is displayed when changes are detected.
Let's delve into specific elements of this view to help you make the most of this valuable resource.
Heading 2
In this section, you'll find a list of Heading 2 elements, with accompanying tags indicating whether they remain the same, have been added, or removed.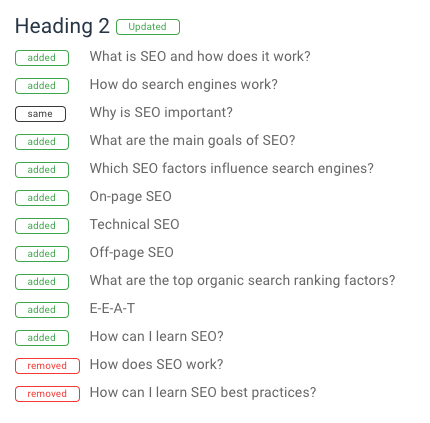 Outline
The outline view offers a deeper insight, allowing you to compare both outlines side by side. The left outline represents the most frequently used headings. Here, you'll notice:
Green highlights signify newly added headings.
Red highlights indicate headings that have been removed.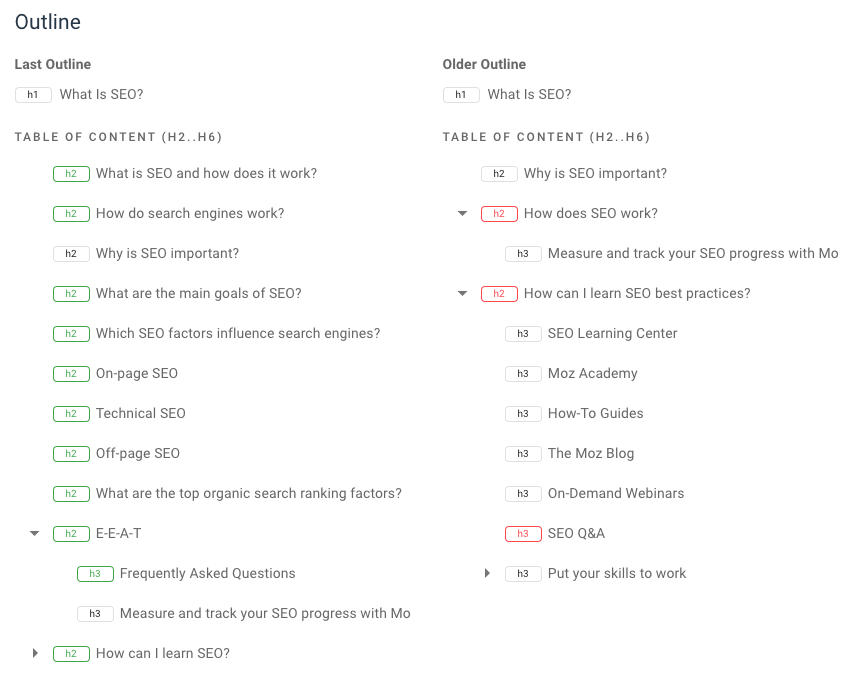 Most Frequent Terms
thruuu is a robust SERP analyzer that extracts all frequent terms (n-grams) from a page.
In this section, you'll discover the most frequent terms categorized into three groups:
The "Updated Terms" include terms already present in the older version but have changed frequency. This helps you identify terms used more or less frequently.
The "Added Terms" encompass all new terms introduced to the page, providing valuable insights into potential new topics to cover in your content.
The "Removed Terms" are those no longer present in the latest version of the page. This can reveal topics that are no longer covered and offer guidance for your content strategy.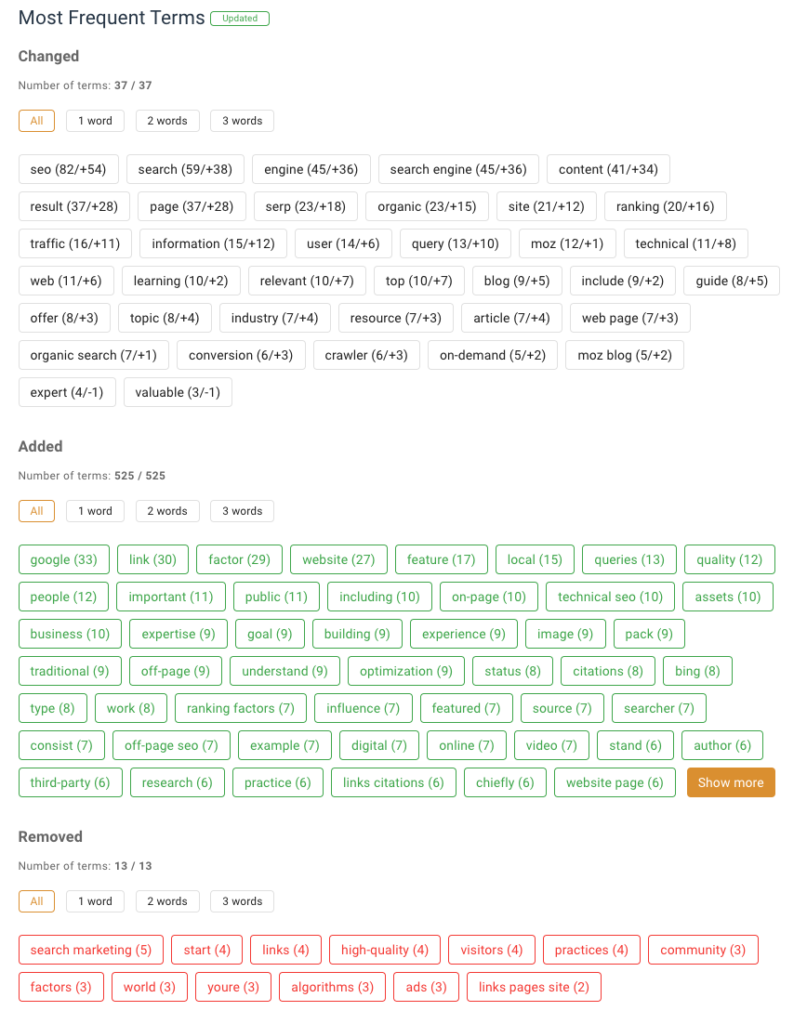 Clicking on a term lets you see how it is used on the page and highlights the sentence containing the term for easy reference.

This comprehensive analysis enables you to adapt your content strategy effectively based on competitor updates.
Now, let's go back to the main view of the Ranking and Content Change tool and discuss the following reports.
Identify Changes in the Most Frequent Headings Over Time
thruuu analyzes the most frequent headings from each SERP, enabling you to compare them side by side.
Common headings are highlighted in green.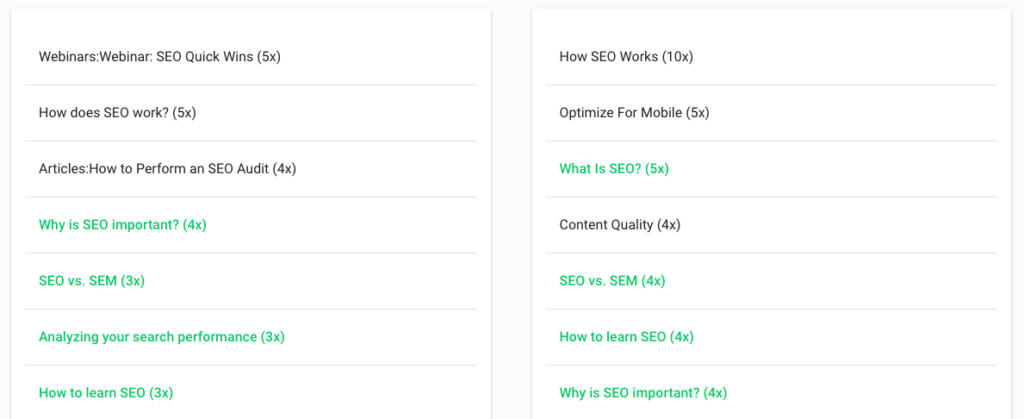 By observing the headings exclusive to the most recent SERP, you can gain an indication of the new headings that have been added.
This feature lets you stay updated on the evolving content landscape and adjust your content strategy accordingly.
Identify Changes in the Most Frequent Terms Over Time
thruuu extracts all frequent terms (n-grams) from the top-ranking pages and organizes the most commonly used ones.
You can view these terms side by side, distinguishing between those that are common and those that are unique.
Focus on the unique terms found in the most recent SERP to gain insights into emerging topics. You can employ filters to:
Highlight the unique terms specific to each SERP.
Display single words, two-word phrases, or three-word phrases.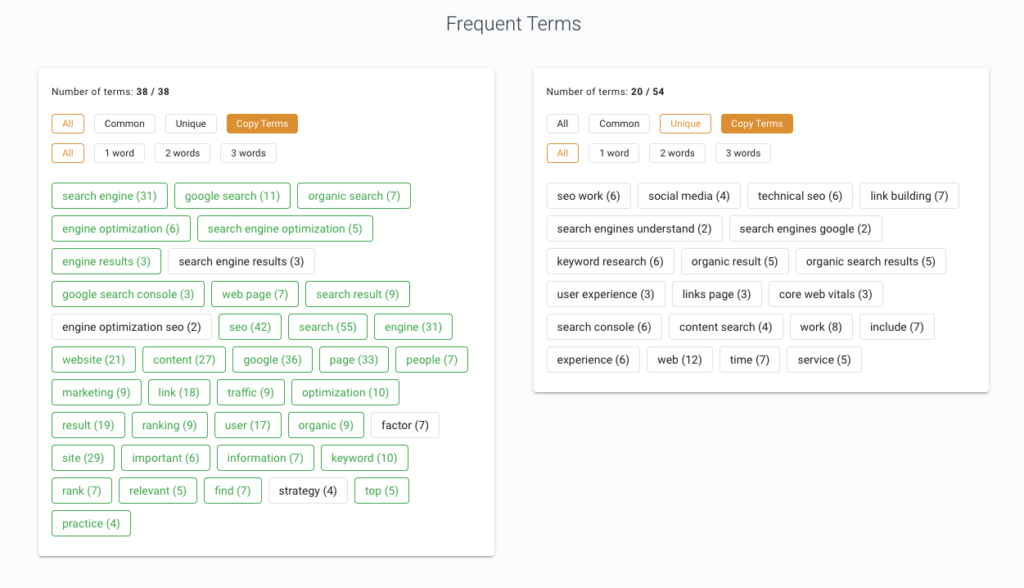 This approach provides a clear understanding of the shift in topics over two different time periods.
Copy the unique topics from the most recent SERP and incorporate them into your content brief to update or create an article targeting these keywords.
By staying attuned to these changes, you can adapt your content strategy effectively and remain competitive in your niche.
Observe the Evolution of PAA and Related Searches Over Time
The last report offers a comprehensive view of the changes over time in the People Also Asked (PAA) and related searches.
In green, you can identify exact matches between the PAA and related searches.
This can provide valuable insights into shifts in search intent when new questions begin to surface.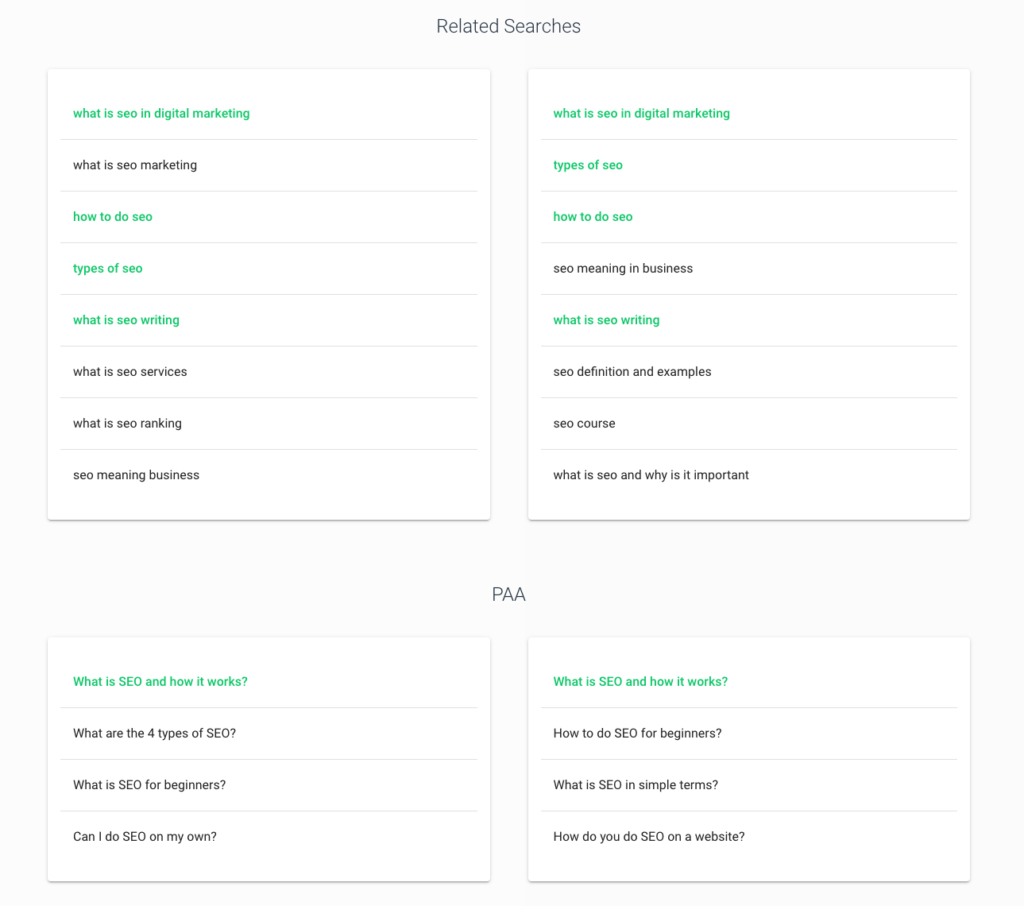 Get Started for Free with the Ranking and Content Change Tool
The Ranking and Content Change Tool is available to all thruuu users.
To get started, you can create a free account or log in to your existing one.
Upon signing up with thruuu, you'll receive 10 credits to utilize the tool's features. Each time you analyze a SERP, it will cost 1 credit.
Exploring and comparing SERPs from your history won't result in additional charges, offering you a cost-effective means to gain valuable insights and enhance your content strategy.
Empower Your Content Team
Our end-to-end content optimization solution empowers your team to crack the Google algorithm, craft exceptional content, and achieve remarkable organic search results.