thruuu is four years old.
I officially launched it on September 4th, 2019.
Below is the tweet that started it all.
thruuu has now achieved a user base of 40,000+, and it boasts hundreds of happy customers, including renowned enterprises, SaaS providers, and agencies.
Let's use this article as an opportunity to reflect on the events of the past 12 months and explore thruuu's future direction.
Evolving from a SERP Analyzer to a Content Optimization Solution
One image is worth 1000 words.
Below, you can appreciate the impressive feature growth of thruuu.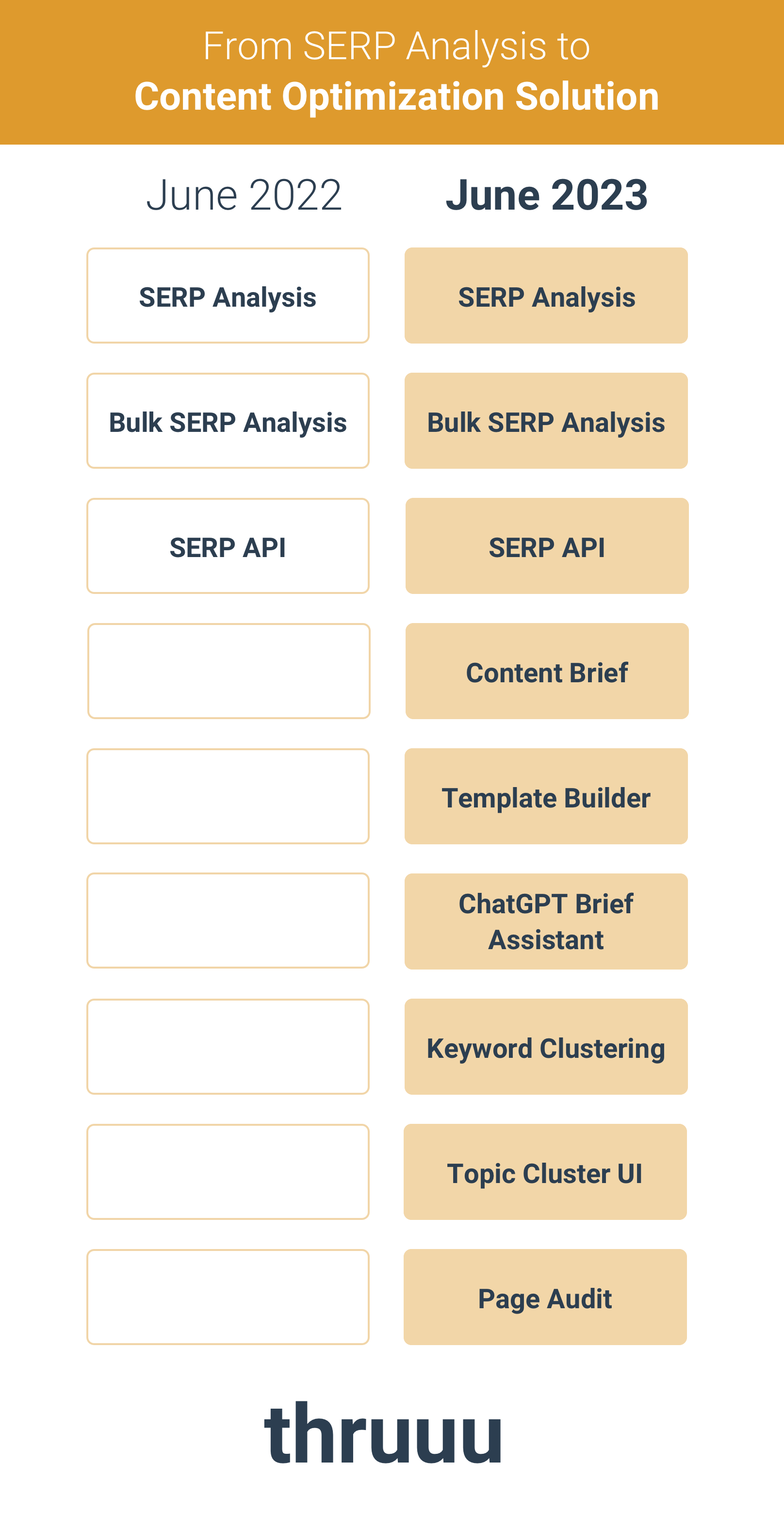 The last 12 months have been hectic, and the team working on thruuu tried its best to offer the best SEO tool for the content team.
The Best SERP Analyzer
thruuu originated as a SERP Analysis tool, and this core functionality remains at the heart of the tool.
Without hesitation, we can affirm that thruuu is undeniably the most comprehensive SERP Scraper on the market.
It not only retrieves a wealth of data from the SERP but also from your competitors, providing real-time metrics and a detailed content report to assist you in shaping the most effective strategy for your website.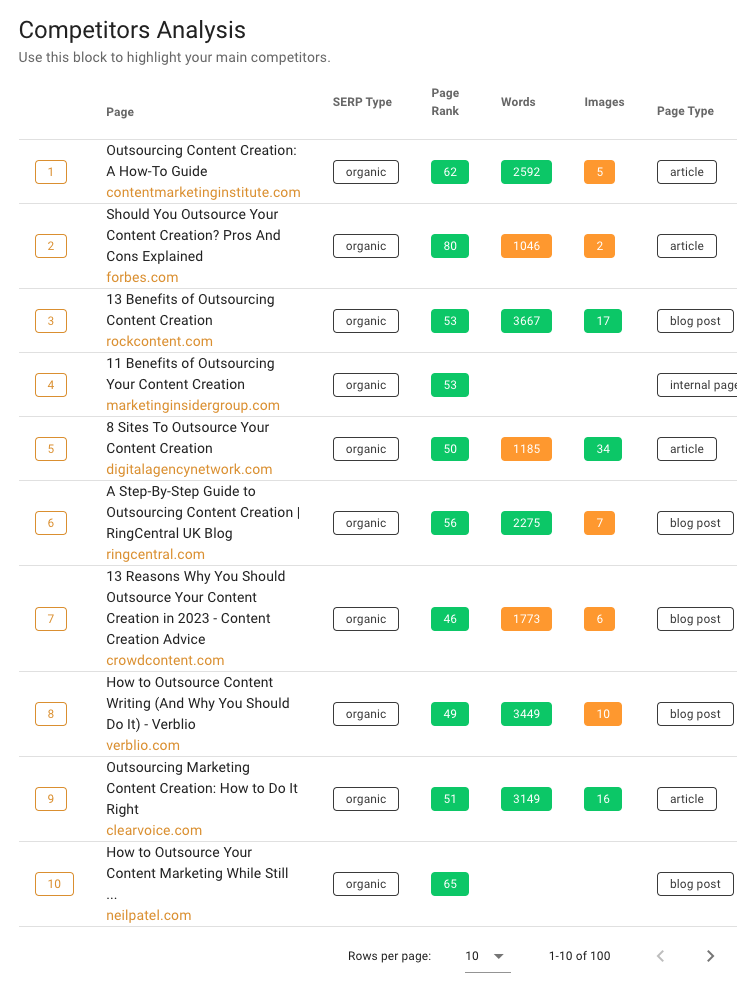 From day one, the tool's vision has been to provide a holistic solution that guides you through every stage of your content lifecycle – from research and content creation to optimizing your published content.
We've rolled out significant features to assist you in achieving your objectives.
Crafting Content Plans with the Keyword Clustering Tool
thruuu's keyword clustering tool expedites the content planning process and helps you establish a topic cluster strategy.
From a large set of keywords, the thruuu keyword clustering tool will break the noise and organizes keywords based on their similar search intent.
This approach highlights the primary topic you should focus on. You can effortlessly select these topics and commence the content planning process.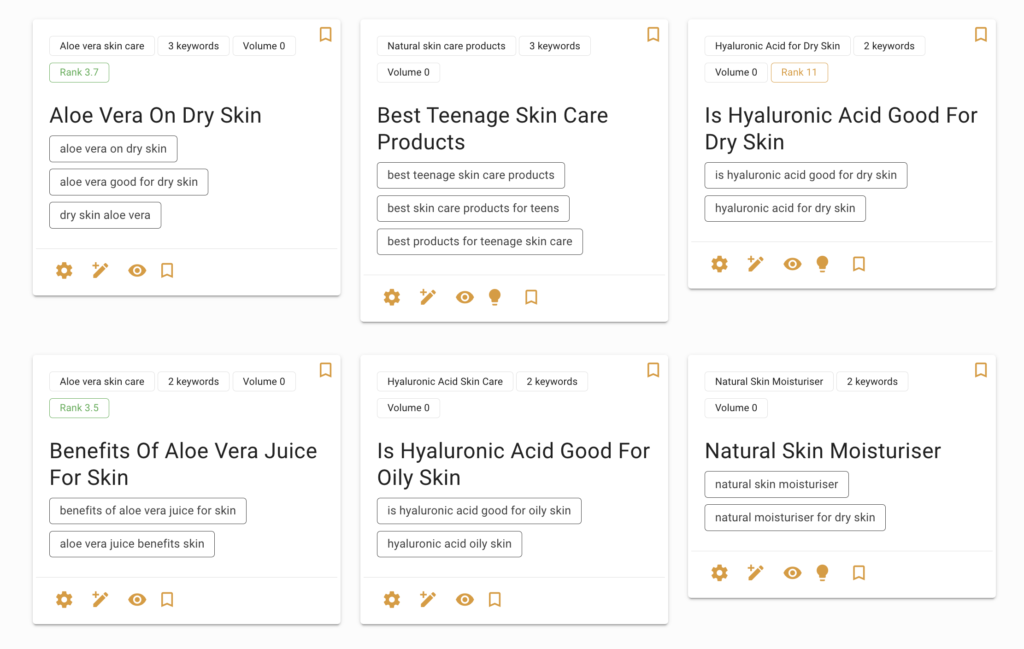 What is outstanding and unique about the thruuu keyword clustering tool is its ability to extract data from top-performing pages within a cluster.
This procedure will steer your content strategy and identify the most crucial keywords to incorporate and headings to include in your blog outline.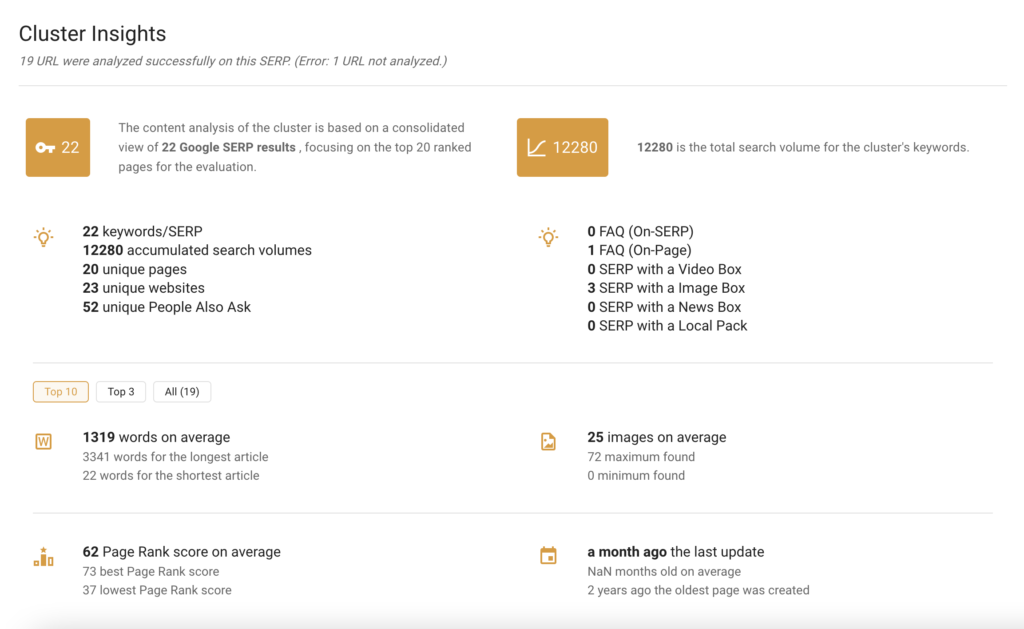 Lastly, you can seamlessly transition to the content brief generator and create valuable guidance for your writers.
Real-time SERP Data and AI for Creating the Perfect Content Brief
thruuu's content brief generator offers a range of unique features.
While many content brief tools limit themselves to basic outlines and headings, thruuu provides extensive elements for creating personalized content briefs.
Its element library allows you to personalize and craft your own brief template, incorporating elements such as direct writer instructions, goals, competitor analysis, search intent analysis, title tags, descriptions, internal and external links, primary and secondary keywords, and content outlines.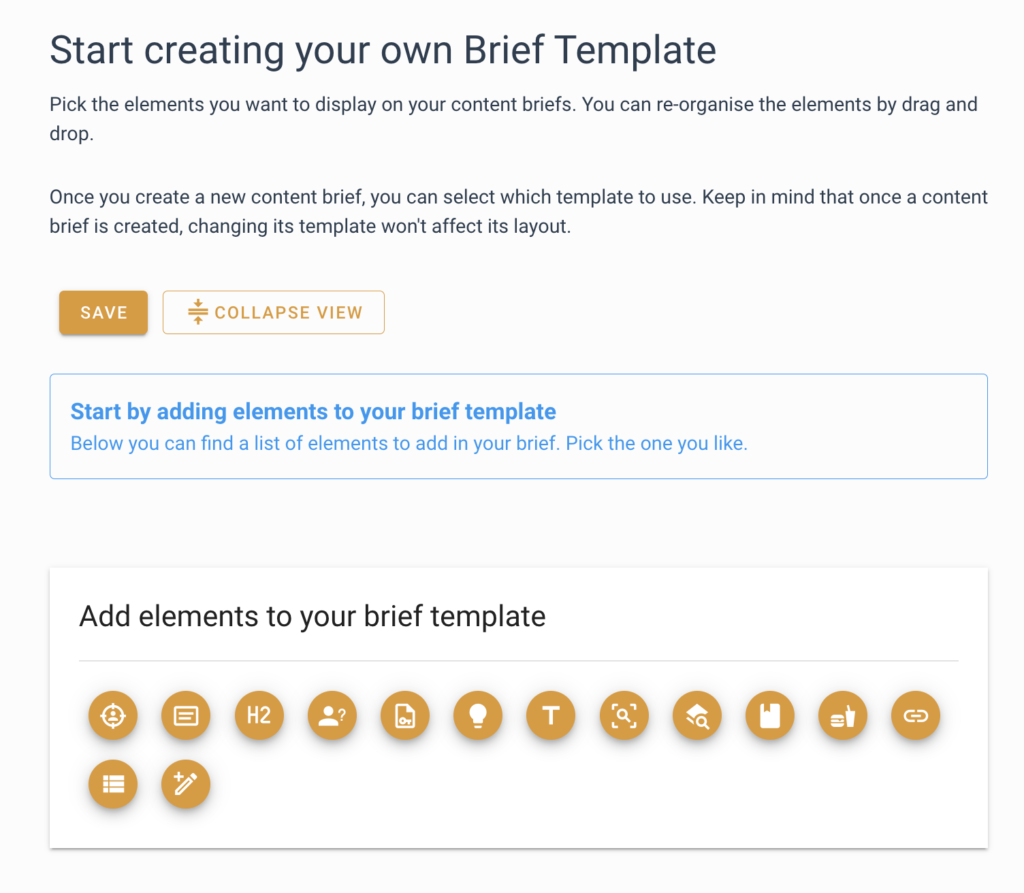 Furthermore, the blog outline builder has been enhanced with AI capabilities.
With just one click, you can automatically generate an outline.
The tool analyzes the top articles on the SERP to propose a unique outline. You can even specify the blog template as a listicle, how-to, or ultimate guide.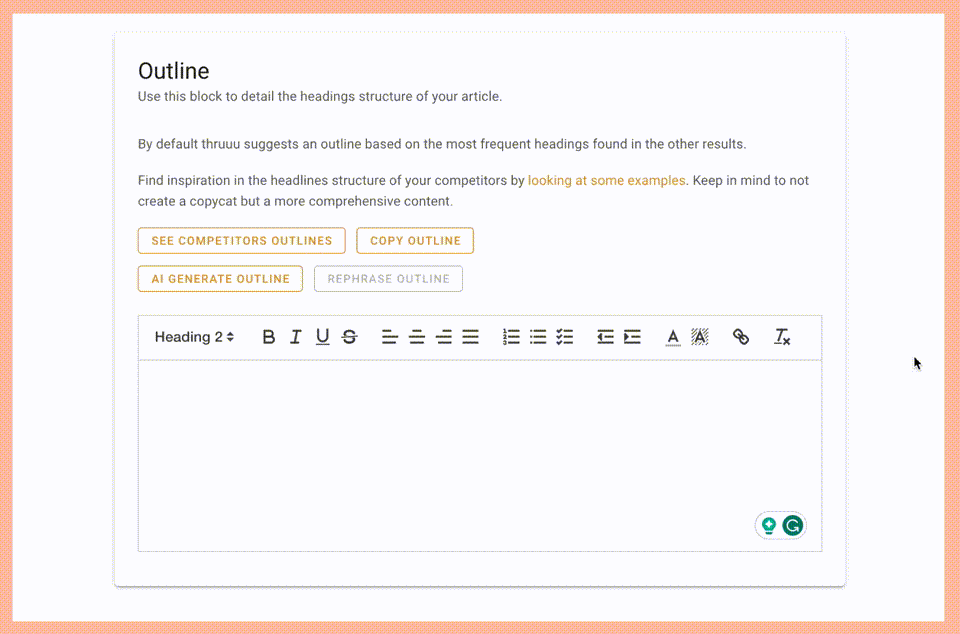 Once You are Live, Optimized
Once your article goes live, it's time for optimization.
thruuu offers an SEO Page Audit tool that assesses your on-page content compared to your competitors on the SERP.
The results pinpoint areas where you can enhance your content, such as:
Shortening your title if it's too lengthy.
Adding more headings to align with the search intent.
Incorporating any missing terms in your content that could make a significant difference.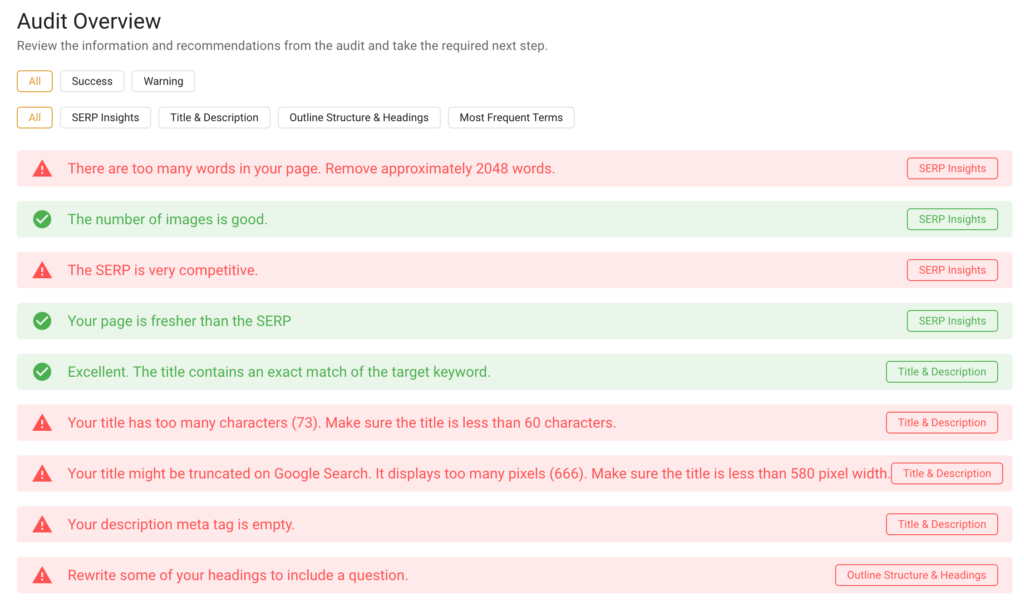 As you can see, the past 12 months have been hectic, marking the transition from a SERP Analysis tool to a comprehensive end-to-end content optimization solution.
What's Coming in 2023 and 2024
Two essential factors shape our roadmap:
The tool vision: Evolving into a comprehensive SEO content optimization solution that aids you from initial research to final optimization.
Customer feedback: Your invaluable input has been instrumental in bringing Thruuu to where it stands today.
We ran several surveys in the last 12 months to gather customer feedback, and the outcome was exciting and validated some strategic features on the roadmap.
Based on your feedback and surveys, here's what's on the horizon for the next few months:
Improved SERP Analysis
A new tool to compare SERPs
A tool to help you find keywords
And obviously, additional and continuous improvements of the overall solution.
Improved SERP Analysis and Keyword tools
The SERP analyzer will soon offer new reports to give you additional insight into your competitors and help you make data-driven decisions.
Comparing SERPs is also a topic linked to the SERP Analyzer, and soon, you will be able to evaluate the similarity between two SERPs. This will help you decide whether to write one article or two for similar keywords.
A keyword discovery tool is missing to complete your process's ideation and research steps. This year, tools to help with finding keywords will be released.
New user experience focused on the content lifecycle
In 2024 and beyond, we'll keep working towards our goal of providing a complete content workflow from start to finish.
Our vision is to simplify your tasks and enhance your content creation process.
A new user experience and improved UI will be published together with a new way to observe the lifecycle of your articles and website.
The aim is to bring together your team and content workflows while giving you the proper KPI to effectively measure and optimize your content strategy.
In summary, the upcoming releases are designed to provide a holistic solution that elevates the user experience and empowers you to drive success through data-driven content management.
By bringing together your team, content, writers and SMEs in one unified platform, you'll be better equipped to achieve your goals and deliver exceptional results in the digital landscape.
Empower Your Content Team with thruuu
Our end-to-end content optimization solution empowers your team to crack the Google algorithm, craft exceptional content, and achieve remarkable organic search results.