thruuu is a complete SEO content solution offering SERP analysis, content briefs, and keyword clustering features.
Our solution automates your SEO and copywriting processes by scraping the top-ranking pages in Google for a specific keyword and delivering data that you can use to optimize your web page and create great content.
In this article, we'll explain thruuu's pricing and provide clear, concise answers to some of the most frequently asked questions about thruuu's pricing.
It's important to note that this doesn't cover potential discounts or special deals. It is our standard price.
Having said that, let's get into the details, so you can make more informed decisions for your needs.
Plan Overview
thruuu has 4 plans namely: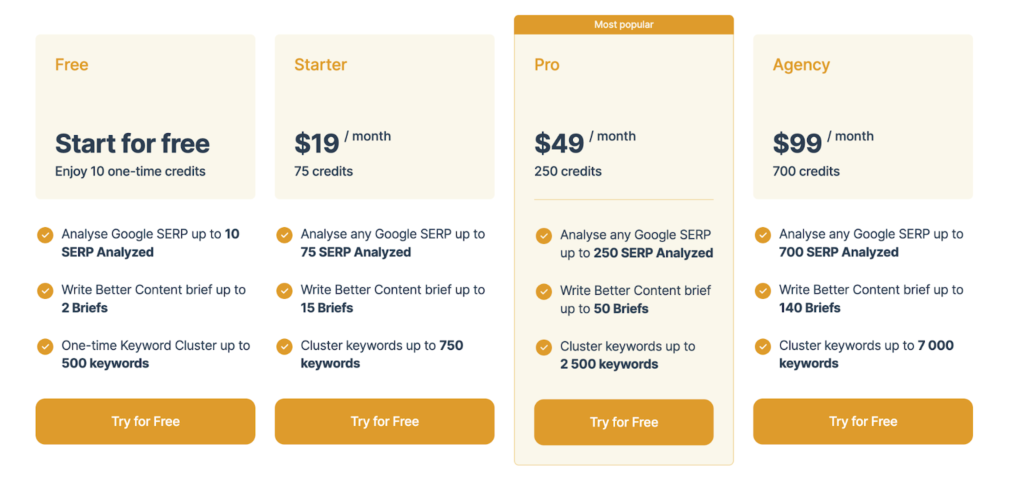 Free plan
With the free plan, you are entitled to 10 one-time free credits.
You can also do the following with the free plan:
Analyze up to 10 Google SERPs to gather information about what appears when you search for specific keywords or phrases.
Create up to 2 content briefs
Get a one-time keyword clustering of up to 500 keywords
Starter plan
The starter plan goes for $19 per month for 75 credits and with that, you can do the following:
You can analyze up to 75 different Google SERPs
Create up to 15 content briefs
Get cluster keywords of up to 750 keywords
Pro plan
The pro plan goes for $49 per month for 250 credits. With this, you can:
Analyze up to 250 different Google SERPs.This means you can research a wide range of topics or keywords to gather valuable insights into search trends and user behavior.
Create up to 50 content briefs
Get cluster keywords up to 2,500 keywords
Agency plan
The agency plan goes for $99 per month for 700 credits. With this, you can:
Analyze any Google SERP up to 700 SERPs analyzed
Write up to 140 content briefs
Cluster keywords of up to 7,000 keywords
What is a Credit?
Credit refers to the currency of thruuu.
When you get credit, you can do all kinds of things with it.
Each time you do a search (also called a scrape) and you get a result, you will be charged one credit.
A content brief cost 5 credits
and clustering 1000 keywords cost 100 credits.
However, page audits don't cost credits.
What You Can Do With the Free Plan
The free plan offers 10 credits that don't expire and you can get started without making any payment.
With this one-time offer of 10 credits, you already have a good overview of thruuu.
Here are more things you can do:
You can analyze up to 10 SERPS
You can create up to 2 briefs
You also have a trial of the topic cluster tool allowing you 1 try of 500 keywords
What you cannot do with the free plan:
Even though the free plan offers good features, it has certain limitations.
You can't analyze more than 10 results, domains other than Google.com, countries, languages, etc.
With the free plan, you can't export the SERP analysis to Excel or use the bulk SERP analyzer.
You also can't do page audit or access the API.
You can get a general idea of thruuu's functionality with the free plan. If you find this tool helpful, you can upgrade to the starter plan.
What Can You Do With The Starter Plan?
The starter plan gives you access to many great features. It allows you to:
Run SERP analysis up to 100 results for any Google search, country, and language
Enter a location to perform a local SERP Analysis. This is good if you perform local SEO
Cluster keywords
Perform unlimited page audit
Bulk scrape the SERP
Use the API
What you cannot do with the starter plan:
When you create a brief, you cannot use the native AI generation tool (title, outline) but you can install the free Chrome extension.
The Chrome extension offers an "almost" similar feature but you need a ChatGPT account when the native one doesn't require anything.
Keyword clustering is limited to 5,000 keywords per run, and you cannot organize your content cluster in hubs and categories.
Also, from the SEO audit, you cannot share, export, or enjoy the ChatGPT recommendation.
What are the Advantages of the Pro Plan?
You have all the advantages of the starter plan, as well as the following:
In the content brief tool, you can use the native AI integration and generate a title, description, search intent analysis, and outline in one click.
You can achieve and speed up your content creation.
You can run unlimited SEO page audits and share them with your team via a public link
You cluster up to 10,000 keywords and also organize the cluster into hubs and categories.
Finally, you have your data archived for 24 months.
What are the Advantages of the Agency Plan?
This is the best plan of all 4.
Here are some of the advantages of this plan:
The cost per credit is cheaper.
You can cluster up to 15000 keywords.
You have 3 years of data archive.
You can share, export, and get chatGTP recommendations for the audit.
In addition to the above, you can use the Website API. This helps you to scrape a single URL programmatically.
What Plan is the Best For You?
You're a Freelancer
As a freelance SEO or copywriter, you need an SEO tool to enhance your efficiency, productivity, and the quality of your work.
thruuu is a good tool that can help with this.
The Starter plan could be a good option and for 19$ you get 75 credits.
Let's say you produce 10 articles per month; with the Starter plan, you can create 10 briefs for 50 credits and you could still analyze 25 additional SERPs for your research.
You are a B2B SaaS
Creating recurring, high-quality content is critical for B2B SaaS companies.
Regular content updates not only improve your website's visibility in search engine results but also establish your brand as an industry authority.
This can help you attract new visitors, engage your current audience, and eventually convert them into users and clients.
We recommend opting for the Pro Plan (at least) and you will get 250 credits for 49$ a month.

With the Pro plan, you will have full access to the keywords clustering tool. This tool will help you build a content plan and create authority around a topic (or more).
For instance, you can cluster up to 1000 keywords monthly for a maximum of 100 credits.
With the 150 credits left, you can then create about 20 content briefs for 100 credits and analyze on top 50 SERPs for 50 credits.
With this approach, you can build a consistent content calendar of 20 articles per month with detailed research.
You are a SEO or Marketing Agency
You can choose between an Agency plan and a Professional plan, depending on your company's size, the number of clients you have, and the type of content you need to produce.
If you choose an Agency plan, you will get the best plan ever with all the features and also get 700 credits per month.
With this, you can build a huge content strategy. You can cluster 3000 keywords for 300 credits, create 60 content briefs for 300 credits, and analyze an additional 100 SERPs.
With this plan, you can serve a large client or several smaller accounts.
You are an In-house SEO Writer Working For an Enterprise
To determine whether or not you should go for the Professional plan, consider how many articles you want to deliver in a month.
If you want to create 10-20 articles monthly you can go for the Professional Plan.
With the 250 credits of the plan, you could create 20 content briefs for 100 credits and analyze and cluster keywords with the remaining credits every month.
If you need more, choose the Agency plan.
You can also benefit from advanced AI integration with the Pro or Agency plans, which will increase the productivity of your team.
You Can Save 30% With an Annual Subscription
You can save 30% if you choose the annual plan.
This means you'll pay the following amount for each plan each year:
Starter plan = 156 USD per year
Pro plan = 396 USD per year
Agency plan = 792 USD per year

When you subscribe to an annual plan, you will receive the total amount of credits for the year at once!
This is good because you have more flexibility in managing the workload and can spend more on some months and less on others.
You Can Also Pay As You Go
There's an alternative option for those who want to keep using our services without subscribing to any of the plans. It's called Pay as You Go (PAYG).
If you choose the Pay-as-You-Go payment system, the credits you buy will never expire. This means you can use them whenever you need them without worrying about them running out.
If you don't subscribe to a plan and opt for the Pay-as-You-Go system, it will cost you five times more.
Subscribing to a plan is much more cost-effective compared to paying individually for each service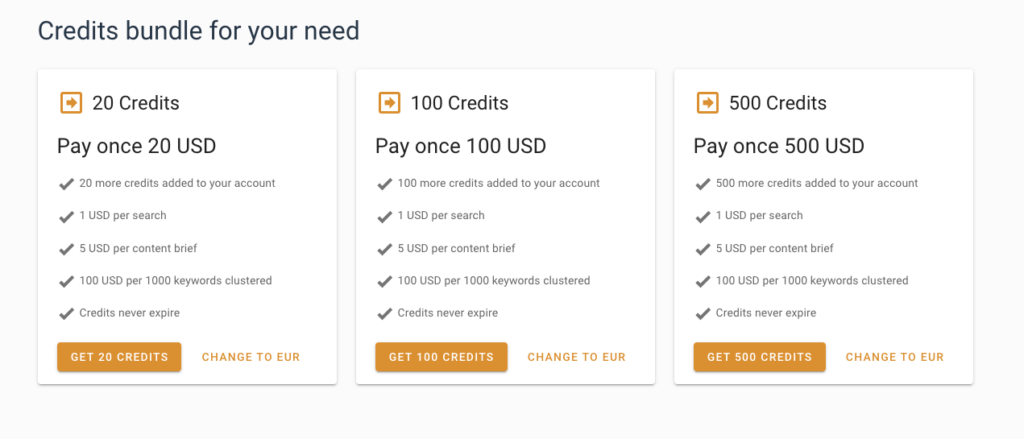 Credit Rollover, Expiration, and Cancellation
The credits from a subscription roll over as long you subscribe and they also never expire, as long you subscribe.
When you cancel your subscription rolled-over credits are canceled and you can keep only 1/5th of the credits from your current billing period after cancellation.
This fraction is kept because PAYG (Pay As You Go) credits are five times more expensive, so a portion is retained even if you cancel.
This could sound unfair, but for many other tools, at the end of every month, you lose the action not done but not with thruuu; if you didn't analyze all your SERPs or created all your briefs, you can keep them for the next month.
Final Thoughts
If you're a blogger, you need this tool early on. Once your blog posts start to rank on the front page of Google, you will begin to see a return on investment
If you're an SEO consultant working with clients, having access to thruuu will help you out a lot and save you and your marketing team a lot of time.
No matter the level you're at in your business, thruuu has a plan for you. We recommend trying this SEO tool for at least a month with our free plan to see if it suits your needs. We won't be surprised if it becomes a personal favorite.
Empower Your Content Team
Our end-to-end content optimization solution empowers your team to crack the Google algorithm, craft exceptional content, and achieve remarkable organic search results.