Thruuu is three years old.
I officially launched it on September 4th, 2019.
Below is the tweet that started it all.
I was excited to share my first ever free SEO tool – an awesome SERP Analyzer.
Today, in this "not SEO optimized" article, I will share with you:
Why I created thruuu
What you can look forward to in the future
If you are already a thruuu user, this article will help you understand the tool's vision.
If you are not yet using thruuu, it may convince you to try it!
Why I created thruuu
Before telling you why I created thruuu, I should tell you more about my SEO journey.
I started SEO "only" in early 2019 with the launch of my blog samuelschmit.com.
At this time, I wanted to build a personal brand and thought creating a blog could be the best approach.
This was when I started to look into the details of SEO.
My background was in software development, content management, and digital marketing, so I quickly grasped the essence of optimizing content for the web.
I literally fell in love with the processes of blending data analysis, copywriting, and understanding users' behavior.
Blog post after blog post, I started to get traffic to my website and shared what I was learning on my blog. This is why it became an SEO blog (initially, it was meant to be a blog about marketing technology).
But why did I create thruuu?
My SEO Copywriting process was the following.
For each article, I was always doing the same process:
Type my target keywords in Google
Open the top 10-20 pages
Use a chrome extension to extract word count, h2, and other essential page elements
Create an Excel sheet compiling my research and analyzing competitor details
My goal was to get a clear picture of the SERP.
I wanted to understand how my competitors were speaking about a topic and find gaps in their approach.
Maybe this process sounds familiar?
So after a couple of months, I asked myself:
"Ya pas un outil gratuit qui pourrait me faire ça?"
Indeed I'm French, so I asked myself if there was a free tool on this planet that could scrape the Google SERP quickly and accurately in the way I needed it to.
I could not find one.
This is the genesis of thruuu.
In summer 2019, I developed the first version of thruuu.
It was released on September 4th, 2019.
What has happened in the last three years?
Once thruuu was developed, I could have kept it for myself. The main goal of the tool was to accelerate my copywriting process.
But I thought I had something special and wanted to share it with the world!
That is where the journey really began.
Below is a summary of how thruuu got to where it is today.
A free Awesome SERP Analyzer and a brand generation tool has been launched
Thruuu has been developed to be super simple to use.
Enter a keyword, and get an overview of the SERP and all the on-page data for the top-ranking pages.
The very first version is shown below.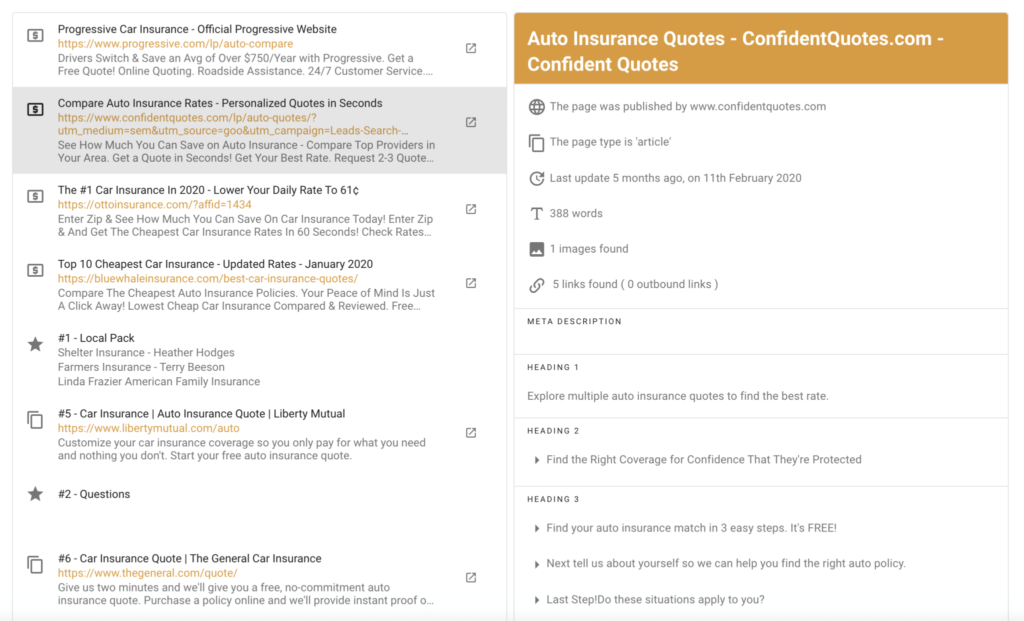 Also, thruuu was initially 100% free.
Not just free, but I didn't even ask for an email to use the tool. It was open for everyone to use.
This strategy was done on purpose.
My goal was to build a personal brand. I thought that offering an SEO tool for free would help me accelerate my personal brand's growth.
It worked.
From a data perspective, thruuu was the main backlinks driver for my personal website and generated thousands of backlinks without any outreach. At this time, thruuu was still a subdomain of my personal blog.
My website quickly built some authority from all of the links thruuu was receiving.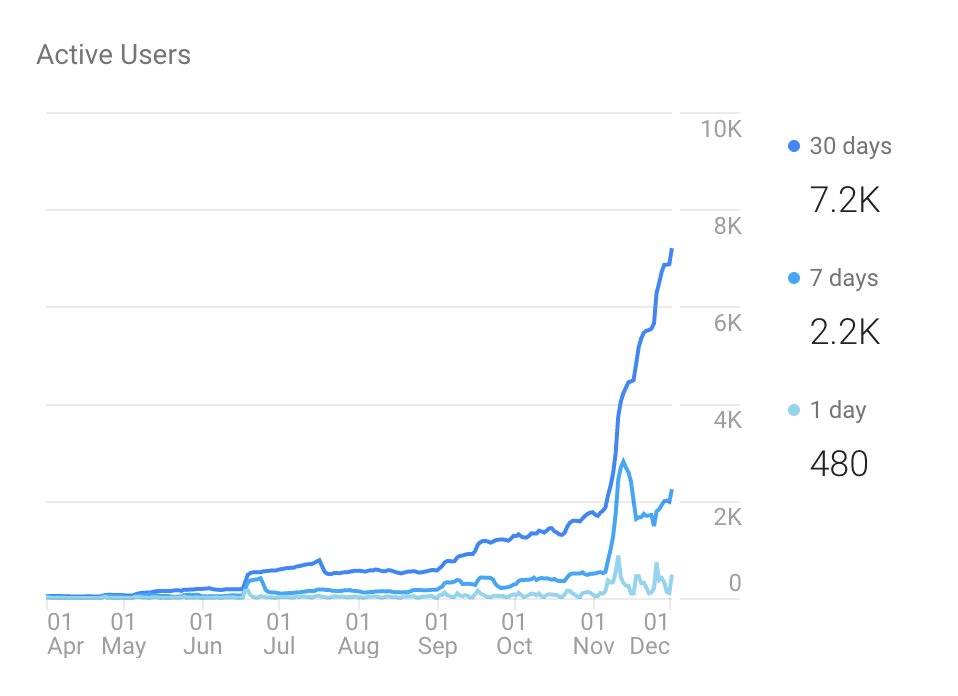 You can read more about this Product-Led SEO Strategy on my personal blog.
From a PR perspective, I received several mentions on various social platforms. I was also invited for podcasts, youtube videos, and events to speak about thruuu and SEO.
I even got Japanese articles mentioning thruuu. I'm a big fan of Japan's culture and food, so that mention is very special to me.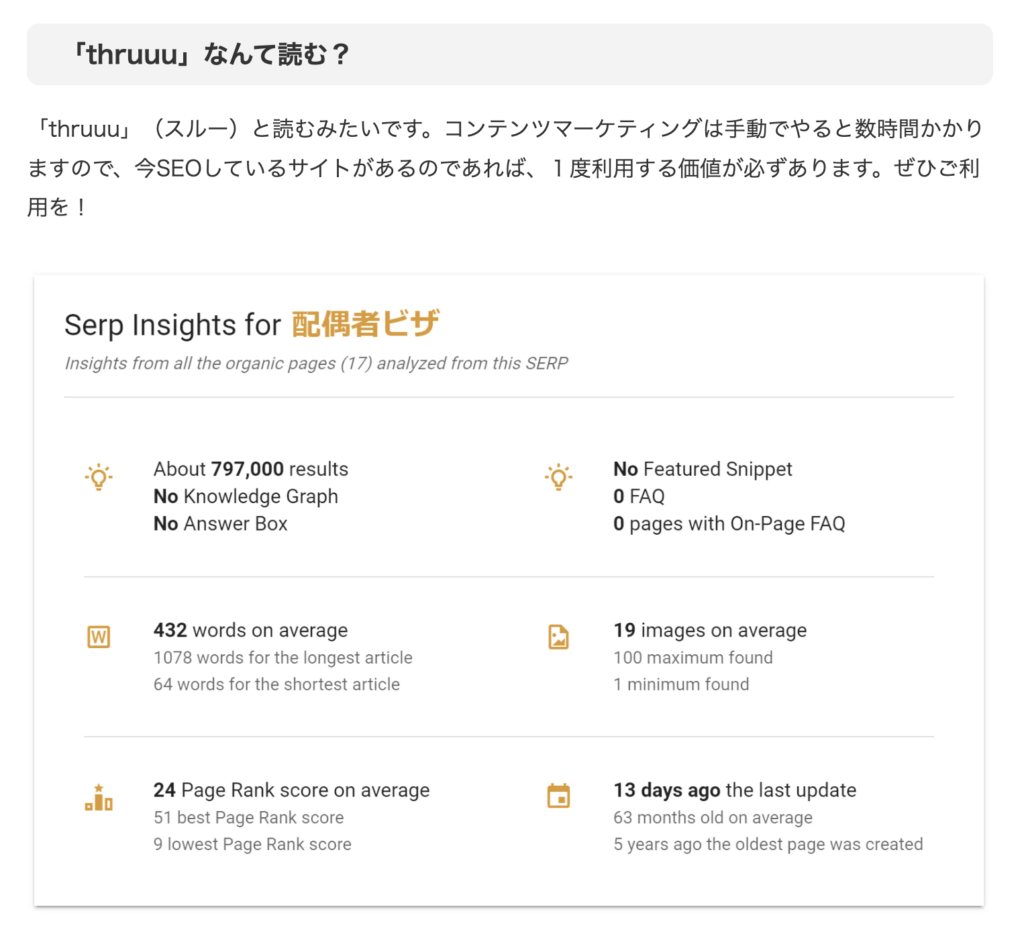 A tool for SEO and Copywriters
My ambitions for thruuu became much larger when I started receiving feedback and saw so much enthusiasm from users.
Below is a vision for the tool drawn in early 2020.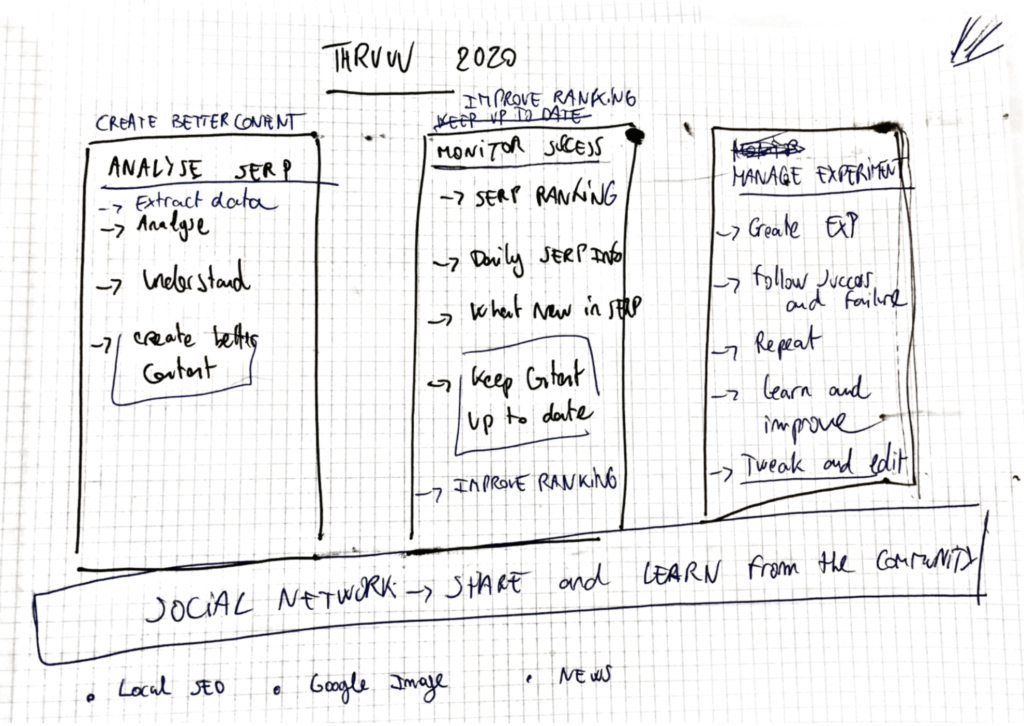 SERP Analysis was and still is an essential piece of the thruuu solution.
But it is only the first step.
The vision of 2020 already shows the direction of the tool.
Helping SEO and Copywriters to
Create better content by understanding the SERP landscape and what SERP features are available
Monitor their success and keep the content up to date with relevant information
Improve their strategy by testing and getting recommendations
I was thinking of a social component where users could share and learn from each other. Maybe still something to leverage.
This vision drafted in 2020 shows that the aim was to offer the best tool for SEOs and copywriters to research, create, and optimize content.
In spring 2021, thruuu showed the first signs of heading in this direction.
The first big change for thruuu and its users since the initial release:
thruuu got a new UI
thruuu shared more data focused on supporting content creation
An account was required to use thruuu; it was not widely open anymore
thruuu stayed free but to a limit of 10 credits (SERP analysis) per month
A pay-as-you-go plan was introduced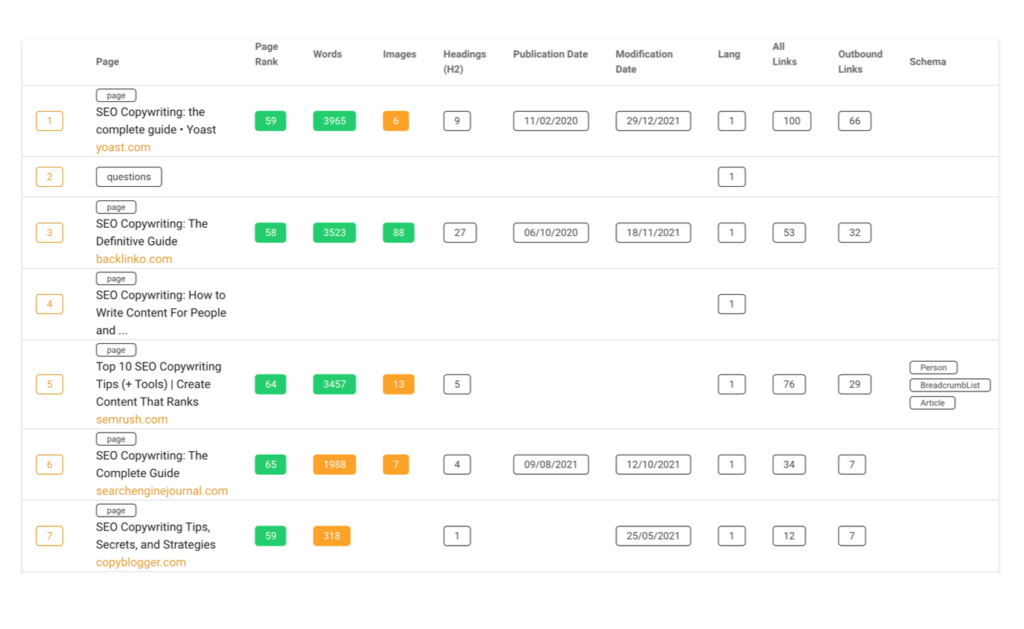 Many features followed in 2021 to accelerate SERP analysis and copywriting.
A few include:
Automated SEO content outline
Extracting questions at scale from on-page headings
An API to access thruuu data programmatically
And many more improvements to the tools…
Now let's check what happened in 2022 and what is coming next.
What is next for thruuu?
Before speaking about the future, let's discuss where thruuu is right now.
Below is what has happened so far in 2022.
The release of video training materials
I believe it is essential to educate thruuu users and teach them how to use the tool and make the most of it.
There is still a lot of work to do here to create more valuable content, but we are working on it.
You can access the crash course on our YouTube channel.
A new website for thruuu
I used thruuu to build my personal brand but I knew it needed to be its own brand. The first step was to create the website thruuu.com.
This dedicated brand website launched in April 2022.
The website will continue to evolve over time with more blog content, how-to guides, and other training materials.
A subscription model
Affordable subscription based pricing was introduced in May 2022.
Pay as you go is still an option and thruuu still offers a trial that includes 10 free SERP analysis.
It was a big step for the solution, as subscribers and more predictable revenue will support the mid-term growth of the platform.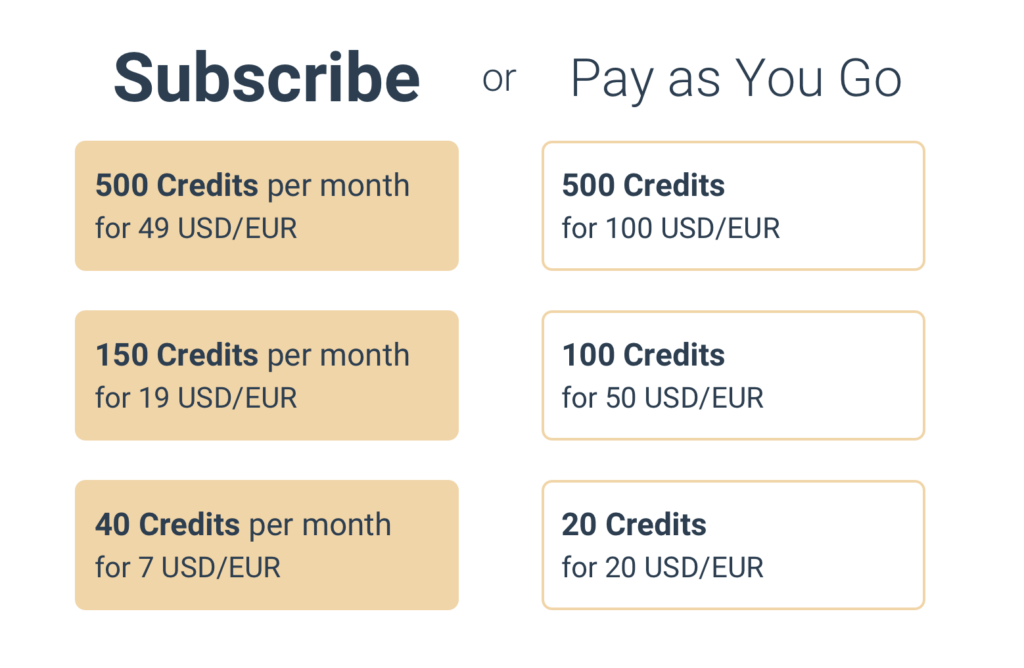 Content Brief Generator
Content brief generator: A major milestone for thruuu launched in July 2022!
The ability to create comprehensive content briefs directly in thruuu and share it with your team.
It is a brand new user experience focused on content brief creation. It is supported by thruuu's powerful SERP Analysis tool and all the data it collects.
Thruuu offers the classic outline builder "click on the competitor H2", but goes beyond what the competitors offer.
A library of elements is offered to create a tailored content brief, including competitors analysis, SERP metrics, top keywords and topics, and so much more.
Roadmap for 2022 and 2023
Other major improvements will be introduced in the fall and winter of 2022 and 2023.
One feature I am particularly excited about is the ability to create content brief templates that can be reused for different projects and clients. This feature will be arriving in September 2022.
You will be able to create a brief template for a blog post, resource page, or any other custom page and easily reuse it with a click of the button.
Imagine a client has specific needs for their content where each blog post requires data, images, content, and a video. You can create a custom template that will make sure all those items are included every time a new content piece is needed.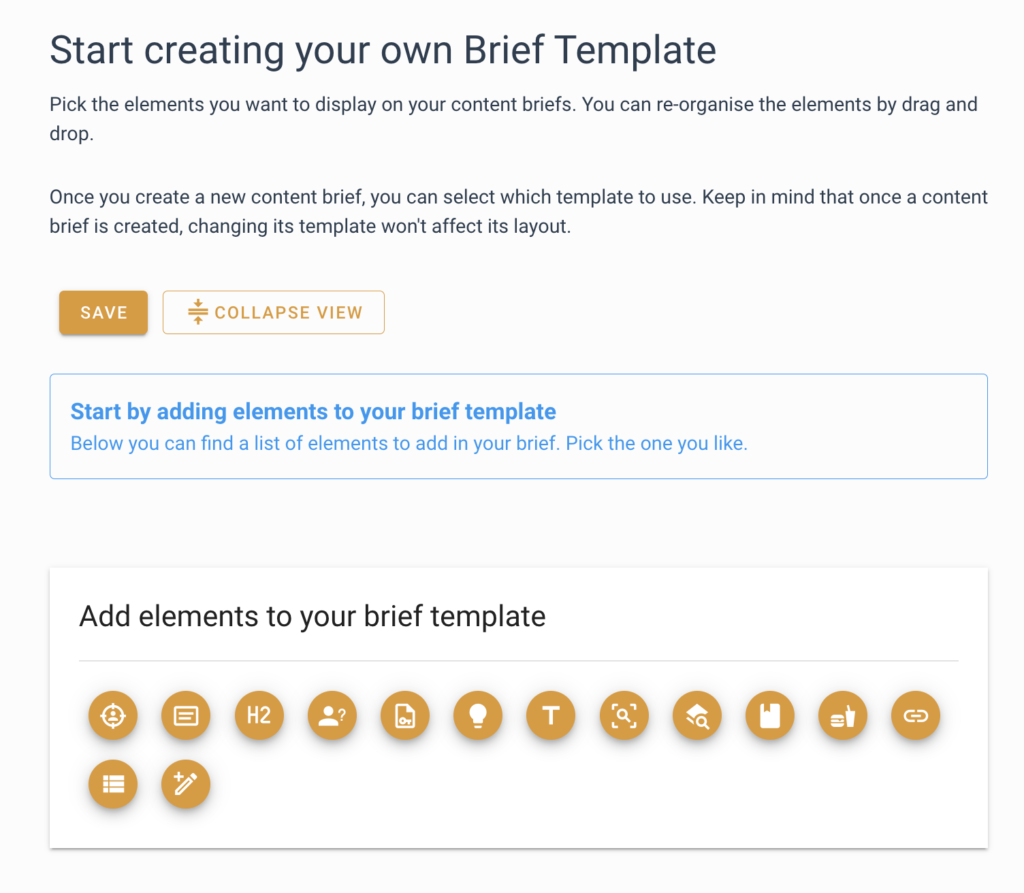 The next feature introduced will be the ability to create topic clusters and content plans supported by the best keyword clustering tool. By entering a list of keywords, thruuu will cluster them based on the search intent and recommend the article and briefs you should create.
Finally, later in the winter of 2022-2023, the ability to perform SEO audits on any pages and compare your content with the competition to identify what to improve and get recommendations to improve it. 
As you can see, thruuu is heading towards being a full SEO content creation tool, not just a SERP Analyzer.
AI and Automation
AI, GPT-3, and assisted content writing are hot topics, so I thought I would talk about this a bit!
To date, thruuu has been leveraging a bit of Natural Language Processing and will continue to improve in this area.
But before I fill you in on the details, I have to explain where I personally stand with AI and writing.
I've never used AI to write content.
I tried.
But I struggle as the output is usually so bad that I would rather write everything myself from scratch.
I find this often takes less time than needing to update mediocre content output generated by a robot.
Of course, AI is impressive. I recently saw a demo of a tool generating a 1,000 word blog post in 1 minute for any topic.
I was impressed by how fast bad content can be produced.
(If you don't know that I'm not only French but sarcastic. Now you know).
Now, I might sound a little contradictory with my next statement.
I believe that AI can support SEO and content creation but more for the ideation phase. It can be helpful when we need examples of titles, descriptions, summary of paragraphs, and ideas for (key)words or questions.
AI can accelerate the ideation process and help us to create content briefs and content faster.
This is how AI will be sprinkled over thruuu in the coming months, as an assistant to guide you and provide recommendations or examples.
An End to End platform for SEO strategists and copywriters
Becoming more than a SERP Analyser, thruuu is evolving into an end-to-end solution for SEO strategists and copywriters.
Thruuu aims to help people who need to create quality content.
The vision is to support the SEO content creation process from A to Z:
Research: Accelerating the research and ideation phase and supporting competitors' analysis
Create: Defining a content plan and creating better content outlines faster
Improve: Understand the trends and changes in search intent to keep your website and content up to date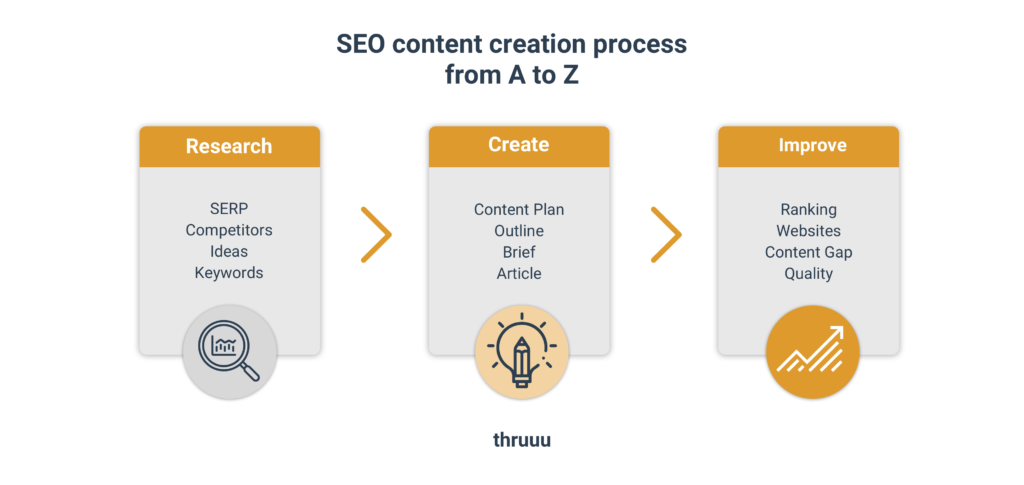 Thruuu will become a central hub for SEO and content writing professionals and also offer integration with key tools from your current ecosystem.
Growing the company, the user base, and the tool
Final words.
So far, I have been the only person working on thruuu since 2019. I was wearing the hats of a CEO, CTO, CMO, and more.
Even though it is really exciting to handle all of these aspects of creating a tool and company, I realized it was not sustainable.
Also, users deserve more services, features, and support from thruuu, which I won't be able to provide all by myself in the long term.
Beginning in April 2022, I have had the support from a Boston-based agency, Stratabeat. I work weekly with Tom, the founder, and Jill, a fantastic SEO strategist, on the content marketing and growth of the acquisition channel.
You might have already seen great content on the blog.
More educational material and training will be published this year.
Additional help will also be coming aboard to support the development of thruuu.
2023 will be an exciting year, and I cannot wait to share all the additional ideas and make them come to life for you!
Special thanks to Jane, Brett, Charles, Thomas, Jerôme, Itamar, Jean and the ones I forgot who supported thruuu over the last three years in various ways.